Bing Ads vs Google Ads: Where Should You Invest Your Time And Money?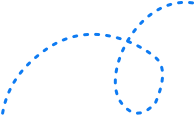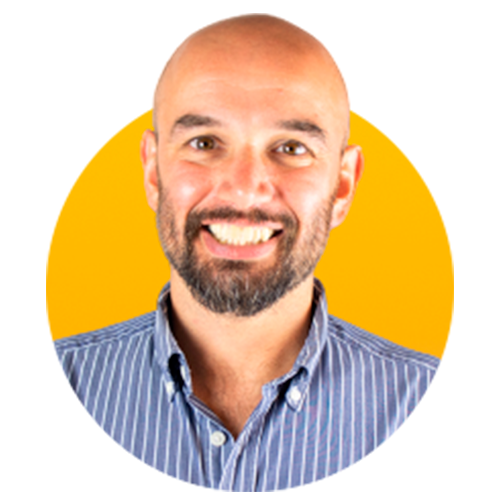 Ed Jones
27 April 2022
13min read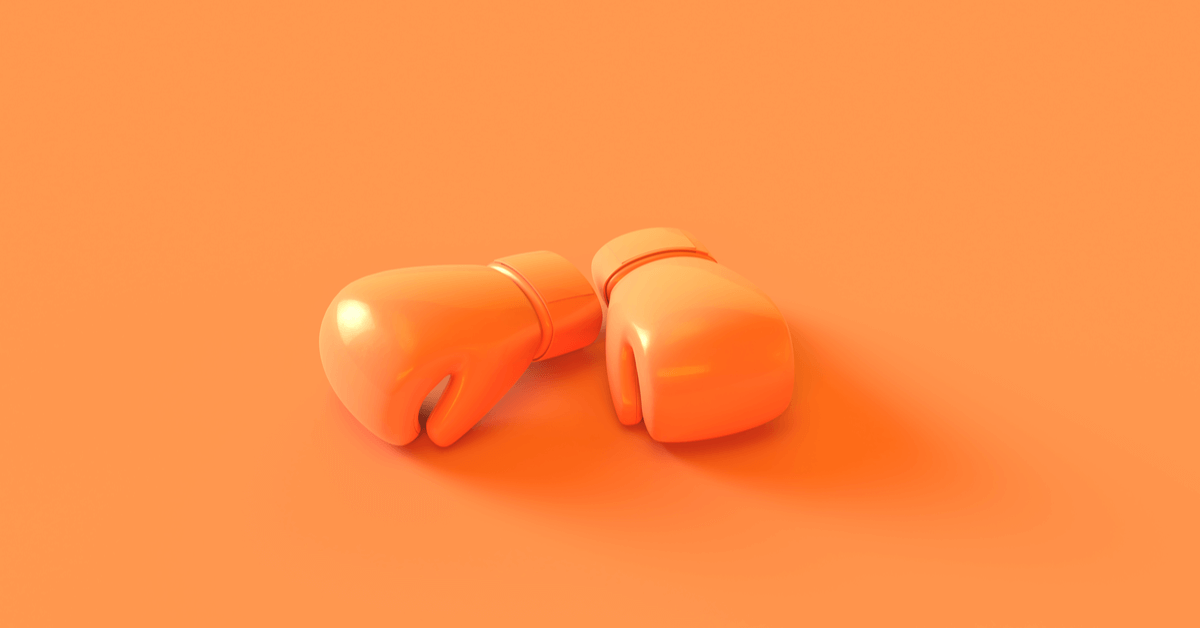 If you want floods of ready-to-buy visitors coming to your website, then you literally can't afford to ignore pay-per-click (PPC) advertising.
The numbers speak for themselves. Search ads have the power to increase brand awareness by as much as 80%. What's more, once these PPC visitors arrive on your website, they're 50% more likely to purchase something than organic visitors.
When it comes to PPC campaigns, there are two heavyweights out there: Google Ads and Bing Ads. And if you're here now, you're probably wondering which one to invest your marketing dollars into in 2022.
Sure, Google Ads has greater reach. But it also has more competition and a higher CPC.
Bing Ads, on the other hand, allows you to reach a different user base with less competition. However, you might not get the volume of traffic that you want from the platform.
So which one should you choose?
Do you pour your time and money into optimizing your Google Ads campaigns, or take the path less travelled and dominate Bing Ads?
In this post, we'll weigh up the benefits of Google Ads and Bing Ads and help you figure out which one is best for your business.
PPC factors of comparison to consider
Before we look at the pros and cons of Google Ads and Bing Ads, we need to look at the factors that come into play when comparing the two. There are a number of things to weigh up before diving into any PPC campaign on either platform, such as reach, CPC, targeting options, and conversion rates.
1. Reach and market share
If your audience doesn't see your ad, the rest of these factors are moot. The goal for any PPC campaign is to help you reach your target audience on desktop and mobile, so they click through to your website and learn more about your products or services.
Unsurprisingly, Google Ads has a far greater reach than Bing Ads. Google has 4.3 billion users worldwide and its users conduct billions of searches every single day. On top of that, Google Ads allows advertisers to reach even more users through the Google Display Network, which consists of more than 2 million websites around the world.
All up, Google has roughly between 86.6% to 92.24% of the global search engine market share.
Bing Ads has a smaller reach than Google, but it's still nothing to laugh at. Bing accounts for 34% of the global desktop search engine market, with over 687 million unique PC users conducting 14.5 billion PC searches every single month. But if you're going for pure volume, Google wins out over Bing by far.
2. Demographics
Who do you want to reach with your ads? That's another factor you need to consider when deciding which platform to use. After all, if the majority of your audience uses one search engine over the other, you should put your investment into that search engine.
According to Microsoft, Bing users are more likely to be married with kids with an above-average household income:
By comparison, Google Ads reaches a far broader audience. If you want to reach a younger demographic or audiences that don't fall into Bing's primary user base, then Google Ads may be the better choice.
3. Targeting options
High-converting PPC campaigns aren't just about picking the platform where your audience is. You need to be able to reach them with your message. This is where having the right targeting options makes all the difference.
Both Bing and Google have different targeting options to help people reach audiences.
With Google, you can target your ads based on demographics, affinity, in-market, similar audiences, and remarketing.
Bing has these too, as well as some additional targeting options like LinkedIn profiles, location and time and day of the week.
If you're a B2B company or LinkedIn is a big part of your marketing strategy, Bing's targeting may have the edge over Google.
4. Keyword targeting options
Keywords are how users search for content on Google and Bing, so you need to know how each platform allows you to reach audiences using your target search terms.
Both Google and Bing Ads offer plenty of keyword targeting options, including broad, phrase and exact matches, as well as negative keywords. Google also has broad match modifiers, however, not having access to these won't make a massive difference to your overall campaign return on ad spend (ROAS).
The real consideration here is that all things equal, Google has the higher search volume. Even if your ad shows up for the same keyword search on both platforms, you're going to reach far more people on Google than on Bing.
5. Ad copy
Google and Bing both have limitations on the amount of copy you can display in your search ad. For Google, you can have:
3 headlines up to 30 characters each
2 descriptions up to 90 characters each
2 ad paths up to 15 characters each
Bing has both standard and extended text ad options. With standard ads, you get the following character counts:
1 headline up to 25 characters
1 description up to 71 characters
1 display URL up to 35 characters
With Bing's extended text ad formats, you have almost the exact same character counts as Google ads. These are mobile-optimized ad formats consisting of:
3 headlines up to 30 characters each
2 descriptions up to 90 characters each
Automatically generated domain and subdomain, plus two ad paths
Both platforms are fairly similar in terms of the character count that's on offer; however, with Google you get a little more flexibility in general than you would with Bing.
6. Level of investment
Google Ads is more competitive than Bing. Unsurprisingly, this means you'll typically require a bigger budget if you want to invest in Google Ads compared to Bing Ads. If you can't spend more on Google Ads, be prepared to do A LOT of optimizing to maximize your ROAS.
7. Average CPC
Alongside your overall level of investment, you'll need to consider the average cost-per-click (CPC) on both platforms before making your decision.
The average CPC on Google is $2.69 across all industries, while Bing's average CPC is $1.54. This means that if you had the same marketing budget, you'd be able to squeeze more clicks from Bing than you would from Google.
But this doesn't tell the whole story. You also need to look at the average CPC for your industry to see which PPC platform is best for you. Here's a look at Wordstorm's breakdown of Google Ads CPC by industry: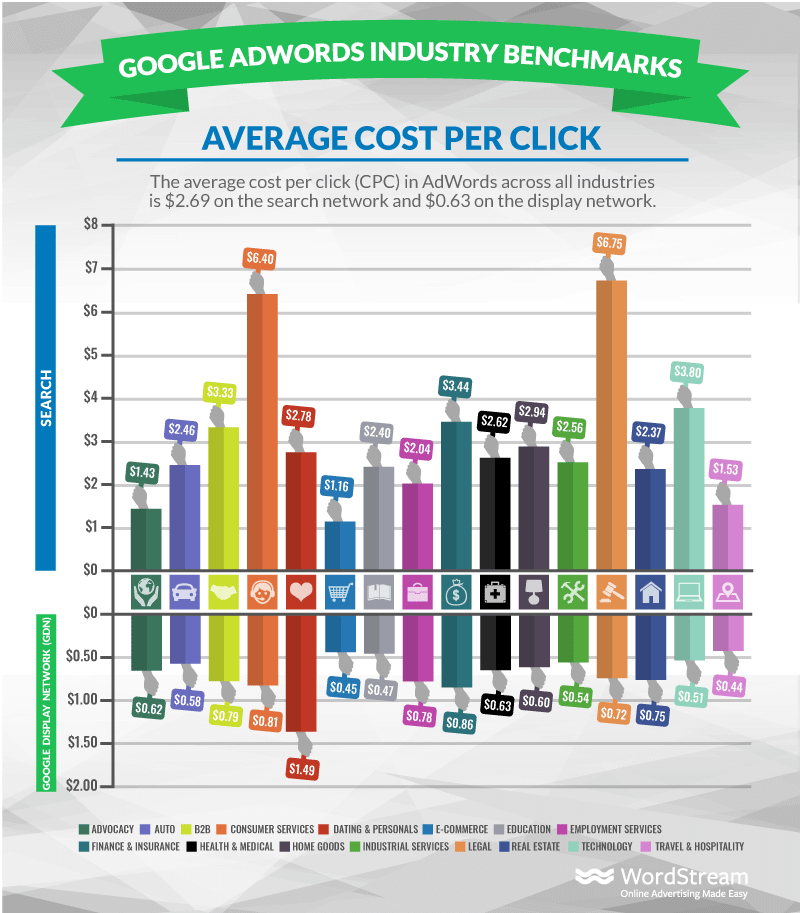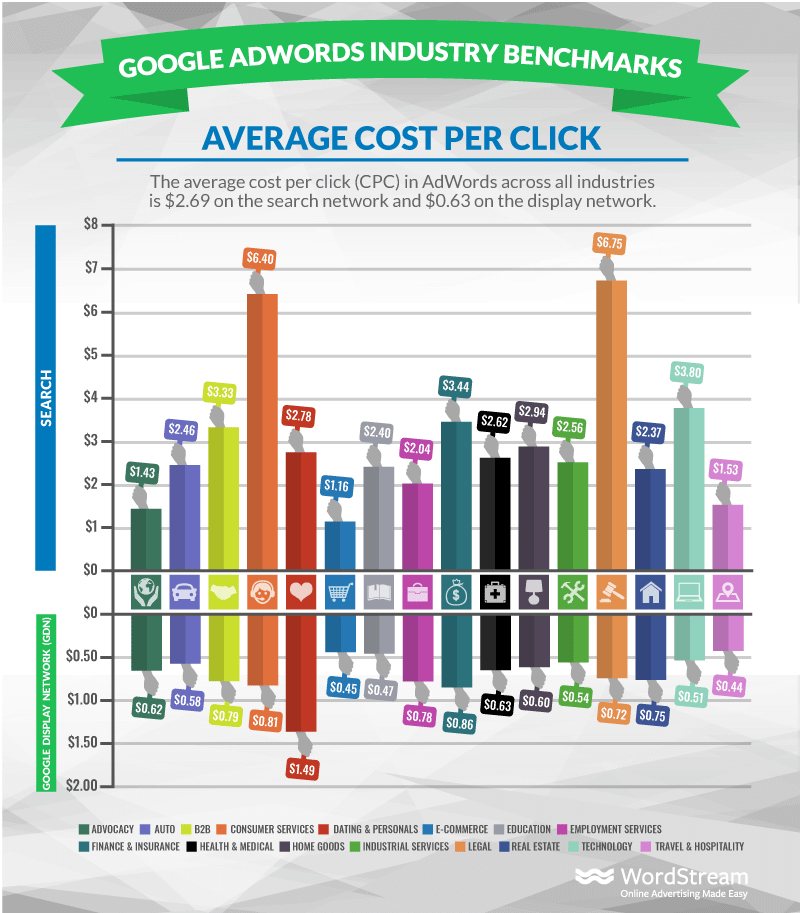 And here's the breakdown for Bing Ads: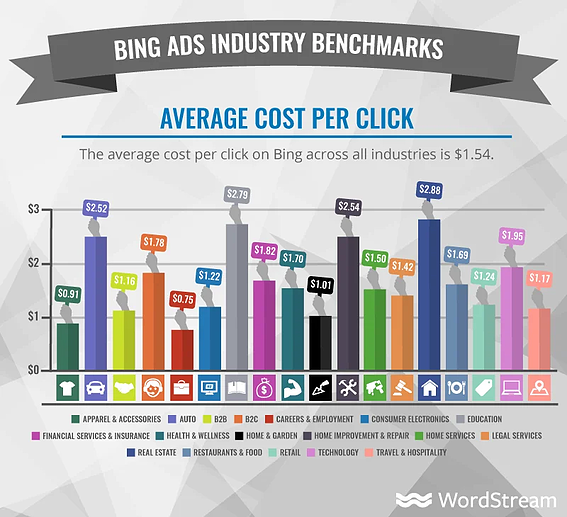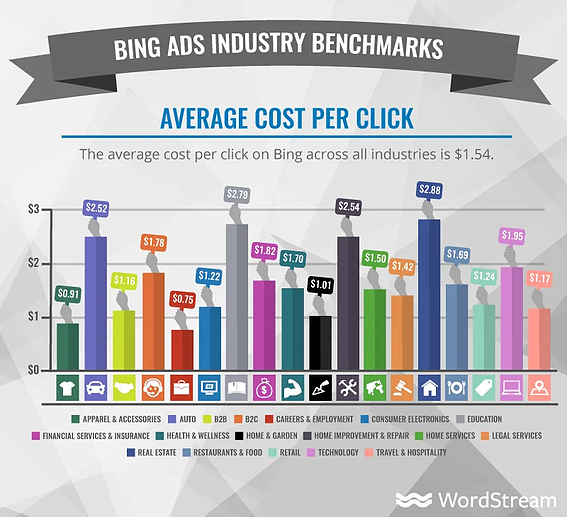 8. Clickthrough rate (CTR)
Showing up in search results does help improve brand awareness, but the purpose of most PPC campaigns is to drive clicks. When it comes to CTR, Wordstream's data shows that Google AdWords trumps Bing with an average of 3.17% compared to 2.83%.
It's worth noting that while the average CTR is higher on Google AdWords, Bing's average CTR does trump Google Ads in certain industries. For example, the average CTR for eCommerce is 2.88% on Bing Ads versus 2.69% on Google Ads. Likewise, the average CTR for Finance and Insurance is 3.51% on Bing compared to 2.91% on Google Ads.
9. Conversion rates
The ultimate goal of any advertising campaign is to encourage users to convert, whether it's filling out a form, signing up for a newsletter, or making a purchase. Get more conversions, and your marketing budget will be working harder for your bottom line.
This is where Google search ads trump Bing Ads. Wordstream found that Google Ads typically have a higher conversion rate than Bing Ads. Across the board, Bing's conversion rates lag far behind Google Ads, with ads on the platform 50% less likely to convert.
10. Ad types
Different ad types work best for different objectives. Want to increase leads? Add a call button to your ad. Looking to promote your business to local shoppers? Bid to appear for local searches with your address and a link to Maps. When you match your ad type to your objective, you're far more likely to see results from your campaign.
This is where Google has the upper hand by MILES. Google has multiple ad formats across its network, from text to app promotion, video, product shopping, display ads and call only ads. Bing has similar options, such as multimedia ads and product ads, but it's nowhere near as comprehensive.
11. Tools available
Both Google and Bing offer additional tools to advertisers. Google has the Keyword Planner Tool, as well as an Ad Editor tool, Google Analytics, Google Trends, and Google My Business. Bing Ads does offer a keyword planner, but it's less sophisticated than Google's by far.
Bing Ads
Bing is owned by Microsoft. The Bing Ads network comprises of three different search engines: Bing, Yahoo and AOL. However, Bing also powers dozens of other search engines, such as DuckDuckGo and MSN.
All up, this means that Bing holds 14.5% of the global desktop search market.
Bing isn't just used for browser searches either. Microsoft's search engine is also integrated with other products services, such as the Office 365 suite, the Microsoft Edge browser, and Xbox, as well as powering voice searches via Cortana and Alexa.
So who exactly does Bing Ads allow you to reach, and where does the network have the advantage? These numbers show just how ubiquitous Bing is as a search engine:
Bing also performs well in specific industries, such as B2B, finance, auto, travel and retail.
Types of ads on Bing Ads
Bing Ads has a number of different ad types to help search partners promote their products or services via the platform, including:
Expanded text
Dynamic Search
Bing Smart Search
Responsive search ads
Product ads
Each of these ads serves a different purpose, which we'll dive into below.
Expanded text ads
Expanded text ads appear at the top of Bing's search results pages. These ads consist of a headline, description and display URL, as well as ad extensions where advertisers can highlight different pages to encourage users to click through to their website.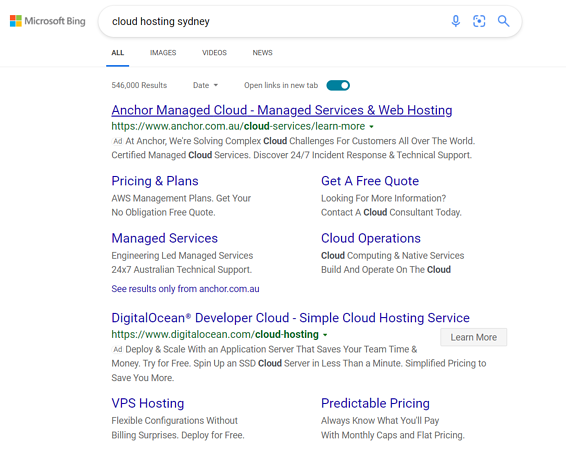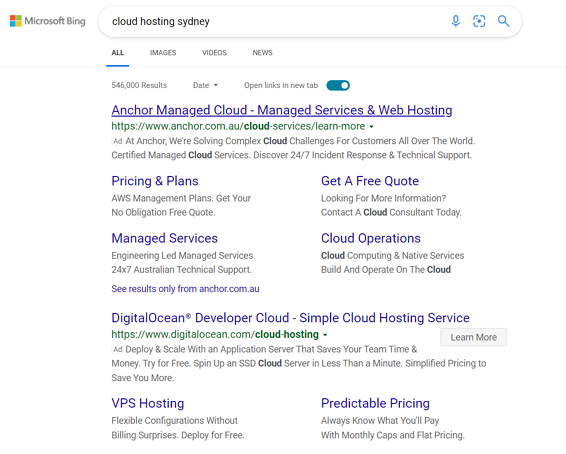 Dynamic Search Ads
Dynamic search ads look exactly like expanded text ads. However, there's one key difference: rather than creating a set ad, dynamic ads respond to specific search queries from your audience. These ads are a valuable way to save time and reduce workload, while automatically creating relevant and targeted ads for your audience.


Image source: Microsoft
Bing Smart Search
Bing Smart Search is a unique advertising experience that's formatted for touch screens. These ads include a preview of your landing page alongside any ad descriptions and URLs: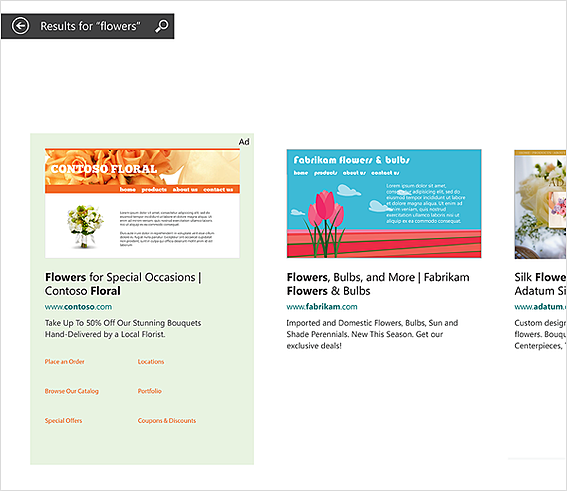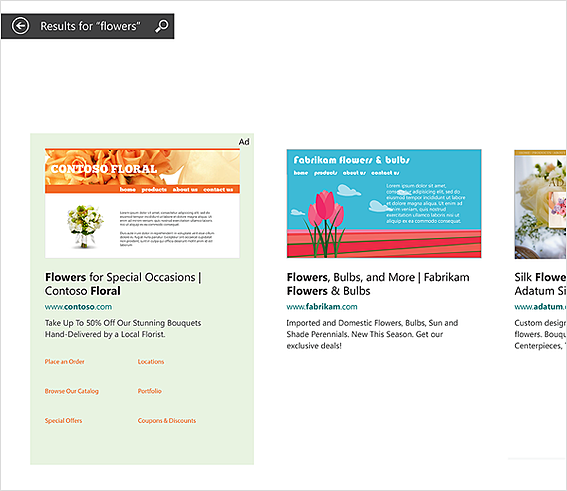 Responsive search ads
Responsive search ads are another type of text-based ad that automatically optimizes headlines and descriptions for performance. Advertisers simply need to provide up to 15 headlines and 4 descriptions. From there, Microsoft analyzes and displays the best-performing ad combinations while eliminating any low-performing ads.
Product ads
Product ads allow advertisers to showcase their products directly in Bing search results. These products are generated from an advertiser's product catalog in Microsoft Merchant Centre. Alongside the product image, Bing also displays the product pricing and seller's details: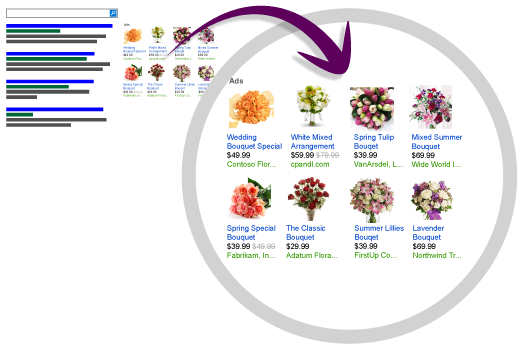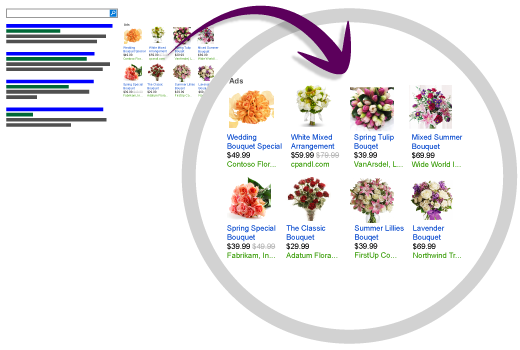 Image source: Microsoft
Pros of Bing Ads vs. Google Ads
Bing Ads is a handy advertising platform because it allows you to put your business in front of millions of people who you couldn't necessarily reach with Google Ads. You also get access to three advertising networks instead of one, which further broadens the audience for your ads. What's more, Bing's audience is older and more affluent than audiences on other search engines. If you're trying to key decision-makers, or you're operating in B2B, finance, healthcare or retail, you'll be more likely to reach them with Bing Ads.
Even though Bing has smaller search volumes compared to Google, it's less competitive so you'll be getting more visibility from the search terms that you do bid on. The CPCs on Bing are also less costly than Google, so it's perfect if you want to make your marketing budget go further.
Cons of Bing Ads vs. Google Ads
The biggest con of Bing Ads has to be its reach. Despite its 687 million users, Bing pales in comparison to Google's 4.3 billion user base. Although you might be able to reach a good portion of your audience on Bing, it's likely to be nowhere near the volume that you'd see on Google.
Ad types are another area where Bing falls short compared to Google. Bing is usually second to market when it comes to advertising features, particularly when it comes to features like the call button or ads in Google Maps.
Exclusive features for Bing Ads vs. Google Ads
Despite Google being the leader in advertising formats, Bing does have a few exclusive features that Google doesn't. Bing allows advertisers to get incredibly granular with targeting devices based on operating systems, device types, and even advanced device targeting for mobile phone ads.
With Bing, you'll also get comprehensive targeting options such as location and language at the campaign AND the ad group level, whereas Google only allows this at the campaign level.
Finally, Bing makes it easy to import ads straight from Google. Advertisers can simply download their assets then reupload them into the Bing Ads manager.
Google Ads
Google is the biggest search engine in the world, which makes Google Ads the biggest PPC advertising platform in the world. More than 5.6 billion searches are conducted on the search engine every single day, which equals roughly 2 trillion global searches per year.
With Google Ads, advertisers can display their products and services at the top of search, as well as YouTube and the Google Display Network. It's also one of the most trusted marketing channels for businesses, with 79% of marketers saying that PPC benefits their organization.
Here are some more figures that show just how far-reaching Google Ads is:
6 in 10 users can't tell the difference between Google ads and Google's organic search results. (Marketing Tech)
64.6% of searchers click on a Google Ad when they're looking to shop online. (Wordstream)
41% of all clicks go to the top 3 paid results in Google. (Wordstream)
The Google Display Network comprises of over 2 million websites and reaches 90% of users across the globe. (Google)
The average business has an ROI of 2:1 with Google Ads. This means they earn $2 for every $1 they invest into the platform. (Wordstream)
Types of ads on Google Ads
Like Bing, Google Ads has a multitude of ad formats available to advertisers. The five most popular search ad formats are:
Text ads
Responsive ads
Dynamic search ads
Call-only ads
Shopping ads
Text ads
Text ads appear at the top of Google's search results above and below the organic search results. These ads consist of a headline, ad description and display URL, as well as ad extensions with call-outs to different pages on the advertiser's website.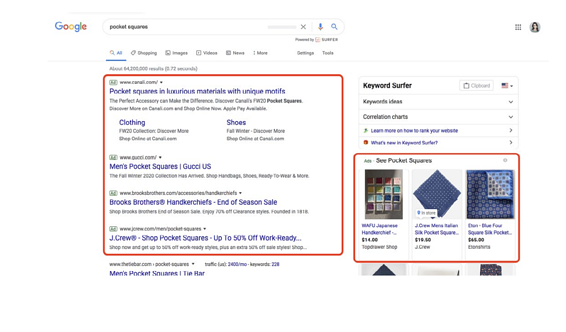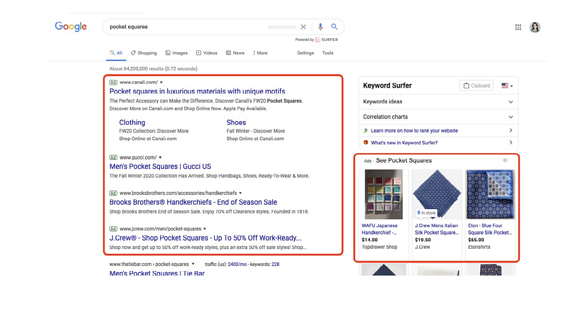 Responsive ads
Like Bing Ads, Google's responsive ads match the best-performing headline and description together to help advertisers maximize clicks to their website. Advertisers upload 15 headline variations and four ad copy variations, then Google will test the ads and display the highest-performing one to users.
Dynamic Search ads
Dynamic search ads are exactly like text ads, except they adapt to the search terms that the individual buyer searches for. These are ideal for advertisers with a large product inventory, such as an eCommerce website, or websites with well-developed content.
In Google search, they appear like this: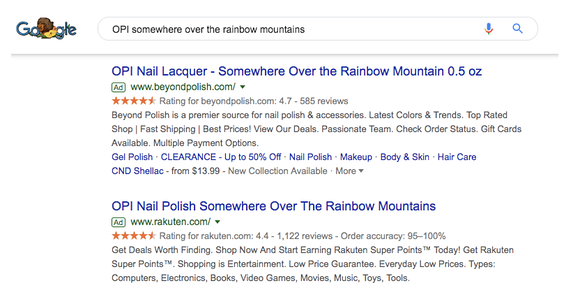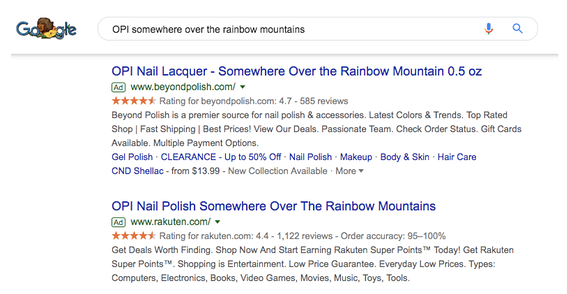 Image source: Holini
Call-only ads
Google is the only search marketing platform to offer call ads as a specific ad type. These ads appear in results with a phone number, call-to-action, and a link to the advertiser's website.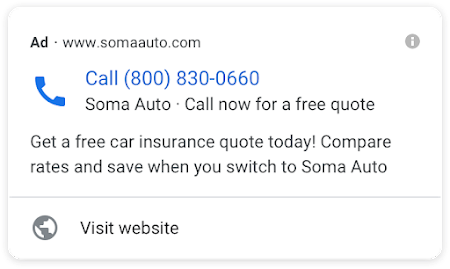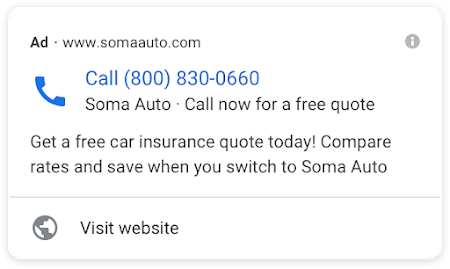 Image source: Google
Call-only ads can be optimized to only display during hours when the advertiser is available to take calls. They also only show up on devices where the click-to-call feature is available, such as mobile.
Shopping ads
Google Shopping Ads allow advertisers to display products directly at the top of SERPs. These are specifically linked to search queries with commercial intent, like "buy [product name]" online.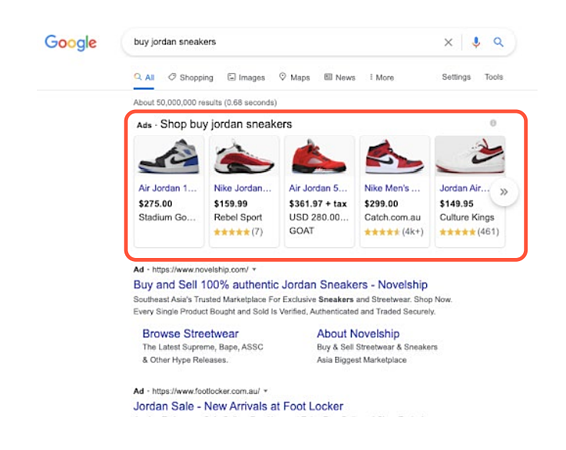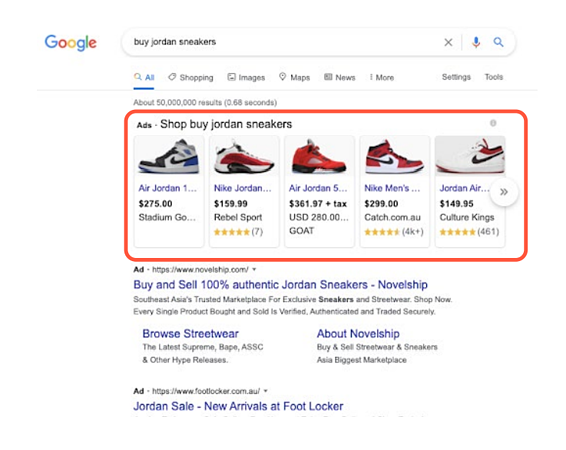 Shopping ads display the product name, pricing, company name, and star rating if applicable. To use Shopping Ads, advertisers need to submit their product feed to the Google Merchant Centre.
Pros of Google Ads
Unsurprisingly, the biggest advantage Google Ads has over Bing Ads is its audience. With billions of users and 2 million websites in the Display Network, there's no other platform that offers the same level of reach as Google Ads.
As the world's leading search marketing platform, Google regularly introduces new advertising formats and ad types designed to help advertisers maximize the effectiveness of Google Ad campaigns. Google Ads also has a higher overall conversion rate than Bing Ads, which ultimately translates to more leads and sales.
Cons of Google Ads
Google Ads is more expensive, plain and simple. At $2.69, the average CPC on Google Ads is well above Bing Ads. If you want to unlock the power of Google's advertising platform, you need to have a bigger budget at your disposal or be really savvy when it comes to campaign optimisation.
Advertising on Google comes with competition as well — a lot of it. You'll be going up against more companies, which means even higher advertising costs (or less exposure). Last but not least, Google is also stricter with its advertising content than Bing due to the sheer size of the platform.
Exclusive features
Google Ads is the only search marketing platform with PPC ads and display advertising options. With access to the Search Network and the Display Network, you'll be able to reach a good portion of the internet that you simply couldn't reach with another advertising platform. On top of this, some ad types, such as call-only ads, are only available on Google Ads.
Which platform suits you?
At the end of the day, the right platform is the one that will help you generate the highest ROAS for your business.
A Bing Ads account is ideal for companies with smaller budgets or companies targeting older audiences with more expensive products. Companies without images, videos or other creative assets will also benefit from using Bing Ads, as Bing has a variety of text-based adversting options.
On the other hand, Google Ads suits businesses that have a larger budget and are looking to maximize brand awareness or drive a high volume of leads quickly. On top of generating results quickly, Google Ads is more effective for companies with visual assets thanks to the Display Network and YouTube advertising.
Still not sure about Bing Ads vs. Google Ads for your ad campaigns? Don't worry, we have you covered. Our PPC Gurus know Google AdWords and Bing Ads inside out, and can help you engineer the best paid advertising strategy for maximum ROAS. Get started by claiming your FREE digital marketing audit below.