How Long To See Results With Google Ads?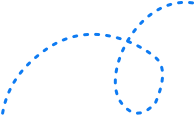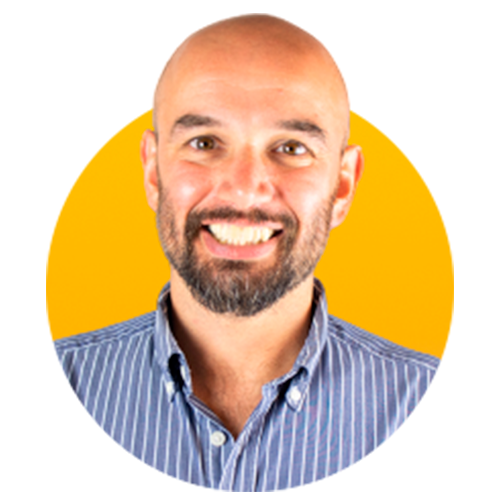 Ed Jones
14 December 2021
17min read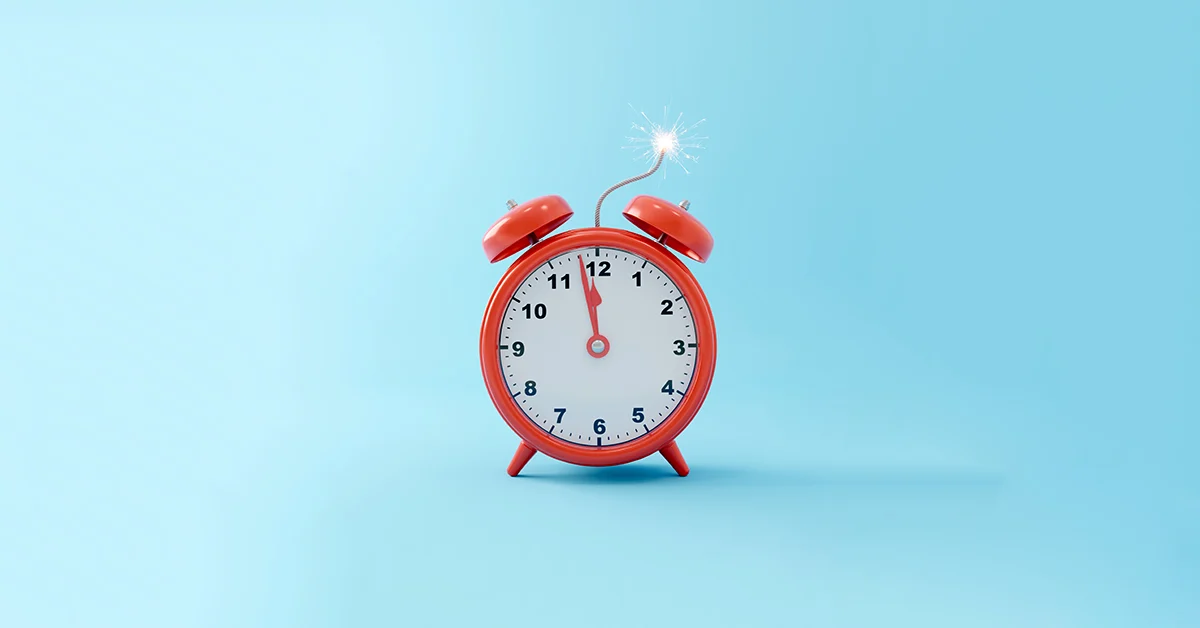 Does Google Ads work?
It's a question every advertiser wants to know, and the answer isn't as simple as you might think.
No doubt about it! Google Ads (formerly Google AdWords) is excellent for attracting "ready to buy" leads and bringing you red-hot customers for your products or services.
Conversion rates are relatively high, and a rock-solid campaign with Google Ads management can deliver sales to your business faster than other tactics.
However, getting the real revenue-busting results everyone raves about takes time.
So the question is…
How long does it take for Google Ads to work?
Timelines vary per business. Our years of experience managing ad campaigns for small businesses and enterprises alike mean we recommend:
At least 6 months to mature a Google Ads campaign
6-12 months to develop a strong PPC campaign
12 months?!
That's right.
But the results are worth it.
Google Ads is the most cost-effective advertising method for companies of all sizes – from small mom-and-pop shops to global enterprises. 
According to Google, businesses make an average of $2 in revenue for every $1 they spend in Google Ads. But of course, no one's here for average.
Engineering a high-converting campaign starts with understanding the clients, their target audience, and the market. Here at OMG, we've helped our clients achieve 20:1 ROAS, a 220% increase in conversion rates, an 84% increase in conversions, and EVEN a 2,600% more paid revenue!
As we said, the results are worth the wait.
Why does PPC take so long to work?
A PPC campaign usually requires around six months to work because it doesn't have any data or performance history. The best advertising data comes directly from your ad campaign. It takes time for your PPC campaign to generate data, especially if you have a small audience size.


Image Source: Web FX
When you start PPC advertising, ad networks will gauge the quality of your ads. This will influence your ads' performance in the ad auction, which impacts how often users see them. Ad metrics can change as the platforms gather more information about your ads' performances.
In short, as your ad campaigns generate more data, you can use it to improve your targeting, keyword selection, and bids. And, as your ads gain more impressions and clicks, networks develop a more accurate score, which can help your ads perform better in ad auctions.
In this article, we'll look at the different factors that play a role in how long it takes to get results from Google Ads, and what to do to improve PPC results.
What to do to improve Google Ads results
1. Allow time for onboarding
We'll be frank – Google Ads campaigns can take time to get off the ground. It's not a case of throwing together some words, bidding for keywords and waiting for conversions to flood in.
The best PPC campaigns are built on a strong foundation of clear objectives and business understanding.
We cannot emphasize this enough: onboarding is critical to the success of your Google Ads Campaign.
This initial research and 'get to know you' phase means that every ad, ad group, and campaign is uniquely tailored to your audience. Campaign targeting is one of the best ways to achieve higher click-throughs and a greater ROI in the long run.
#1: Getting to know you
Your agency scopes out your campaign and takes time to understand your business and team.
They need your help to understand your business deeply enough so that they can craft a hyper-targeted campaign.
What are your goals?
Who are your competitors?
Who are your ideal customers?
Where are you starting from?
Are your customers mobile or desktop users?
#2: Strategy development and campaign build
This is the real in-depth tactical stuff. The agency will conduct in-depth keyword research, market research and an online audit. The agency will also define your audiences and cross-match with your SEO activity. Then they'll develop a custom strategy to meet your goals.
Tracking is key to every campaign, and this takes time to set up. An experienced agency will know the top KPIs to monitor and the tools to get the best data from your campaign.
Finally, all your ad elements are put in place, like negative keywords, ad copy, structured snippets, and ad text.
While this is happening, you need to invest time in giving your agency what they need. Make yourself available to answer their questions.
Trust us, it's far better to spend this time upfront than risk wasting your budget on low quality clicks.
#3. Optimise your ad campaigns
Every great Google Ads campaign is a work in progress. By that we mean, you need to continually optimize your campaign to get better and better results.
Stagnation is the enemy of PPC success.
But you can only optimize if you have collected enough data to make informed decisions.
That's what the first months of your campaign should provide you with: visibility and data.
This is where a PPC agency will offer clear advantages. Finding the hours to dive into data week in and week out can prove challenging — especially when you've got so many other priorities on your plate. Dedicated specialists focus solely on mining for insights and will help you make data-driven decisions.
Plus, your agency will know the average cost per click (CPC) metrics and click through rate (CTR) metrics for your niche, the likely conversion rates, return on ad spend (ROAS), and so on.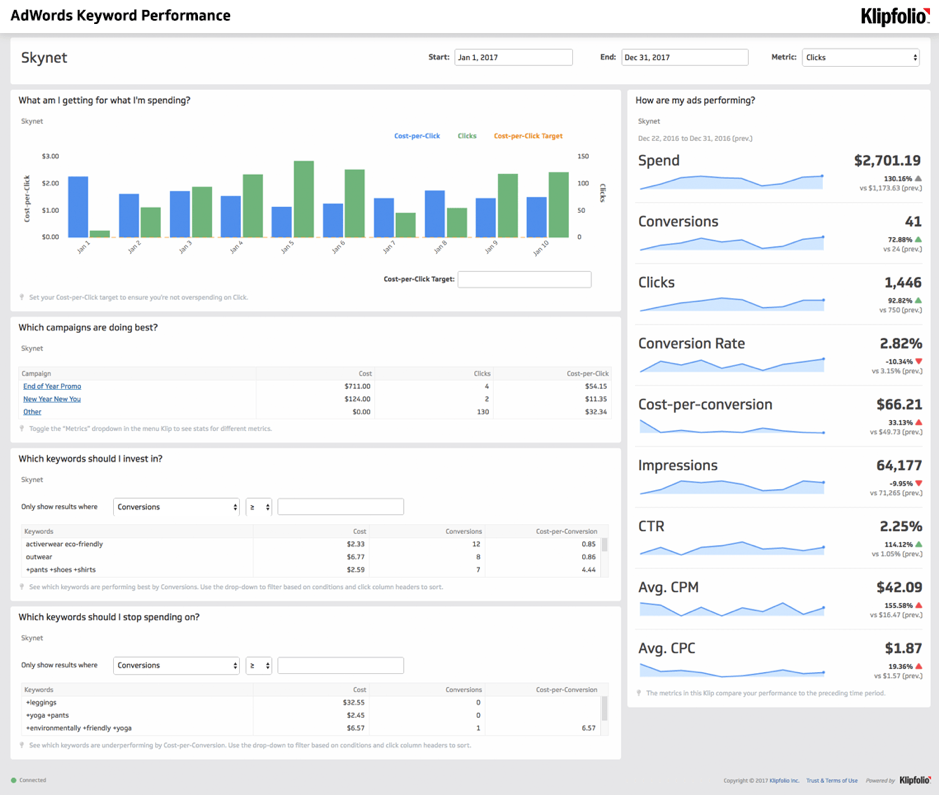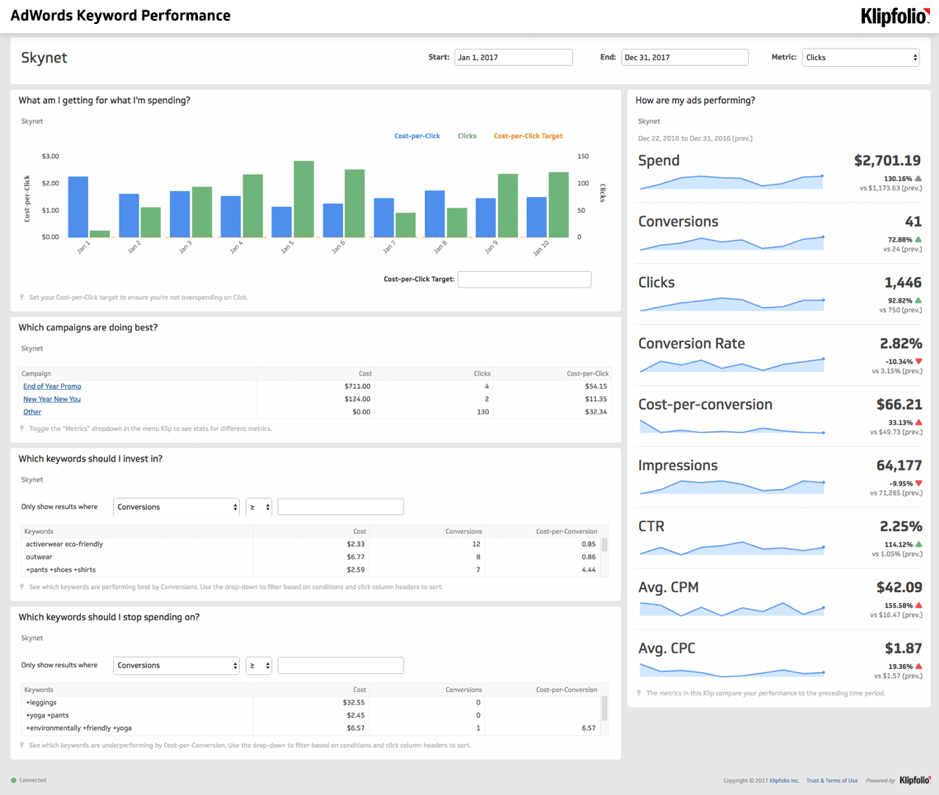 (Image Source: Klipfolio)
Better still, the agency has time and resources to dedicate to testing different elements of your campaign to see what combinations get better results.
This can save you a heap of time, effort and frustration, while getting you to the best ROI faster.
#4. Test your ad copy for quicker review
Your ad has been submitted to Google for review, so now you just wait for it to go live, right?
Wrong!
Google takes time to approve your ad.
Here's what they look at:
Headline: Is it spammy or misleading?
Ad description: What's your message? Is there offensive content? Are you including prohibited content?
Keywords: Does the ad make sense for the keywords?
Landing page: Does your ad match your landing page?
It all comes down to Google wanting to give searchers the best possible experience.
If you don't meet the guidelines, Google flags your ad for changes or even disapproves your ad, which means you need to repeat the process all over again.
Before we go on, it's important to note that if you are working with a reputable PPC agency and that agency has taken you through a proven onboarding process, the chances of Google rejecting your ad are low.
But it can happen.
So, how long does it take for Google to review your ad?
First, consider the fact that Google literally has millions of advertisers using its platform.
And Google reviews ads in the order that it receives them. So, you simply join a queue.
On average, Google will review most ads within one business day.
(But it has been known to take longer than one business day).
Here's what you'll see when that happens:


(Image Source: AdEspresso)
The good news is there is a way to get your ads approved faster.
You simply need to follow Google's guidelines.
The main things you need to avoid are:
Prohibited content, such as the sale and promotion of counterfeit goods.
Prohibited practices, such as data collection, misrepresentation, and anything else that abuses the ad network.
Restricted content, such as adult content, gambling, political content etc.
Editorial and technical issues, which is anything that is annoying or difficult for your users to interact with.
For a full rundown of the guidelines, check Google's advertising policies.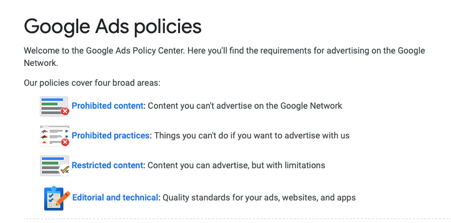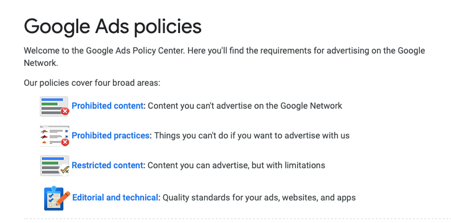 This is where there are massive advantages to having a PPC agency behind the wheel of your Google Ads campaign.
The best PPC agencies stay up to date with the latest Google Ads policies and guidelines – it makes their job easier and ensures they do the best for their clients.
When you work with a certified Google Premier Partner, like OMG, you can be confident that they know the ins and outs of the online advertising platform. For you, this makes the whole process much quicker and stress-free, because the agency knows the content they can and cannot use in your ad.
So what will they look at?
Here are some common focus areas for your Google Ads optimisation and testing
1. One of the first things to optimize is your bid strategy.
Your ad rank (where your ad appears) is determined by your max bid and quality score combined.
Does your bid strategy fit your objectives? Will it achieve the best ROAS?
Is it time to increase the budget to bring more clicks to your site? Work out whether the increase in revenue will outweigh the increase in costs and campaigns.
2. Next is your search query reports and keyword performance.
We use search query reports to see what your potential customers are searching for. This helps refine your keyword list.
Fact is, your initial keyword list probably won't be insanely profitable from the get-go. Most keyword lists need some attention and fine-tuning to find the best performers.
Now also might be the time to expand your keyword list to bring in traffic from other untapped areas.
3. As part of this, review and optimize your negative keyword list.
Negative keywords play a critical role in maximising the ROI of your Google Ads campaign, because you're eliminating clicks from those who aren't going to buy anything. That saves a lot of wasted spend!
Do you have the right negative keywords? Refine your negative keywords to reduce the number of wasted impressions and clicks.
Essentially, we want to find opportunities to cut out anything that's wasting your budget and not working, while finding the opportunities to reallocate budget into those things that are getting results.
Optimisation will also focus on the actual ad copy.
There's a good chance that the first round of ad copy won't be the one that gets the best results. A big part of Google Ads management is experimenting with new ad copy and using multivariate testing to determine what works best for your perfect customers.
4. Another thing you might not have thought about is checking for click fraud.
The total cost of ad fraud is set at $34 Billion, predicting it will jump to $87 billion by 2022. It is also predicted that most of this will be lost in the APAC region, with the current $19 billion set to rise to $56 billion
Is click fraud costing you valuable Google Ads dollars? Are fake clicks losing you customers? Check your Google Ads account for potential click fraud and take the right steps to eliminate it.
But it's not just about the ads – we always look at conversion rate optimisation on the landing page too.
What happens when people click and no one converts?
It could be a landing page problem.
So, what changes can we make to convert more people when they arrive on the site?
5. Now is the time to run A/B tests to try out variations on the page.
For example, adding TrustPilot reviews and reducing the form fields is proven to boost conversions.
There are just a few of the things your agency will review and optimize to increase the strength of your Google Adss campaigns and grow profitability.
It's normal for a Google Ads campaign to take time before picking up momentum.
Okay, so you've dedicated some time to onboarding, your ads have been approved, and your campaign is up and running.
Now, why aren't the leads flooding in?
The reality is it can take a few weeks for your Google Ads campaign to pick up momentum.
How much time entirely depends on your niche, keywords and competition.
Your PPC agency will soon tell you if your campaign's performance is falling outside normal ranges and will have a solution ready to roll.
That's their job.
Final words
Does Google Ads work?
Absolutely.
But as you can see, getting revenue-shifting results from Google Ads takes time.
You need to allow time for onboarding. Google needs to review and approve your ad. Not to mention the ongoing time and effort to track and optimize your results.
But the results are worth it.
Truth is, building a PPC campaign on your own is hard – especially when you don't know what to expect.
Working with an Ads management agency puts you in the best hands to streamline the process so it doesn't take longer than it has to. Plus, they'll also have the know-how to execute campaigns across every aspect of Google's Ad platform, whether it's Google Display Network, Google Shopping or more.
Got questions about Google Ads or PPC Advertising? Or wondering whether it's the right fit for your business?
Maybe you aren't seeing results from your campaigns and want to work with Google Premier Partners, OMG is the perfect choice for you!