Everything You Need to Create a Content Calendar (+ Templates)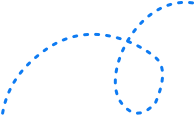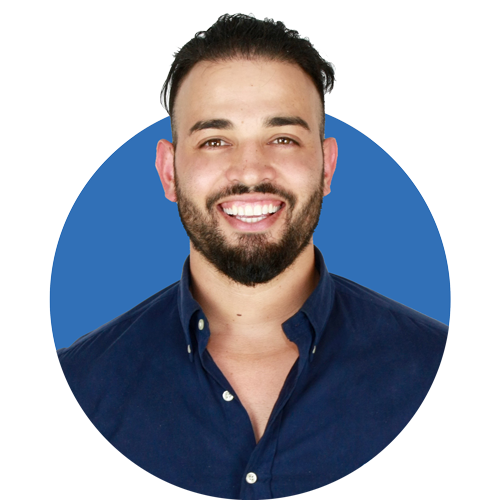 Andrew Raso
10 September 2021
22min read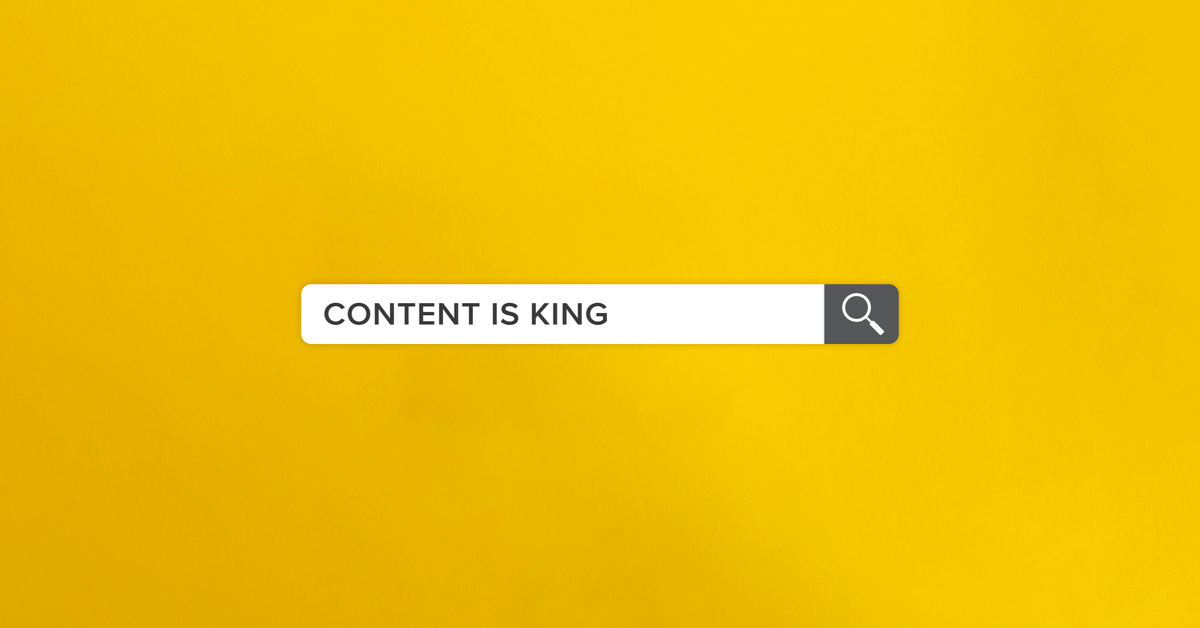 60% of marketers create at least one piece of content every single day.
This means the vast majority of businesses (including your competitors) are churning out content 7 days a week, 365 days of the calendar year.
If you want to keep up, you need to have a solid content marketing calendar in place.
Content marketing is a critical part of any SEO strategy. But here's the catch: creating good content takes time, effort, and planning. Unlike other marketing tactics that can be done on a monthly or quarterly basis, your content game plan needs to always be on. And when you have a business or a marketing team to run, it's tough to scale your content operations. Before you know it, content slips to the wayside.
It doesn't have to be like this.
In this post, we'll show you optimize your time and get the most out of your content marketing efforts. We'll cover:
What is a content calendar and why is it important?
A content calendar, or editorial calendar, is a schedule of your upcoming content creation plans.  These break down your content marketing efforts by day, week or month, and typically include different channels and formats, ranging from white papers and blog posts to videos, case studies, social media content, podcasts, emails, company updates and more.
They look something like this: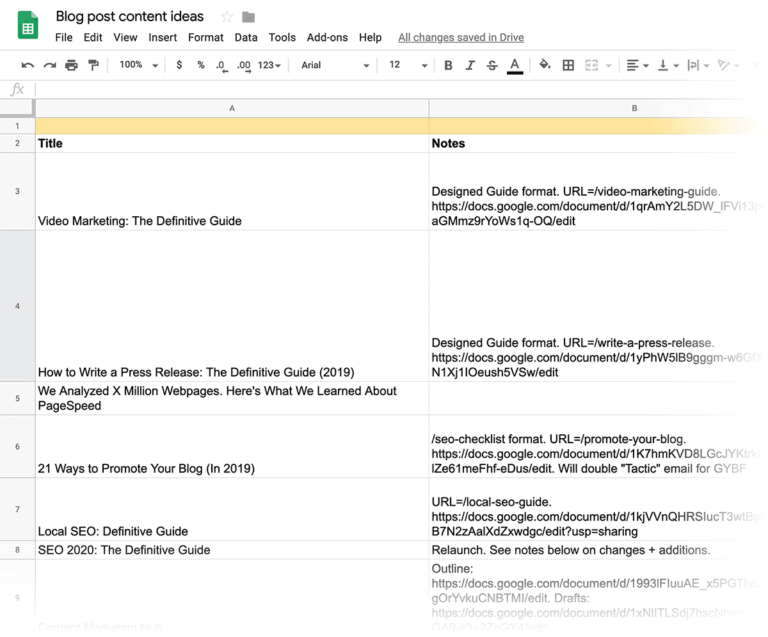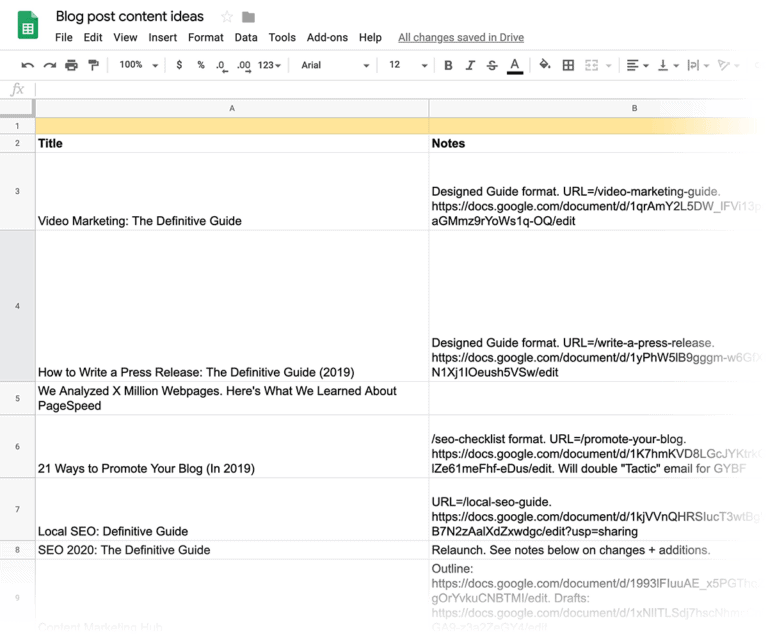 Image source: Backlinko
Why do you need this?
A content calendar helps you get organized
If you want to grow your business online with content marketing, you need to have a plan.
Your content calendar helps you structure your content marketing efforts, and ensure that you're regularly producing helpful resources for your audience.
Without it, you'll be making up ideas on the fly without any rhyme or reason and trying to piece together content as you go along. Worse yet, content will slip through the cracks altogether as the priorities of daily management get in the way.
You can create content that lines up with your business goals
Having a calendar also makes it easy to sync up your content production efforts with your broader business plan. For example, if you're a florist and you know that Mother's Day is coming up, you might schedule content around gift ideas across your Twitter, blog and video. If you're an eCommerce retailer and preparing for Black Friday, you could build a series of posts on the best deals of the season.
But all of this is only possible if you plan in advance. If you don't have a calendar in place, your content will likely end up at the bottom of the to do list — and you'll be missing out on tons of potential sales at a critical time for your business.
You keep your team accountable
Creating content is a resource-intensive task. You might start out writing your own blog posts, interviewing clients for case studies, and making your own social media content. However, the goal should be to eventually hand it off. A content calendar makes it that much easier to do so.
If you have a shared content plan in place, each person in your team has better visibility over what's coming up and what they need to do. You might have one person writing the blog posts, one person shooting video, one reviewing and editing content before you publish, and one optimizing it for SEO. Alternatively, you might have different people writing different posts in any given week to ensure that you spread the workload out evenly.
This collaborative way of working can also give you an advantage in content distribution. When your team knows what's coming up, they can start thinking of ways to publish and share content across different channels.
Let's go back to that Mother's Day example. A blog post on the best gifts for mum can also double up as a social media post, feature in an email marketing campaign, be included in your PPC strategy, or be turned into a link building opportunity with other websites. You'll maximize your content exposure and draw in more qualified visitors to your website — and more qualified visitors = more sales.
Content calendar vs content strategy
Your content calendar isn't the same as a content strategy. The strategic work should come first — then, when you're clear on the road ahead, your content calendar will help ensure you stick to that plan and publish content regularly. Think of your content calendar like Google Maps for your content: you know your final destination and you have a route to get there already. After that, you just open it up, follow the directions and get going.
What should a content calendar include?
Your content calendar can be as detailed or as top-line as you like, but there are a few things that every plan should include.
The type of content: are you planning to publish an editorial post, infographic, email campaign, podcast, video, or social media post? Noting down the type of content helps you understand how much time you need to allocate to developing that resource, and ensures you're publishing in a diverse array of formats.
Platform: Where is this content going to sit? If it's an editorial piece, will it go on your own blog or will it be a guest blog? If you're working on an infographic, are you housing it on your own website or SlideShare? Knowing which platform you're creating your content for goes a long way in optimizing the piece for that specific channel and audience.
Content details: If you're working with a team, you should include as much information on the topic as possible. What do you want to cover off in each piece of content? Are there any key messages to include? Do you have any similar kinds of content you can use as inspiration? The more detail you can go into, the easier it is to produce down the line.
Due date: This might be the due date of the first draft, second draft, or the live date. If you need to, set multiple deadlines for reviews and edits so everything is being delivered on time.
Owner: When you have multiple team members involved in content development, it's a good idea to list out who is responsible for each stage of the process. For example, you might have one person writing the post, another person adapting it for your social media content calendar, another proof-reading, and another ready to publish the post.
Distribution channels: You can improve your content efforts tenfold if you maximize your marketing strategy for distribution. Every content calendar should include a list of places where the finished content can be promoted — think Facebook posts, YouTube videos, or email newsletters.
Understanding your goals and making a strategy
Now that we've covered off what a content calendar is, why it's important and what it should include, it's time to get into creating one for your business.
As we touched on earlier, every great content calendar starts with a rock-solid strategy. If you're just getting started, these 4 tips will help you build and execute your content marketing game plan.
Audit existing content
Every good content strategy starts out with an audit of what's been done before.
Reviewing your previous content efforts helps you understand how your content has stacked up to date, what's worked, and where there's room to improve.
Look at all of the content you've created across your different channels over the past year, and note down the following:
Performance: What are your most effective pieces of content? For social media, you might judge this on engagement or reach; whereas on your blog it might be page views or time on site.
Growth: Which channels have experienced the most growth in the past year, and what did you do to achieve that growth? Was it publishing more frequently, adapting your content topics, sharing more video, or increasing distribution?
Content frequency: How often are you publishing content across all of your channels? How does this correlate with performance? For example, you might see an uplift in traffic when you publish 2-3 blog posts per week as opposed to 1 blog post per week, or when you post multiple times a day on Instagram.
Time of publishing: Do certain times work better for pushing out your content? This question is more important for some channels than others: social media and email marketing are highly affected by post times, while blogs are less so.
Repurpose existing content
During the initial stages, you should also review your existing content to see if any older pieces can be repurposed, reshared, or updated.
For example, if you're running a stationery store and you created a post on the best back to school items for spring 2020, it's worth refreshing this as a new piece for spring 2021. Likewise, if you have a YouTube video, you could look at turning this into a blog post and plugging that into your 2021 content schedule.
These quick wins will save you a ton of time and effort in planning your content, as well as creating it.
Other ideas include:
Repurposing slide decks into different types of content, such as a video, article, or podcast
Using data or company research (with permission) to develop infographics, create PR campaigns, or build blog posts
Split up lengthy white papers into smaller PDFs, blogs, webinars, or bite-sized takeaways
Interviewing colleagues to get their insights, then publishing this across social media, on your blog, or on YouTube
Tip: Get familiar with content atomisation. This process involves breaking up a bigger content piece into smaller chunks — i.e. an 8-chapter white paper into 8 separate blog posts — to maximize content output.
Using social media for your audience and goals
Social media is the perfect starting point to learn more about your audience, reach a specific target market, understand which different types of content work best with customers, or improve content distribution.
On any given platform, such as Facebook or Twitter, you can deep-dive into precisely who your followers are: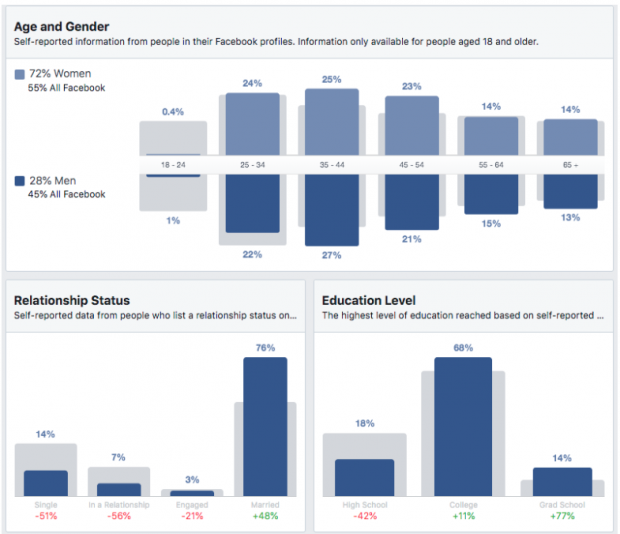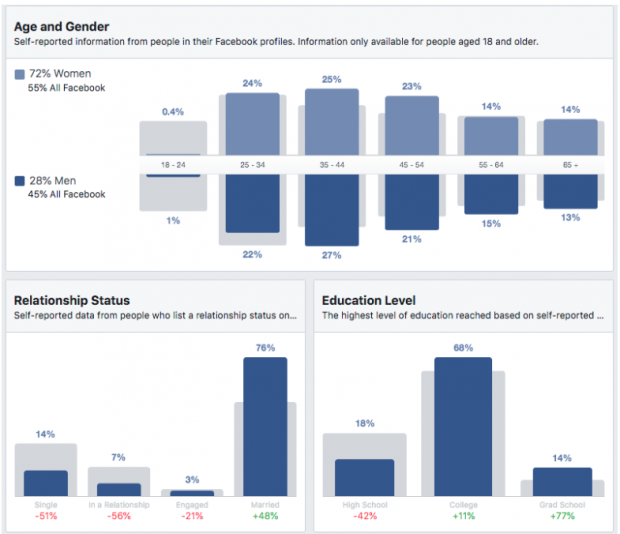 Image source: Hootsuite
This is a huge insight that can be used to guide your future content efforts. You might find that your audience skews more towards males, which means your content topics should be tailored to that demographic.
The same goes for LinkedIn and B2B businesses. With LinkedIn, it's easy to uncover a plethora of information on your audience, such as their job title, job function, industry, company size, or location: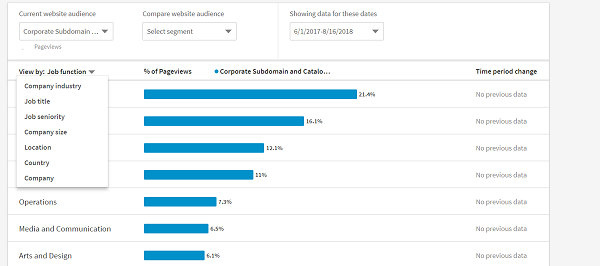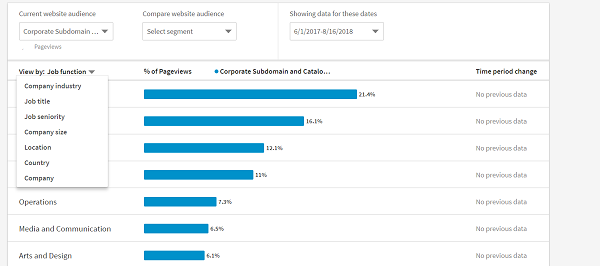 Image source: HubSpot
On the flipside, aim to develop and distribute content on the right social media channel for your target audience. For example, if you're running a cafe, Instagram and Facebook will be more useful than LinkedIn or Twitter.
Create a calendar of events and look at seasonality
Your content plan should be synced up to your broader marketing plan and business plan. If there are important dates for your business, your content calendar should also match these either with an increase in frequency or a series of pieces on a specific topic.
Let's say you're a chocolatier. Valentines Day is probably a massive sales period for your business, which means you should be trying to maximize your online presence and be top of mind during this period. This might include creating content around Valentines Day itself, promoting special editions of your products and the process behind making them, or social media posts revealing the history behind your most popular chocolates.
Seasonality is also important to keep in mind. The types of content people are looking for in summer is vastly different from winter, and your schedule should reflect that. If you're not sure where to start, take a look at your industry on Google Trends. A quick look at the 'Exercise' topic, for example, reveals a dip in interest around December every year, followed up a spike in searches in January: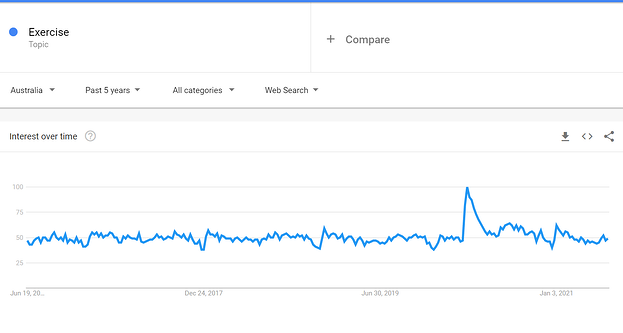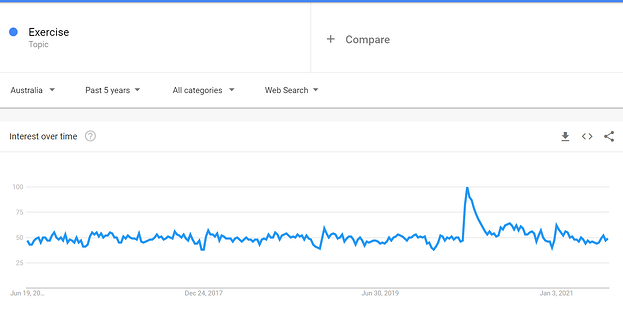 Note these important key dates, national events, and seasonal trends in your content calendar, so you can anticipate them in advance and create relevant content for your audience during this time.
Review your competitors
Your competitors are a GOLD MINE of content ideas and resources.
Check out their marketing channels to see when they're posting, what their social media strategy is, which types of content they're investing in, and the different topics they're creating content around. If you see any ideas that could inspire your own content creation effort, note it down as a potential topic.
A word of caution: duplicate content is an absolute no-go for SEO.
You can use a competitor's content as inspiration and try to improve upon it in your calendar, but never publish the entire article word-for-word (or even publish sections of the article).
This will negatively impact your rankings and reduce your website's online visibility — the opposite of what you're trying to do with your content calendar.
Create a workflow for every step in your calendar
Having a content strategy and calendar is a key step in maintaining a consistent publishing cadence. After this, you want to establish and note down a clear process so that everyone on your team knows precisely what needs to get done at each stage of content creation:
Ideation: this is the stage where you come together and brainstorm topics for new content. You might schedule a monthly workshop, or put together a spreadsheet where everyone can contribute ideas or share links that could be helpful to inform future pieces. Once you've narrowed down your list of topics, map them out in your calendar based on whether the topics are seasonal or evergreen.
Creation: At this point, you want to identify who will be creating the brief, who will be developing the content, and which stakeholders will be involved in the review. Getting a clear picture of everyone involved in the creation process ensures that ideas don't just end up sitting in the calendar until 2022.
Design: Does your social media content need to be edited or designed before you can publish it? Do you need a header for your blog? Does an editor need to put your video together? If so, you'll need to allocate time and resources for this. Everyone needs to know who will design any assets, what the steps are for getting budget approval, and timeframes for deliverables.
Launch: This step hones in on the publishing process. Who is responsible for uploading the content, and what needs to be done alongside it? For example, YouTube videos should always include tags, and blog posts need to have meta titles and descriptions to be optimized for Google search. Create a checklist for each channel so nothing gets missed along the way.
Promotion: Set up clear content distribution processes across all of your respective marketing channels. This could mean outlining the timeframes within which the content should be shared, any additional assets that need to be created, or any budget that needs to go behind paid social or PPC.
Reporting: Reporting is an often overlooked, but incredibly important part of your content and social media content calendar. Each month or quarter, set aside some time to review what's been done, what's working, and how you're tracking against your overarching content marketing KPIs.
In an ideal world, your content calendar and workflow should end up looking like this: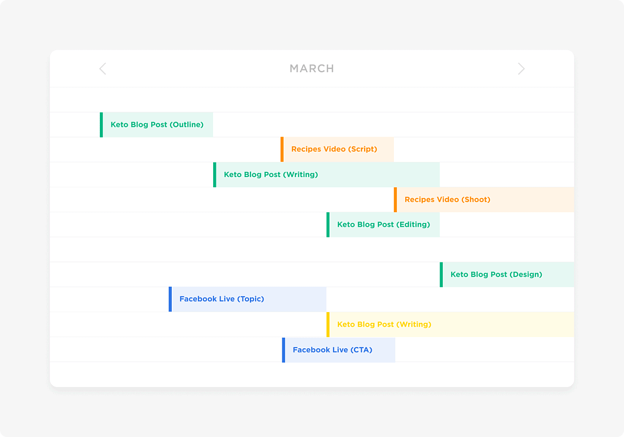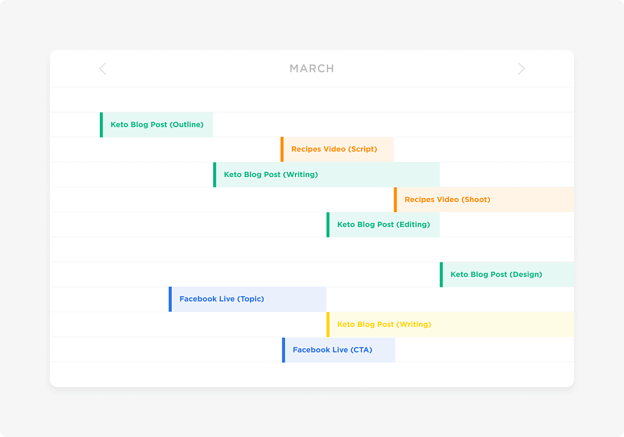 Image source: Backlinko
Free tools to help you create content calendars
Creating a content calendar isn't an easy task, but thankfully there are plenty of tools to help you along the way. The right tool for your business differs depending on your tech stack, workflow, communications and preferences. Here are 4 options to explore for future content calendars:
Map it out in a spreadsheet
Spreadsheets are probably the most common tool that teams use to plan their content calendars. These charts are straightforward to understand: you can add different columns and rows for different pieces of content, color code different channels, and have tabs for every month of the year.
Depending on whether your team works in a shared drive or in the cloud, Microsoft Excel or Google Sheets are the best free spreadsheet platforms to use for content calendars.
Plan it with a content calendar app
If you want something that's geared specifically towards content marketing, content calendar apps are the way to go. These are custom-designed for content management, and include both project management and planning features that help you stick to your goals.
There are plenty of content calendar tools out there, but some of the most popular ones on the market include Coschedule, Contently and Loomly.
Integrate it into WordPress with a plugin
WordPress powers 40% of the world's websites, so it's no surprise that there are dedicated editorial calendar plugins for this CMS. Their Editorial Calendar plugin is an easy-to-use solution to map out your plan and ensure that you stick to a regular posting schedule:


Use a project management tool
If you're already using a project management platform or prefer a more visual method of working, these types of content calendars might be best for you. Platforms like Trello, Basecamp, Monday and Asana are all great ways to manage your calendar workflow — particularly if you have multiple stakeholders involved. The best part about these tools is that you can keep everyone across any given project and set up dedicated boards for all of your channels, team members, and campaigns. You can even set up checklists for each content piece to ensure your workflow runs like clockwork.
Content calendar templates and examples
There are more than a few different ways to make and use a content calendar. If you're looking for inspiration, we've got you covered with these standout content calendar templates from some of the world's most effective content and social media teams.
Backlinko Editorial Calendar template (Google Sheets)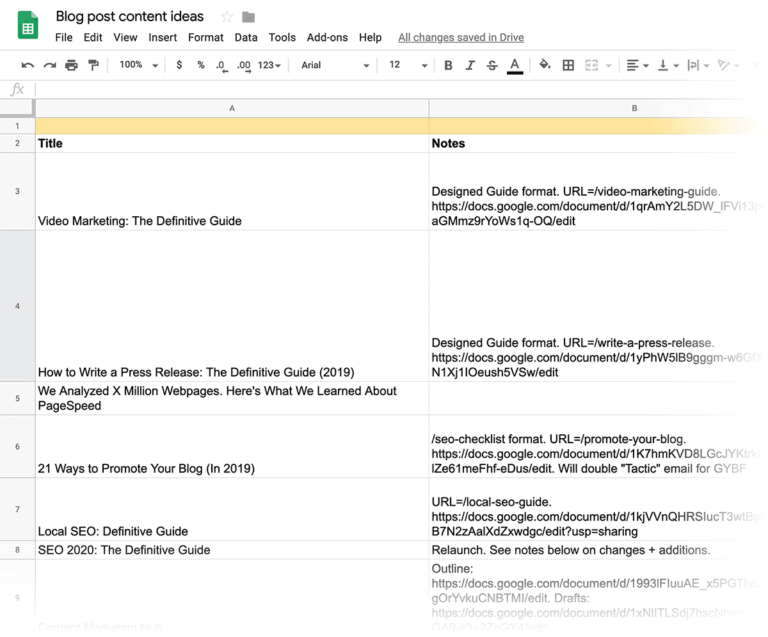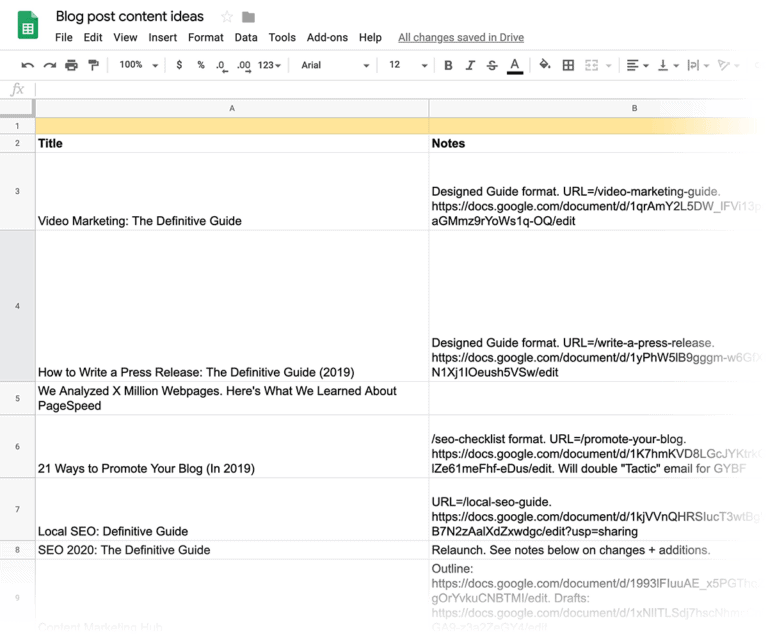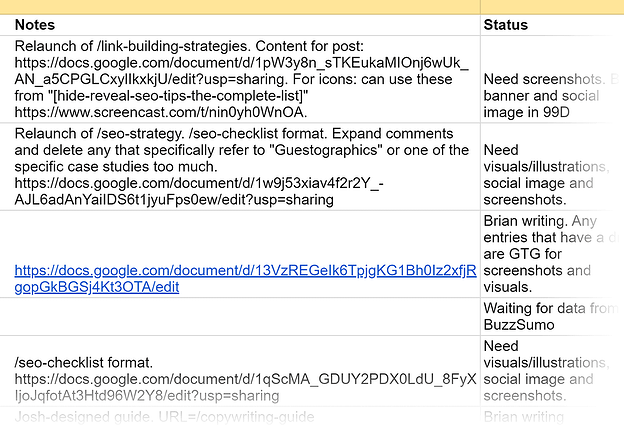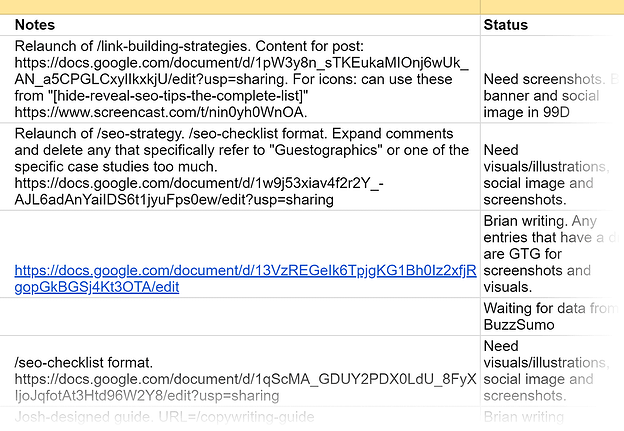 As a popular website for SEO advice, a massive part of Backlinko's business is based on content production and distribution. Brian Dean and his team churn out top-notch new content on a monthly basis, and they plan it all with a content and social media calendar spreadsheet.
This calendar is simple, but effective. The spreadsheet includes the main content ideas per month, notes on what the URL should be, and links to more detailed information on each post. Backlinko also has a status column where the team adds updates or more details on where the project is currently at.
HubSpot Editorial Calendars Template (Microsoft Excel)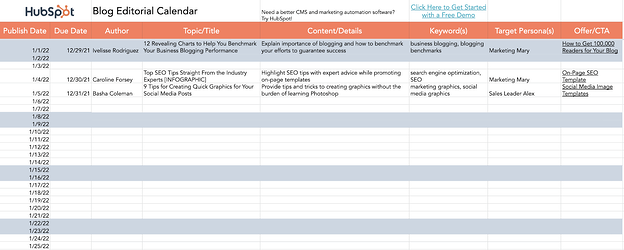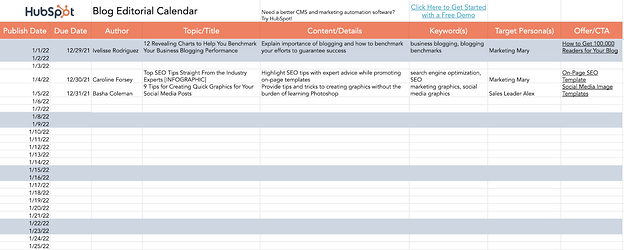 HubSpot is one of the world's most popular inbound marketing strategy platforms, and they absolutely know their stuff when it comes to editorial content. The company regularly produces a ton of content, including free resources, blogs, workbooks, and courses — and one of these resources is a simple and easy to use Editorial Calendar for Microsoft Excel.
This calendar includes the target publication date, due date, author, post topic, more details, target keywords, target audiences, and guidelines on where the CTA should lead. HubSpot's free-to-download calendar template is perfect if you're working with multiple authors or looking to optimize blog content for SEO best practices.
Buffer's Content Calendar Template (Trello)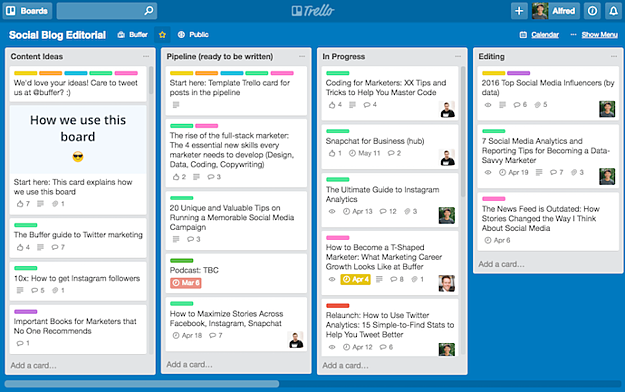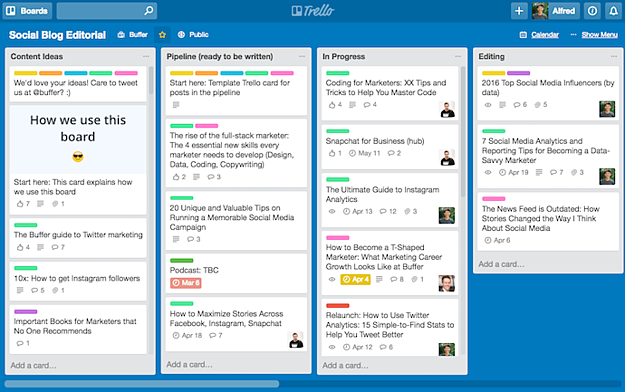 Buffer is a social media content scheduling tool that operates with an almost fully remote team of marketers around the world. Buffer's marketers use Trello to plan content, with each card representing a different piece of content. The team then keep track of the progress for each blog in three boards — Pipeline, In Progress and Editing — and includes comments, checklists, and due dates within each board.
They've also color coded each card to represent the marketing or social media channel that the content is being designed for: for example, green is for podcasts while mint is for blogs. While in this case, they've used Trello for their content schedule, this could also be the perfect content calendar template to help guide and track social media planning.
CoSchedule's Content Calendar Template (CoSchedule)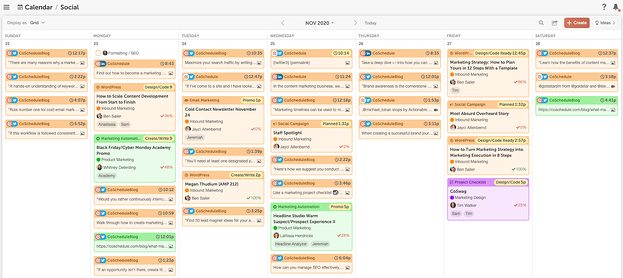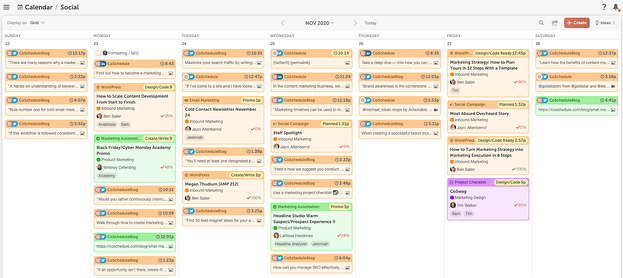 CoSchedule is a calendar platform where teams can track all their projects in one place. This template is a great example of how the company uses its own platform to create a robust content calendar across all of its marketing and social media channels.
This content calendar template is a shining showcase of how to break down content planning into weekly chunks, which is perfect for companies with a larger content output. Like Buffer's calendar in Trello, this board includes color coding to indicate the status of tasks, timelines for when the team should publish and distribute content via Twitter, Instagram or Facebook, and the platforms where each piece of content is housed.
Kick your content marketing into overdrive
With a solid editorial content calendar and social media content calendar, you're well on your way to turning browsers into click-ready buyers. But setting up your calendar is only the first step. You need to learn how to find the best ideas for your industry, understand the secrets to powerful content creation, maximize your post-publishing process AND keep track of your results.
Don't worry – we're here to help. Get your audience to bite on your content 'carrot' and achieve roaring revenue results with our FREE content and social media marketing guide.