What Are Content Pillars? The Proven Strategy To Try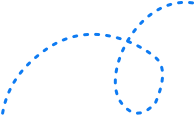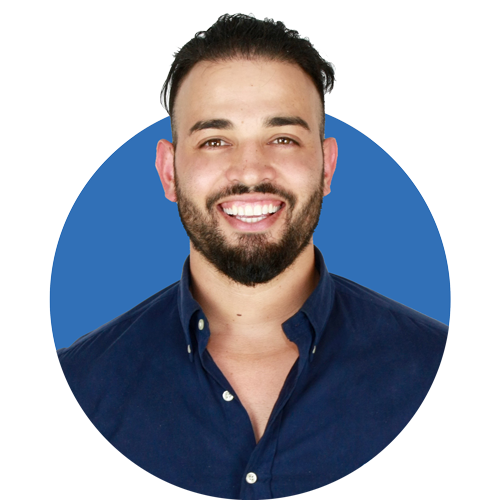 Andrew Raso
2 June 2022
10min read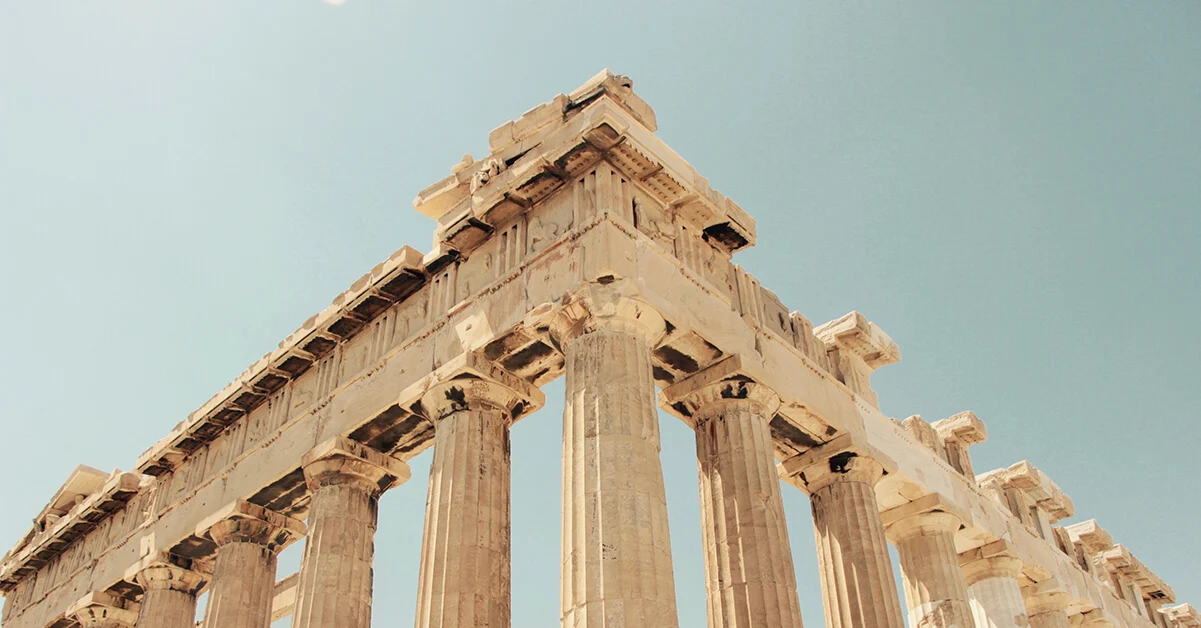 What's at the heart of every successful marketing campaign that rakes in revenue?
Irresistible content that resonates with the right people.
That's why a killer content marketing strategy is so crucial.
But what happens if your content isn't hitting the mark with your audience? Or if your revenue isn't growing despite the work you're putting into creating content?
You know from the statistics that content marketing works. In fact, according to HubSpot, 70% of marketers are actively investing in content marketing. And, nearly 40% of marketers believe content marketing is a very important element of their integrated marketing plan.
You've seen it work for other companies like yours.
So, what's their secret?
Content pillars.
Pillar content is a strategy that focuses on topics, rather than keywords. You create a bunch of valuable content around one central theme – or "pillar".
The result?
You can create content that both your target audience and Google love. Over and over again.
In this article, learn how to use content pillars to make your revenue soar. You'll find out:
How pillar content positions your digital marketing to win
How to research and create content pillars
How other brands use content pillars for success – and how you can, too.
Sound good? Let's get started.
What are content pillars?
Pillars are essentially themes or key topics around which you can focus your content clusters. A pillar page broadly covers a particular topic or head keyword, with room for more in-depth reporting and long-tail intent in detailed cluster blog posts that hyperlink back to the pillar page.
You may have heard them called cornerstone content. Or flagship content.
In the often indecipherable world of SEO, they're practically the same thing in practice.
What are the key elements of content pillars?
There are three major types of pillar pages, depending on your marketing goals: "Guide", "What Is", and "How-To". We'll look at some examples of each category to learn how they function.
The "How-To"
The How-To is not only a valuable content asset for your brand, but serves as an opportunity to position yourself as a subject matter expert. It's also a good option if you're trying to reach people looking for information.
Healthcare.gov's core page on how to apply for health insurance offers a well-structured, easy-to-navigate experience that gathers all relevant information in one place.
Its established cluster topics cover the major themes, frequently asked questions (FAQs), plan comparisons, and other issues. Another advantage of this design is that it provides users with actionable content to begin the enrolling process right away.
The "What Is"
Long-form blogs can be ideal candidates for the "What Is" pillar page, which explores a topic in depth.
You can divide the themes or subtopics into chapters and segments if the subject matter is complex enough. A linked table of contents on the left side of the primary material organizes each subtopic and covers each article in greater detail.
Each cluster is customised for its function by including components such as pictures, movies, and graphs.  Note that these graphic pieces are ideal to promote content pillars for social media, email marketing, and other channels.
The "Guide"
The "Guide" format should deliver an authoritative summary of the topic, with multiple elements and pages that link to support it.
The pillar page's main topic is surrounded by subtopics and supporting features, such as blog entries, connections to resources or products, relevant queries, FAQs, and videos. Consider the pillar page to be the head of your content marketing plan, while cluster subjects are the legs, arms, and torso that support it.
What is the difference between pillars and cornerstone content?
Cornerstone content and Pillar posts are frequently used interchangeably in the blogging community. Consider pillar posts to be an umbrella that includes your cornerstone blog post.
Cornerstone content is the most helpful, and high-quality collection of articles you have on your blog post. Such articles should be long-form and address the most critical topics in great depth.
Cornerstone information should be easily accessible from your homepage and frequently linked to in other blog entries. They are the "parent articles" to which your blog's other, less detailed posts link.
Cornerstone content aids in the development of a successful SEO strategy. Although this is a complicated method, expert content marketers can assist you. As good marketers know, search engines value articles near the top of an internal link structure.
Pillar posts are in-depth guides to a prevalent topic that your target audience frequently searches for. These in-depth guides (pillar posts) are usually your blog's larger and more detailed posts.
They provide in-depth and comprehensive information on a subject and attempt to anticipate and answer any queries that your readers may have.
They should be easily accessible from your blog's homepage as prospective clients will find it easier to navigate to your blog. Pillar Posts provide a complete list of the topics that your company prioritize, which clients can refer to at any time.
They're also an essential aspect of brand marketing because they're the foundation of your SEO strategy.
If you develop valuable content, the pillar pieces will help you engage your viewers and enhance your overall Search Engine Optimization. Google favors pillar posts that are interesting, long, and high quality.
Why should you try content pillars?
1. Content pillars make it easier for humans and search engines to navigate your content.
Don't underestimate the importance of this point. In an internet world overflowing with content and information, it's often difficult for users to find what they need, when they need it.
Here's a visual of what most content creation looks like: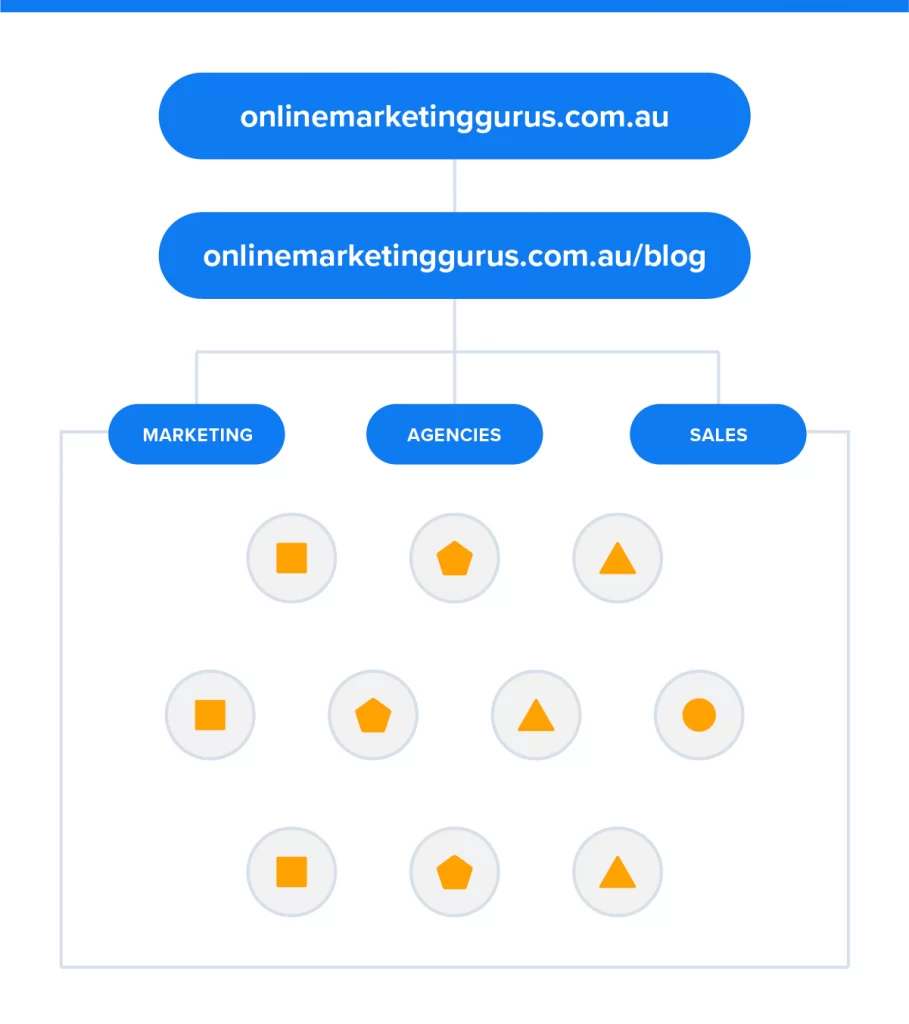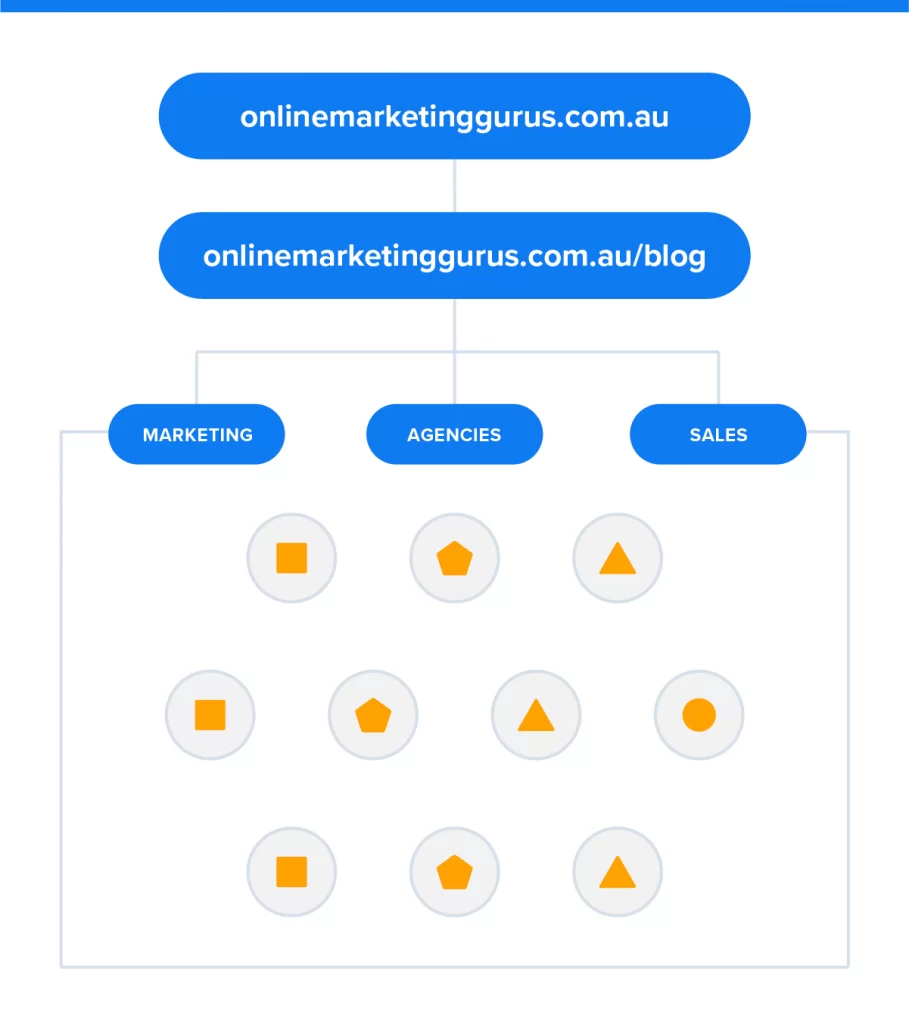 You have some topics you want to talk about, so you throw a little bit of everything into your blog. There's no real organization.
But by creating content pillars, you are literally handing users the content they're looking for.
No need to trawl through pages and pages of articles, guides and videos. Content pillars present information in a way that's streamlined and easy to navigate. Once users find the pillar page, they'll be able to follow links to other valuable and relevant content – the topic clusters.
Google is always striving to help searchers find the most accurate information possible – even if it isn't exactly what they searched for. Topic clusters address the gaps that could prevent a searcher from getting the information they need from your site, thus bolstering the pillar page's authority and placement in the SERPs.
Here's what the topic cluster model looks like: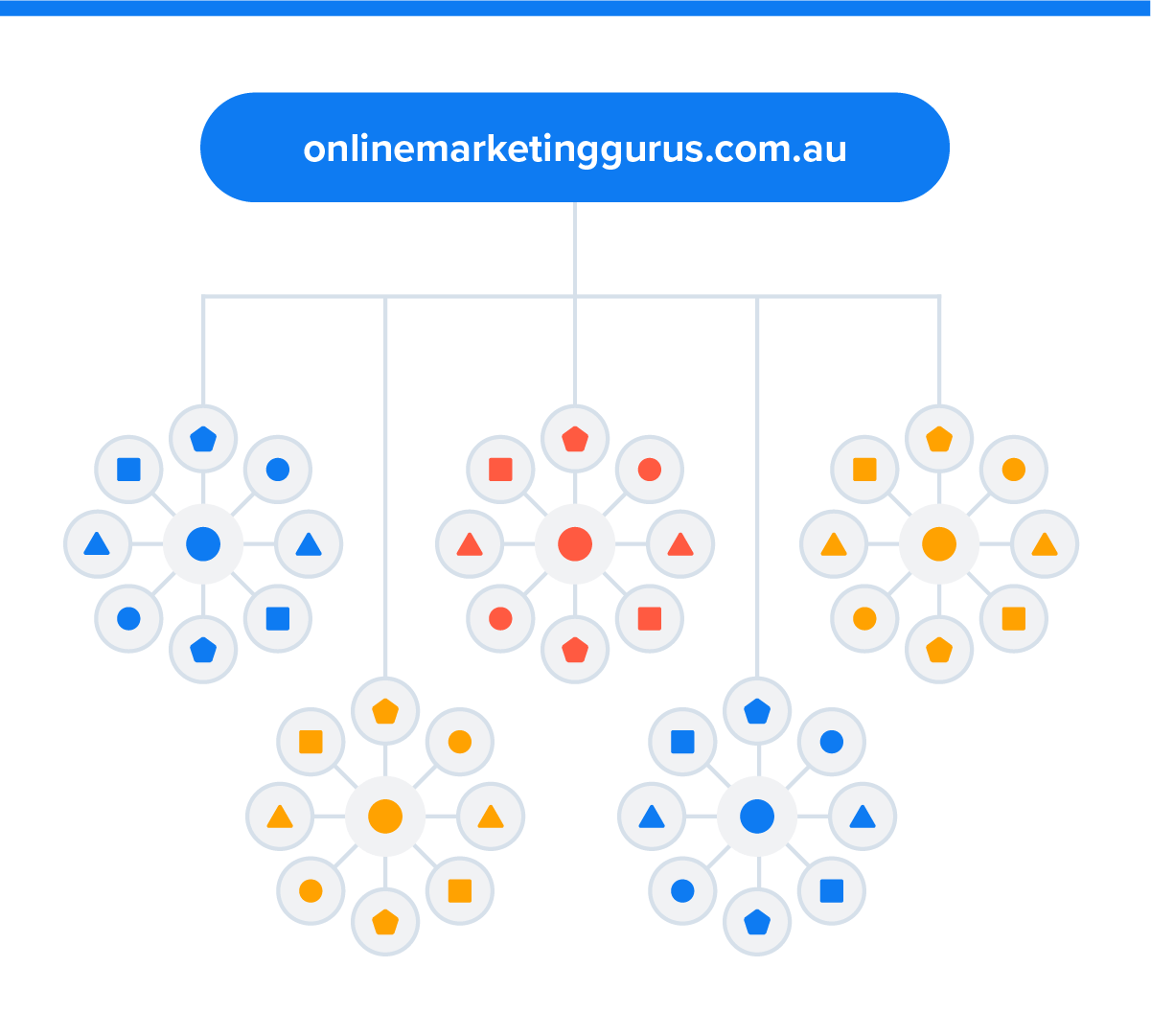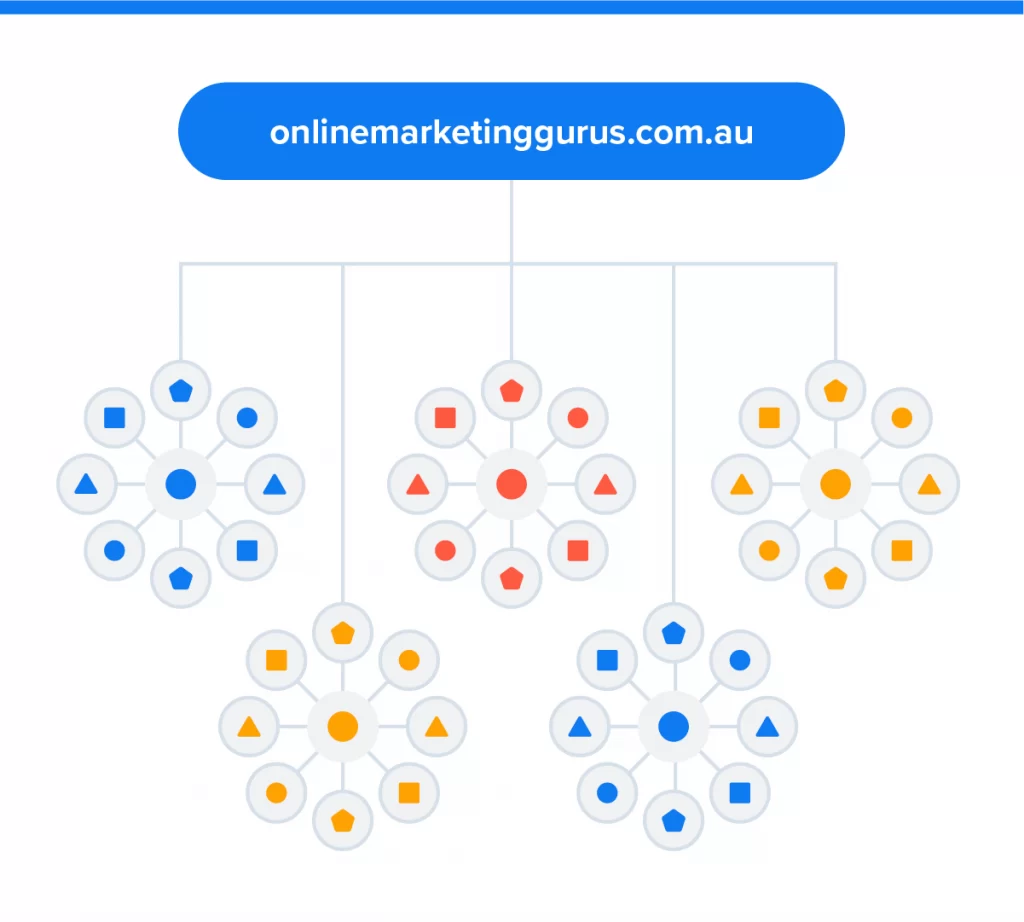 What happens when you make something easier for people?
You build a loyal following of visitors who are more likely to convert to loyal customers.
But it's not just humans you're helping – content pillars make it easier for search engines to find what they need to index and rank your site.
Plus, Google loves fresh and relevant content. So, as you add to and update your pillar posts with more cluster content, you'll keep rising in the ranks.
2. Content pillars can elevate rankings for linked pages.
One high-performing pillar page can elevate rankings for other linked pages.
Why do pillar pages help your search engine rankings?
Think about the mass of content that's online. All of that content can confuse Google's algorithm.
A major reason Google ranks one page or content piece over another is that it can quickly determine what the topic is. The page makes sense, its hyperlinks make sense, and it provides relevant valuable information.
That's what a pillar page does.
Start by creating your pillar page focusing on a key topic.
Then, write supporting blog posts (clusters) based on your content pillar strategy and generate internal links to the pillar page. When every article links back to a pillar page that discusses the umbrella topic, Google immediately knows what those pieces of content are about. As a result, it will rank you better.
Additionally, the more you cover a topic on your website through your topic clusters, the better Google will rank you for that topic in general.
Here's what happened when HubSpot ran this strategy on its own blog: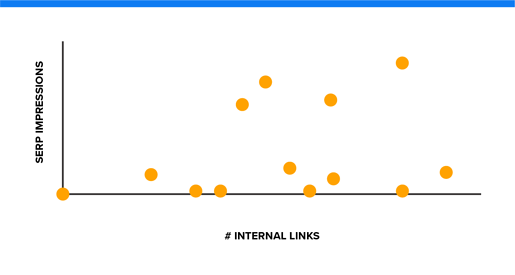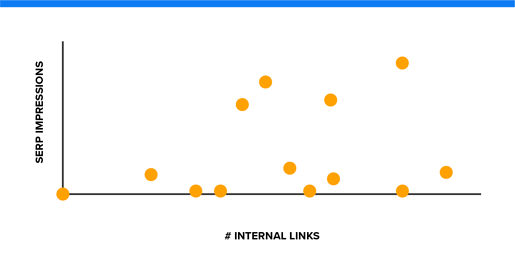 See how more internal links led to a higher placement in the SERPs? You can do the same for your site.
3. Content pillars keep your content creation focused on what your customers want.
It's much easier to create killer content when you know what your customers are looking for.
Spend time researching your pillar topics, and ensure every single piece of content is focused on your target audience.
This ensures every dollar you invest in your content marketing is working hard for results.
Content pillars will help you get clarity on your niche, while also building trust and helping your audience grow faster.
There's another huge benefit:
By creating content your target audience wants, they will spend longer on your site's pages and engage with your posts.
For example, a buyer might be looking for information on how to build a deck. After they've finished reading one of your articles, they click through to another related article on how to maintain the deck, then how to furnish an outdoor area, and so on.
Before you know it, they've spent 20 minutes or more on your pages!
Content pillars also make planning content so much easier, and are an essential part of any solid social media strategy. Rather than scrambling to create last-minute blog posts, your content pillars inform your long-term content goals, strategy, and calendar.
So, when the consumers need to buy a deck-related product, which brand do you think they will remember and open their wallet for?
That's right – you.
Looking to learn more about creating a content strategy that rakes in more revenue? Download our free Content Marketing Guide.
How to create content pillars that encourage conversion
By now you must be eager to create your own content pillars. So, how do you make and develop content pillars that work for your brand?
Before picking your pillars, you need to understand your target audience. Content marketers should target consumers using content pillars in a natural but engaging manner.
Why?
Because your content needs to give the audience what they want.
1. Start by looking at your audience
A buyer persona is a model that describes your target customer, based on your audience research. You will need different content pillars dedicated to each buyer persona.
You must ask yourself specific critical questions to generate effective content pillars for your brand's social media strategy:
What type of content are your buyers looking for?
Which of their pain points can you address through content?
What keywords are they searching for?
What content has historically performed well?
2. Set up a social media strategy and find your audience's needs
What is your target audience talking about on Twitter, Facebook or LinkedIn?
Set up search streams to monitor conversations that mention your brand, products, services and competitors.
See which topics are mentioned, which articles are shared, and which posts get the most attention.
These insights will help you add to what you've learned about your target audience.
3. Back it up with keyword research
Now you know what your customers are after, back it up with some keyword research.
Go to Google Ads (formerly Google AdWords) and type in a search idea related to your content idea. You'll get a list of related keywords that could fuel your content ideas. For example: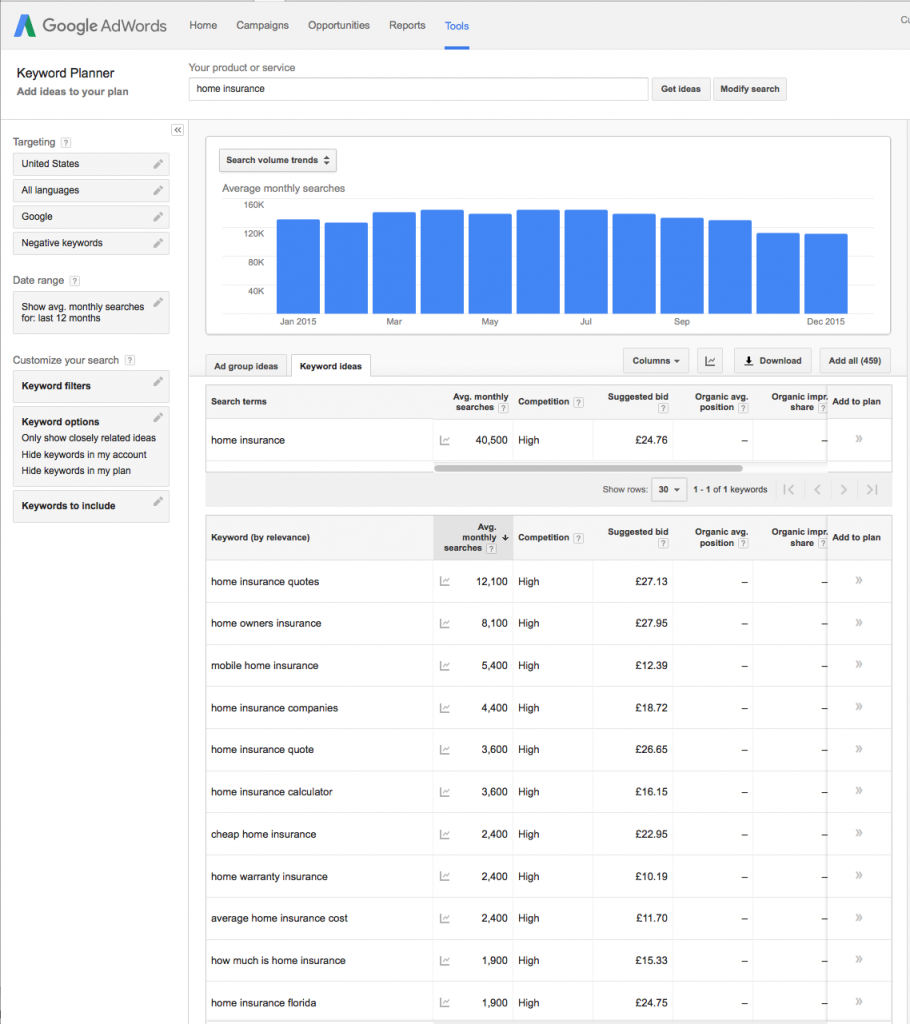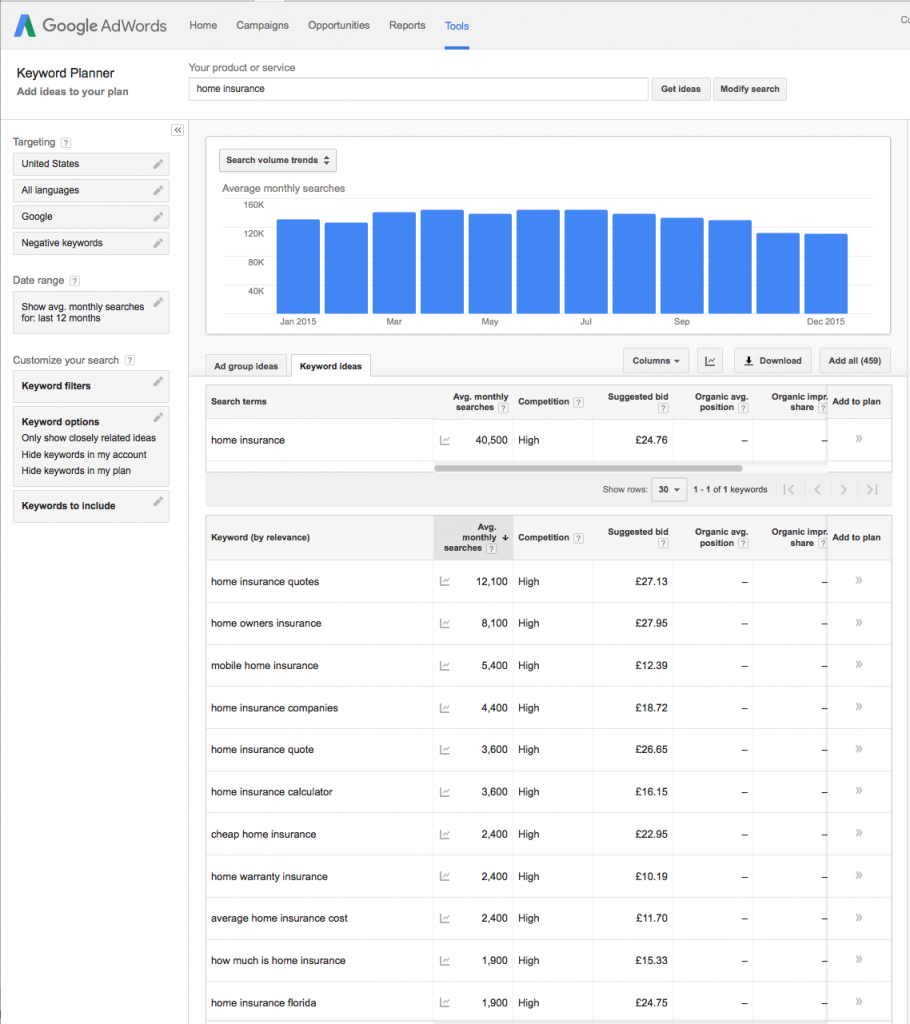 4. Watch your competitors
What types of pillar content do your competitors use?
Take a look at the content pieces that are getting hits on other sites. If your audiences are similar, you can use these popular topics as a guide for your blog.
How will you know what's working for your competitors?
Easy – head to Buzzsumo.
Here's what I see when I type in "content marketing":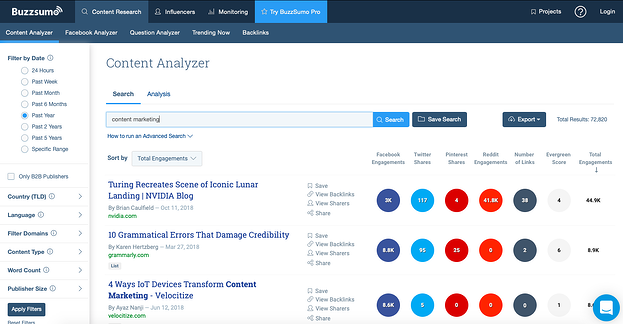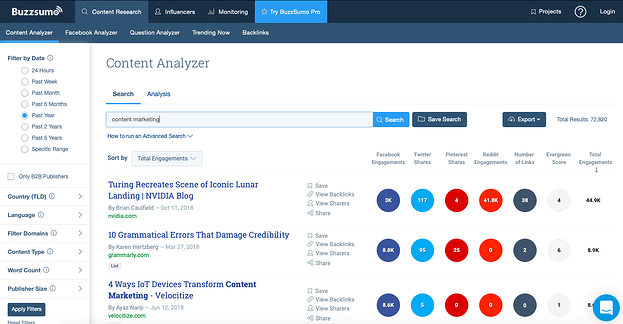 5. Plan it out
Now you've got your buyer insights and keyword research in hand; it's time to work out your content pillars.
Collect the ideas and topics into distinct groups – these will become your pillars. If there are a few ideas that don't fit a group, don't worry, they might come in useful later. For now, focus on creating strong content pillars.
The thing to remember here is that content pillars shouldn't be too specific. Think of each pillar as a tree trunk with the potential for heaps of branches of questions, conversations and ideas to come off of.
6. Begin sorting your core content pillars
Now that you've found your target audience and their needs, you can finally create your own content pillars. Begin by creating a master spreadsheet of all keyword phrases or topics you'd like to cover.
Then, cluster content based on related subjects.
7. Make a content calendar.
Once you have your content pillars in hand, you can move on to the content planning stage.  A content calendar lays out the specific blog posts, articles, videos, and other content pieces you want to create. To maintain a consistent brand presence across social media, create a calendar before content creation. Streamline your content efforts in order to achieve your desired outcomes.
8. Write your content pillar pages and promote
Got your high quality content ideas ready to go for each cluster? It's time to create your pillar page with relevant topics combined with specific themes to target your audience's pain points. This is the foundation upon which your topic cluster will be built around. To increase reach and visibility, promote your material across all channels, from your blog to your social media platforms.
Finally, keep your content cycle going by repurposing old material into new formats. Try to create high-quality content that keeps your audience engaged.
Content pillars also help you stay focused on your target audience. Remember that unique content can come in various shapes and sizes, as long as each fits neatly under one of your content pillars then keep an open mind.
How to use content pillars for social media
Social content pillars are the topics your brand regularly talks about, so create overlapping content for social media.
Social content pillars assist you in finding your niche. Being a specialist in one or a few key areas will help your audience develop more quickly.
Let's dive into the step by step process to leverage content pillars and increase your brand awareness:
1. Content bank
Make a separate section for each of your content pillars in a document. Write down everything that comes to mind. This will serve as a resource containing all of your ideas and will save you time when trying to decide what to write for an Instagram caption or a blog article. After you've come up with some early ideas, look for other sources of inspiration.
2. Listen to your audience
Another social media marketing technique to get ideas for fresh material is to listen to your audience and take notes on frequently asked questions. The point is to listen and react by providing a service.
When in doubt, make a post directly asking your audience what kind of material they want. Listening to your audience is a terrific approach to staying in touch with them, discovering what they want, and using their comments to develop content they'll like.
3. Keep up with the latest industry news and trends
Following what's going on in your industry might help you plan your content calendar for the coming weeks.
For example, if you're a tech blogger, you could get ideas from others in the industry. This is especially true right now, as many content creators are forced to change their strategies due to COVID-19.
Use Google Trends and Pinterest's search feature to can find out what's hot right now.
4. Analyse your statistics
Analysing your analytics can help you determine what material performs well, triggers the most engagement, and resonates with your audience.
Make a note of high-performing social media posts, their captions, the visuals you used, and any hashtags you added. Increase your engagement, optimize your stories, and drive traffic.
How to write a pillar page Google will love
The most crucial phase in a pillar approach is planning. While SEO content production will undoubtedly need a significant amount of time and work, you must first establish the standards that will guide the process. The following are the first steps in the implementation process:
1. Identify head term (aka broad topic)
Choose a core topic that's broad enough that it can generate more related posts that will serve as cluster content.
How do you choose content pillars?
Your core topic should follow these general guidelines:
Between two and four words
Industry-specific
Educational by nature
In support of your products/services
Characteristic of a head keyword as opposed to a long-tail version
Ultimately, your pillar page should answer a query a searcher might have about your core topic. Then, when they enter a Google search term that your page ranks for, they'll click onto your pillar page to get the answers to their questions. Finally, if your subtopics are well thought-out, they'll spend more time on your site browsing the related pieces of cluster content hyperlinked on your pillar page.
How long should pillar content be?
Make it long-form – we're talking at least 2,000 to 3,000 words.
Use it as an overview of the broad topic. Don't go into too much detail on one element of the topic – that's what your cluster pages are for. Answer questions but leave room for more detail in related blogs.
Use hyperlinks to link to cluster posts and other sections within the page.
Write a killer introduction. This is where you need to build the credibility of what you're about to tell your audience.
2. Source subtopic content to form your topic clusters
What are topic clusters?
Google's algorithm is constantly changing to provide the most relevant content for searcher's queries. In the past, marketers could win a top spot in the SERPs by targeting a single keyword per page. Now, marketers target entire topics to help more pages rank, and give searchers better answers. This method is referred to as topic clustering.
A topic cluster is a group of interlinked web pages that address as many search queries as possible about a particular subject. Topic clusters are built around one piece of pillar content targeting a broad topic, linked to several related but more narrowly focused pages.
OK so you know what topic clusters are, now what's next?
Once you've come up with the right core topic, you can start to brainstorm subtopics based on more specific keywords related to the broader topic. These related pieces of content should correspond to your keyword research and audience persona findings and dive deeper into specifics of your core topic.
When planning out your cluster content ideas, these sources might help:
3. Pay attention to internal links
As you create cluster content, make sure you're creating internal links properly. Linking cluster content to your pillar page with your head term anchor text will help Google crawl through your site architecture and rank you accordingly.
Over to you
Congratulations! Now you know what pillar content is, why it's important, and how you can create your own.
It's time to create your content pillars to achieve high rankings, engage your audience and drive revenue.
Remember, it all starts with proper research into your target audience.
Examine the content your buyer personas want.
Use the tactics mentioned in this article to research keywords, competitors' content, and trending topics.
Then, organize this into obvious pillars and create your pillar pages.
Follow these easy steps, and your content will be accelerating ROI in no time!
Content pillars aren't the only way to drive revenue from your digital channels. Find out how you can supercharge your digital marketing with our latest eBook.
We gathered insights from marketers across all industries to create The Digital Marketing Game Plan. It's filled with proven insights, templates, techniques and examples on how to get revenue shifting results with digital marketing.
It's all yours, for free.
Click below and download now!