Guide to Enterprise Local SEO: How Big Brands Dominate 'Near Me'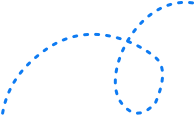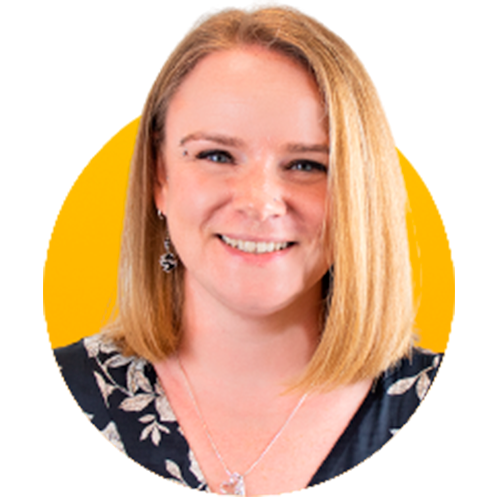 Jules Ward
13 December 2021
25min read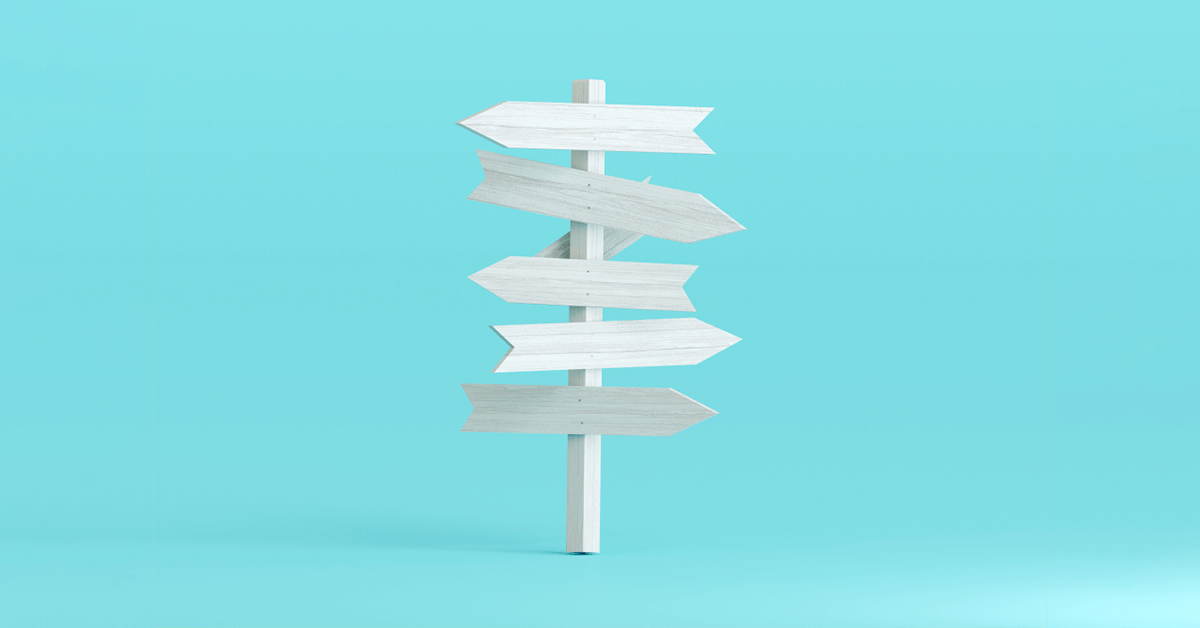 You've got a strategy to dominate global search engine results. But if you want your enterprise SEO strategy to translate to tangible results on your bottom line, there's a HUGE piece of the puzzle that you can't overlook.
It's enterprise local SEO.
Here's the thing. Most enterprise-level brands look at local SEO as a checklist or a once-off project. They implement it in isolation without a clear roadmap that feeds into the broader strategy.
Worse yet, they ignore local search altogether and write it off as a tactic for small to medium-sized businesses.
The truth is, if you're a brand with hundreds or thousands of locations, you CAN'T afford to skimp out on your local search presence. But this breed of SEO can be tricky for marketers to tackle — and it often leads to a huge disconnect between global SEO and local execution.
That's what this guide is all about.
We'll show you precisely why you can't ignore local search if you're an enterprise-level company, and shed light on some of the most common roadblocks companies face when it comes to enterprise local SEO and how to address them. Then we'll cover off some of the best tools to level up your local search game.
Let's go.
The business case for enterprise local SEO
If you want to grow your company's bottom line in 2022 and beyond, local SEO has to be in your game plan.
Why?
Enterprise local SEO is a way for your franchises or shopfronts to get discovered at the precise moment when customers in the area are looking for your product or service.
Let's say you're running a healthy fast food chain with 100 eateries across the country. You can pour money into advertising your brand across social media and in Google search, and aim to rank for keywords related to healthy eating, like "best healthy fast food restaurants australia".
But when it comes to a typical office worker looking for a lunchtime option in Sydney CBD, chances are they're not going to be searching "best healthy fast food restaurants australia".
They'll be looking up things like "healthy food near me" or "best salad sydney CBD" as they're running from meeting to meeting, or on the go from the gym.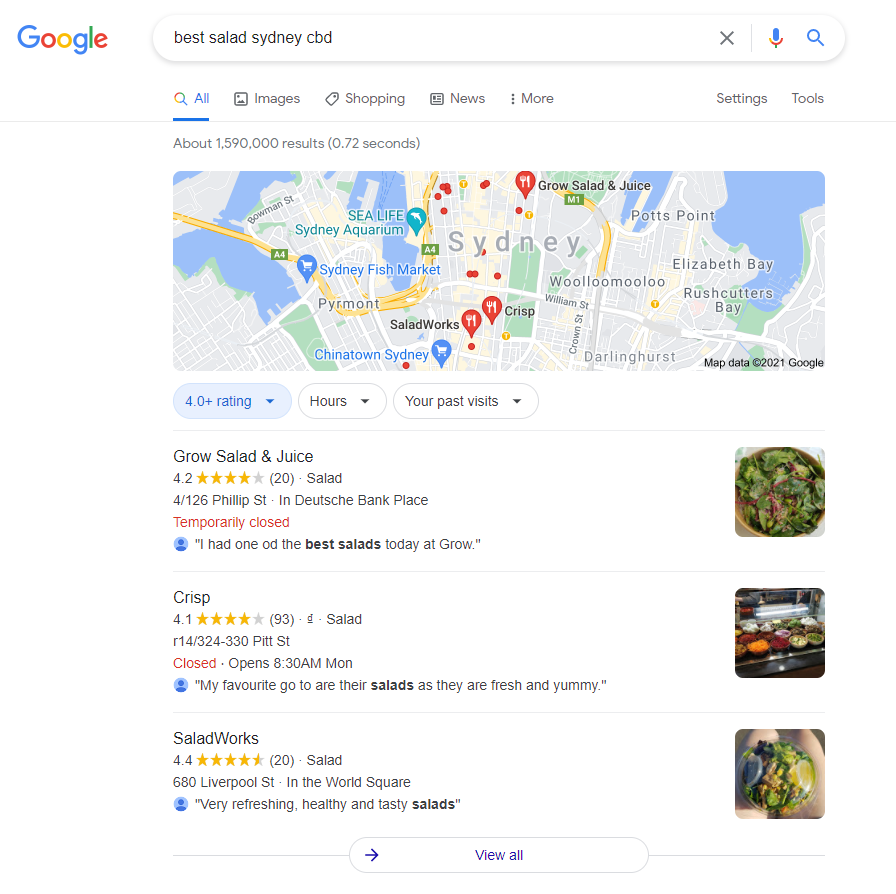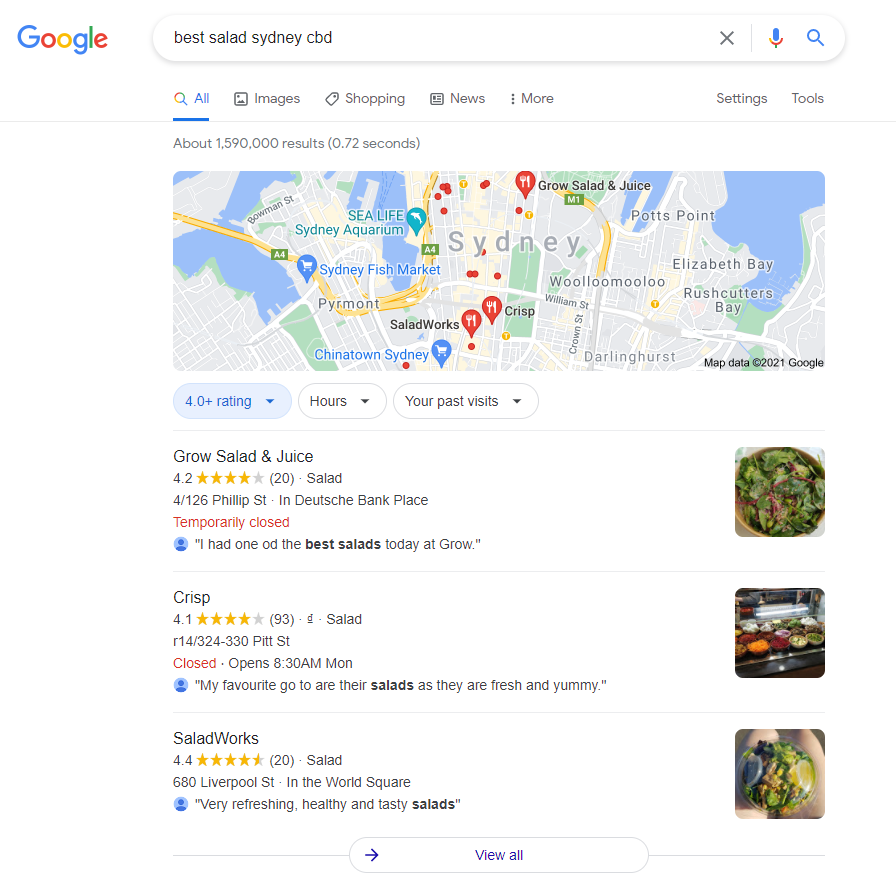 If you don't appear in these searches, you may never get discovered by your target customers — EVEN if your website is ranking top of search results.
Local SEO Customer Journey
Most marketers neglect the fact that Local SEO is a cycle and not a once off task that your team performs once every 3 years.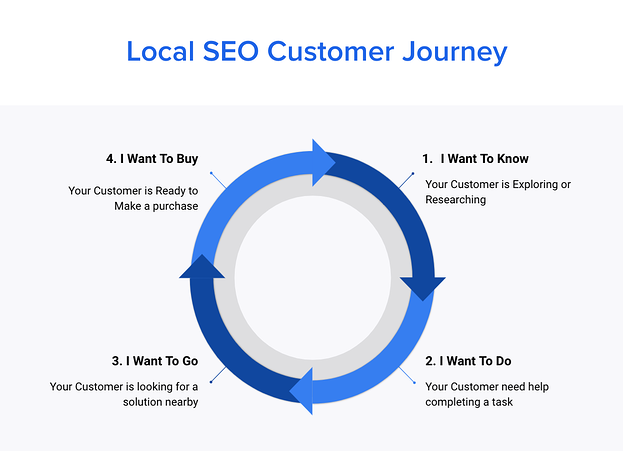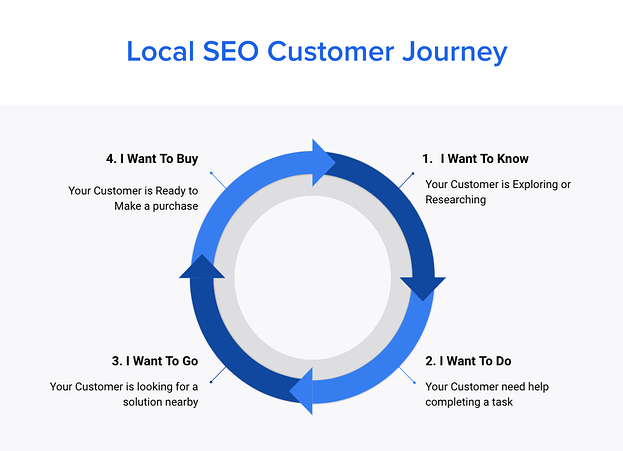 Depending on the business types the 2nd stage of the journey might be more or less relevant. As a rule of thumb, high value products or services require a stronger "I want to do" consideration as your potential customers need to minimize the risk of buying an expensive product from you.
Still not convinced?
Check out these statistics.
76% of people who search for something nearby visit a business location within a day
People who conduct searches for something nearby have a high intent to purchase. They're not just surfing the web — they're looking to take an action, such as going into a nearby restaurant, finding a specific product in a local shop, or signing up for a membership with a local company.
Because of this, a whopping 3 in 4 people who search for something nearby will visit a store location within a day of conducting the search. More importantly, an incredible 28% of these mobile searches for something nearby result in a purchase — which means the conversion rate of local searches is almost 7x higher than Google Ads.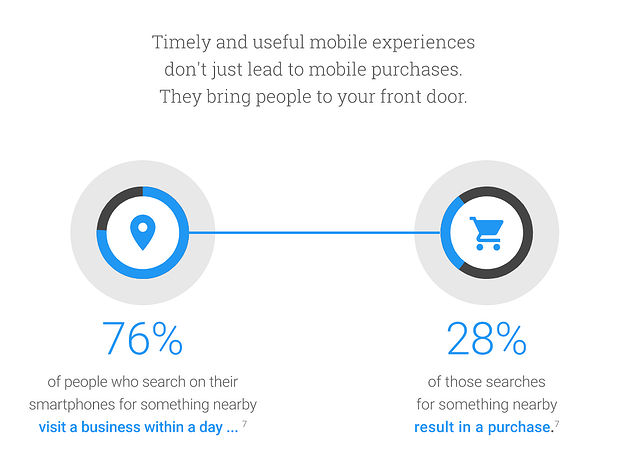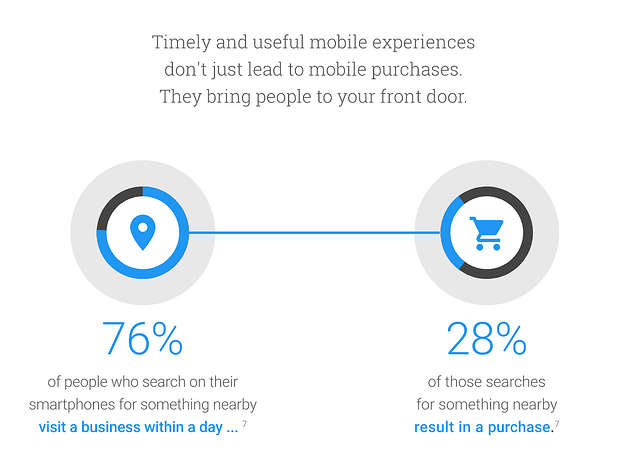 Image source: Think with Google
If your brand isn't ranking for these searches, someone else's will. This means you'll lose out on opportunities to bring ready-to-buy customers into your business — and more importantly, you'll lose out on valuable revenue.
56% of retailers still haven't claimed their Google My Business listing
Claiming your Google My Business (GMB) listing is one of the first steps you should take as part of your local SEO strategy. Despite this, more than half of all local businesses haven't claimed their listing.
This means that a whopping 56% of all businesses that appear on Google are missing out on opportunities to drive traffic to their site, get more calls to their phone number, showcase their products or services, or bring in more foot traffic.
Think of it this way: a customer is searching for a business nearby and is presented with two companies. One has a complete set of information, reviews, opening hours, and links to their website and social accounts. The other one has a Streetview picture of the business, no reviews, no opening hours, and no website.
Which one do you think the customer will choose?
92% of consumers will only travel 20 minutes or less to purchase essentials
Convenience isn't just limited to the online shopping experience. Customers who are looking for local businesses want to be able to pop by a store location quickly, which means proximity matters just as much for local searches.
Research by Access found that more than 92% of all consumers travel less than 20 minutes to purchase their day-to-day essentials. Whether you're a supermarket chain selling groceries or a fitness club promoting your gyms, promoting your business via local search will help you tap into a hyper-relevant audience that values convenience.
Why do so many enterprises struggle with local SEO?
The bottom line is that local SEO matters a lot for enterprise-level brands.
No brand sets out with the intention to deliberately ignore local SEO. But for one reason or another, marketers let it slip off the radar entirely — and their rankings AND revenue suffer as a result.
Before we jump into how to tackle these challenges, we have to look at the why.
There are three common pain points that most enterprise-level businesses experience that hinders their ability to implement local SEO:
They struggle to integrate tactical actions with the strategic goals
They have a digital skills gap within the company
They're struggling to keep up with the accelerated pace of digital transformation
Let's look at the integration challenge first.
Integrating tactical and strategic marketing efforts
According to a report by Content Marketing Institute, more than half of all enterprise-level businesses say that one of their top three challenges was integrating marketing efforts across the organization. And, as a company grows and scales, marketers say it's increasingly difficult for their teams to integrate technology and data, and to reconcile the online and the offline.
It's not surprising to see why.
Users are device and channel-agnostic. Marketers, on the other hand, aren't.
Let's say you're a global company with a number of brick-and-mortar stores around the world. You might have a digital plan in place to help your website grow online, which includes ranking for key searches. You might even have a market-specific SEO strategy for different countries to grow your digital presence.
But your business' local teams have their own goals and KPIs to hit for their store or region. In turn, this can lead to a focus on tactical activations over long-term SEO gains — despite the fact that local search will help their store location get discovered by more customers in the short and long term.
How to address it:
With a large marketing team, you need to be deliberate in setting team-wide goals to keep everyone's eyes on the prize. Every month or quarter, give each team a goal that plays into the company's broader SEO goals. It could be something like increase reviews, upload new pictures to your GMB listing, or link building with local bloggers and influencers. These seemingly small actions lend a massive helping hand in improving your brand's presence on search, both at a local and a national or global level.
There's a digital skills gap within the company
Even if you have a local SEO game plan in place for a particular store location, you still need a marketing team that have the skills and know-how to be able to execute that plan. But according to a report by Hays, there's a MASSIVE shortage of marketers with the skills needed to integrate local activities with the broader digital marketing, sales, and business strategy.
"There is a shortage of candidates with both technical and soft skills, who can use digital tools and pull data together to articulate an engaging narrative to present insights to stakeholders. Candidates must be able to create and implement strategies, use data to make evidence-based decisions, possess strong SEO and SEM skills, lead a team and prove ROI from strategy. A sole traditional skillset is no longer viable in today's market."
Even if they ARE delivering on their end, reporting is an entirely different kettle of fish. Most companies' web analytics accounts aren't set up properly and the data doesn't reflect actual performance, which makes it tricky to measure what's working across different areas, regions or markets.
How to address it:
If you want to level up your company, you need to level up your team. Enrol your team in online SEO courses to upskill them with basic SEO knowledge, such as SEMRush Academy or Hubspot's SEO Certification Course. These courses are absolutely free, and will equip your local teams with the knowledge they need to support the company's SEO efforts.
Another solution here is to bridge the gap with the help of an external partner, such as an enterprise SEO agency. A reputable agency can complement your team's existing skills with experience and expertise in local SEO for large companies.
Digital transformation is accelerating faster than marketers
Technology was already transforming the way we shop before COVID-19 hit. Now, it's accelerating at breakneck speed — which makes it tough for marketers to keep up.
COVID-19 forced consumers to perform more tasks online, from finding new brands to researching products and shopping. In turn, brands have had to follow suit by investing in digital and low-touch interactions to connect with customers online.
Even once the pandemic eases, this digital transformation is here to stay.
Enterprise-level brands HAVE to reinvent themselves if they want to keep up. While it was still possible for brands to grow without a solid digital presence pre-COVID, this simply isn't an option anymore.
This isn't just at a company level either. At a local level, marketers need to stay on top of the digital game to appear where customers are searching — otherwise, it's only a matter of time before a competitor leapfrogs you.
How to address it:
Invest in integration, data analytics, and automation. Equip your teams with the best local SEO tools to help them to build relevant links, improve and monitor local business listings, and manage online reviews with ease (more on this in the next section).
Best enterprise local SEO software
If you're ready to improve your company's local SEO presence, you need to have the right tools to help you do the job. We've pulled together a list of the 7 best local SEO solutions for large organizations, including specialist platforms and features that are included in existing enterprise SEO tools.
We ran a survey on LinkedIn to determine the most popular local enterprise SEO tools among SEOs: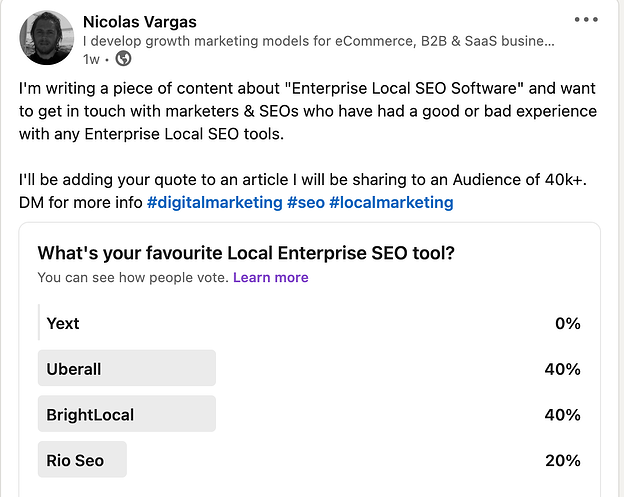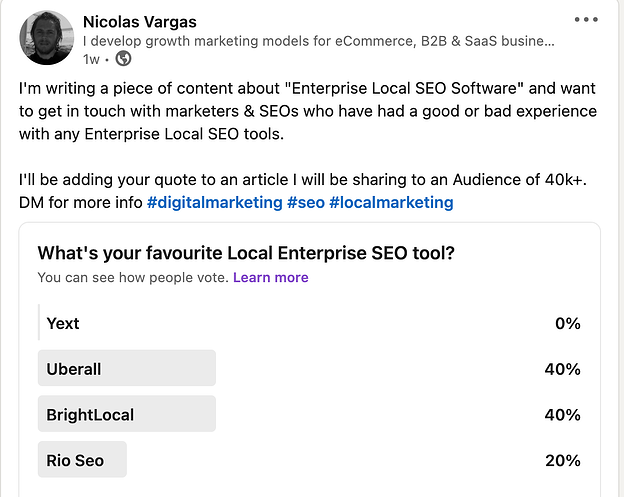 Google My Business API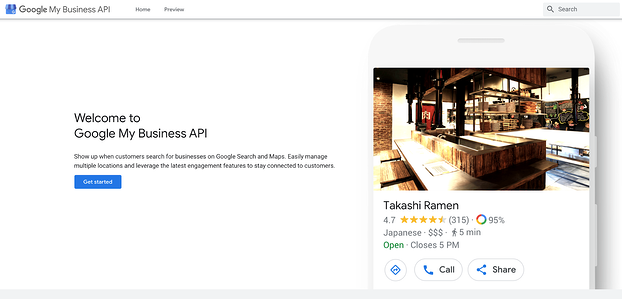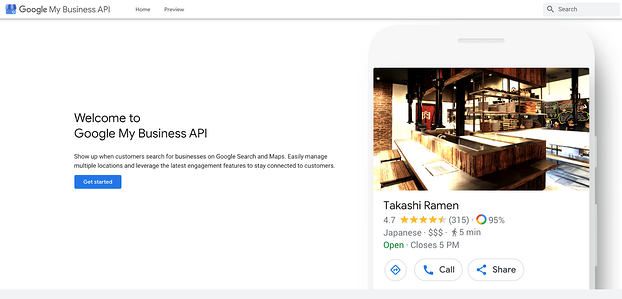 Google My Business API was designed for developer teams who represent large, tech-savvy businesses and third parties.
GMB API lets developers build applications that interact directly with their business location information on the GMB server. With these applications, chains and third parties can more efficiently manage their large or complex Google My Business accounts.
Keep in mind that using the Google My Business API requires technical savvy and coding knowledge
Here are some of the common uses of the API. With the API, you can manage locations at scale with actions like:
Editing location information
Reading and responding to customer reviews and Q&A
Updating menu details like photos, descriptions, and prices
Viewing insights for locations
Subscribing to push notifications for new customer reviews
Creating and updating posts
Adding photos and viewing customer photos and videos
Inviting and removing managers
Managing service-area businesses
Verification on third party platforms
Determining if a location already exists and is claimed
Creating user groups and location groups
Yext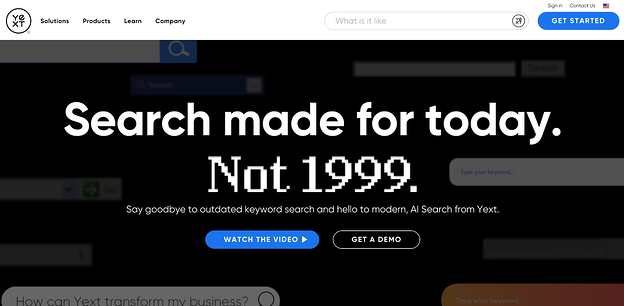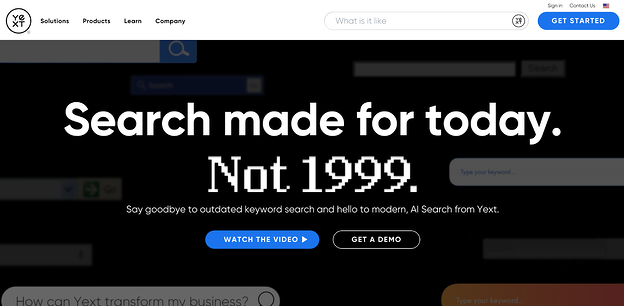 Having a Google My Business listing is the first step to local SEO, but that alone won't give you a competitive edge. Yext Listings put businesses directly in control of the facts of their company across 150 directories and search sites, including the Yellow Pages, Apple, Google, Uber, TripAdvisor and more.
This platform-agnostic approach means you have one single source of truth for your brand, from your phone number to your locations and opening hours. What's more, you can ensure you're presenting accurate information to your customers, no matter where they search. It also automates the updating process, which frees up time for your local marketing teams to focus on other tasks at hand.
Uberall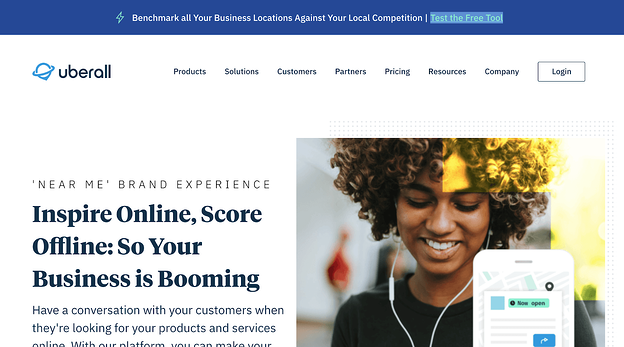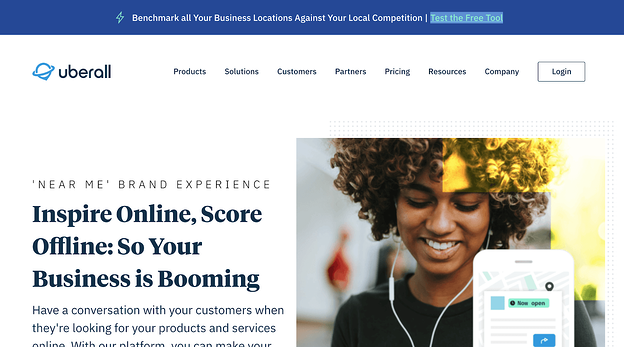 Uberall is specifically dedicated to helping brands provide customers with the best 'near me' brand experience possible. The best part about Uberall is that it goes beyond local listings on Google Search — the platform helps you build informative landing pages and a user-friendly store location finder on your website, and manage all of your location data, customer reviews and marketing campaigns from the Uberall Control Centre.
For enterprise-level companies, Uberall is a great solution because it's specifically built to help maximize a brand's local presence across multiple locations while also growing the brand's overall online search presence.
BrightLocal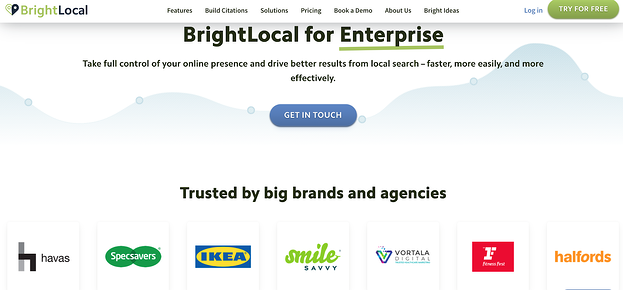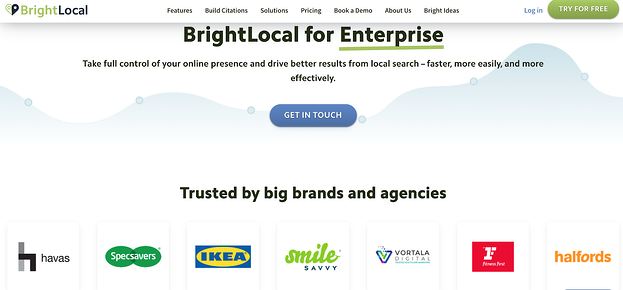 Like Uberall, BrightLocal is 100% focused on local marketing. Everything on the platform is made specifically to help brands monitor and improve their appearance for each location in local search results.
BrightLocal has all the local SEO tools to help you track your rankings in local listings and run audits to see where there's room for improvement. Its individual data dashboards are concise and easy to read, which makes it easy for any marketer to hop in and stay up to date with customer actions, reviews and ratings across platforms, and citations around the web.
Moz Local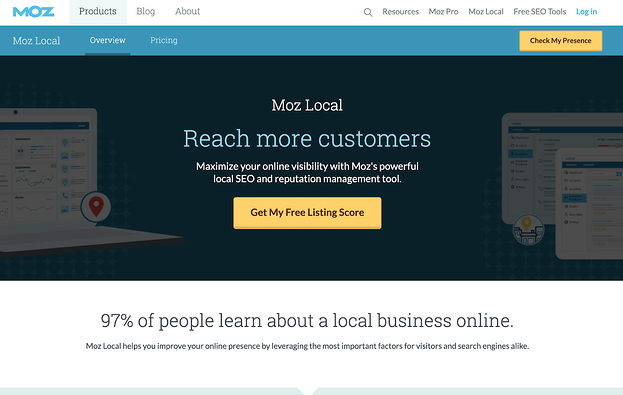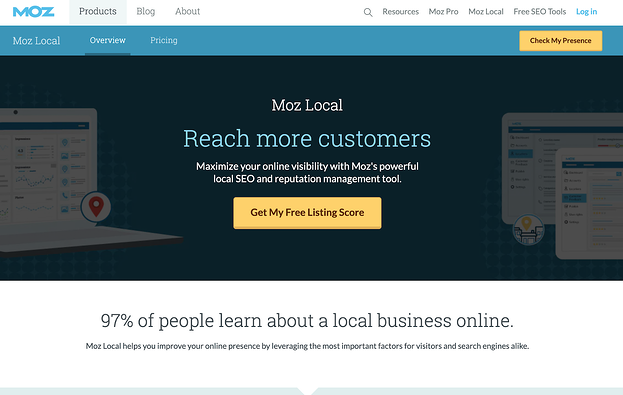 Most marketers have probably heard of Moz, but not as many are aware that the company also has a local offering. Moz Local helps companies improve their online presence locally through easy listing updates, robust review management, and regular profile updates for each location. You're not limited to Google, either — Moz Local covers local business istings across Facebook, as well as other websites and online directories.
Moz Local is also equipped with an incredibly powerful suite of reporting tools that allow you to quickly visualise which location is flourishing and which location could use a bit of TLC. The platform gives each listing an online presence score and profile completeness percentage, so you can pinpoint exactly which listings need attention.
SEMRush Local SEO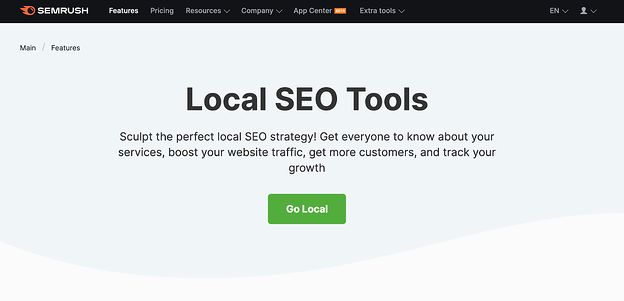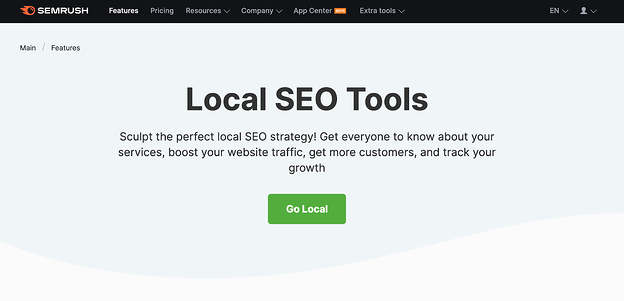 If you're using SEMrush as your enterprise SEO tool or for keyword research, it's time to take advantage of the Local SEO feature. SEMrush is packed with ways for large businesses to boost their presence in local listings, drive more foot traffic to a specific store location, and track consumer sentiment and growth.
The platform includes business listings management, which supports the automatic distribution to authoritative online directories and the ability to monitor reviews across different websites. You can also track local ranking progress by ZIP code; monitor your position for keywords, device types and in local packs; and keep an eye on competitor domains.
SEMrush also makes on-page optimisations easy by analysing trends and competitor strategies, then delivering a list of on-page recommendations to improve your local ranking. Last but not least, SEMrush gives marketers the ability to post and schedule updates across multiple online channels from one place, including Google My Business.
Whitespark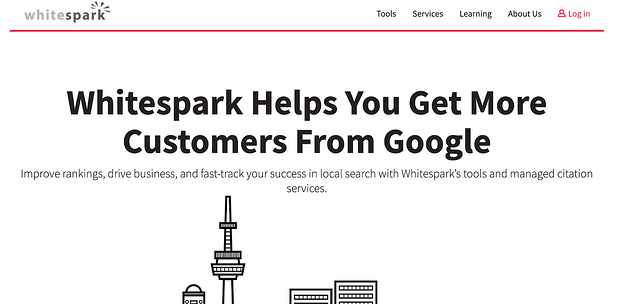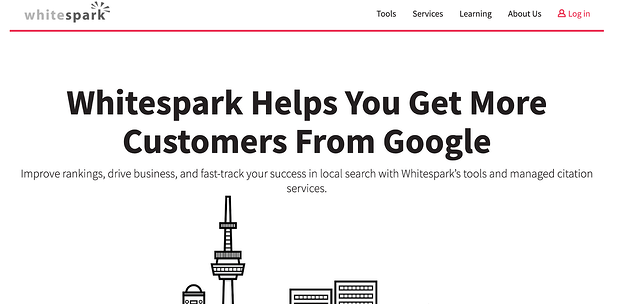 Whitespark is a Canadian-based company that builds tools and services to help businesses with local search marketing. There are three different products to choose from, including:
Local Citation Finder, a tool to help businesses find and track online citations for link building, track competitor citations, and identify new websites for submission.
Local Rank Tracker, which allows you to track your performance for multiple locations in Local Packs, Local Finder, Google Maps, and organic search results for Google and Bing.
Reputation Builder, a solution that helps you manage online reviews and customer feedback across 100 different sites, including Foursquare, Google, Facebook and TripAdvisor.
The great thing about Whitespark is that you can pick and choose exactly what you need to help your team get ahead in local search. The company also offers services, including GMB and other business listings management, enterprise team training, data aggregation, and more. However, keep in mind that a lot of their product offerings and services are concentrated in the US and Canada.
Rio SEO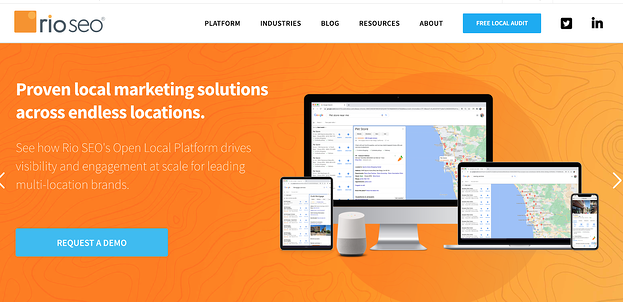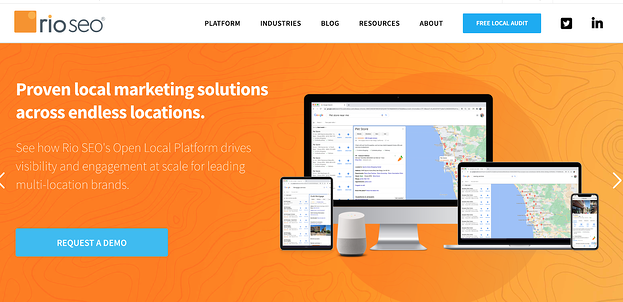 Rio SEO is an award-winning enterprise marketing tool that's specifically focused on helping large organizations rank in local search.
Its Open Local Platform helps enterprises optimize and distribute bulk local company data across the entire search ecosystem, create optimized local landing pages, monitor local reviews, and support review and ratings generation to power conversions. The suite also includes a single reporting dashboard with rankings, citations and reviews, and a centralised social media dashboard that consolidates different locations.
Franchisees and store owners can also manage their store's location data accuracy through the platform without compromising national or global brand integrity.
Enterprise Local SEO Software Landscape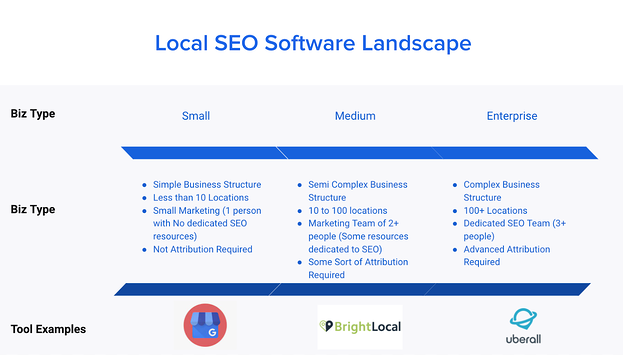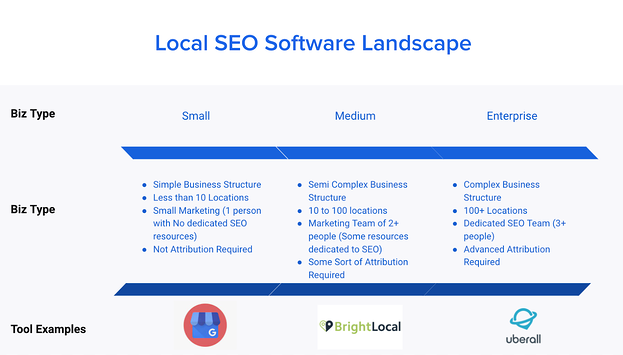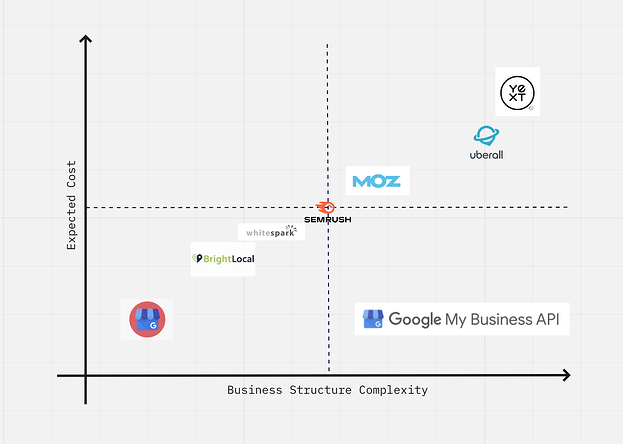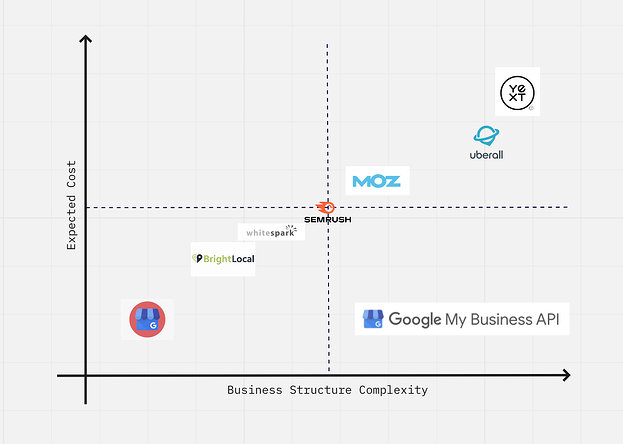 Dominate 'near me' search results with local SEO
Enterprise Local SEO is a must-have if you want to deliver maximum gains from search engines. By empowering your local teams to manage their listings, you'll increase your presence in business listings and search engines – and see the payoff on your bottom line. At the same time, with the right enterprise SEO tools, you'll be able to keep your local SEO efforts humming along in tune with your global strategy.
Want to accelerate your organization's local SEO game plan?  It's time to bring in the big guns. Claim your FREE audit today worth $2,000, and we'll show you precisely how you can improve your local rankings and revenue using search engines.