What Every Business Should Do On 'Google My Business'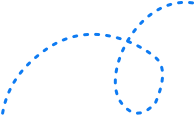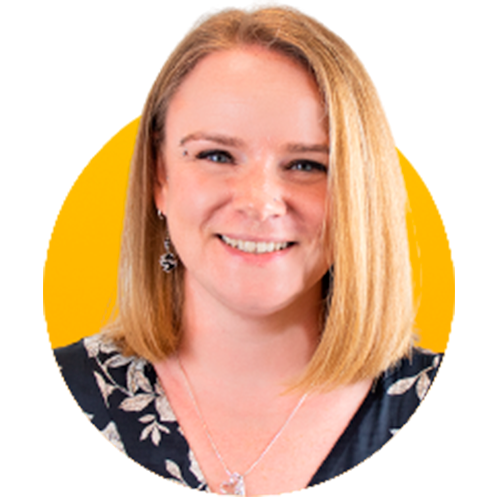 Jules Ward
1 September 2021
33min read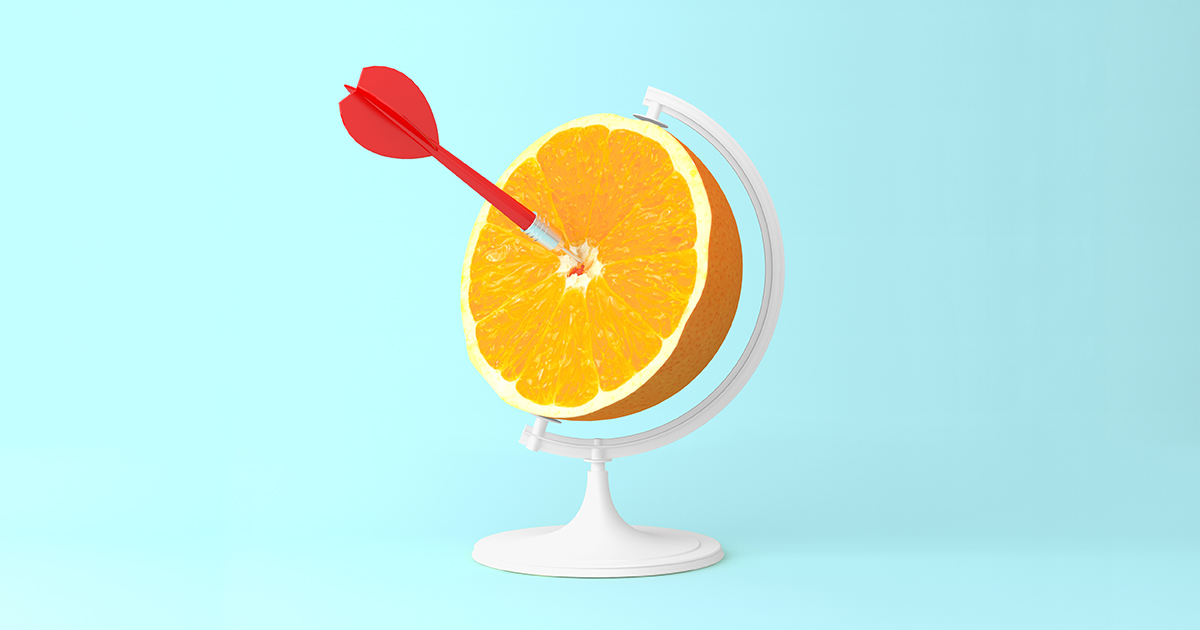 If your customers can't find you online, what's the likelihood they'll find you at all? You don't need to be an SEO agency to know that the odds are low.
Building a local buzz online is crucial for securing a steady stream of offline foot traffic. Google My Business is one absolutely essential component of this.
The best part? The anatomy of a highly-effective GMB profile isn't rocket science. Every business can implement simple changes for phenomenal results.
This guide is the actionable checklist every business can try – starting right now.
In this article we'll cover:
Let's dive in.
What is Google My Business?
Google My Business (GMB) is your way to make sure the most accurate information about your business shows up when people search on Google.
You can add your location, hours, photos, manage reviews and much more.
A GMB listing doesn't replace your business' website but rather complements its already existing website(s) by giving it a public identity and presence with a listing on Google. The information provided about a business through Google My Business can appear in Google Search and Maps.
Is Google My Business free?
Yes! You can set up a Google My Business account and see your business on Google Maps all for free.
Nevertheless, while there is no monetary cost to creating your Google My Business account, you need to ensure that your business makes some form of in-person contact with customers during opening hours. There are some exceptions, of course, such as ATMs and seasonal businesses, but in general, your company must operate some form of in-person contact.
Why Google My Business still matters
We get it – there are so many Google tools on offer, so do you really need to stress one over another one?
ABSOLUTELY!
Google My Business is an essential tool for local SEO, and local SEO is an essential strategy to propel sales from local customers. In fact, GMB offers the greatest impact for brands seeking local exposure.
Local SEO is where search engine optimisation is focused within specific geographic regions, with a goal to acquire, service and retain customers.
It comes down to the simple idea that if you can promote your products or services to local customers at the EXACT moment they're looking for them, you can drive more people to your business.
The upshot of all this is that local SEO should be a digital marketing investment for any brand – however big or small.
In fact, if you're a smaller business, local SEO is your opportunity to crush the competition. And Google My Business is the #1 tool you need to do this.
In a nutshell, there are three key benefits of Google My Business:
1. Increased visibility in local search
If you've ever looked up a restaurant or cafe on Google, then you'll immediately notice that the first thing that comes up on the search results are Google Maps listings for local businesses customers can visit in that area: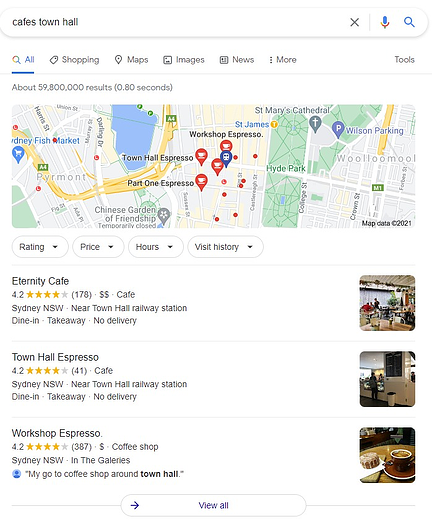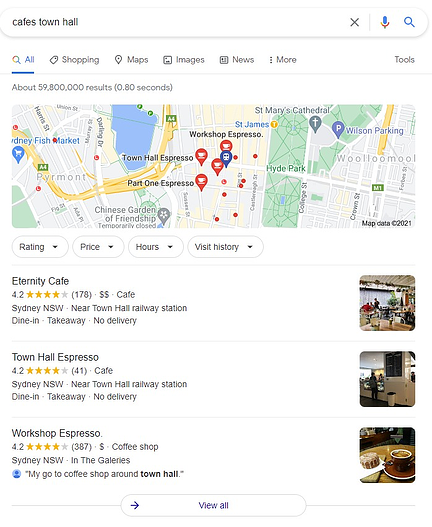 This is commonly referred to as a local pack, which appears when people search for services relevant to businesses in that location.
When you create a new Google My Business profile and optimize it in a way that gets you listed on the local pack, you give your company a direct and easy way to connect to customers that are most likely to purchase from you: the locals!
With 4 out of 5 people using search and maps to find information about local businesses, a Google My Business account is all but essential when it comes to local SEO and gaining online visibility.
2. Better experience for buyers
When you set up your Google My Business profile, you'll have the ability to include contact details such as your website URL, phone number, opening hours, and even directions via Google Maps!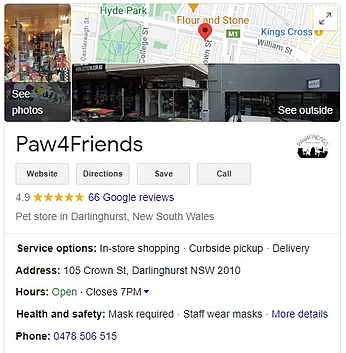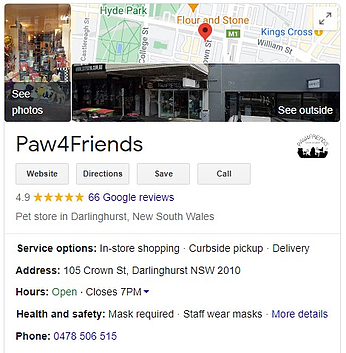 What's more, the Google My Business account will also combine all your reviews across various platforms, including its own Google reviews.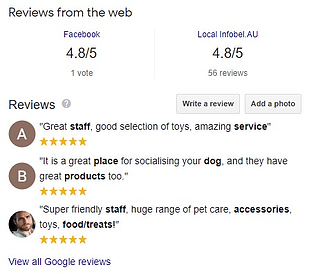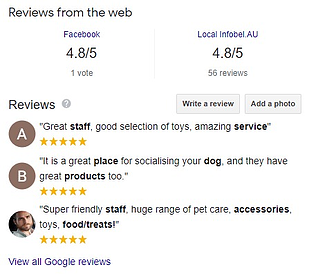 All this information is vital for the potential customer in every stage of the marketing funnel as they decide whether or not to purchase from you.
Will you be open on weekends? How long is the drive from home? Do people love your business? These are all questions that are immediately answered through a Google My Business account and can help optimise conversions for your company.
3. More traffic to your website and physical location
As mentioned above, your Google My Business account can include both your website URL and business location. Not only does this give your brand an easy method for customers to access essential information about you, but also provides another way for users to visit your website and access directions on how to go to your physical location.
What's more, you can further optimize your Google My Business profile to also include products and product categories: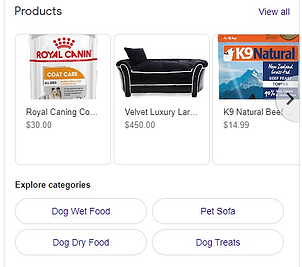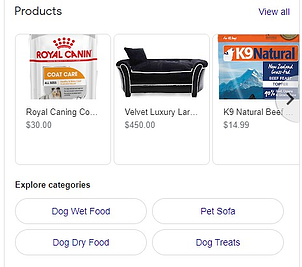 All of which can link back to your website or phone number to make an order for pickup or delivery from your store location! If you really want to drive up website traffic and visits to your physical location, a Google My Business account is easily a great way to do so.
How to Create a Google My Business Listing
The first and most important step in any local SEO strategy is to claim and verify your Google My Business listing.
You can use Google's in-platform My Business search feature to locate your business on GMB. If your business has been around for several years, it's likely it already has a GMB listing and you just need to claim it. Once claimed, you can manage the information as if you started the GMB listing yourself.
To create a Google My Business listing, follow these steps:
1. Log into the Google Account associated with your business (or create one).
2. Go to google.com/business and click on "Start now" in the top right-hand corner.
3. Enter your business name and address.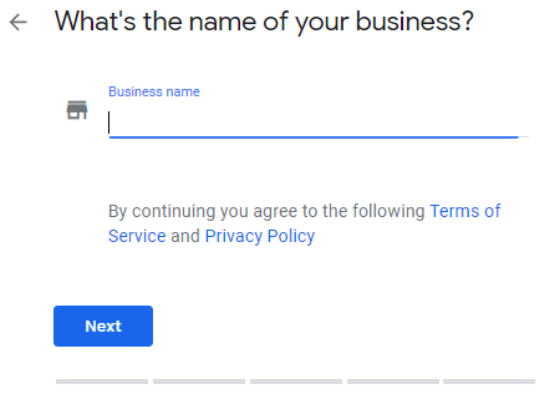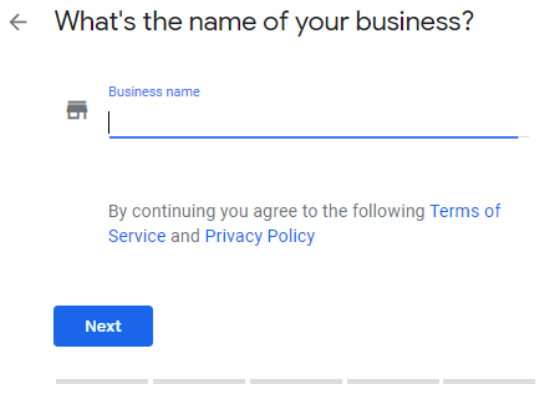 (Image Source: Search Engine Journal)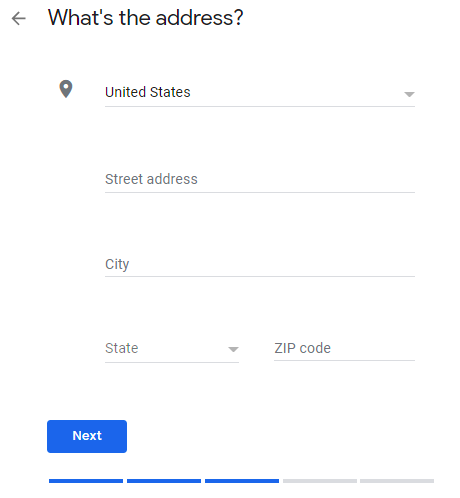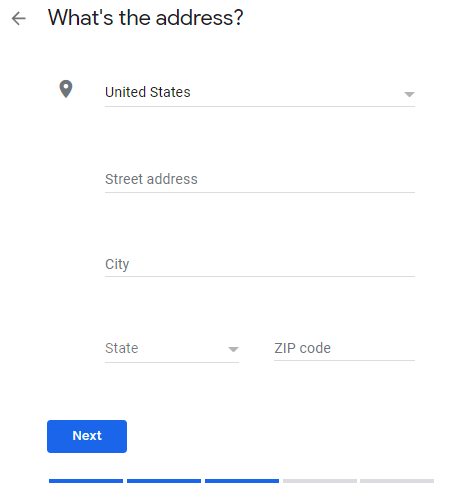 (Image Source: Search Engine Journal)
5. Check the relevant sections to show whether you deliver goods and services, and your service area.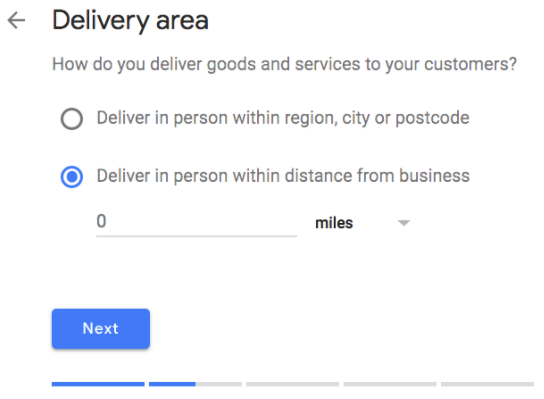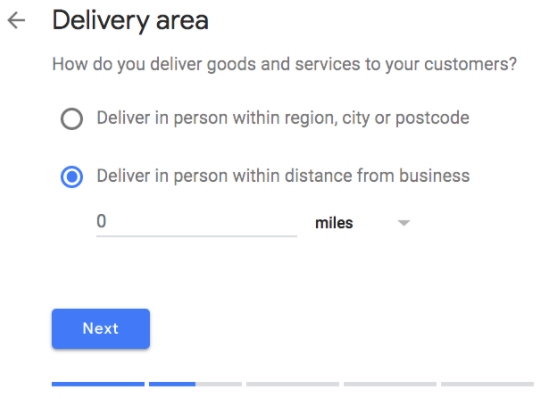 (Image Source: HubSpot)
6. Choose your business category – be as accurate as possible. You can change and add to this later, but this is a critical part of completing and optimizing your brand page.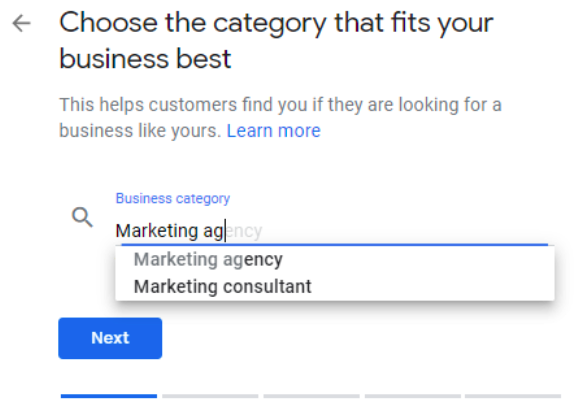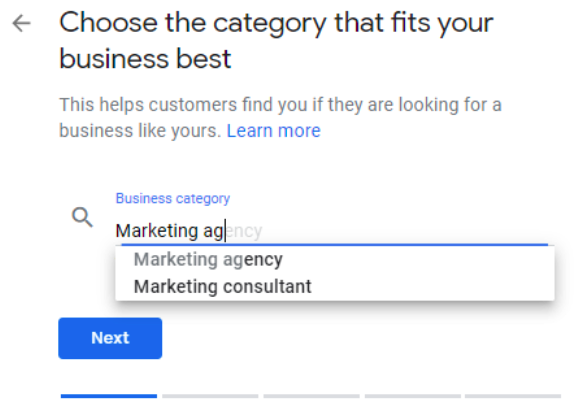 (Image Source: Search Engine Journal)
7. Enter your business phone number and website.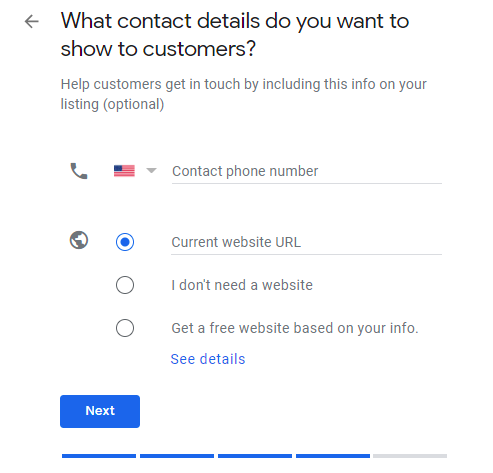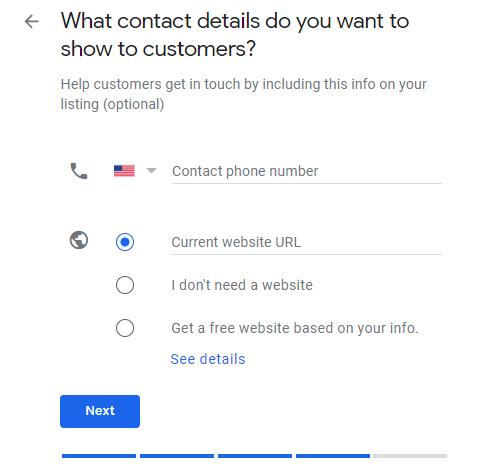 (Image Source: Search Engine Journal)
8. Choose a verification option. If you're not ready to verify your business yet, click "Try a different method" followed by "Later."
The key here is to ensure your messaging is consistent across your channels. Don't confuse potential customers by showing different opening hours on Google versus your website.
9. Double-check all the information on your Google My Business page and cross-check it with what's on your website.
How to verify your GMB profile
There are several ways to verify your GMB:
By postcard
By phone
By email
Instant verification
Bulk verification
Postcard verification
This is the most common verification process, and is available to all businesses. If you select this process, a verification postcard will be sent to the address you entered when creating your listing.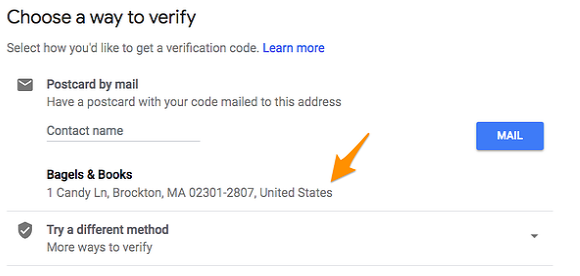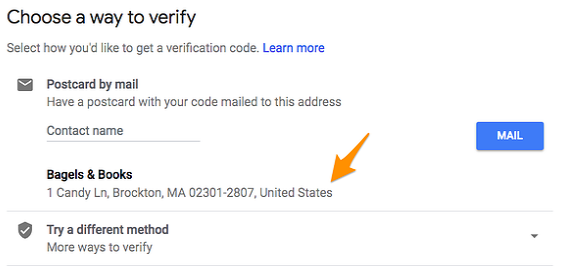 (Image Source: HubSpot)
Once received, you can enter the code in your GMB account to verify the business. If the code doesn't show up, you can click the 'Request another code' banner at the top of the screen in GMB.
Phone verification
Some businesses can verify their listing over the phone. Eligible businesses will see the "Verify by phone" option at the beginning of the verification process. Using this option, you'll receive an automated message with a verification code that you'll then enter into GMB.
Email verification
Similar to phone verification, email verification is only available to select businesses. If your business qualifies, you'll see the "Verify by email" option which sees you receive a verification code in the inbox of the Google account associated with the GMB listing. Before proceeding, make sure you have access to the inbox specified on your GMB account.
Instant verification
If you've already verified your business with Google Search Console, you might be able to instantly verify your email. To proceed with this option, sign into Google My Business with the same account you used to verify your business with Google Search Console.
Bulk verification
This option is for you if you operate more than 10 locations for the same business, and you're not a service business or an agency managing locations for multiple businesses.
To proceed with bulk verification, log into Google My Business and click "Get verified" next to a location. Then, click "Chain" and fill out the verification form with your business name, country or countries where you operate, all contact names and information, and the email address of your Google Account Manager. Once you submit the verification form, it can take up to a week for Google to review and process your claim.
How to optimize your GMB listing
Putting the basic information on your GMB page is fantastic, but it's just the first step. If you want to stand out from competitors, you need to optimize your profile to help Google and searchers understand more about your business.
Put it this way, the more Google knows about you, the more types of searches your listing will show up in, and the more people will see what you have to offer.
Use this actionable checklist to optimize your GMB listing:
Add as much detail as possible
While you're setting up your GMB listing, do your best to fill in every category and answer each question.
Yes, it takes time and can be tedious. But it's worth it for two excellent reasons:
You want potential customers to find the essential information the very first time they see your business, e.g. opening hours, website, location. Fail to do this, and they'll go straight to the competition.
If you don't add information to your listing, other people can do it for you. Google invites users to add missing information to your listing and suggest edits. This is a huge risk.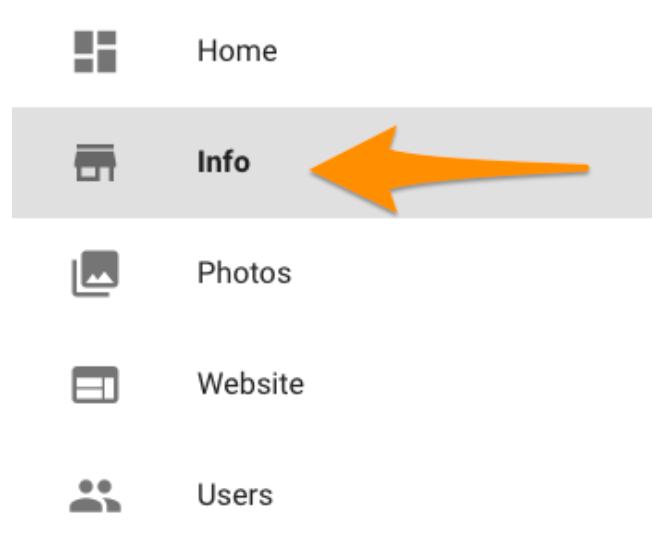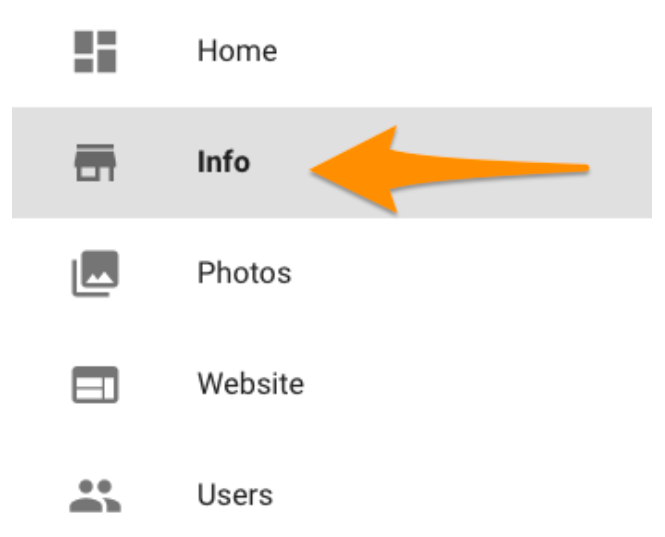 (Image Source: HubSpot)
As seen in the image above, you can always edit your business profile by logging into your GMB dashboard, clicking on "Info," clicking the pencil next to the field you'd like to edit, making your change, and then choosing "Apply."
Write a compelling business description
Last year, Google announced that you can now include a business description on your Google My Business listing: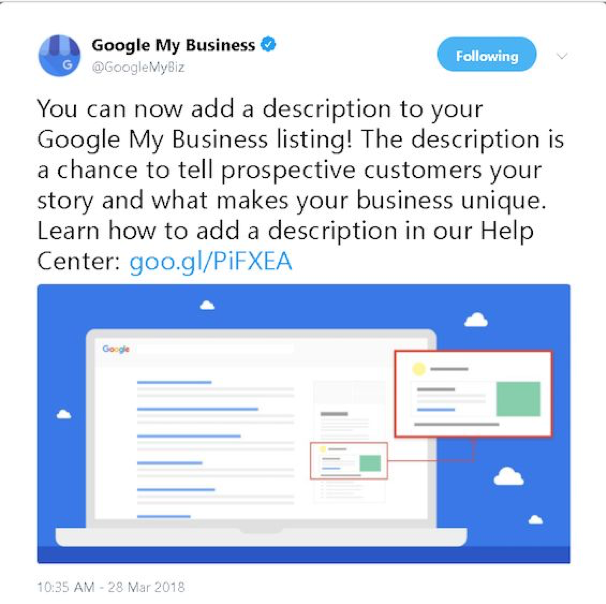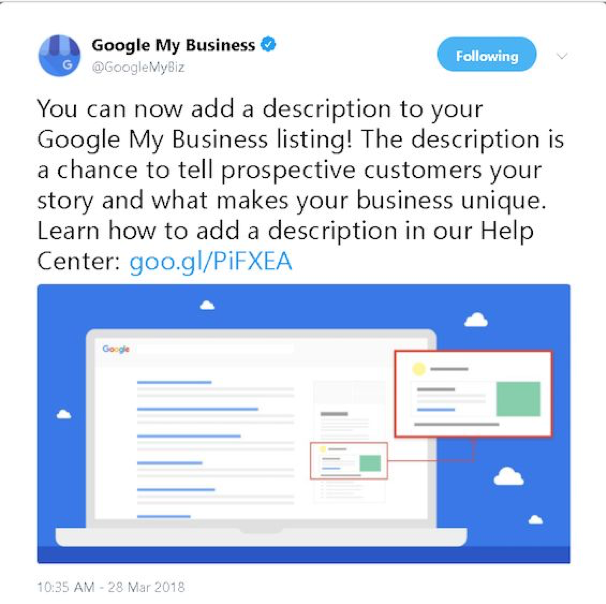 Make sure that you write your business description in a way that puts the most important information, keywords and your location near the start of the description. Especially because, while you're allowed 750 characters, only 250 characters show up before they get cut off.
Google reviews your business description before it's published, so stick to the rules laid out in its Google Business Description Guidelines.
Here's an example from a local cinema in Melbourne: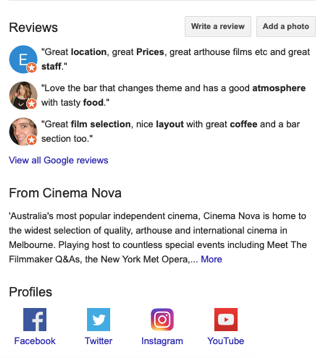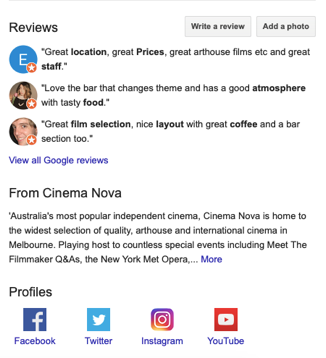 If you look in the middle of the image above, you'll see a section that says From Cinema Nova. That's the header for your business description.
Add photos and videos that show off your business
Why should you add pictures to your GMB listing? We'll let Google explain:
"Businesses with photos receive 42% more requests for driving directions to their location from users on Google, and 35% more clicks through to their website than businesses that don't have photos."
That's a compelling reason, right there.
So, what type of photos are we talking about?
Here are the kind of photos you should add:
Cover 
Your cover photo is one of the most important, as it shows upfront and center on your listing. This will be the hero photo on your Google My Business listing, so make sure it shows your business in the best light.
Profile
This will appear when you review responses, post videos and more (like your social media avatar).
Products
Showcase your goods so customers are attracted to find out more.
Inside Your Business
Show off the inside of your store/restaurant/office and your employees.
Shopfront
Use external pictures of your business at different times of the day. Make sure the business name and logo are visible.
PRO TIP: When adding photos, stick to JPG or PNG files, at least 720 pixels wide by 720 pixels high. Remember to name them in a way that describes what they are, e.g. jacks-tyres-shopfront-sydney.jpg
For example, in our GMB listing, we use the Online Marketing Gurus team photo as our hero image, along with pictures of our office interior and exterior: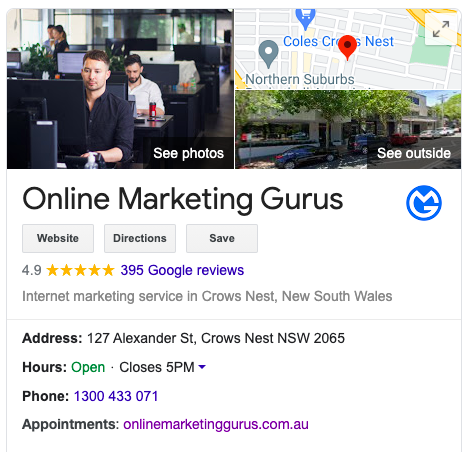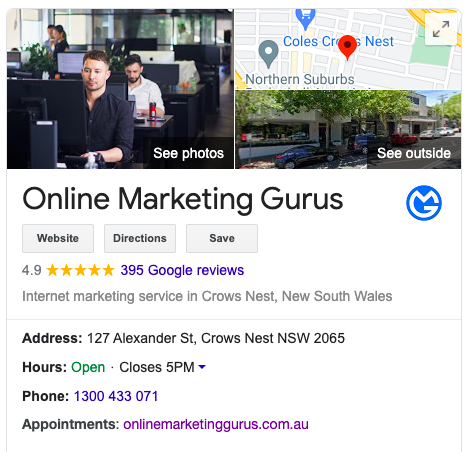 Now let's talk about videos.
We already know that the best performing content, in terms of engagement, across every industry and every geography is short-form video (less than two minutes) — according to research performed by Altimeter.
Adding videos to your GMB listing will likely impact your ranking and allow you to connect with customers on a whole new level.
So, what kind of videos should you post?
Show off your sales floor, restaurant or products to give people a feel for your business before they visit. Videos can be up to 30 seconds, which is just enough time to grab people's attention and get them wanting more.
The important thing is to make sure your videos are filmed at the place of business. In other words, leave the stock footage on the cutting room floor.
Google can and will remove videos if the primary subject of the content is not related to the business location.
Post engaging and relevant content
Another relatively new feature on GMB is Posts. Think of them as social media posts, except they show up in your Google My Business listing on a Google search.
This is where you can really begin to target your audience, zone in on keywords and build the authority of your listing.
One case study reported by Search Engine Land found a positive correlation between GMB posts and an improved ranking.
Adding a post is easy. Go to your GMB dashboard and click on the "Posts" option on the left-hand menu.
Stuck for ideas? Try these GMB posts:
Set up an event post with a date, time, and link to the registration page.
Create a sale event post.
Link to your latest blog article.
Feature your new products and link to the store.
Send a holiday message post.
Here's how Australian business Bright Brewery uses posts: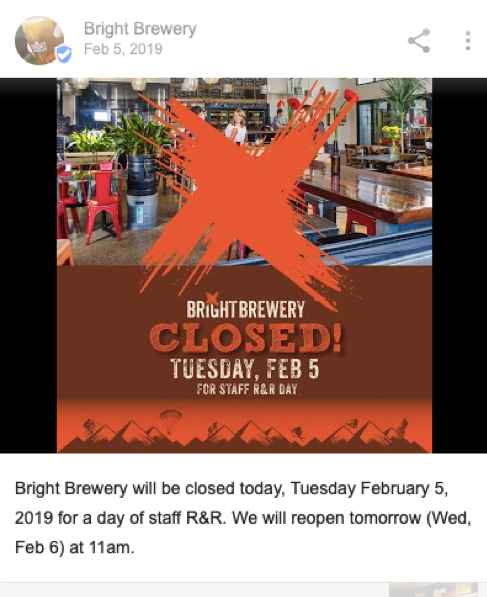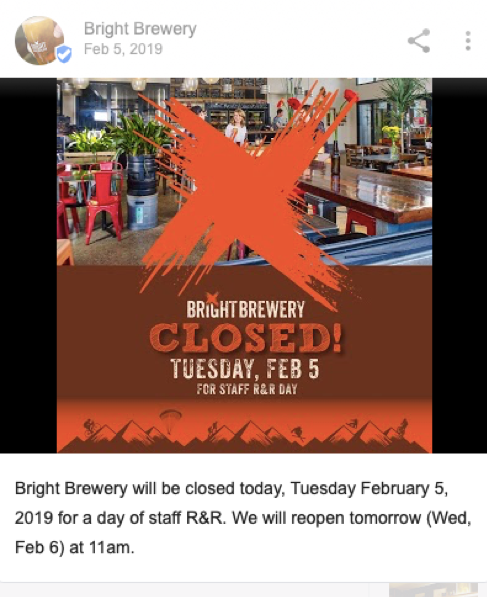 The first example is useful information to searchers who might have been thinking about visiting. It's concise, informative and eye-catching.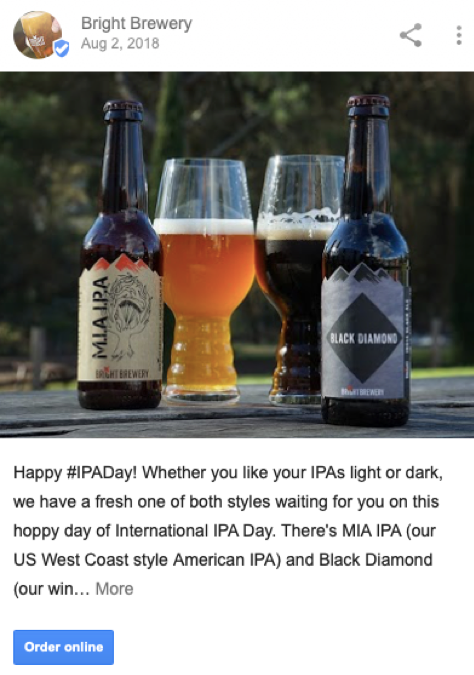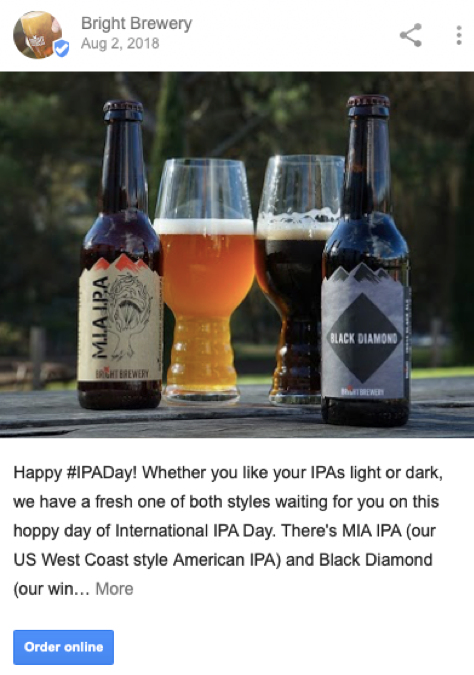 The second example is a great way to promote the brewery's products to potential customers. The picture is enticing and the call to action takes you straight to the online store: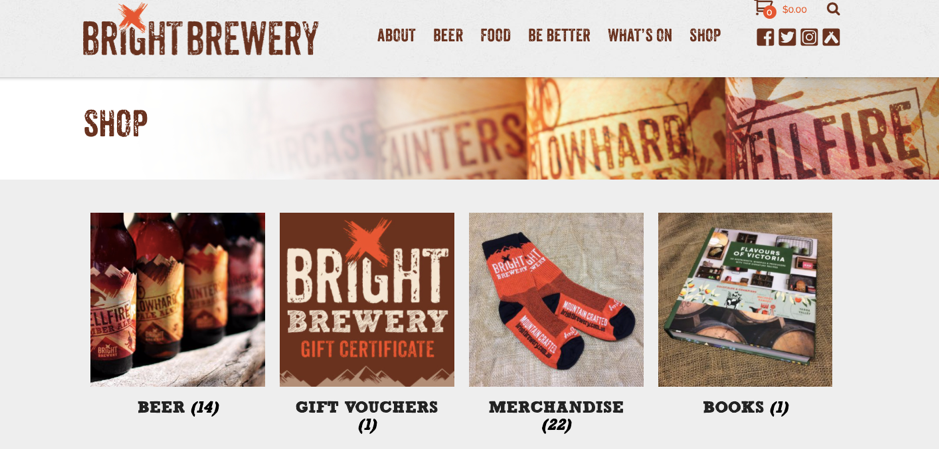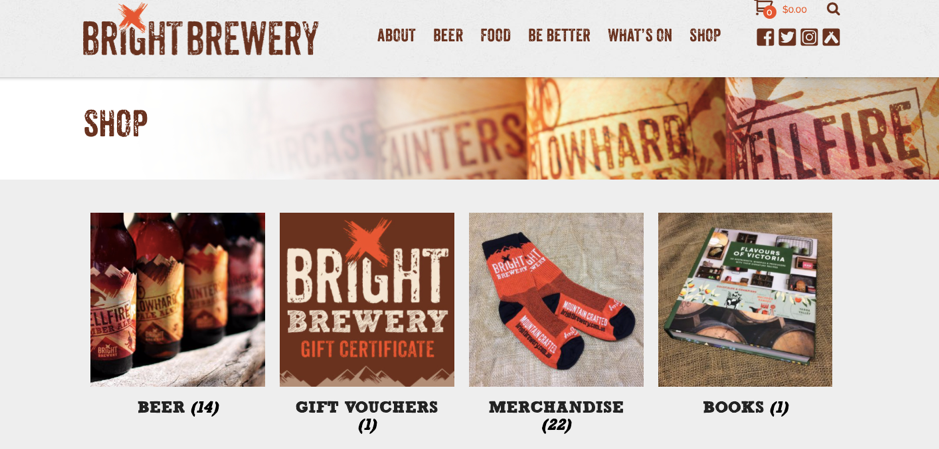 Now, check out this great example from a Sydney spa. The spa uses posts to promote timely gift ideas: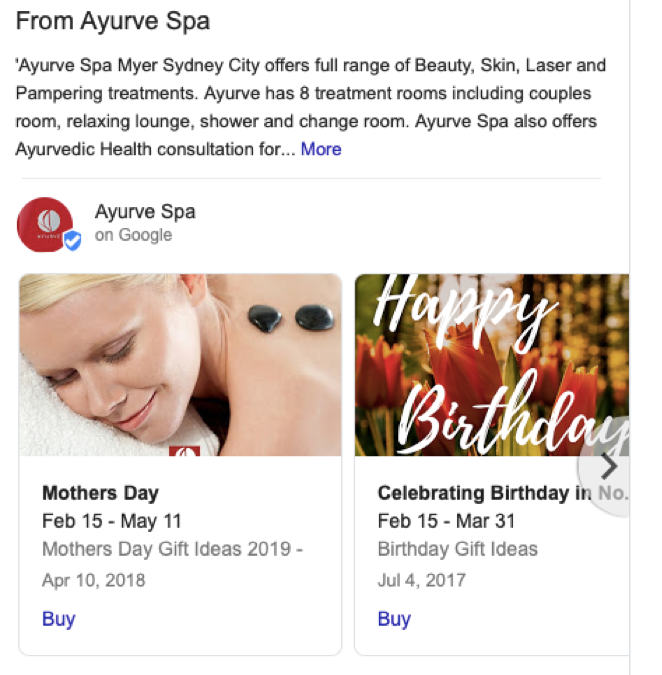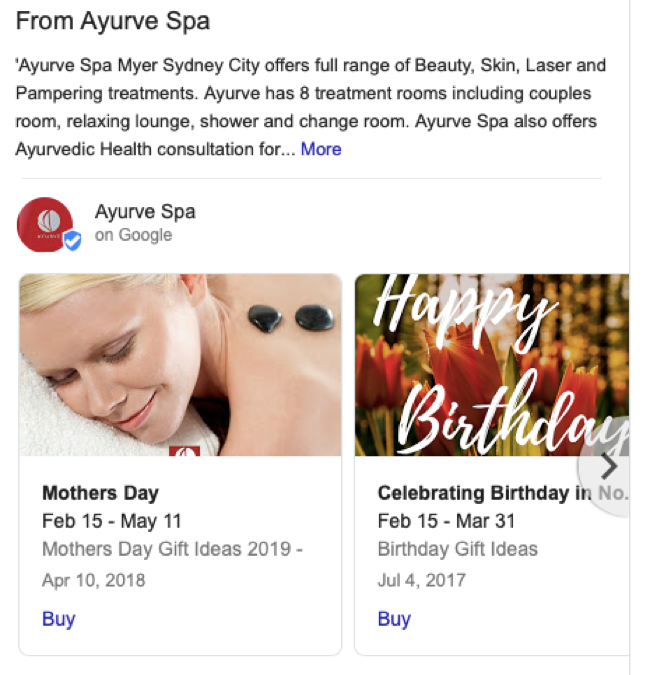 And here's one more from Craft & Co in Melbourne. We love the way they use "Book" as a call to action: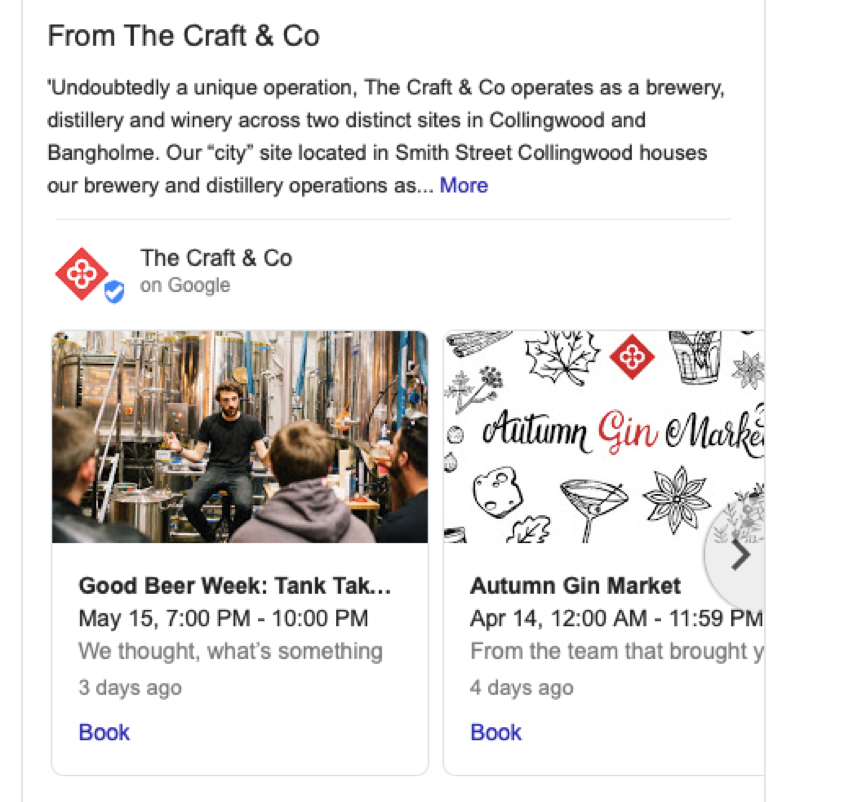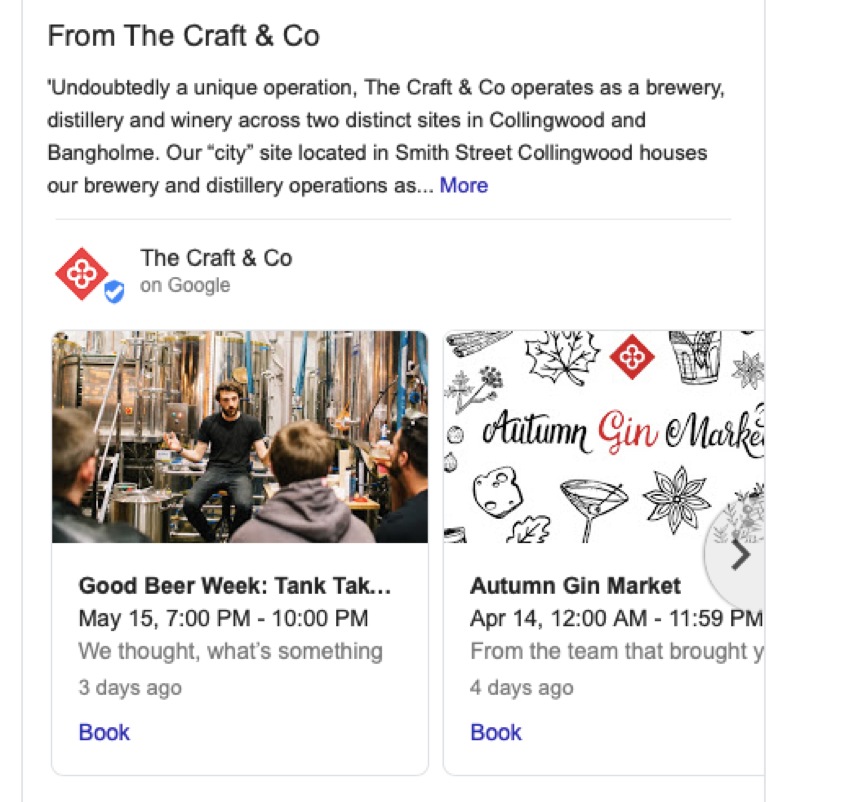 Respond to reviews – both positive and negative
The power of online reviews is no secret. Online reviews impact search result rankings, consumer trust, click-through rates and conversions.
Just like on Facebook, the reviews on your Google My Listing page can be a deciding factor in whether or not a user engages with your brand.
Now, you can ask your customers for reviews, so long as you follow Google's guidelines for Google My Business reviews. Just be wary that if you break the rules, your reviews could be removed.
But getting reviews is only the beginning. You need to respond to reviews too – all of them, good and bad.
Not only does it show the reviewer that you appreciate their feedback, it also shows potential customers that you care.
In fact, BrightLocal's research shows that 30% of consumers say they've judged a business based on its responses to reviews.
What happens if you get a negative review? It happens to the best businesses, so don't freak out.
If it was a genuinely negative experience, respond to it with an apology and explanation. But don't get defensive or nasty.
If you have a troll who left a one-star review and a nasty comment, it's not worth stressing over. Most people will recognize it for what it is.
Check out these two reviews and the responses from Beechworth Bakery: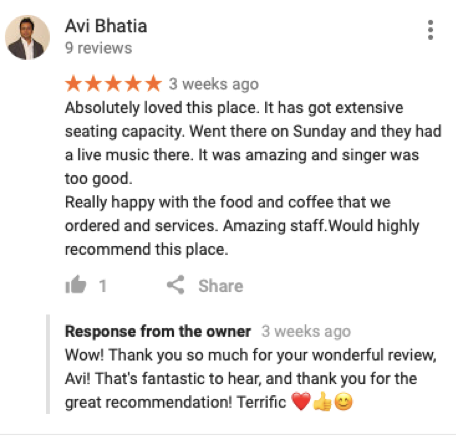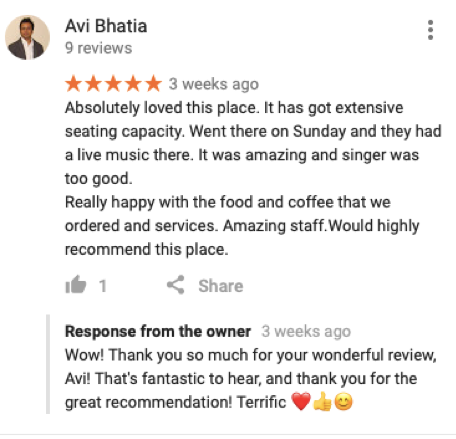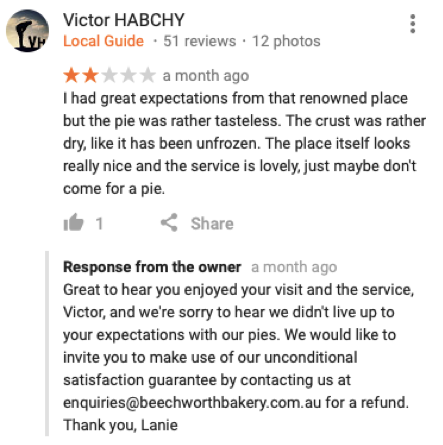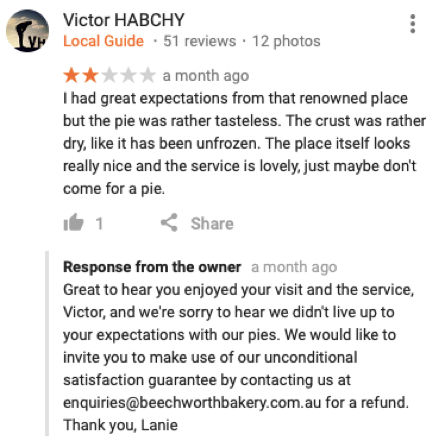 In the first review, the owner is enthusiastic and genuine. It leaves a great impression and would invite other people to leave positive reviews.
For the negative review, the owner responds with the positive first then apologises before making an offer for a refund.
In both cases, the posts address the reviewer by name and sign off with a name. All in all, an excellent example of what to do.
Use the bookings feature
Are you an appointment-based company? Use the bookings feature to give users the opportunity to schedule a visit directly through the GMB listing.
You can integrate your booking software with your Google My Business listing, so there's no risk of double booking or lost bookings.
By making it possible to book straight through GMB, you are removing a step in the buying process and making the whole experience smoother. So it's even easier to convert new customers!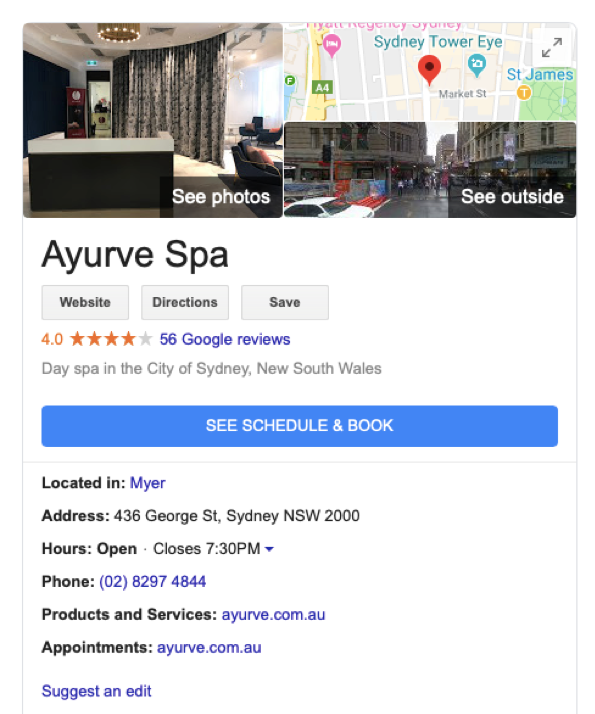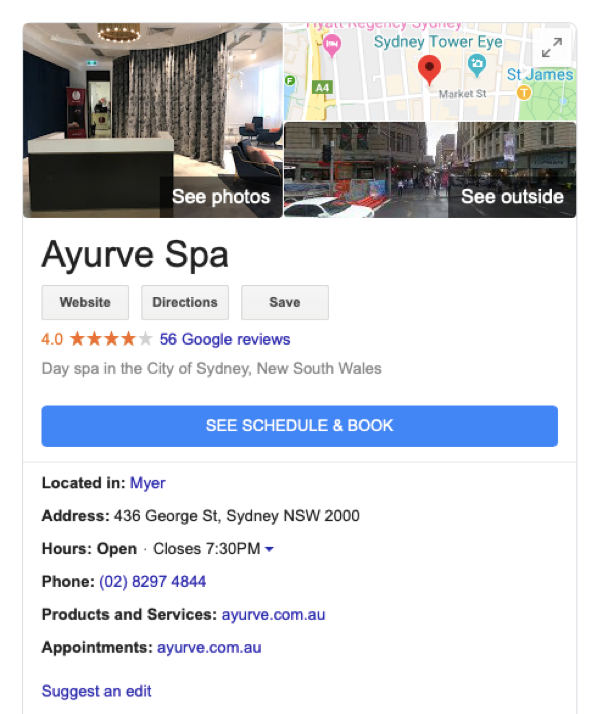 Use Questions & Answers
Questions & Answers does exactly what you'd expect: it allows people to ask questions about your business so you can answer those questions.
That's the important part: you need to answer the questions.
Too many times we see a GMB listing with heaps of unanswered questions. Worse, other users are trying to answer the questions but might give the wrong information.
The Google My Business Questions & Answers feature is your chance to give your audience the information they are asking for and cut out the middleman.
Keep a close eye on your Q&As so you can answer questions before other users or correct an inaccurate answer.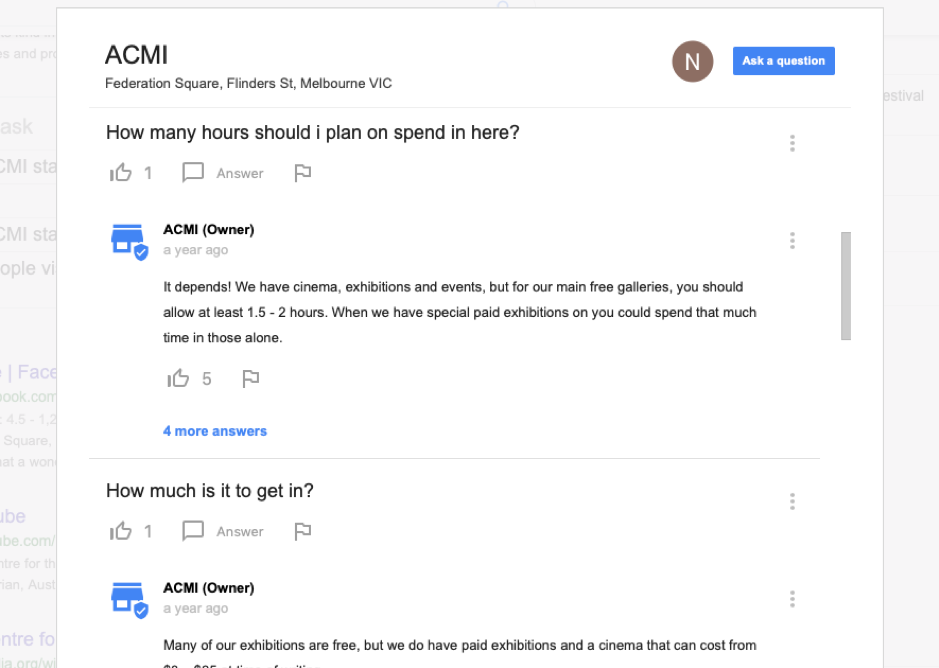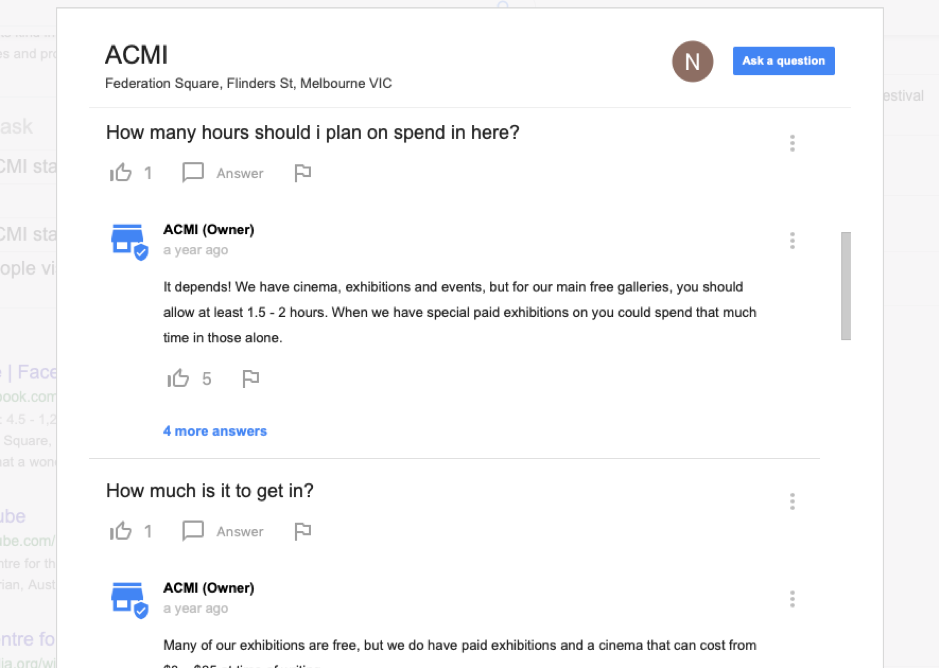 One thing you can do is create a Frequently Asked Questions list to preempt the questions you might get on.
Ask your customer service and sales teams to list the questions people most often ask, then put those on your GMB listing with accurate, clear answers.
You can also upvote essential questions to make them more visible.
Check, measure and respond regularly.
Some businesses have a love-hate relationship with GMB for one reason: anyone can "suggest an edit" or "answer quick questions" at any time.
Unsurprisingly, this has led to complaints that competitors or trolls can ruin their Google My Business listings with these features.
But, Google's philosophy is all about encouraging user-generated content to build a community and make sure a business's profile is complete.
So, the only way to avoid foul play is for you to:
Get everything right and complete the first time so that people don't feel the need to add things.
Check your profile regularly and make sure all the details are correct.
Checking your profile frequently also means you can answer questions and respond to reviews in a timely manner.
There's nothing more frustrating for a user than a question lingering for weeks, or an unchecked negative review that could be turning customers away without you even realizing.
The good news is Google does allow you to turn on notifications, so you will get an alert when a change is made.
There's another part of GMB that it's worth paying attention to — insights.
Google can provide valuable, data-driven insights about your GMB listing. The kinds of insights that will reveal more about your target audience and help you see where visitors are coming from.
By understanding how your customers are finding your business, the type of information they are seeking and what their next action is, you can better adjust your listing and digital marketing efforts.
Frequently Asked Questions for Google My Business
Is a physical address essential to create a Google My Business profile?
As stated by Google themselves, a requirement to creating a Google My Business profile is to either have a physical address which a customer can visit or that instead visit customers where they're located.
In simpler terms, you must either have a physical location or make some form of in-person contact to be listed.
So, if you have a business that is run and operated entirely online, unfortunately, you cannot set up a Google My Business profile.
If you run a company and wish to be listed on Google My Business but want to keep the address private, there is an option to hide this information from the public.
Can I list more than one location on a Google My Business account?
You can indeed create, verify, and manage multiple locations from a singular Google My Business account.
To list more than one location on Google My Business:
Log in to Google My Business
Under the left-hand menu, click Businesses
Click Add business
A drop-down will promptly appear where you can choose to Add single business or Import businesses. The latter lets you import a spreadsheet with information of multiple locations included, saving you plenty of time if you have many locations to add.
Once you've added all those locations in, it can seem a little daunting to manage every profile individually. What's more, maybe you want to share access with co-workers only a portion and not all of the listings. Thankfully, Google has introduced location groups, which let you share listings and locations across multiple users.
To create one, head to that same Businesses menu in Google My Business, and on the top left of all the businesses, you can click Create group. Here you can name each group however you see fit.
Unfortunately, aside from exporting insights or marking businesses open or temporarily closed you'll still need to edit each listing individually. Nevertheless, location groups provide a nifty way to organize your many listings and share only select businesses with your co-workers.
What if someone has already claimed my Google My Business listing?
Whether it's a random person or even an evil competitor, there have been rare instances where a Google My Business listing has been claimed and verified by someone other than the actual business owners!
Thankfully, there are ways to legitimately claim verification of your listing.
If you cannot contact the person who first verified your listing, then you'll need to request access via Google. To do so:
Head to business.google.com/create
Enter your business name, address, then find your business
Here it will show a message stating the business profile has already been claimed, as well as a hint to the email that it has been verified by
If you cannot identify the email, you'll need to click Request Access
Complete and submit the form, and under What level of access would you like? That you select Ownership
Once submitted, you'll then need to wait up to three days for a response. In that time you'll either be notified that the request has either been approved or denied.
However, in the instance that there is no response after those three days, you might have the option to now claim the profile as the business owners. If that is the case, you can follow the same steps you did to verify your business previously.
How do I change the address on a Google My Business profile?
Moving office? Then you'll undoubtedly need to update the address on your Google business listing.
At the end of the day, Google wants to ensure their data is completely up to date so the search engine can serve customers the most accurate information available. As such, changing your address should be fairly straightforward.
To change your address:
Sign in to Google My Business
On the left-hand menu, select Info
Click the Address field and enter the new address
Click Apply 
In the situation Google cannot find your address, Google Maps will appear where you'll need to Set marker location
Here, you can just click and drag a red pin to the center of your new location. Once done, click Apply
How do I add questions and answers to a Google My Business listing?
As customers learn more about your brand, sooner or later they will have questions of their own that they might have found during their research. That's where the questions and answers section of your Google My Business comes into play:
In essence, customers can simply click Ask a question and seek an answer across any topic relevant to the business.
Now this sounds lovely and all, but the real challenge is that anyone can answer those questions, not just your business. In essence, while you might get answers from people outside the business with accurate information, there is still a chance you'll receive a response that is entirely wrong and might even misrepresent your company!
As such, you'll need to regularly check for new questions that might crop up and answer any that do as soon as possible.
You can also populate this section with commonly asked questions of your own making using a personal email account and answering them as soon as they are posted. This can help further reduce the risk of someone else answering first if it were to come up in the future.
Enhance visibility with this guide to Google My Business
Trying to create a new business Google can show online for the first time? Searching for assistance verifying your local business on Google search and maps? Just want extra help optimizing your listing? This guide will have all the answers you need. Take your time reading through the guide, and you'll have a local business listing that Google will love in no time.
But the work doesn't end once you've optimized your business page for the first time. Make your Google My Business listing part of your SEO checklist. The more time you spend adjusting and fine-tuning your Google My Business listing, the better it will perform with searchers and the more conversions it will drive.
Here's a quick checklist to follow when maintaining your listing:
Keep your details up to date including such as your website, phone number, business hours
Include your service area to ensure your business shows in the correct location
Write a compelling description
Regularly add photos and videos that showcase your business
Post engaging and relevant content to keep customers interested
Respond to reviews – both positive and negative
Use Questions & Answers
Review your business insights regularly
We also recommend downloading the Google My Business app, which lets you quickly answer any question that could come up on your listing or respond to any reviews. Plus, the Google My Business app gives you full access to the Google My Business dashboard, letting you make any changes to anything from your business name, cover photo, and more.
By completing all these steps on a regular basis across all your business listings, you'll not only provide an easy way for customers to find your business via local search, but you'll also score yourself a consistent way to ultimately make more sales.
Now you've got your local SEO up and running, find out what else you need to do to nail SEO.
Find the must-have advice and strategies in our Ultimate SEO Guide. Get yours now – it's completely free!