Local Landing Pages: How to Rank Your Business Locations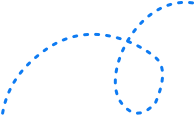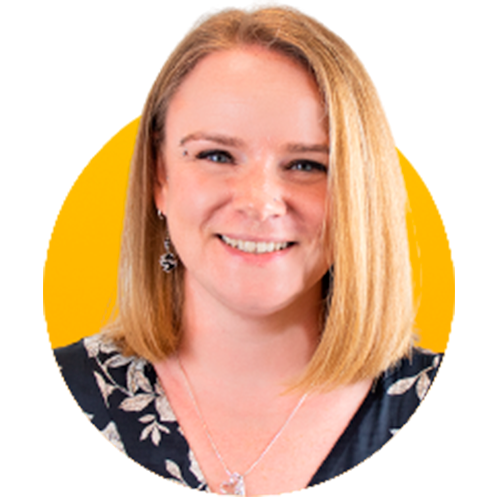 Jules Ward
17 November 2021
15min read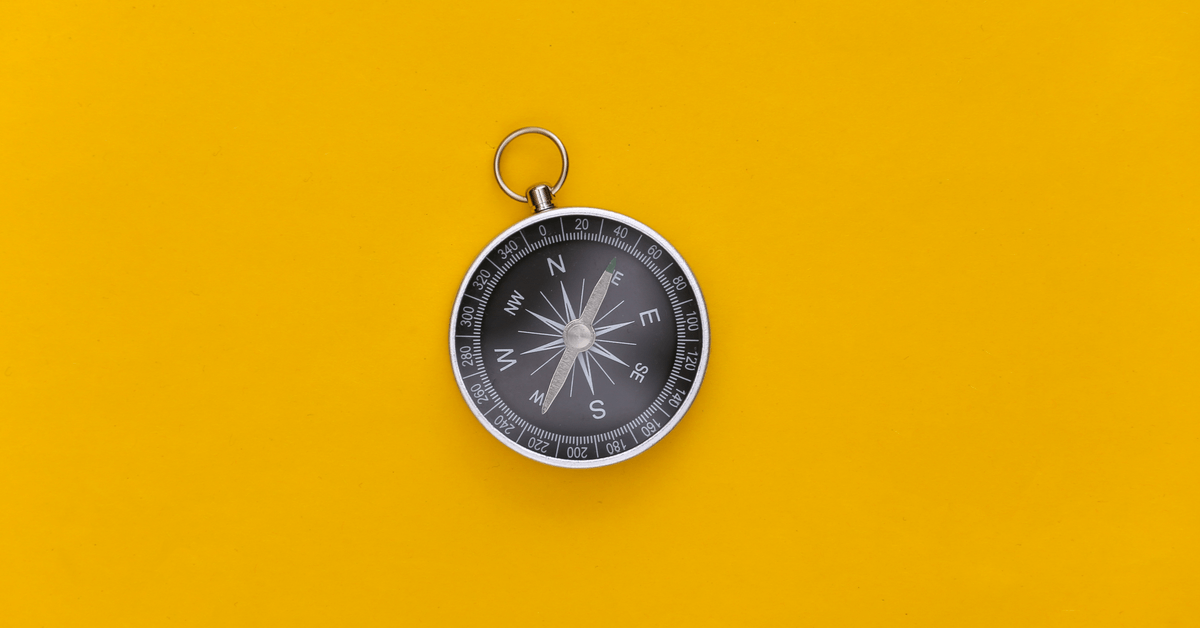 Think local businesses don't need search engine optimisation (SEO)?
Think again.
Local SEO is a crucial part of running any successful brick and mortar business in 2021. Whether it's a search for something "near me" or a specific keyword mentioning your area, your customers are looking for your products and services on the web — and they're ready to buy. If you want to maximize foot traffic to your stores, you NEED to start online.
And a huge part of getting in front of these customers? Local landing pages.
So what does it take to create a local landing page that lands your business more leads and sales? In this guide, we take you through everything you need to know to develop landing pages that help you rank higher, increase your visibility, and grow your business at a local level.
What is a local landing page?
A local landing page is a web page that uses location-specific SEO strategies to increase your visibility amongst targeted searchers. These pages are suitable for businesses with a physical presence that requires direct contact with customers — think local cafes, retail stores, or service-based businesses. However, they're also useful for eCommerce businesses that have offline locations.
Here's an example of a local landing page with Nike's different stores in Sydney: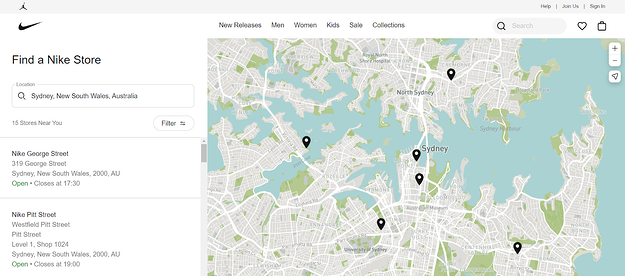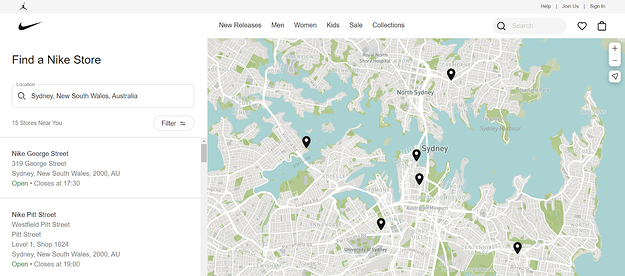 Thrifty also uses local landing pages for their car hire locations across the country, such as this one in Sydney Airport: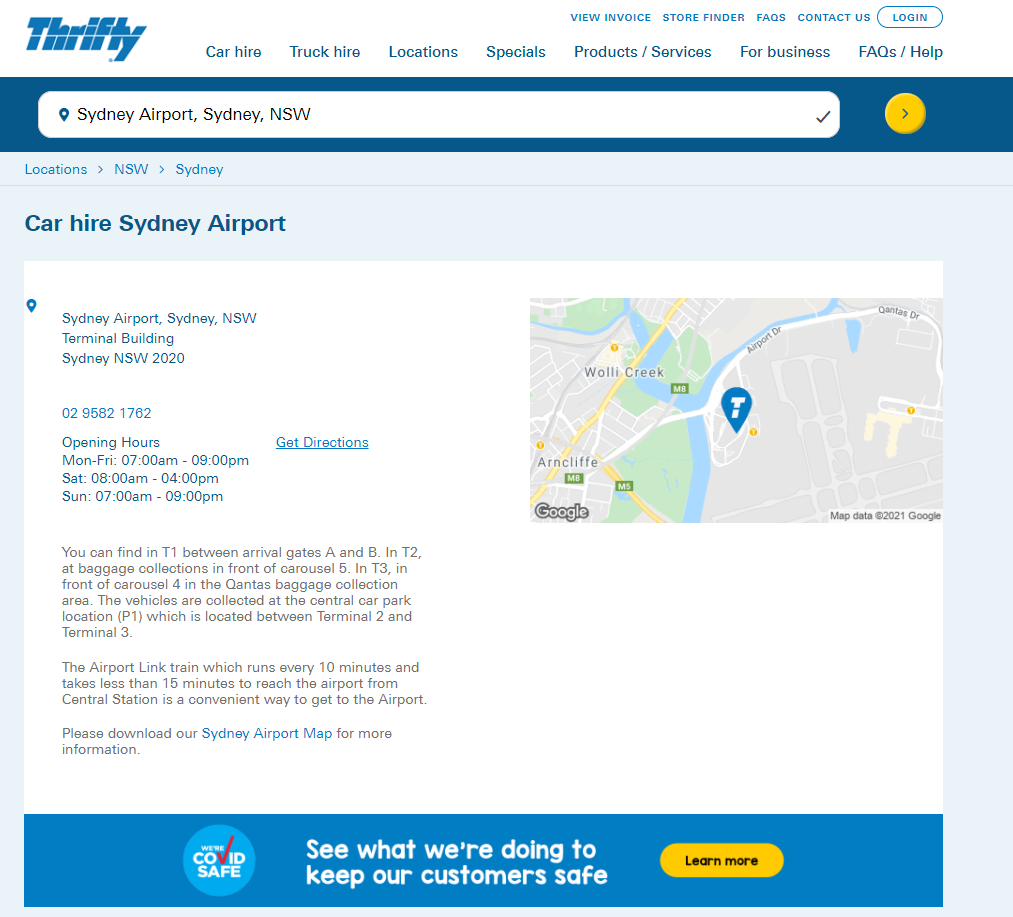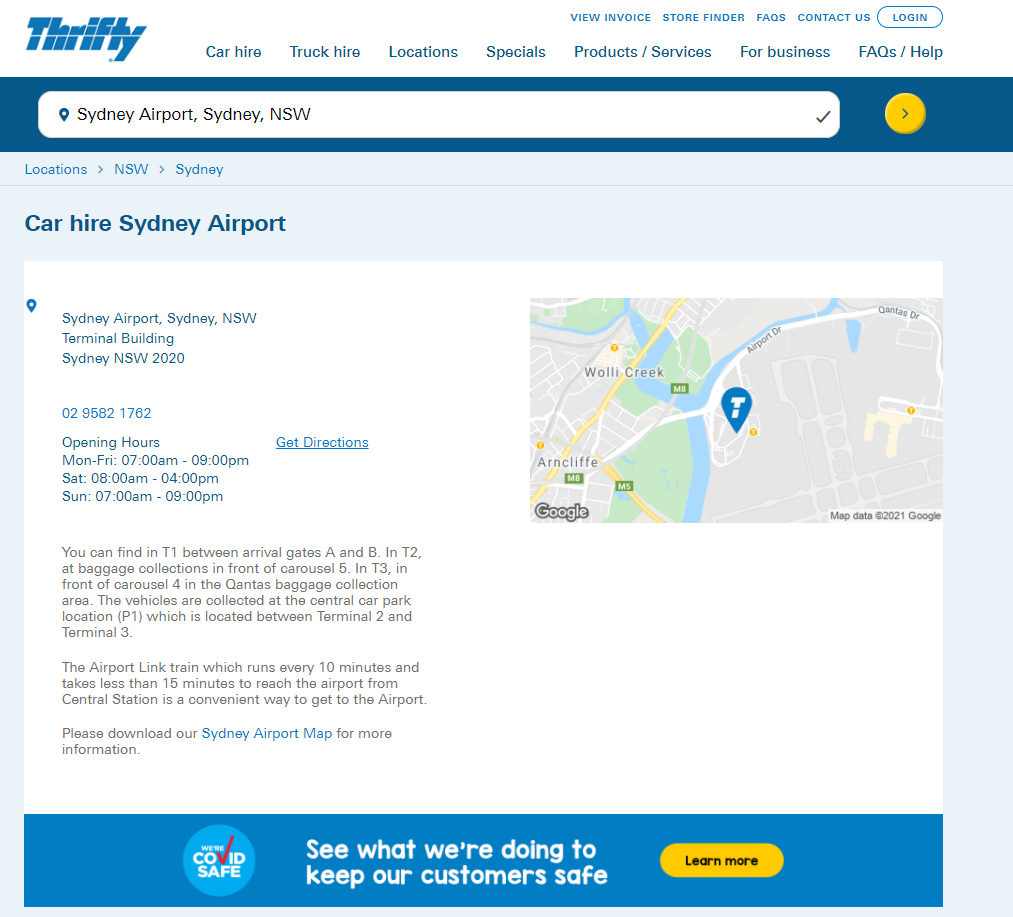 Local landing pages are also known as doorway pages, service area pages or local pages.
Why are local landing pages important?
Local landing pages are important because they can literally mean the difference between floods of customers coming to your store versus the competition.
According to SEO Tribunal, 97% of people learn more about a local company online than any other source of information. What's more, searches for products, services or businesses "near me" or "close by" have grown by more than 900% over two years. Even if your customers are eventually making a purchase offline, the data shows without a doubt that they're starting their search online.
They're not just window shoppers either. 72% of people who conduct a local search will eventually visit a physical store to browse the products or services they were searching for. And — get this — a whopping 78% of these searches lead to a purchase being made offline.
Bottom line is, local searchers are highly motivated and ready to buy. If you want their business, you're going to need to get on their radar first. And to do that, you need local landing pages.
Are location pages good for SEO?
Location pages don't just bring more visitors to your store. They're also a powerful tool to increase your local SEO efforts and your ranking on relevant search engines. Since Google's Venice update in 2012, local pages have received a valuable boost in search results for local terms like "near me" and "nearby".
So how do location pages support your overall SEO strategy?
Local landing pages improve your local search authority
Because they're tied to a specific area or location, local search pages are more likely to rank on top for implicit searches for products or services nearby. For example, if someone types "best breakfast" and they're in Wollongong, search engines understand they're most likely looking for breakfast in Wollongong and will present the best cafes in the area.
On top of this, location pages also rank higher for explicit searches with a geo-modifier, such as"Best breakfast in Wollongong":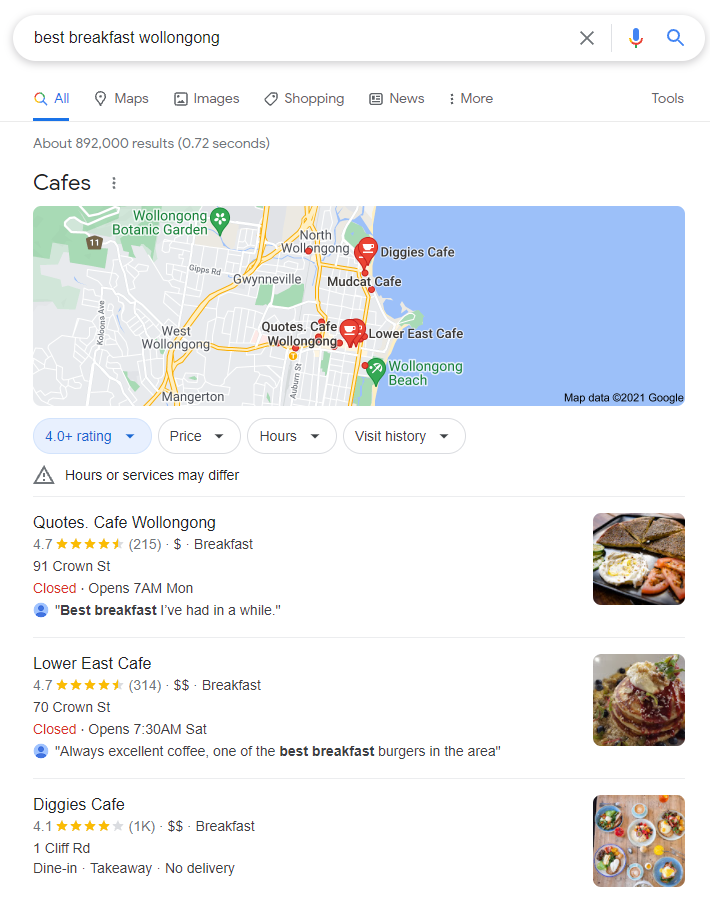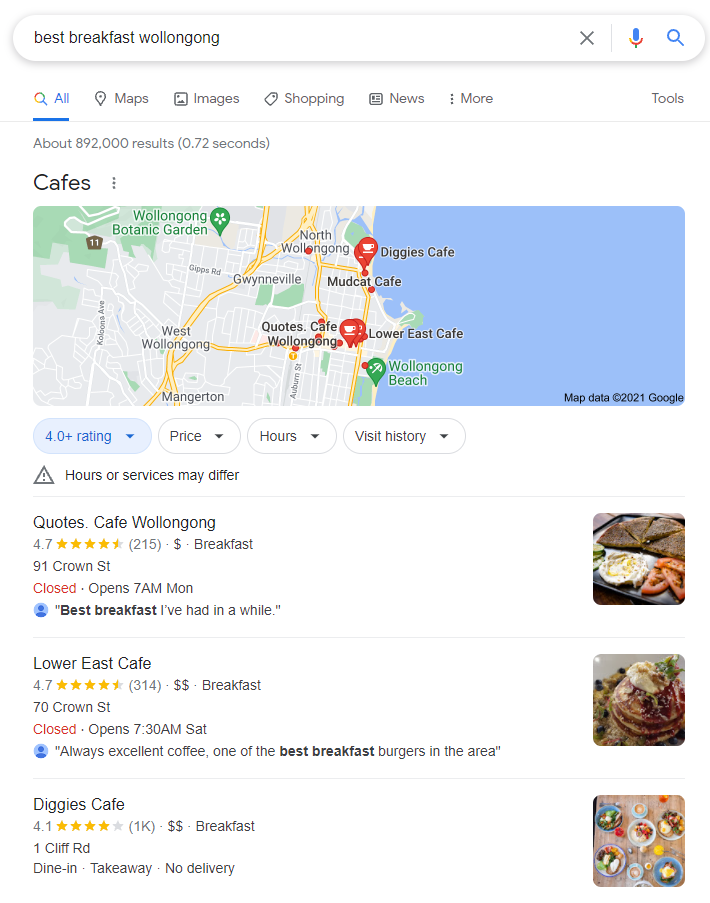 Local landing pages are a platform to publish highly targeted local content
Serving up local specials at different cafes around the country? Hosting an event? Want to showcase reviews from regular customers? Regardless of what's happening in your physical storefronts, your local landing pages are the perfect place to broadcast this information to your customers — just like Crown Perth have done: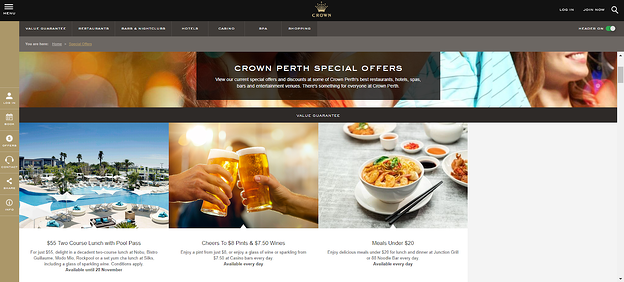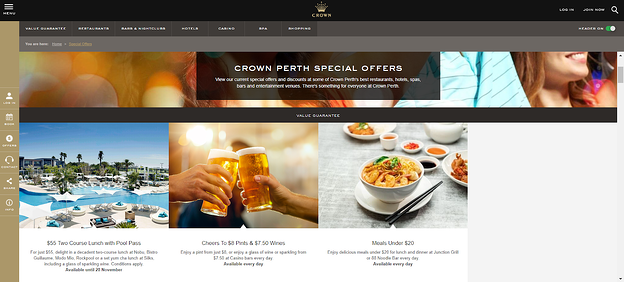 On top of being able to drive traffic to your website and your store, you'll also increase your chances of appearing in local featured snippets, like this one: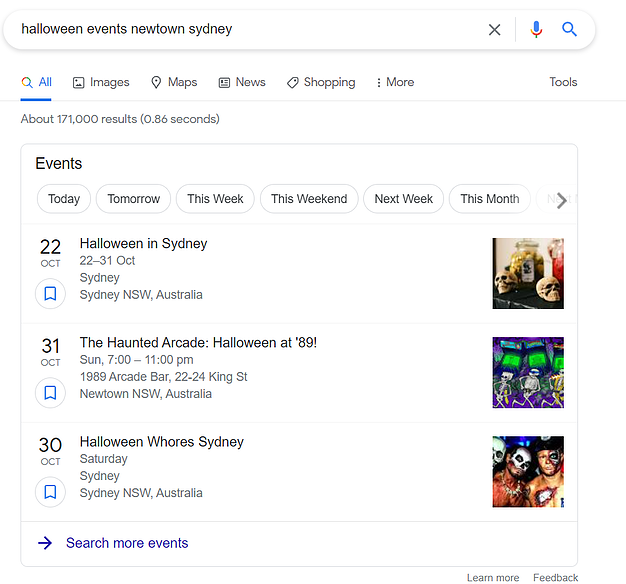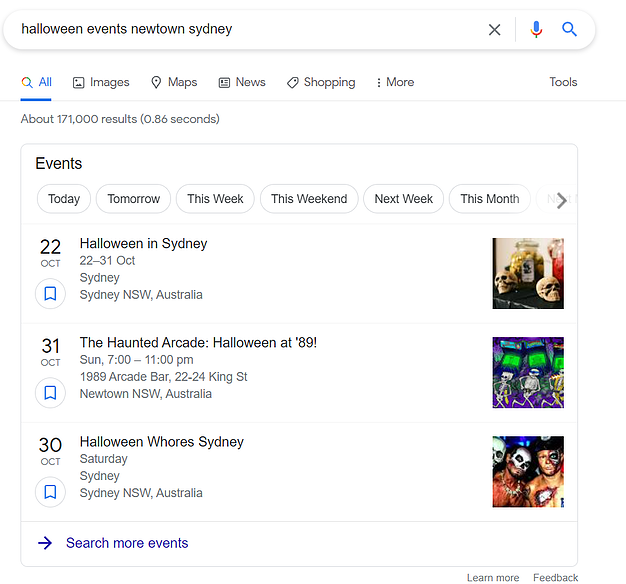 Some of the location-specific copy you could feature on your local landing page include:
Upcoming events or activities
Reviews for a specific store
Customised menus, packages or products
Staff members at a specific location
Local pages help with lead generation
Lead generation is key for any thriving local business, particularly if you're in the service industry. Having a local landing page allows customers to get in touch directly with your branch, rather than having to reach out to a generic email address or go out of their way to find information about a specific store.
Here's an example of a local landing page from Cloud Collective, a strategic B2B alliance of Microsoft Gold Partners. Their contact us page features the details of each partner, along with their phone number, address, and a link to open up the location in Google Maps: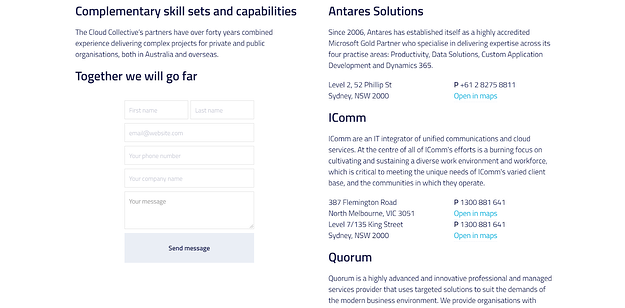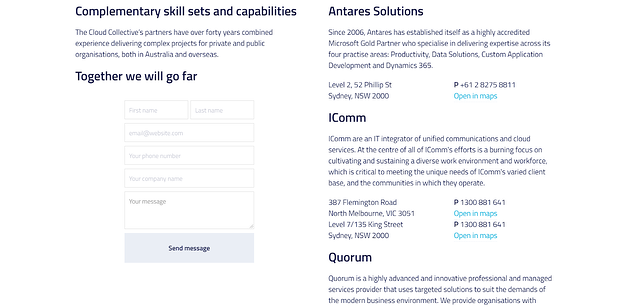 Local landing pages will also help give your lead gen efforts a boost on Google My Business, as your email, reviews and contact information will be available directly through Google Search like so:


Local landing pages give you a place to direct traffic from PPC campaigns
PPC landing pages are most effective when they're hyper-targeted to your audience and their search intent. With a local landing page, you can direct searchers to the most relevant destination possible from the get-go. On top of giving users a better experience, this means you'll increase your ad relevance — which, in turn, will lower your cost-per-click, increase conversions, and improve your overall weekly ads return, or ROAS.
Creating a local landing page strategy
The goal of any solid local landing page is to ensure that all of the information contained within it is tailored to your target audience and optimized for search intent. And to do that, you need to know the what and the where.
Before you start building anything, it's important to be crystal-clear on where your audience is located and what they're searching for. These two factors will guide every part of your local SEO strategy, from your content and the keywords you include to link building and technical SEO.
Identify where your customers are located
Where are your current customers coming from? If you don't know this, it's time to start digging — and even if you have a pretty good inkling, it's a good idea to back up your hypothesis with data.
There are two places you can find this information: Google Analytics and social media platforms like Facebook and Instagram.
First, Google Analytics. Jump into the Audience section, then click Geo > Location. Once you're in here, you'll get a map and a list of the different countries where your website visitors are located: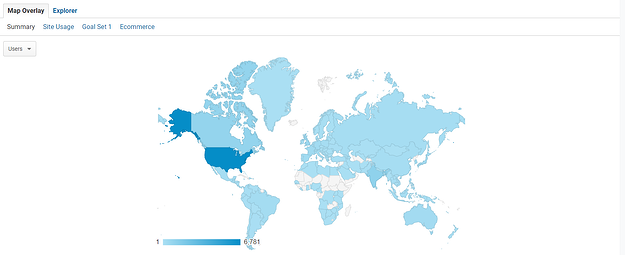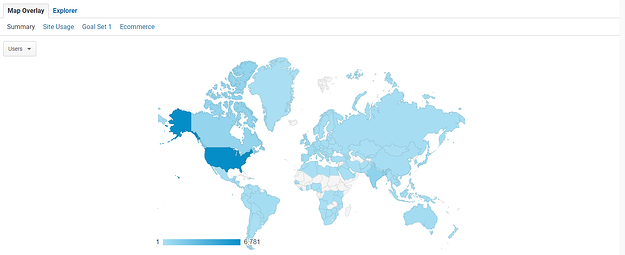 It's also possible to filter this information by city by switching up your Primary Dimension: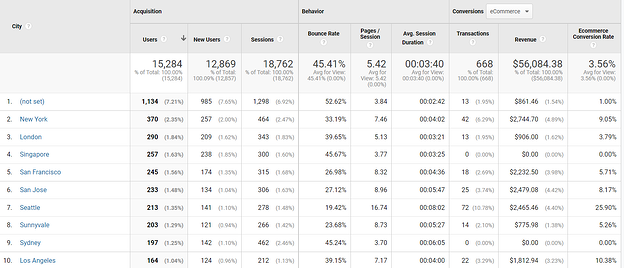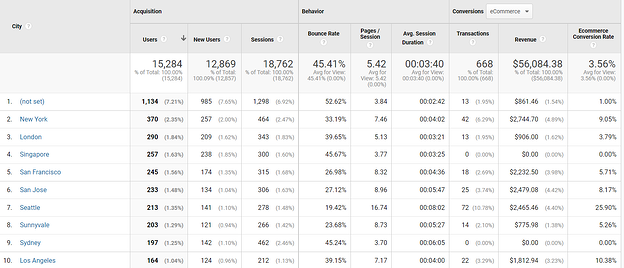 Clicking into an individual country will give you a breakdown of regions, states, or cities, depending on the country. For example, clicking on Australia brings up a list of the different states where your site visitors are based:


On top of seeing which countries, regions and cities your audience is based in, Google Analytics also allows you to filter location insights by acquisition, behaviour, or conversions. For example, you might find that visitors in NSW are more likely to fill out your contact form but visitors in VIC have the longest session duration.
Facebook and Instagram Audience Insights are two other handy places to learn more about your audience's location. Head into Facebook Business Manager and navigate to Insights > Audience to see a breakdown of the top countries and cities where your followers are based: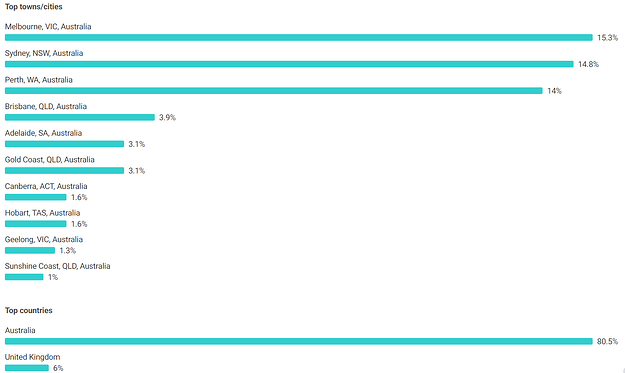 With Instagram, you'll need to log in to Creator Studio before you can learn more about your followers. Once you're in, navigate to Insights > Audience to see the top five countries and cities where your followers are located: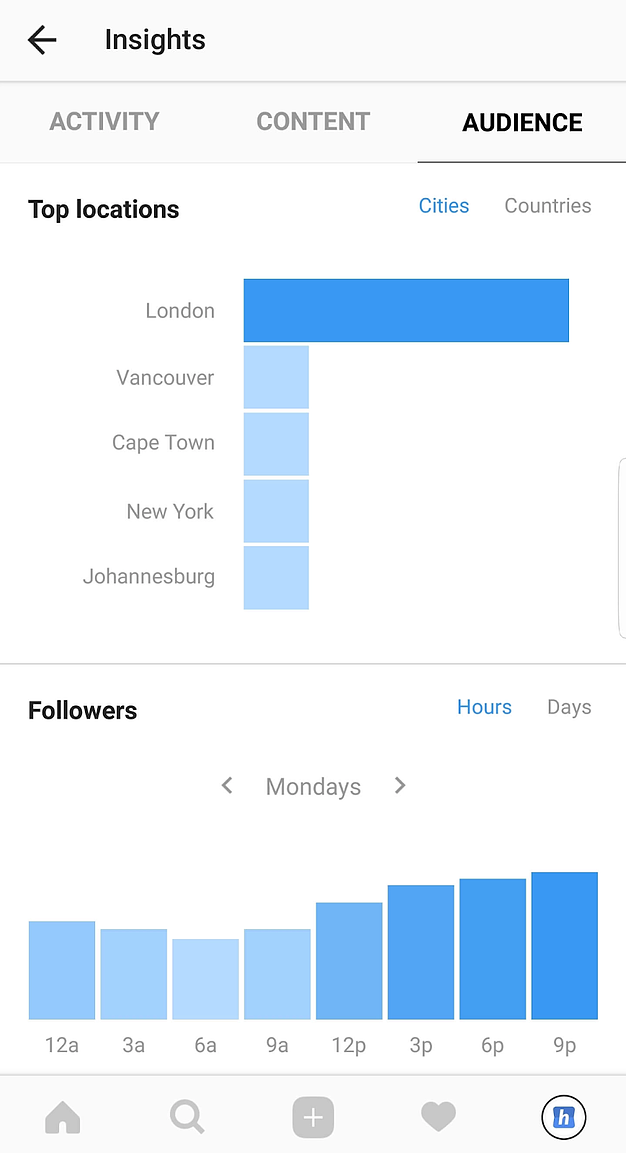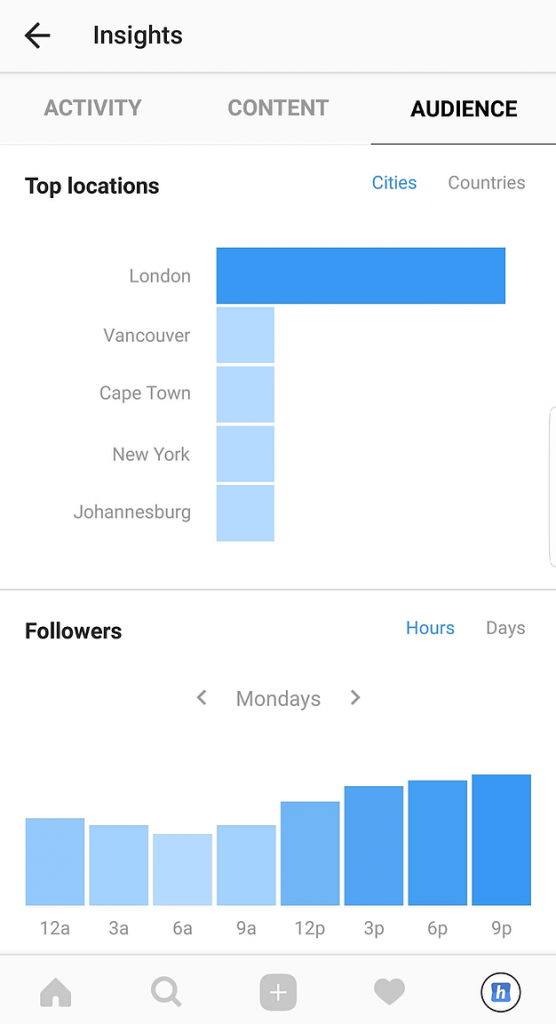 Keep in mind that you're not limited to these platforms as a source of data. If you want to learn more about where your customers are based, you could also look at your CRM or run a survey with your existing prospects and customers.
After you have these insights on audience location, you can begin building a local landing page strategy that's designed to drive as much organic traffic as possible from visitors in your target locations. For example, if your store is based in Sydney but your current site visitors are mainly coming from non-local searches in different locations like San Francisco, you'll need to adapt your strategy to reach more Sydneysiders and bring more traffic into your store.
How to do local SEO keyword research
Now that you know where your customers are based, it's time to look at what they're searching for. And to do this, you need to roll up your sleeves and conduct local keyword research.
While you may have a list of generic keywords that your users are typing into Google, these search terms can vary dramatically when you start drilling down to individual locations.
Let's say you're operating a gym with multiple locations in Australia. You might find that searches with the highest volume in Sydney are for phrases like "quick workouts Sydney CBD" or "24 hour gyms". Meanwhile, in Brisbane, the most popular fitness-related keywords might be "F45 nearby" or "circuit training classes".
When you understand the nuances of local search terms, you can start optimizing your local landing pages and campaigns to focus on the most relevant keywords for each audience.
So how do you find these keywords? Google Trends is a great place to start. You can type in a seed keyword then filter by country and state: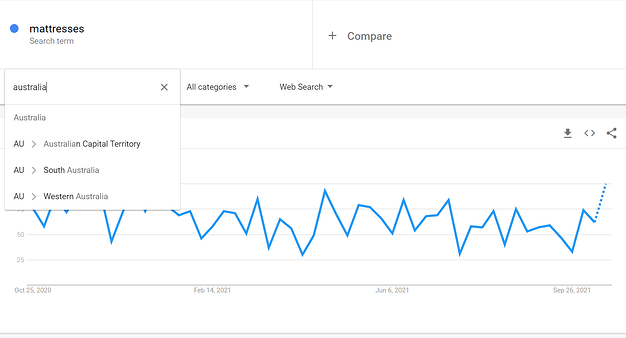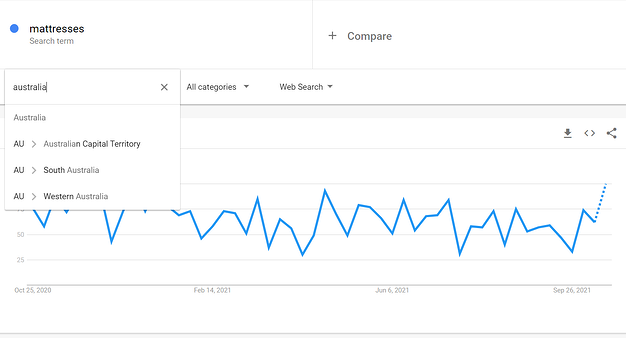 If you want to expand your keyword list out even further, you can break down search interest by region or look at related topics and queries: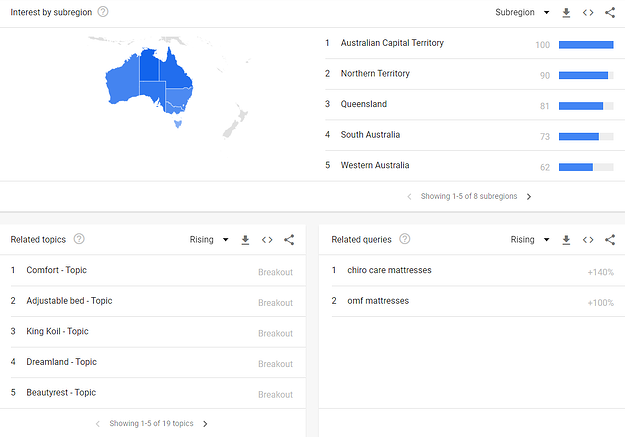 SEO tools like SEMRush are handy for finding and filtering popular search terms. Simply enter your local keyword into the Keyword Magic tool to get similar recommendations and data on search volume, search trends, and more: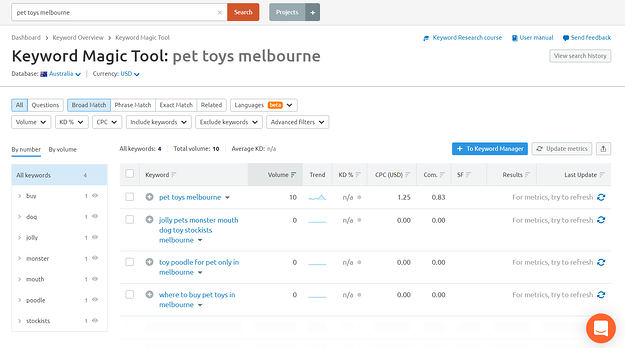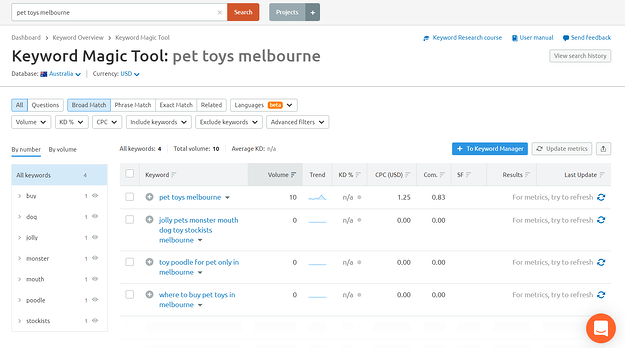 After you've created your keyword list, you can start going through and narrowing down your primary and secondary target keywords for each local landing page based on search volume, competition, and your existing ranking position, if applicable.
A final word of advice: don't forget to include implicit and explicit search terms in your research and tailor your content to each specific type of local search intent. For example, a person who's just landed in Perth and looking for a vehicle to hire might type in "car rental near me", whereas a person who's researching for an upcoming trip to Perth might look for "car rental in Perth".
Tips for creating effective local landing page content
You've got your local audience insights sorted. You've conducted extensive keyword research into phrases with local intent. It's time for the final step: building your location page.
Whether you're just starting out with one local landing page for each service area or looking to improve your existing pages, these tips will help you create local landing pages that rank higher, bring in more page visitors, and increase leads and sales.
What information should I include on a local landing page?
Every local landing page needs to include some essential information on your brand and your store. Regardless of how much unique content you want to feature on your website, make sure that you dot the I's and cross the T's first with these local landing page must-haves:
Your business name. Make sure that this is explicitly written on the page — not just featured on your logo.
Local address and business hours: Include your physical address or service location at the top of every page, as well as opening hours. This makes it easy for customers to pinpoint where you are in case they want to pay a visit to your store.
Contact details: This should be a local phone number and/or email address. Include location-specific phone numbers if you have them, instead of using a generic customer service hotline or email address.
Embedded map: Embed a Google map that shows your exact business location to help customers find your store. Your customers will also be able to easily grab navigation instructions from the map and check out your average star rating and reviews.
Image: While it's not mandatory, it never hurts to include an actual image of your shopfront in your landing page design. Including this proves to your customers that you're a legitimate business and can be handy in helping them find your store (particularly if it's hard to get to).
Call-to-action: Include a clear CTA on your page to help your customers know what to do next. Do you want them to get in touch with you? Visit your service areas? Drop in to your physical location?
Tip: Use the exact same name, address and phone number (NAP) across all of your business listings, whether it's on your website, Google My Business listing, social media, or on local directories. Having a standardised NAP helps search engines connect the dots between your different online listings and can dramatically improve your search rankings.
On top of these basic pieces of information, this is a prime opportunity to add any additional local content, such as:
A blurb about your store. List out any unique selling points or advantages that you have over the competition in the area, as this information could convert a visitor into a lead.
Your local team. This is another opportunity to differentiate yourself from the competition. Feature content around the store manager, experts and support staff, including information on their expertise and experience. Try to incorporate photos of your team whenever possible to add a human touch to your business.
Upcoming events. If you're hosting any upcoming events, your local landing pages are the place to mention it. Ideally, include a list of your upcoming events with a link to a separate landing page where visitors can learn more and sign up. These separate landing pages can also be a good place to direct any traffic from promotional campaigns or links from local publications.
Frequently asked questions. This is the space where you answer any common queries that your local customers may have, as well as target any long-tail keywords. And here's an added bonus: incorporating local FAQs on local web pages may increase your chances of appearing in Google's featured snippets.
Don't overlook the basics of on-page SEO
Local SEO is still just that — SEO. While there are some differences between local landing pages and other pages on your website, the fundamentals of on-page SEO remain the same across the board.
When you're building your local landing pages, do NOT neglect the basics of on-page SEO. Make sure that your page ticks all the boxes in terms of best practices. This means things like:
Title tags, meta descriptions and other meta data: Make sure that your title tag, meta description, and keywords are optimized on each local landing page you create. These should be tailored to the unique search terms you uncovered earlier as part of your local SEO keyword research.
Internal links: Internal linking between different pages on your website is a powerful way to spread link juice and ensure that your local landing pages get crawled and indexed by Google. When natural, add links to other product and service pages on your website or a relevant blog post.
Headings and subheadings: Mark up your most important information with a unique H1 tag, and break up subsequent sections with the H2, H3, and H4 tags. Where possible, include your primary target keyword in your H1 tag and your secondary target keywords in your subheadings.
URLs: Create a unique URL structure for each landing page so Google knows exactly what your page is all about. The perfect local landing pages have a clean URL, such as /location/store or country/city/store.
Optimise for mobile users
Fact: according to Think With Google, mobile searches for "near me" have grown by over 250% in the past couple of years. Customers are often searching for local businesses while they're on the go — and if your local landing pages aren't optimized for mobile, you're going to lose A LOT of business.
When you're designing your location landing page, you have to consider the small screen at every turn. From a seamless contact form to fast loading times mobile-friendly design, every aspect of your page should be tested on, and optimized for mobile devices. If your website takes too long to load or you're offering a sub-par mobile user experience, your potential customers will be quick to jump straight to the competition.
Include customer reviews
90% of consumers read online reviews visiting a business. That should be the only figure you need to understand just how important customer reviews are to your company — and how valuable they can be on your local landing page.
Share reviews from your past customers on your local landing page, either as quotes or as embedded customer reviews from platforms like Google My Business, Facebook or ProductReview.com.au. If you're running a service-based business, you might even want to add in a few case studies showcasing how your local team have helped previous customers achieve their goals or solve a problem.
Last but not least, make sure you respond to all of your reviews. 75% of businesses don't respond to ANY reviews, despite the fact that businesses that don't reply to reviews earn 9% less revenue on average. Responding to positive and negative feedback speaks volumes about how much your business values the customer experience — and it can be the tipping point that turns a lurker into a lead or a sale.
Boost your presence with a hyper-local digital marketing campaign
Local SEO is the first step to getting your business in front of relevant local customers, and doorway pages are a crucial part of that strategy. With well-designed and optimized local pages, you'll dominate search results, crush the competition, and win more sales and customers. But to do that, you first need a team of experts who know exactly how to put your business on the digital map.
That's where we come in. As experts in local landing page design, we'll build targeted landing pages that catapult your business to the top of local searches. And here's the kicker: it's absolutely FREE to get started with our services. Simply click on the link below to claim your digital marketing audit and 6-month game plan worth $2,000.