SEO Competitor Analysis in 6 Steps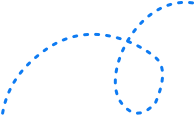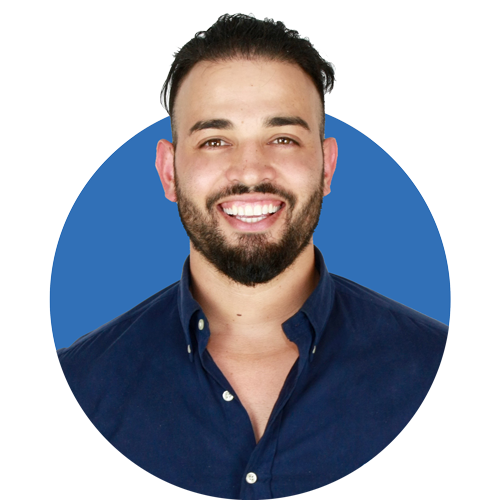 Andrew Raso
5 February 2021
22min read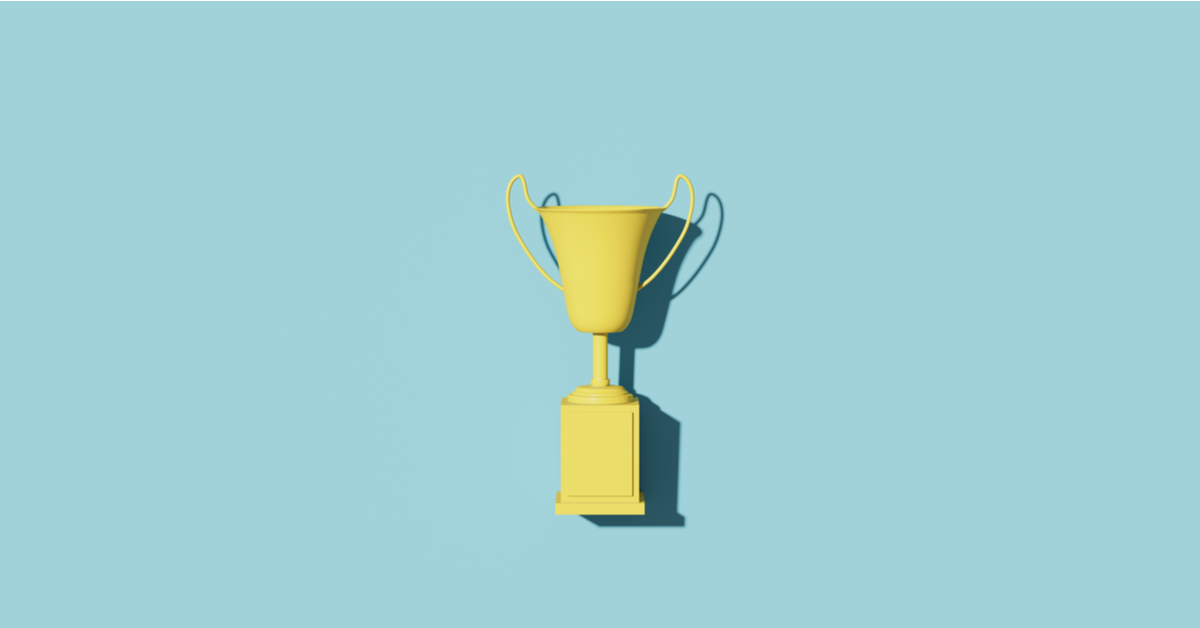 What if you could spy on your competitors, take inspiration from their best actions, learn from their mistakes, and use it to rank higher than them in search?
Here's the good news: it's totally possible. What's more, it's something you NEED to do if you want to stay ahead in the digital game.
Getting to know your SEO competitors is the first step towards creating a smart SEO strategy that's designed to get you to the top of search, faster. And that's exactly what we're going to show you how to do today.
In this step-by-step guide, we'll take you through everything you need to know to conduct an SEO competitor analysis and spy on the competition.
We'll help you:
Identify who your true SEO competitors are
Reveal what ranks (and what doesn't) in your industry
Replicate the best practices that have worked for your competitors
One-up your organic rankings and get more traffic by capitalising on their mistakes
Ready to skyrocket to the top of search results? Keep reading.
What is competitor analysis for SEO?
SEO competitor analysis involves identifying who your competitors are from an SEO standpoint, then using that information to reverse-engineer a strategy that will help you outrank them on search engines.
Some of the things that go into a competitor analysis for SEO include:
Identifying who your competitors are from an SEO standpoint
Researching the websites that are linking back to your competition
Analysing the type of content that ranks for your target keywords
Conducting keyword research into gaps where your competitors aren't ranking (and you can)
Discovering the most popular pages on their website
Reviewing other factors that might affect performance, such as their technical SEO performance or on-page optimisation
Why competitive analysis is important
You might already know who your competitors are in the market. That's a great start — but they might not necessarily be the ones that are outranking you and taking traffic that could be yours.
Take a step back, and think about the keywords you want to rank for.
Now run a Google search and see the results that come up.
All of those results that aren't yours? They're your SEO competitors — and they're stealing traffic that you could be getting, from right under your nose.
So how can you flip the script and bring those potential customers to your website?
Simple: an SEO competitor analysis.
Your SEO competitor analysis is a chance to look at the search landscape as a whole, figure out where you stand, and who your competitors are. Essentially, it allows you to hold up a magnifying glass to your competitors' SEO strategy, identify opportunities for improvement in your own SEO, and take advantage of this information to carve out a roadmap for total search engine domination.
Let's take an example.
Say you're a homewares company based out of Marrickville, Sydney. You might type in one of your target keywords and find that your competitors are outranking you for "best homewares store in Sydney".  After analysing their content and backlink profile, you might find that they've put a lot of effort into PR and raked up a bunch of mentions in popular home decor websites. Once you've got this information, you can take it and use it to improve your own PR and off-page SEO efforts.
During your analysis, you might also find that nobody is really ranking for "ceramic pots in marrickville", even though the keyword is getting a solid amount of search volume every month.
With a little bit of work, this is a prime opportunity to rank for that keyword and bring the qualified traffic to your website.
A final word: this matters EVEN IF you're already ranking in the first position for your target keywords — because we guarantee your competitors are doing an SEO competitive analysis right now to try and outrank you.
What is the best SEO tool for competitor site analysis?
Before we jump into how to do an SEO competitive analysis, you need to make sure you have the right tools.
Like anything in SEO, there are a bunch of different tools out there to help you size up the competition. Here are a few of the best out there for a competitor analysis:
Moz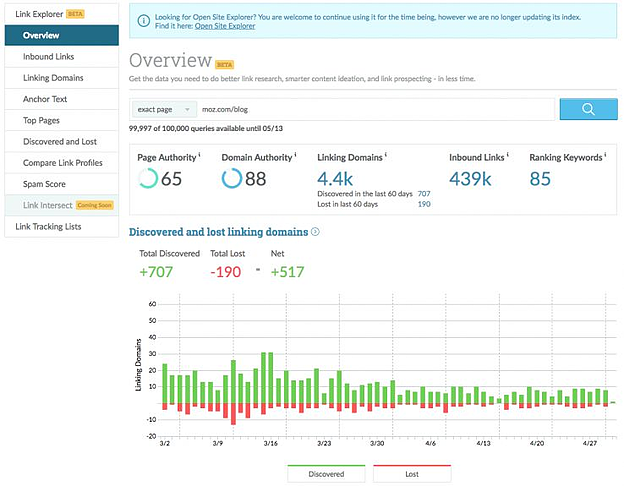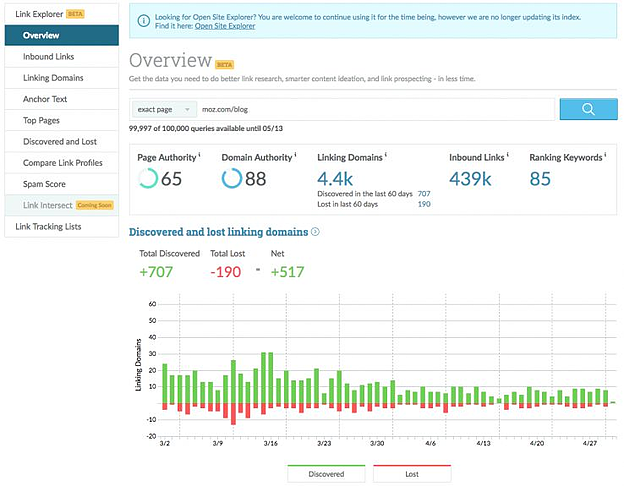 Moz is one of the most trusted names in the SEO game, so it's no surprise that they also make some of the best competitive analysis tools. There are two that are particularly useful for conducting a competitor site analysis:
Domain SEO Analysis Tool. This free tool allows you to view the top competitive SEO metrics for any domain. Simply pop the URL in, and the Domain SEO Analysis Tool will return a treasure trove of information, including the competitor's Domain Authority (DA), top pages by links, rankings for keywords, the estimated clicks the site is getting for their top keywords, top referring domains linking back to the website and more.
Link Explorer (formerly Open Site Explorer). As the name suggests, Link Explorer allows you to check the backlink profile, referring domains, Domain Authority and Page Authority of any site. You can access 10 link queries and 50 rows of data per query every month for free — any more and you'll have to upgrade to a paid account.
Ahrefs
Ahrefs is another massive player in SEO, and by far one of the leading SEO tools out for when it comes to competitor analysis. Within Ahrefs' Site Explorer Tool, you can easily view reports for your competing domains and pages based on the number of related keywords they're ranking for, like so: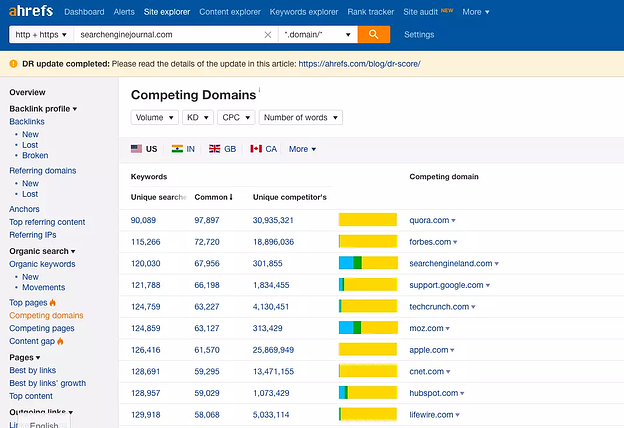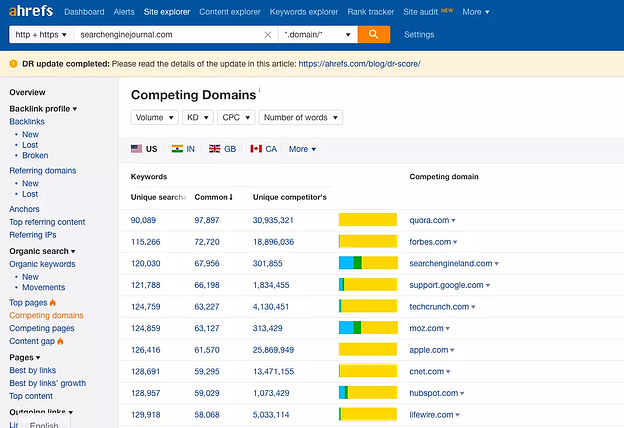 You'll also be able to conduct a content gap analysis within the platform to conduct keyword research on terms that your competition is ranking for, but you aren't: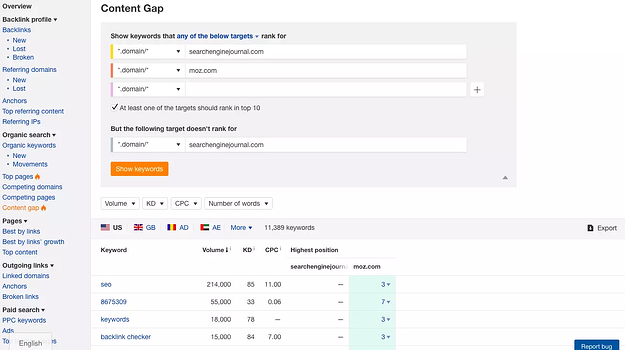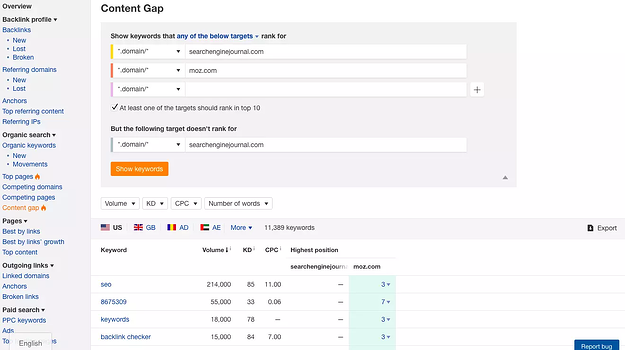 You can get access to the Ahrefs Site Explorer Tool for free with a 14-day trial. However, if you want to conduct competitor analyzes on a regular basis, you'll need to upgrade to a paid account to keep using the tool.
SpyFu
If you want to spy on other brands and understand their SEO and PPC strategy in GREAT detail, Spyfu is your go-to tool.
With SpyFu, you can peek into any domain and see where they've ranked in organic search for specific keywords, as well as the keywords they are bidding on (or have bid on) in Google Ads, and all the ad variations they've run for the past decade and a half.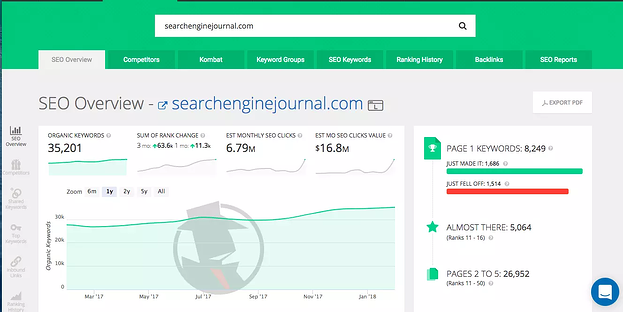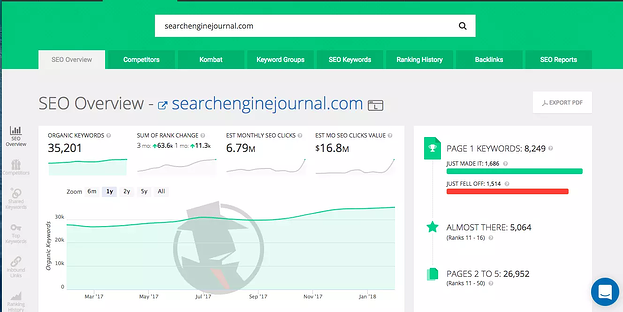 Image source: Search Engine Journal
This is also a great tool if you want to visualise how your SEO competitors have evolved over time in terms of keyword rankings, average rank position and monthly clicks.
SEMrush
SEMrush is right up there with Ahrefs and Moz when it comes to top SEO competitive analysis tools.
You can easily identify your main organic competitors, how many keywords they're ranking for, what their top-performing content is, how much traffic they're getting and SEO trends over time (and that's just the tip of the iceberg).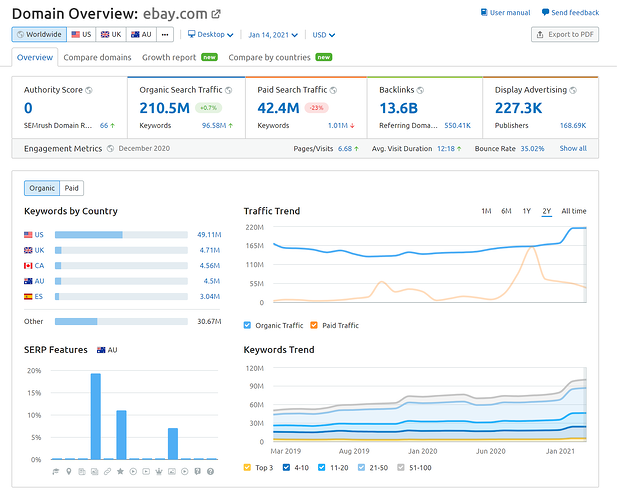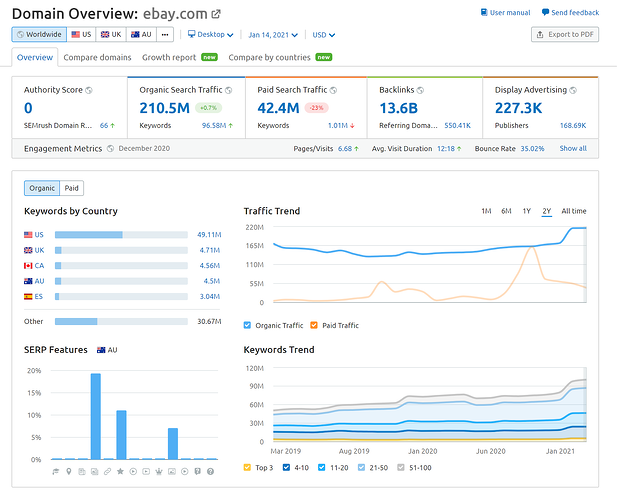 You can also dive into their Traffic Analytics trends and map your website against theirs, benchmark your website's audience against your competitors, view their top organic rankings and position changes over time, conduct a keyword gap analysis and link gap analysis AND do your very own keyword research — all within the one platform.
SEMrush allows up to 10 queries a day on a free account. If you want to research more brands or use it as your go-to SEO tool, you'll need to upgrade to a paid plan.
iSpionage
If you want to go beyond Google to see what the playing field is like on Bing or Yahoo, iSpionage is probably the most useful tool for you.
Like SpyFu, iSpionage helps you pinpoint who your main competitors are for paid AND organic search. Its SEO Watch feature is particularly useful if you want to visualise your performance against your competitors for specific keyword sets, view rankings for keywords and trends over time, do a content gap analysis, and measure your SEO progress versus the competition.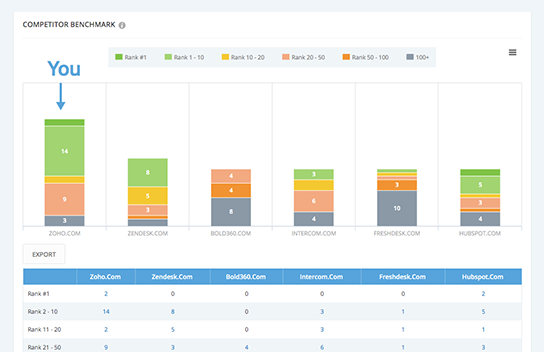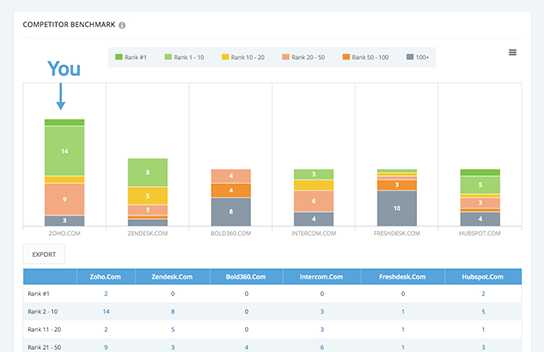 Image source: iSpionage
iSpionage also has a great feature that allows you to visualise share of voice for your industry or niche, then drill down to see exactly what content is helping them dominate the conversation.
How to do an SEO competitive analysis?
1. Identify your true competitors
Before you jump into conducting a keyword gap analysis or content gap analysis, you need to know thy enemy. That means finding out who your true competitors are from an SEO standpoint.
As we touched on earlier, your SEO competitors might be different from the main players in your industry. These guys fall into one of two categories:
Ones that rank for the same keywords that you're targeting
Ones that rank for the most keywords in your industry
Let's go back to that homewares example again.
At an industry level, you might be competing against big brands like Freedom Furniture and IKEA. However, if you're trying to rank for an informative blog post for "best statement furniture australia", guess who comes out on top?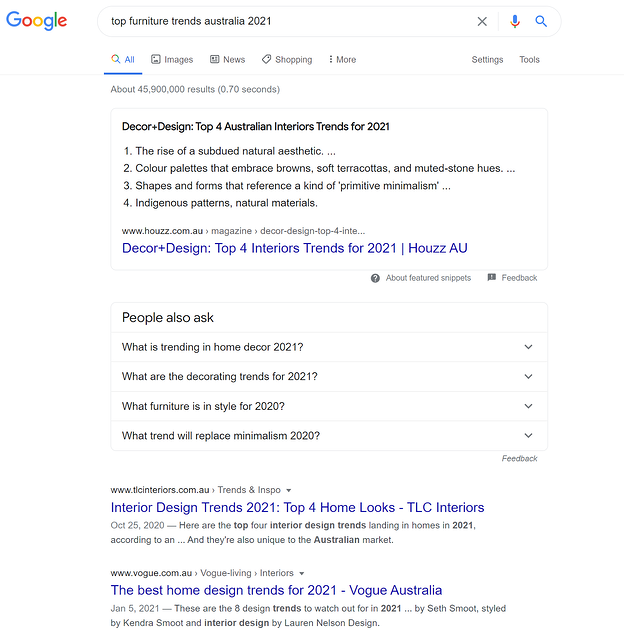 Suddenly, you're competing for traffic with publications like Houzz and Vogue.
On the other hand, you might find a website that's ranking for thousands of the same keywords that overlap with relevant search queries in your industry. These are also your SEO competitors, but on a macro scale.
So how do you find these websites?
There are a couple of ways to go about it. If you want to see who's ranking for a specific keyword, you can simply type this into Google and see who comes up in the top 3-5 domains.
Repeat this process on desktop and mobile, do it in incognito mode, and enlist a colleague or friend to try it on their computer and phone. Note these sites down — every single one of these an SEO competitor.
You can also do this using one of the tools we mentioned earlier. For example, in SpyFu you can quickly see who's ranking in the top of your industry in terms of keyword volume.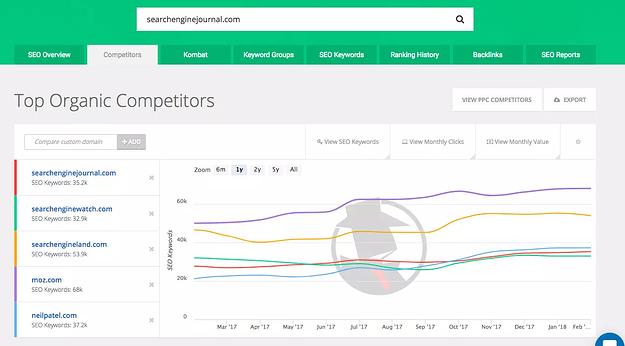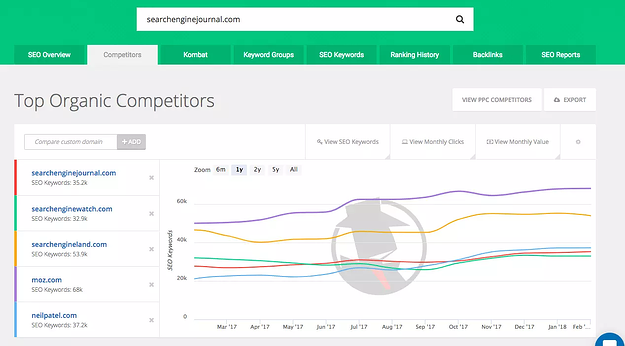 Image source: Search Engine Journal
Lastly, it's important to know who NOT to compete with.
For example, if you find that Wikipedia, a major media publication, or even Pinterest is outranking you for a specific keyword, it's probably not worth investing the additional time and effort to try and edge them out.
Try to focus on the low hanging fruit, like a competitor who is outranking you for high-value keywords (more on this in the next step).
2. Perform a keyword gap analysis
What keywords do my competitors rank for that I don't?
This is the question you're trying to answer at this stage. You might be trying to create a list of keywords to target that you overlooked but could rank for with a little effort. Or, you might be trying to find keywords where you're currently ranking below your competitor — particularly if you're only one or two positions below them.
You can find this keyword data easily using a Keyword Gap Analysis Tool, like the one on SEMrush.
Simply pop in your domain and at least one competitor, and SEMrush will return a list of your top missing keyword opportunities or those keywords where your ranking is weak: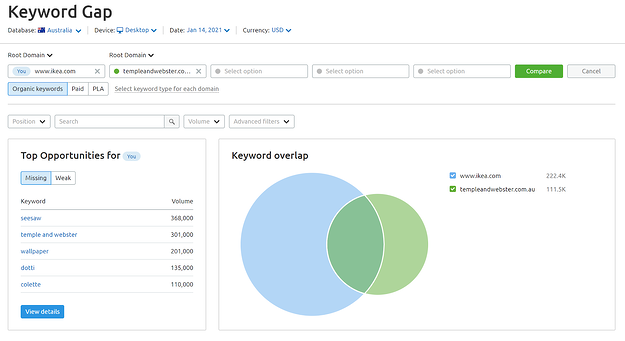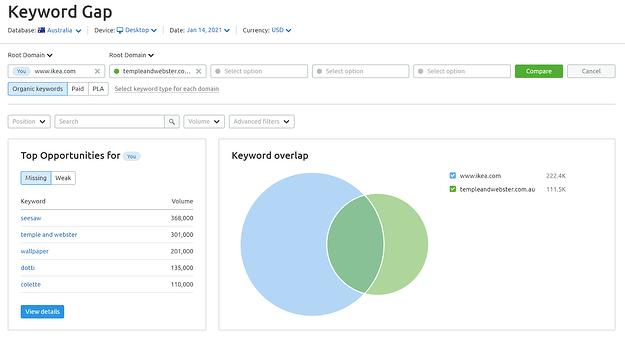 The tool will also return a detailed list that shows you where you're ranking for keywords vs the competition, the search volume, competitive density, and number of search results currently returned by Google: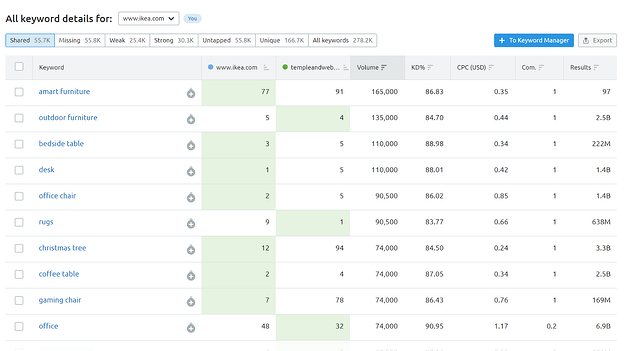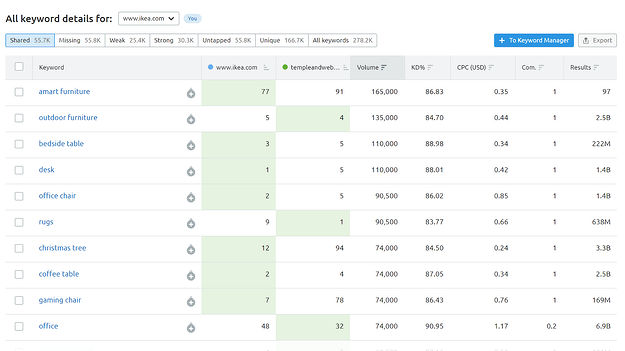 You can also conduct a gap analysis for keywords in other tools, such as Moz: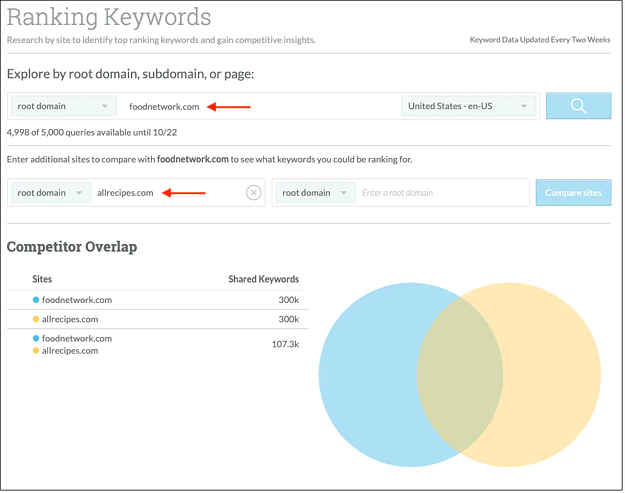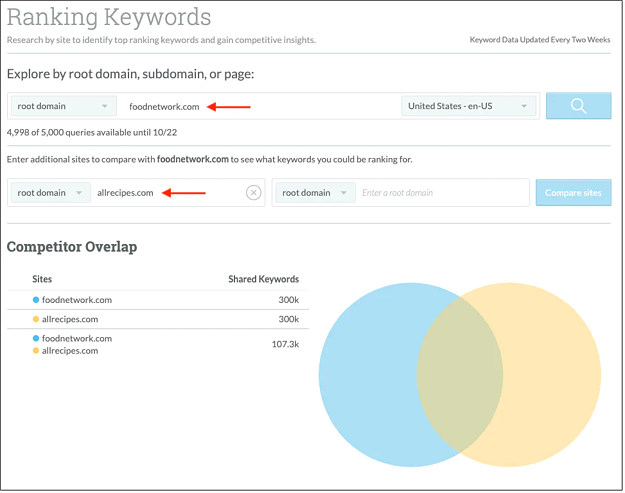 Keep in mind: it takes a LOT of work to rank for a keyword, so you need to prioritize your efforts if you want to get ahead. Focus on targeting high-value keywords that have a high search volume or are likely to convert, and zoom in on those that are relevant to your business.
3. Perform a backlink analysis
Backlinks are a huge part of SEO. As more high-quality websites link back to your page, Google will see your domain as more authoritative and push you up higher in the rankings as a result. At the same time, if you know exactly who is linking to your competition, you can see how much link juice they're getting — and figure out what you need to do so that your backlink profile stacks up.
So how do you figure out their backlink profile?
Don't worry — every tool we mentioned earlier has some form of built-in site explorer feature. Run a links analysis for at least two competitors to get an idea of the playing field, and see if there are any correlations between the two.
The key here is to conduct the analysis at the page level, rather than the domain level. Pay attention to which pages are generating the most quality backlinks for your competitors (in other words, not spammy or low quality links) and the anchor text they're using for each link. Then, use this to inform your content marketing and backlink strategy in the future.
For example, if you see referring domains linking to a competitor but not to you, it's worth trying to build a strategy to try and get links from that same site.
It's also a good idea to look at the growth trend for your competitor's links during this stage.
This is handy because it gives you a visualisation of how their link profile has evolved over time: are they getting a consistent number of quality links regularly, or did they get a spike in links at a particular period in time? If you notice a big spike, it's worth digging in deeper to see if they published a specific piece of content that performed really well, or ramped up their link building efforts: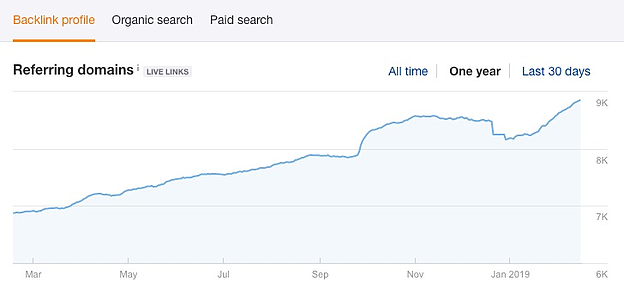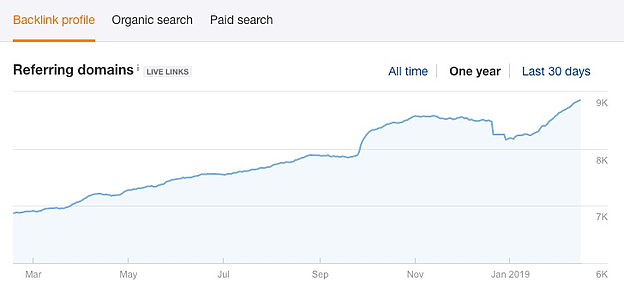 Image source: Ahrefs
4. Analyse their top-performing types of content
Not all pages are equal.
On every website, there are some pages that are doing the heavy lifting and carrying the rest of the site from an SEO standpoint. It might be a product that's drawing in a large number of backlinks, or a piece of content that's ranking particularly well on search.
This is what you're trying to find here.
The goal is to see what pages earn your competitors the most organic traffic and links, audit your content against their pages, create better quality content, then promote it to similar audiences and websites.
Like keyword analysis, you can quickly find a website's top-ranking pages via a competitor analysis tool. For example, you can pull out the top pages for a competitor's domain in Moz and see its page authority and the number of referring domains linking back to it: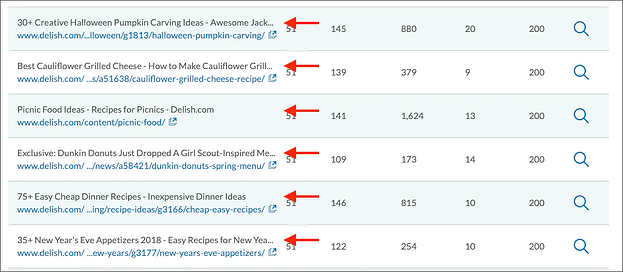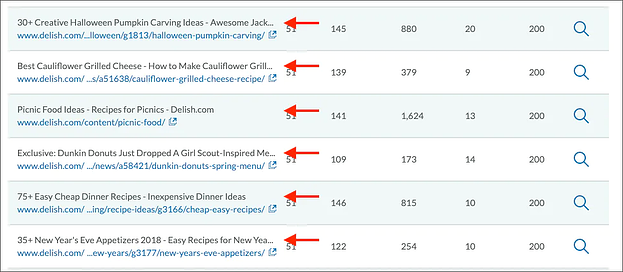 Image source: Moz
Don't just stick to blog posts and landing pages either. Go beyond the box and think about any type of content that could rank in search, such as:
Videos
Images
Podcasts
Infographics
Live streams/webinars
5. Keep an eye out for other ranking factors
Keywords, links and content are the most important parts of an SEO competitor analysis. However, don't limit yourself to these three. There are other factors that can play a SIGNIFICANT role in whether your competitors outrank you in search results.
Look at these ranking factors for your top competitors:
Website performance, such as UX, site speed and navigation. Are your competitors delivering a better user experience than you? Is their website loading faster than yours? These on-page SEO elements make a massive difference in how Google crawls and indexes your site.
Social media presence. Social media is an essential part of a solid SEO strategy. Invest in a social listening tool or follow your competitors to see which platforms they're on, how often they're posting and who's mentioning them online.
PPC investment. Sure, you don't have to pay to rank in organic search. However, if your competitors are outranking you and you have no idea why, it might just boil down to ad spend.
6. Document learnings and takeaways
Once you've gathered up all your information, the next step is to take a step back, review your competitors' strengths and weaknesses, and figure out your game plan.
The idea here is to get started on the quick wins first, such as ranking for missed keywords, while simultaneously working away at the changes that will benefit your rankings in the long-term. Review these every 90 days, track your progress, conduct another competitor analysis, identify where there's room to improve, then rinse and repeat.
With the right priorities and a solid SEO strategy, you should start outperforming your competitors over time — and reaping the rewards in terms of rankings and revenue.
Get an unfair advantage over your competitors
With the right tools and the right insights, you'll be well on your way to outranking the competition. However, you need to keep in mind that SEO is all about the long game. You need to regularly be conducting keyword research, spying on your competitors, finding opportunities to create better content, and strengthening your SEO efforts if you want to get on top and stay there.
At Online Marketing Gurus, we'll help you do this (and more) to get the edge over the competition. Get started today with your FREE digital audit. We'll show you how to leverage your competitors' strengths and weaknesses to rise through the ranks, with 50+ pages of unmissable insights PLUS a 6-month multichannel game plan.