Product SEO: How to Write Product Descriptions That Sell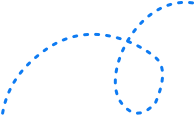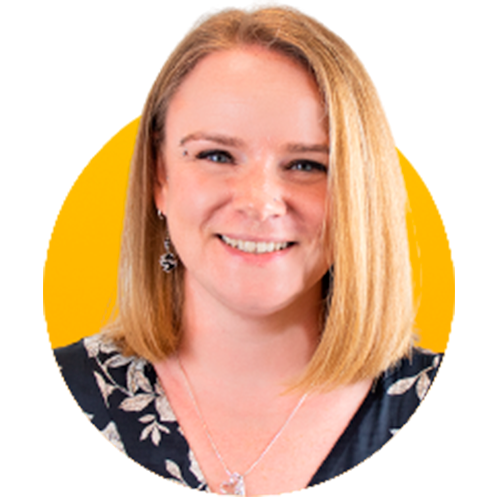 Jules Ward
10 September 2021
25min read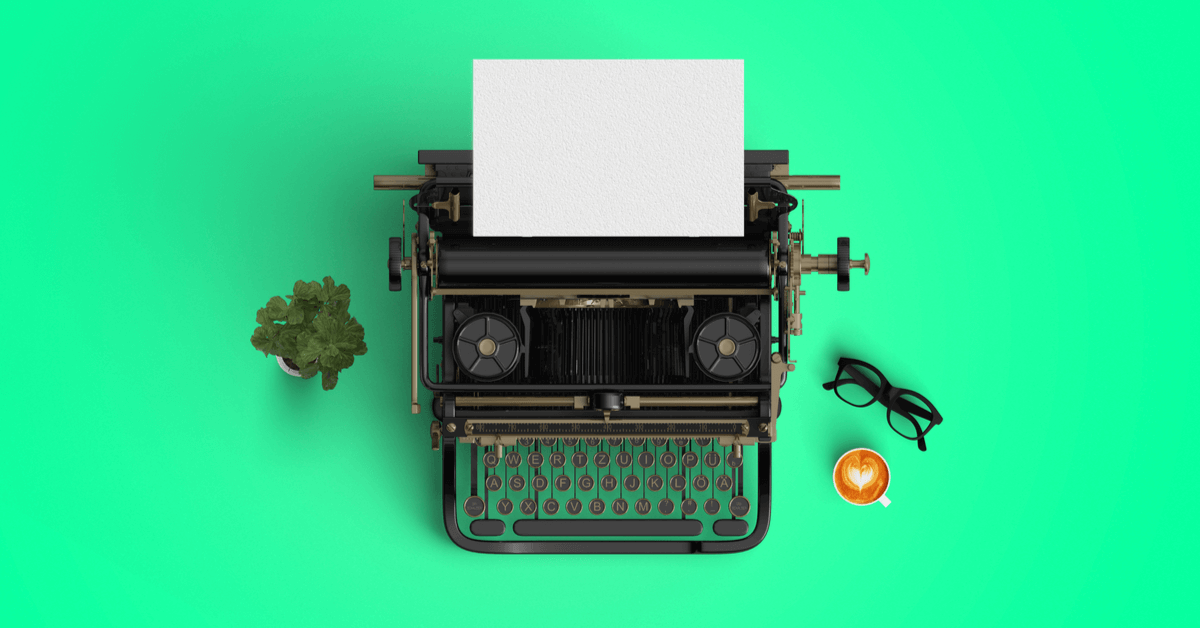 Want more customers to convert online? Here's the secret: killer product descriptions.
Product descriptions have the power to persuade a customer who's on the fence, or move even the most casual of browsers down the sales funnel. And more importantly, they're one of the most crucial components to getting your customers over the line and improving your ROI.
Get this: 20% of purchase failures are the result of missing or unclear product information.
This means that for every five people who visit your website, 1 will instantly click away if your product description isn't on point.
So how can you write a compelling product description that leaves customers dying to purchase your products?
Keep reading to find out.
What is a product description?
A product description provides customers with more information on what you're selling on your eCommerce website. When written well, these crafty lines of copy can compel customers to want to buy your product ASAP, and even convert those who may not be sure.
Product descriptions sit on an individual product page on your eCommerce website. These can be a short, snappy product description accompanied with an image like on Nike's website…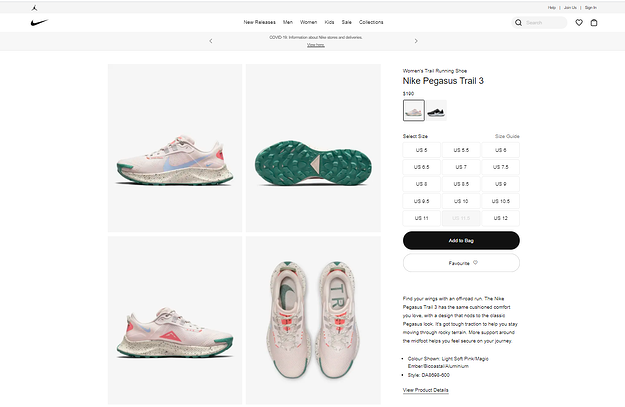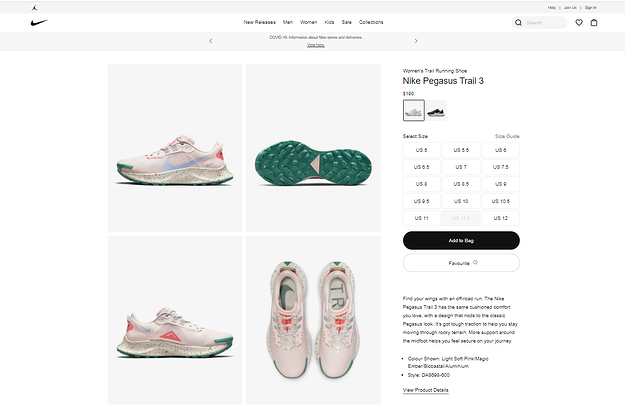 …or a more comprehensive product description like on The Body Shop's website: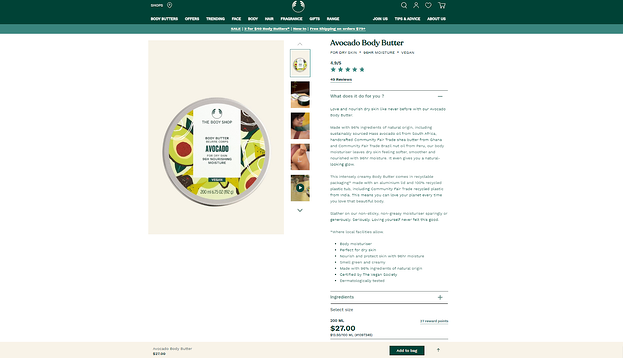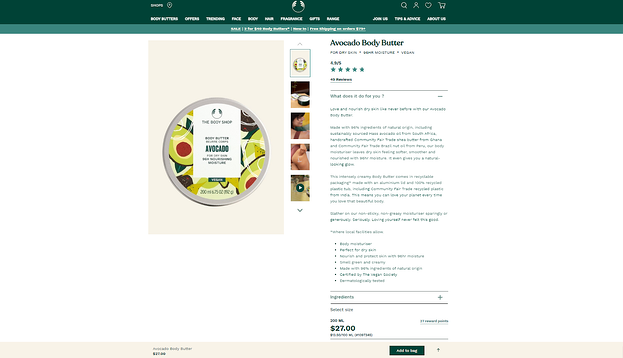 A product description's length and level of detail varies depending on the product itself and the page design. However, these typically cover all the key pieces of information a customer needs to know before making a purchase, such as:
The story behind the product
The problem it solves
How the product will benefit them
Why the product is unique
Key ingredients or materials used
What's more, this information should be concise and descriptive, so that anyone reading your product description understands what you're selling and why they should buy it.
Why is it important to write product descriptions?
Product descriptions play a big part in pushing your customers down the eCommerce sales funnel.
Unlike a physical store, you don't have the luxury of displaying your product and having a salesperson walk customers through the benefits and features. Your website is the first and likely only point of contact a customer will have with your brand — and more importantly, your product description houses all the information a customer needs to make their purchase decision.
Salsify's "Cracking the Consumer Code" Report found that a massive 87% of shoppers rate product descriptions as extremely or very important when deciding whether to buy. What's more, half of eCommerce shoppers have returned an item simply because it didn't match the online description on the product pages.
Let's say a customer went onto Gymshark's website and wanted to purchase this tank top: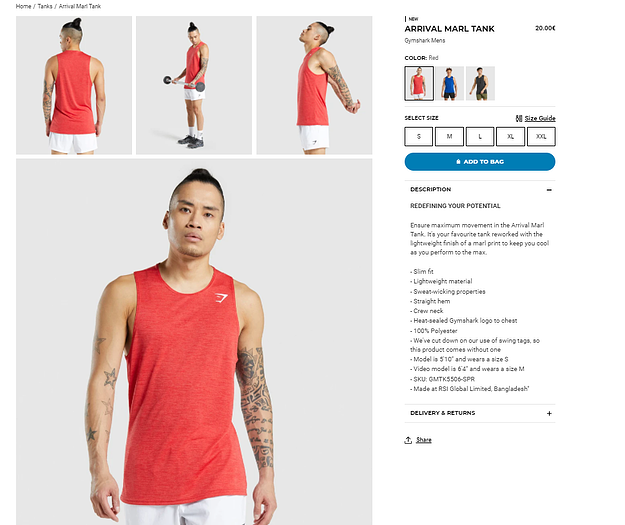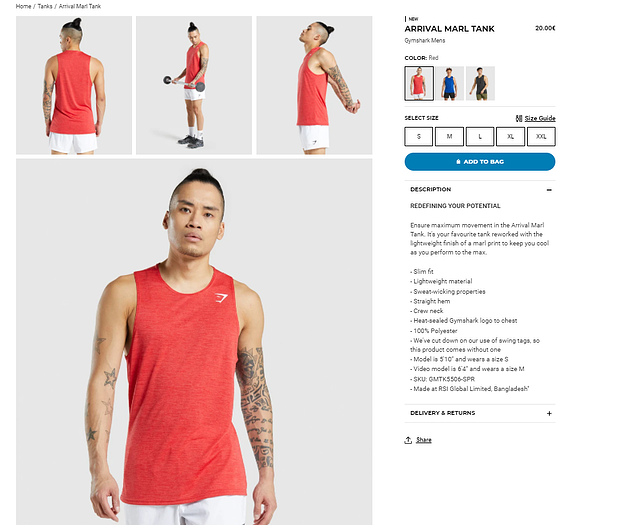 Without a product description, they have no way of knowing what type of material the tank is made out of, the type of fit, the model's size, or its breathability.
But with the bullet points in the product description, the product features and benefits all become clear: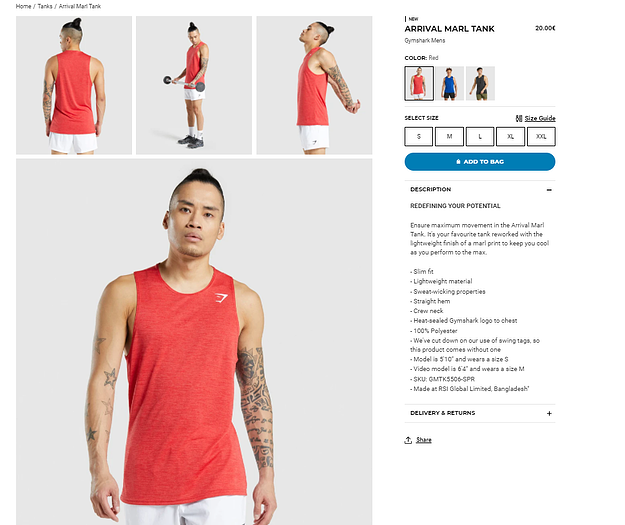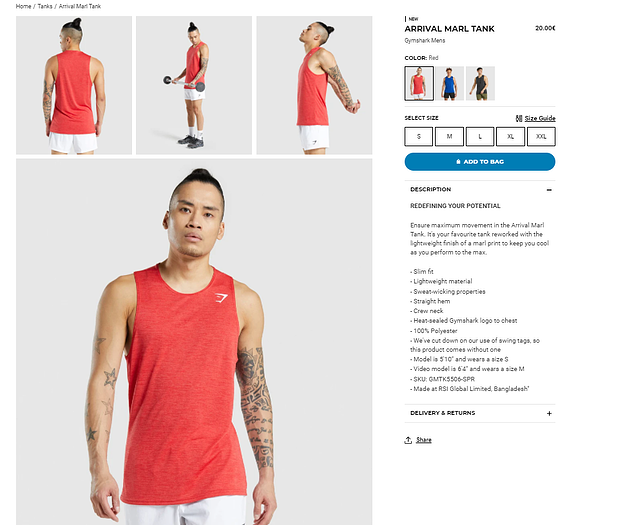 Gymshark highlights the benefits of the tank — ensuring maximum movement — and the fact that it keeps athletes cool during a workout. Shoppers also know precisely what the product is made from, how it fits, and the level of moisture-wicking.
Beyond providing all of the information your customers need to make a purchase, your product descriptions also play a crucial role in SEO. When you optimize your product descriptions to specific target keywords, you increase your chance of ranking high on Google for that keyword.
Why?
Google has evolved a lot over the years, but the foundation of Google's algorithm is still centerd on text. If your product page only contains pictures and videos with no written product description, Google will have a hard time understanding what your page is about — and you won't appear in results.
Let's look at an example.
Say a shopper is searching for a cat carrier for their new pet. They type in "cat carrier sydney" and get the following results on Google: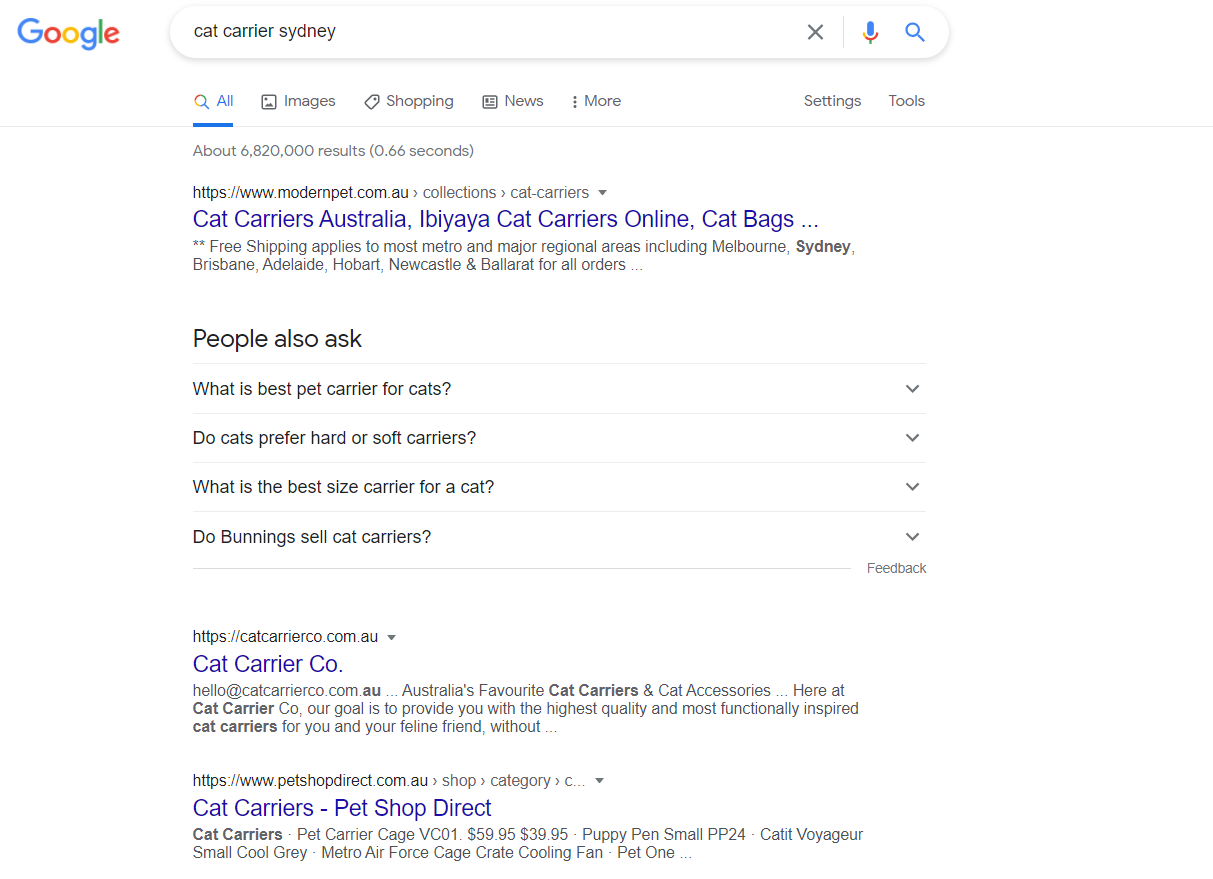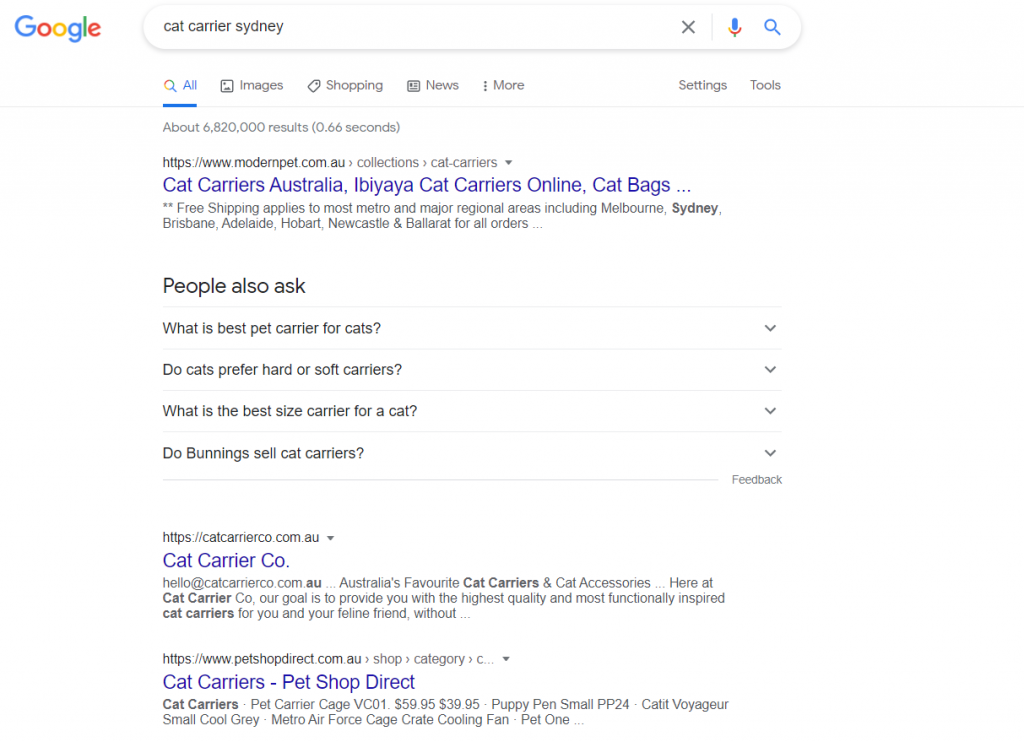 They'll most likely go to one of those pages to browse for products and ultimately, convert.
Even if your website is jam-packed with amazing cat carriers and you write a great product description, you won't even be considered by this shopper if you didn't appear on top of Google's results.
On the other hand, Modern Pet, Cat Carrier Co, and Pet Shop Direct optimized their product descriptions for Google — allowing them to drive more traffic and sell more cat carriers.
A final word: eCommerce SEO needs to be approached differently on different eCommerce platforms. The tips and tricks that work for Magento SEO aren't the same as Shopify SEO or Squarespace, so do your research on different examples before jumping in.
How to write product descriptions that sell
Product descriptions matter for customers AND for search engines. But it's not enough just to write a couple of lines and put it up on your site, or simply paste the manufacturer's product description.
You need to put time, effort and thought into each word you include in your product description.
In this section, we'll cover off 6 ways you can create a compelling product description that hooks customers in and has them hitting "buy now" before you know it.
Know your audience
Learning how to write product descriptions that sell starts with understanding exactly who your customers are and what they're looking for.
Think of it this way: if you're a salesperson working in a store, you tailor your messaging depending on who the customer is and the problem they're trying to solve. If you used the same approach with a teenager as you did with a 45-year-old father of two, chances are you're not going to get great results.
The same goes for selling products online. You need to KNOW your customer before writing product descriptions to try and sell to them.
However, this is trickier than it sounds. See, when you're promoting products online, you don't have the benefit of writing a different message for each and every customer. This means you have to be laser-focused on who your target audience is and what they're looking for.
Create buyer personas if you haven't already, then use these to guide your copy when writing product descriptions. Think about the challenges they face, and how your products solve those problems. Consider what's important to them — for example, if your target audience is environmentally conscious, include information on where you sourced your ingredients or materials, and the type of packaging you use.
Another tip to keep in mind: don't make the mistake of only describing product features and details in your product description. A great product description should highlight the benefits of the item, position a brand as unique in the market, and use language that sparks excitement in customers.
Online sellers that craft effective product descriptions benefit from lower bounce rates and better eCommerce conversion rates than those who don't. Elaborate on every feature with benefits to show your customers what's in it for them.
Let's look at this in practice.
Here are two eCommerce websites selling a men's leather laptop bag. The first seller exclusively uses product features. They describe its device compatibility and include details on the interior materials, without explaining why the feature helps the customer: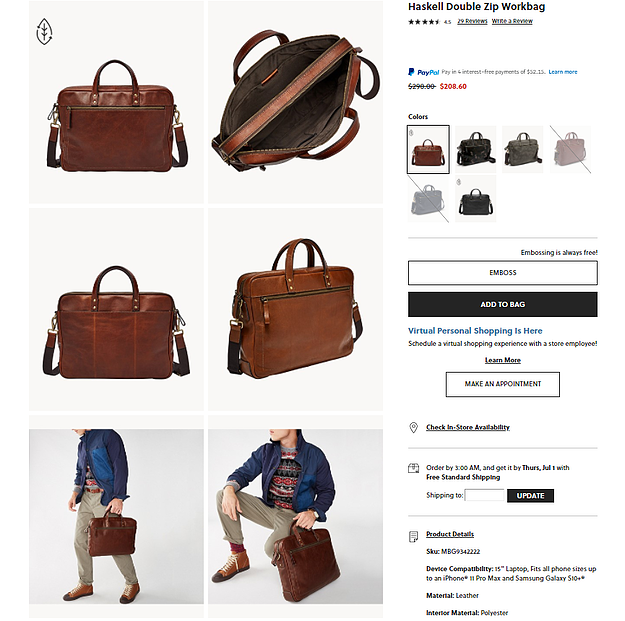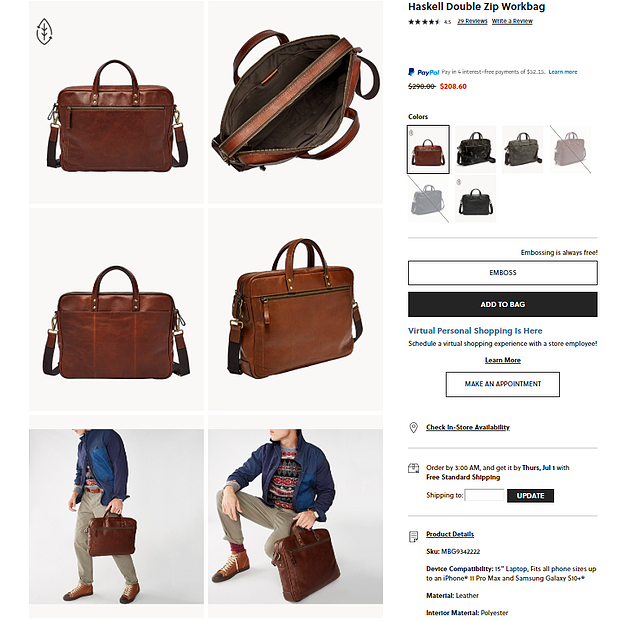 Meanwhile, the second product description example goes into great detail to describe the reasons to love the product, who it's for, and what the benefits are: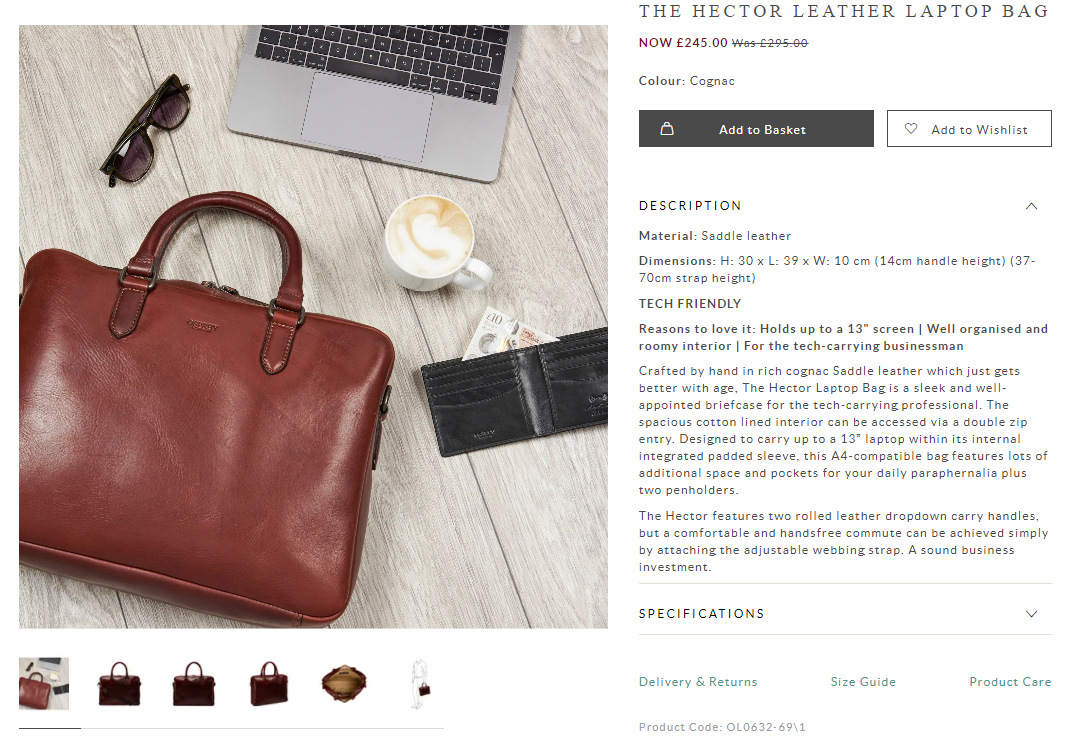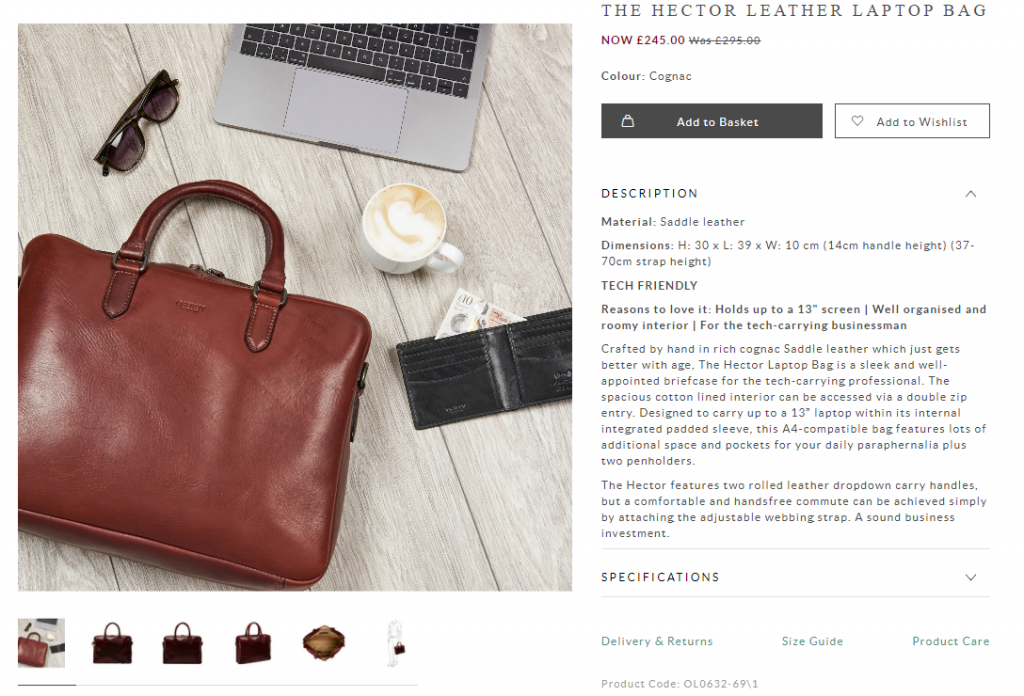 Which one would you choose?
Always think in terms of product benefits and features when writing your descriptions. This subtle shift in mindset will transform your way of writing.
Include the details when writing product descriptions
The more information you have in your product description, the better.
Online buyers don't have the benefit of going into a store, reading the label on a product, and holding it in their hands. They rely on a product page for every single bit of their information. On top of including features and benefits, your description should include all of the fine details such as product specs, materials (or ingredients), measurements, and model sizing.
You don't need to list these all out when writing your product description, but it is important to include them somewhere on the page. The eCommerce product information and features could be featured in a drop-down specifications box like this product description template: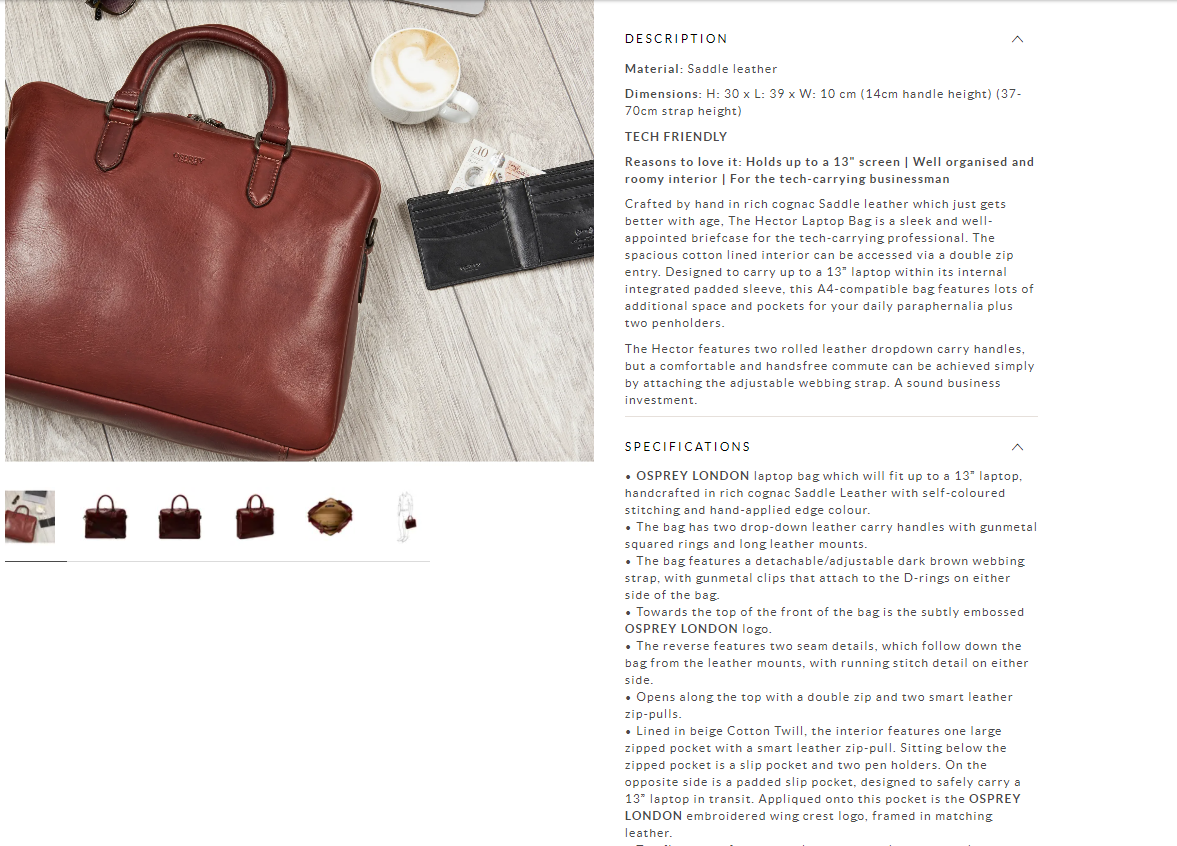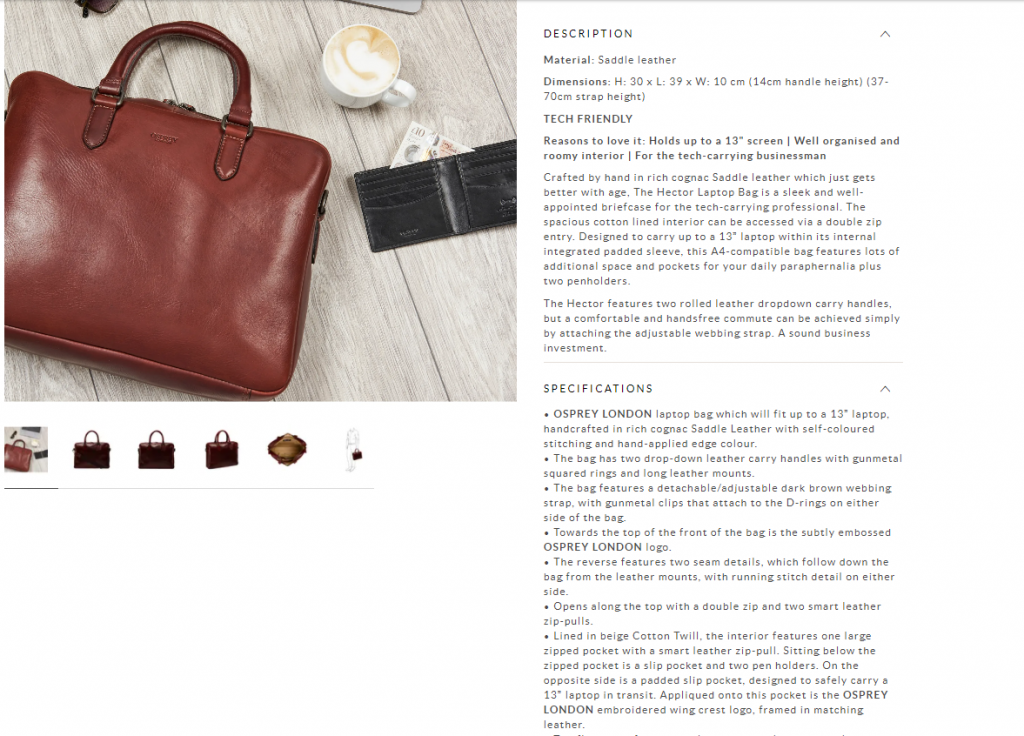 Another option is to list key features in your product description and then include an option for customers to click to learn more.
Aesop's online store is a good example: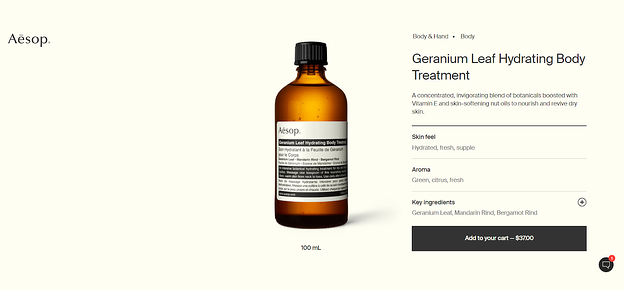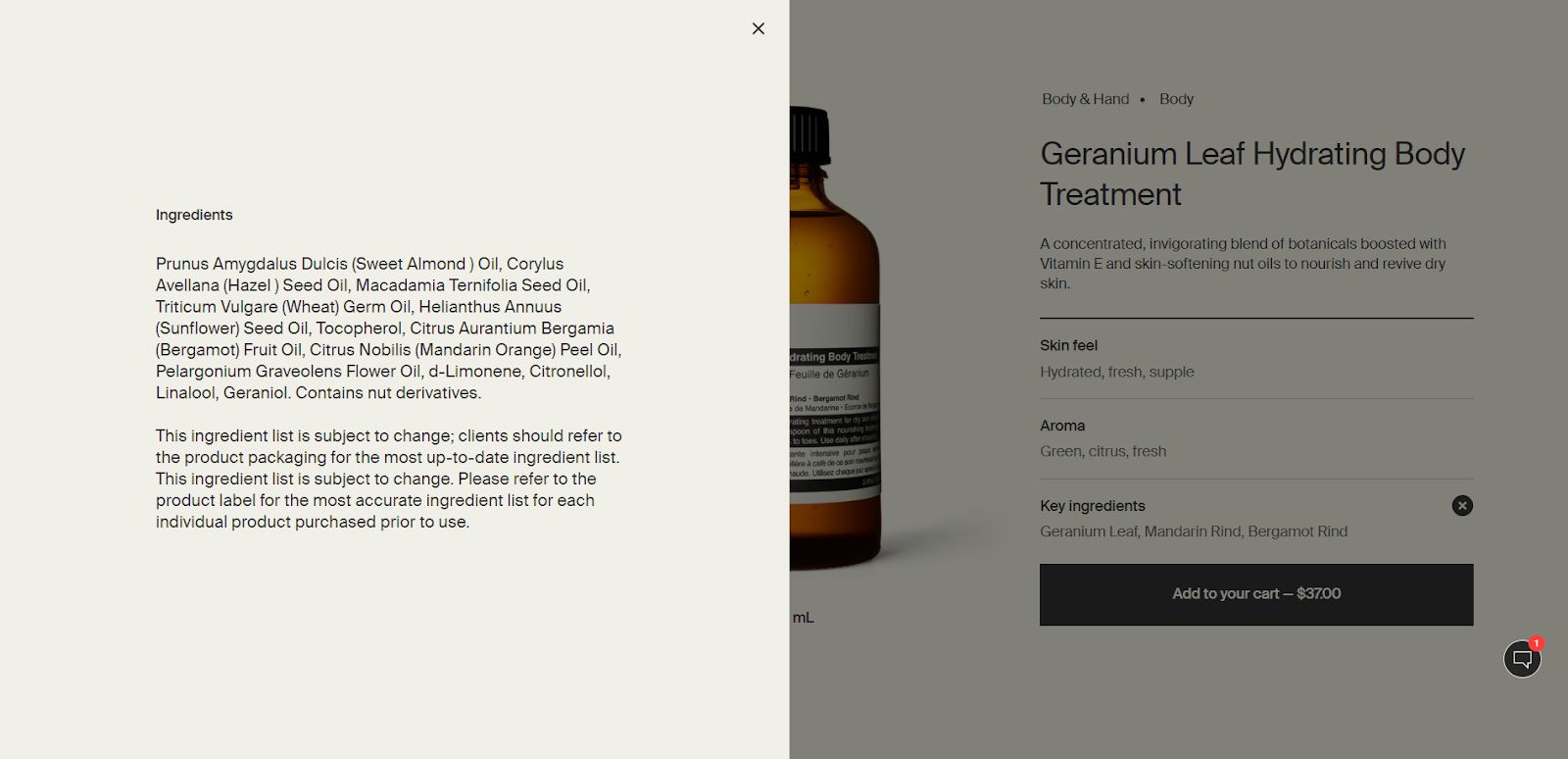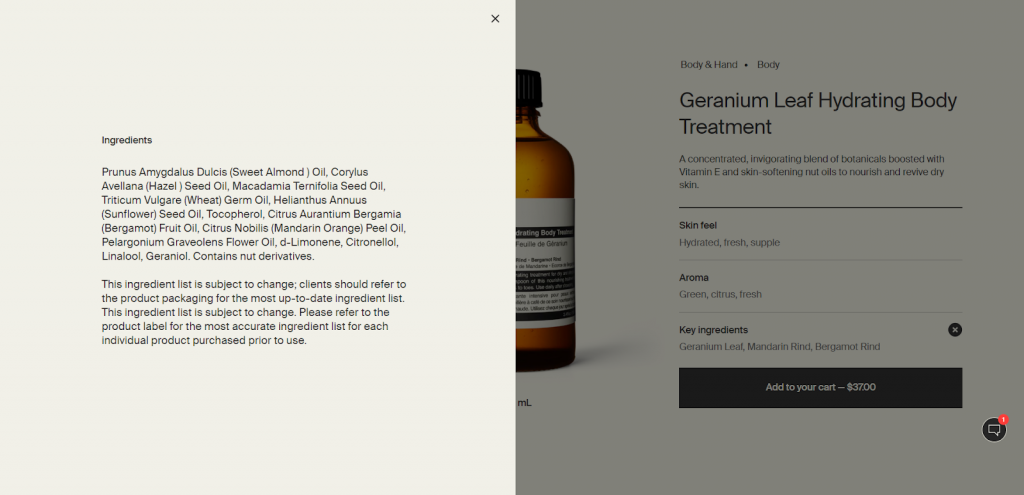 Use unique copy when writing product descriptions
Consumers have thousands of online stores to choose from. If you're all selling a similar item, your eCommerce product description is a big part of what's going to convince them to shop with you.
Try to craft unique content for each product on your website, even if you're offering similar products or if you're stocking an item from another brand. This sets you apart and makes each product on your website feel unique — and if you're competing with other stores, having a one-of-a-kind product description may help set you apart from the rest and push you up in Google's results.
Pro tip: No matter what, avoid using the manufacturer's product descriptions. While this seems like a quick and easy way to add more information to your product page, chances are other sellers will be doing the same. On top of making it difficult for consumers to differentiate between sellers, copying the manufacturer's product descriptions leaves you at risk of having duplicate content and could jeopardise your SEO efforts.
Picking the right words
Not all words carry the same weight.
Copyblogger found that changing a single word in a question led to a 30% increase in positive responses: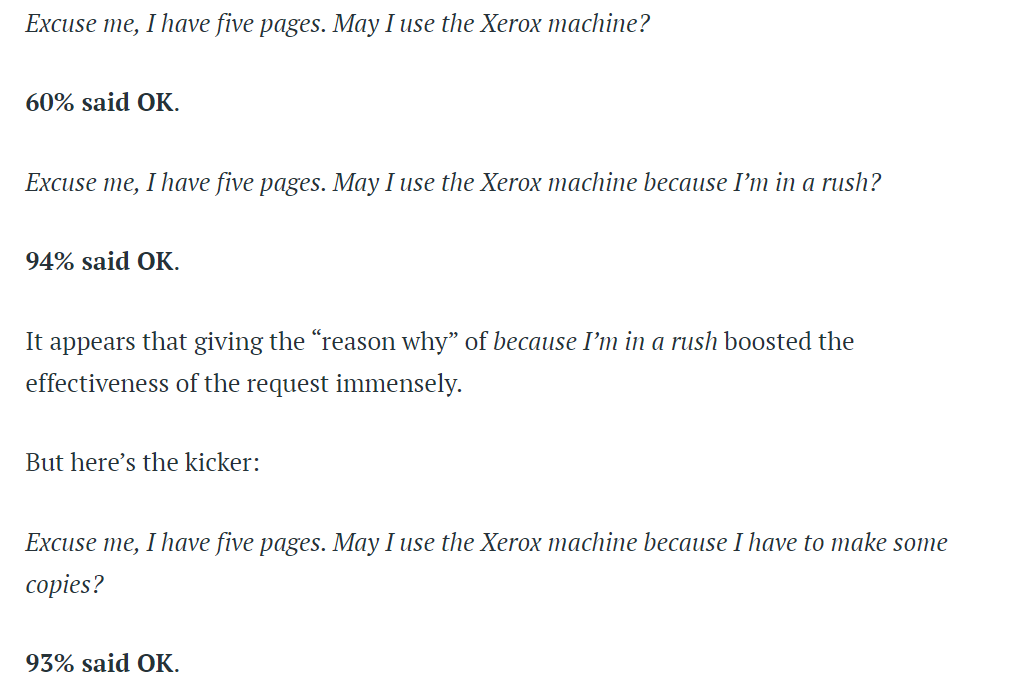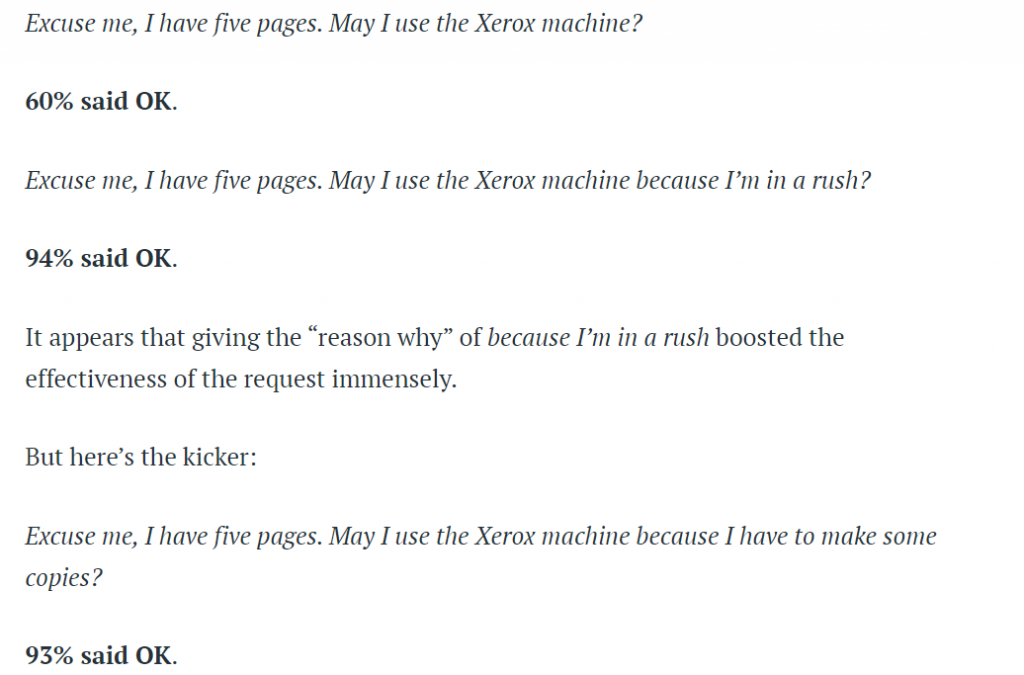 If you want your product descriptions to land, you need to use impactful language that evokes emotion in your audience.
These are also known in writing as "power words".
Persuasive words intrigue people and compel them to take action. If you bring these into your product descriptions, you'll have a higher chance of converting browsers into buyers. Use words like: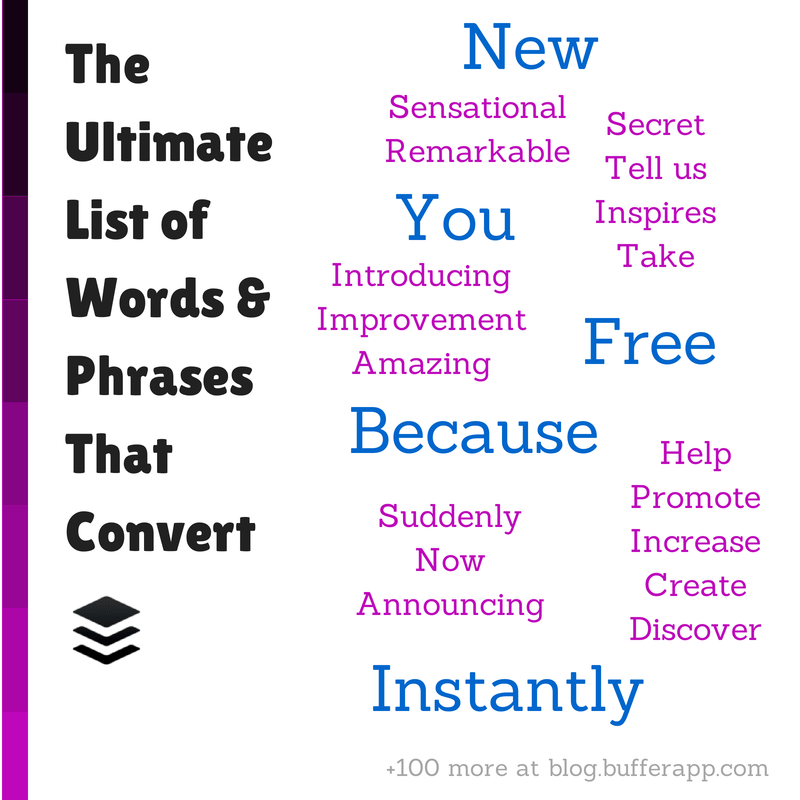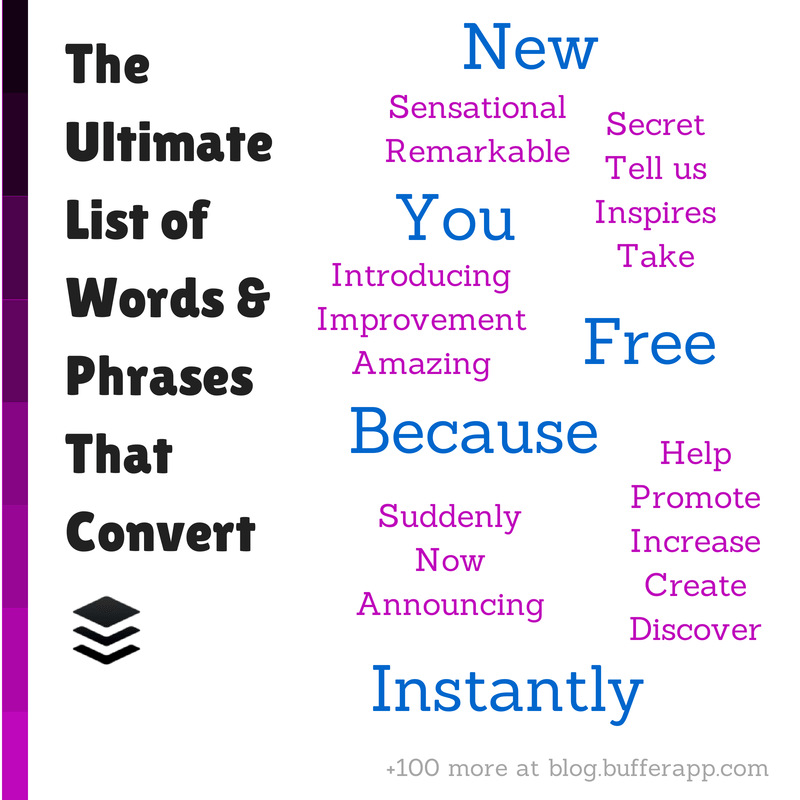 However, make sure you can actually back up your claims before writing product descriptions with these power words. Adding a phrase like "breakthrough innovation" only makes sense if your product is a breakthrough and innovative — otherwise you risk losing your audience's trust.
Get the brand tone right
It's not just what you say, it's how you say it. Every brand has a distinct personality, and your product description should reflect that personality.
Make sure that the points on your product description align with your brand tone of voice and the type of item you're selling. If you want to sell a scientifically proven product, keep your product copy grounded in the data, just like Clinique have done in this example: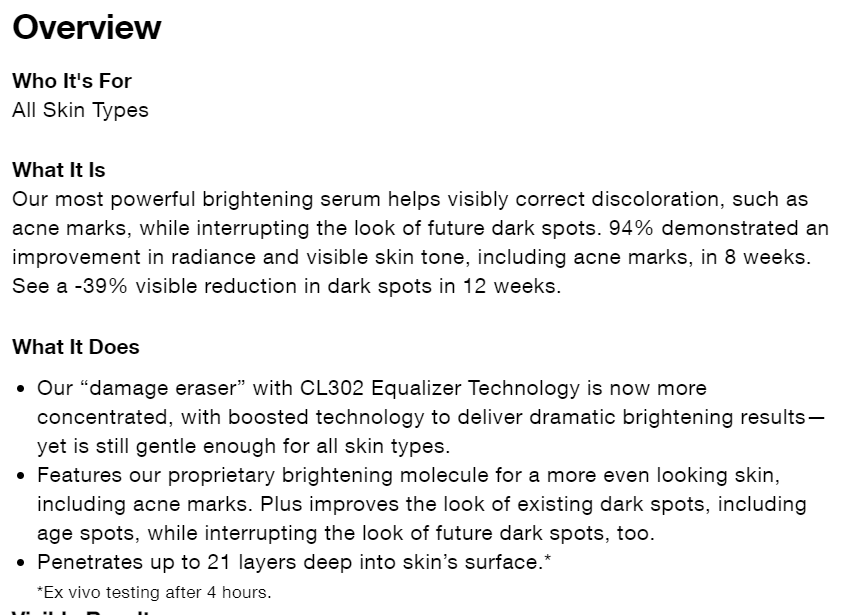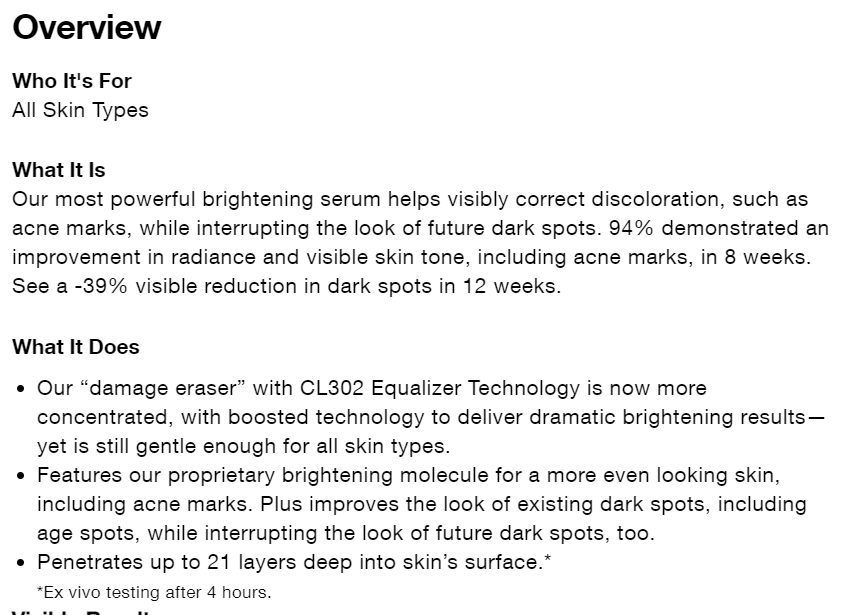 By focusing on outcomes and using phrases like "CL302 Equalizer Technology" and "proprietary brightening molecule", Clinique enhance's the product's credibility and contributes to the brand's premium reputation.
Meanwhile, if you're a casual and relatable brand, make sure this comes across in your product description tone, just like Missguided in this example: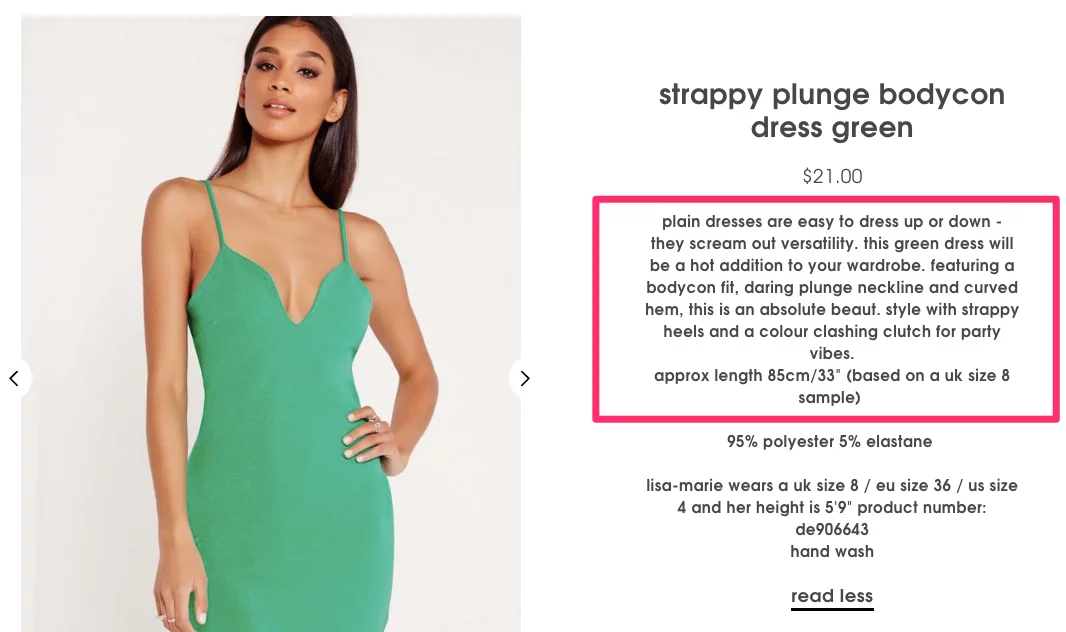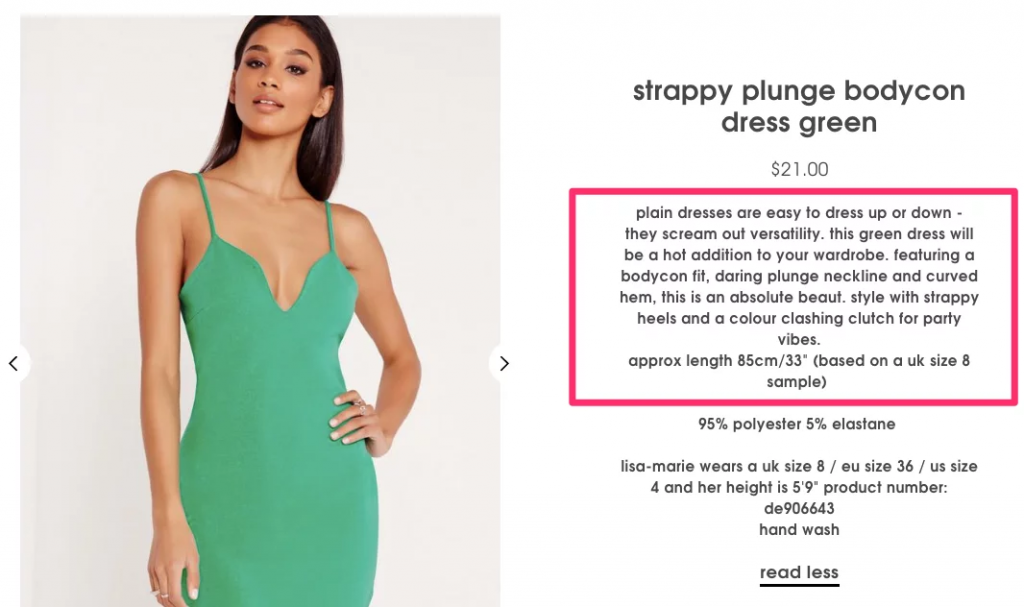 They've also written their product description in lower case, which is part of their branding. This subtle touch sets Missguided apart and that ensures the brand experience stays cohesive throughout the website.
Make your product description easy to read
Your potential customers are time poor and there's a TON of information out there online. That's why on average, users only read about 20% of the content on a web page. If you want to get your point across and convince them to buy your product, you'd better do it — fast.
Forget a 10-min read. Writing product descriptions that are scannable is one of the most effective ways to get across key points of information to your users in a limited amount of time. Use this space to highlight bullet points of your key product benefits, like Amazon's product description template: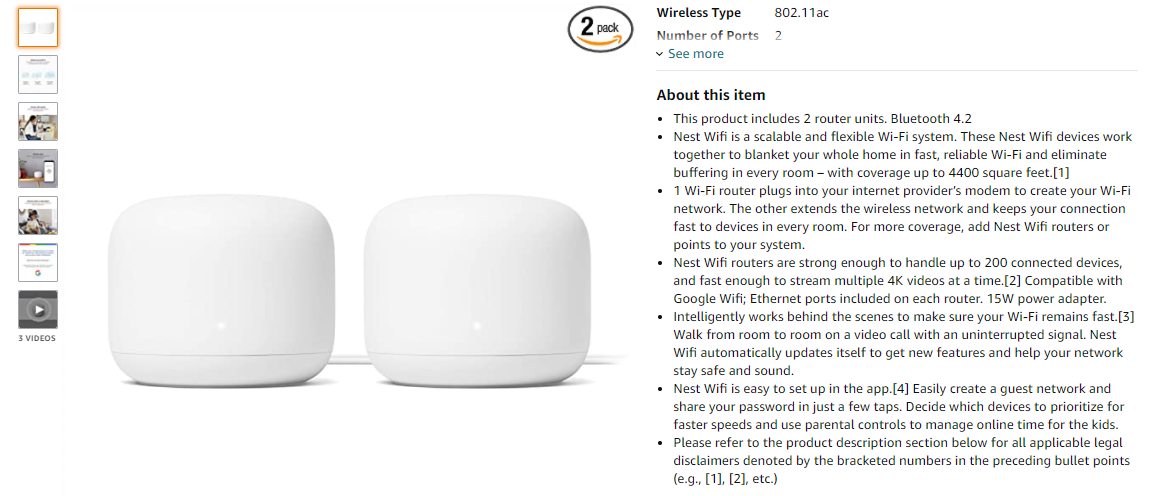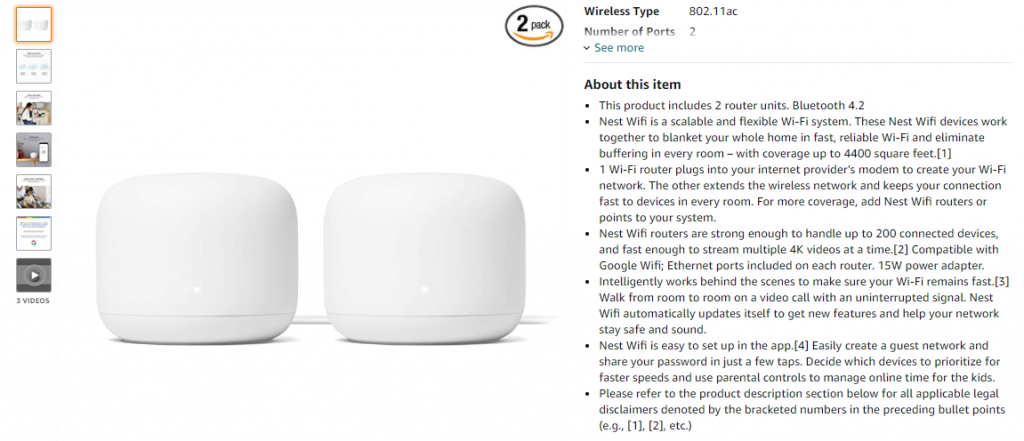 Another option is to include visuals alongside your bullet points, like Edible Beauty's product description template: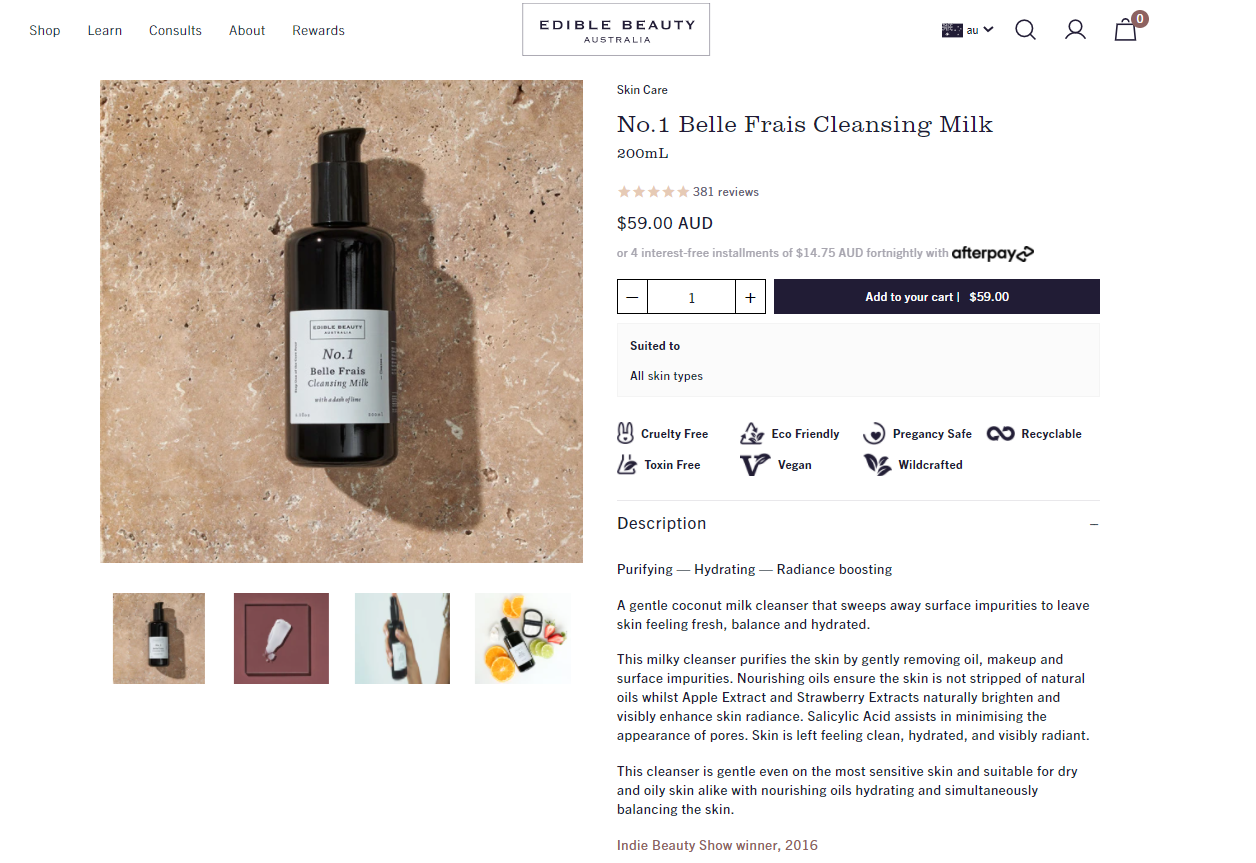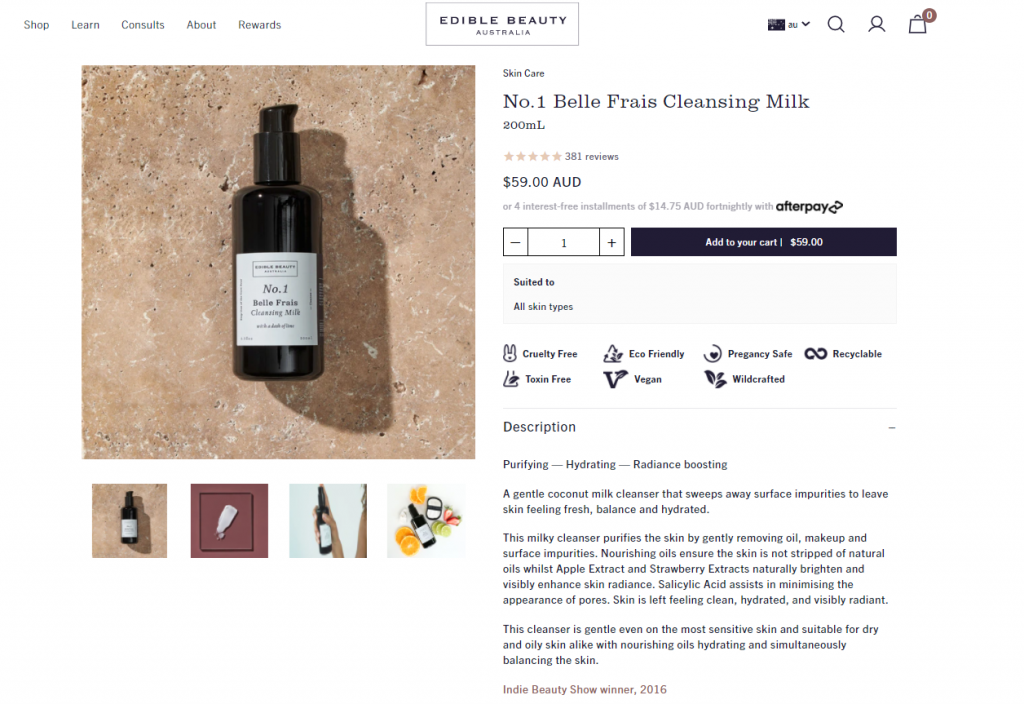 Don't forget: you can always include more details further down on the page. The goal of these short and snappy bullet points is to make the information as digestible as possible and to hook your audience in.
Spell check your product description
Spelling and grammar matter. In fact, an eCommerce company lost 80% of its conversions simply because they misspelt "tights" as "tihgts" on their product page.
After you've finished writing product descriptions, go back and take another look. Proofread your product description and have others look at them as well with a fresh eye. Even the smallest of errors can cause you to quickly lose credibility with your audience and leave them looking elsewhere.
How to write product descriptions that sell
Optimising for SEO keywords
You need to nail eCommerce SEO if you want your products to have maximum visibility online. But it's not as simple as writing product descriptions, throwing in a few keywords and hoping for the best. These terms need to be strategically and effectively woven into your page in a way that improves rankings, without compromising readability.
How do you do it? These five tips will help you optimize your product descriptions for a buyer and search engines.
Include keywords in headings and subheadings
Where you place your target phrases matters almost as much as the search terms themselves.
According to Shopify, you should be incorporating your target keyword into your product title (otherwise known as your H1 tag), your meta description, and throughout your body copy. Neil Patel also tested this theory, and found that keywords in headings performed much better in rankings than keywords in body copy.
Here's an example.
Archie Rose, a Sydney-based distillery renowned for its gin, also sells bottled cocktails on their page. Each page includes the keywords "bottled cocktail" in the product heading and the product description, like the example below: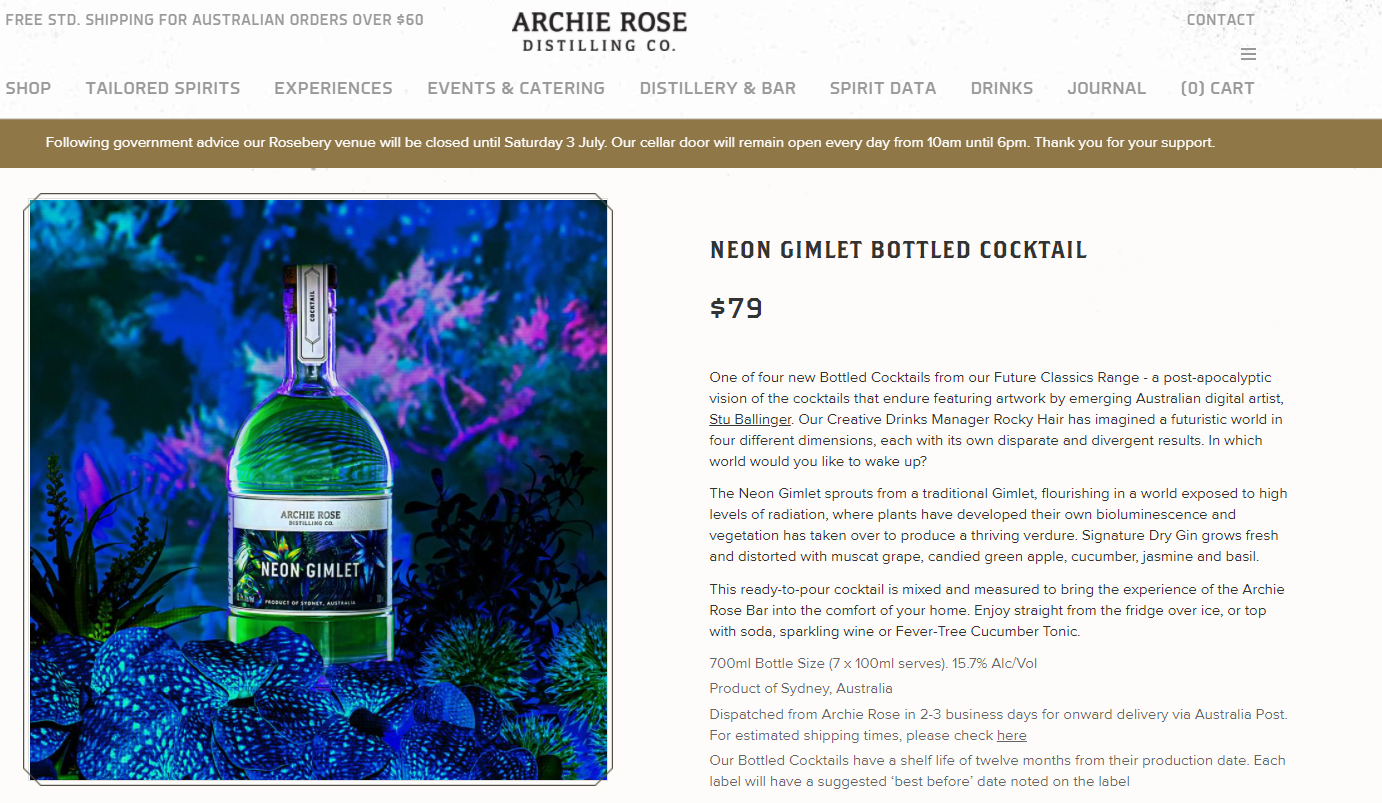 If you search up "bottled cocktail Sydney" on Google, guess who appears on the first page?


Write for buyers, not search engines
Yep, you read that correctly. Contrary to what you may think, your goal with keywords shouldn't be to write for Google.
Your customers are switched on, and they're looking to order from a brand they can trust. And one of the surefire ways to send them packing is to include descriptions that don't make sense.
Like a blog post, you should write your product descriptions for readers first, and search second. If you can squeeze a keyword in naturally, do it. If you have to leave it out because it doesn't make sense, do it. The end goal is to make sure that your customer is convinced to buy your product, and ultimately pulls out their wallet to show you the money.
Believe it or not, these conversions also go a long way in helping your rankings.
Relevance is one of the main considerations that Google takes into account when determining where a page lands in search results, particularly after their new Page Experience update.
A page with a high bounce rate and low conversion rate signals to Google that a page isn't relevant to searchers. On the other hand, a product page with a fantastic dwell time and high conversion rate indicates that visitors find the content helpful. If both websites are promoting the same product, Google will almost always prioritize the one that has better engagement.
Leverage LSI keywords
Latent Semantic Indexing (LSI) keywords are conceptually related terms that Google uses to better understand the content on a website.
Back in the day, Google's algorithm only used keywords to understand what a page was about. The more times a target keyword appeared, the more likely it was to Google that the page was about that topic.
That isn't the case today.
Google now scans a site for a target keyword AND semantically related keywords to gain an overall understanding of the page's topic.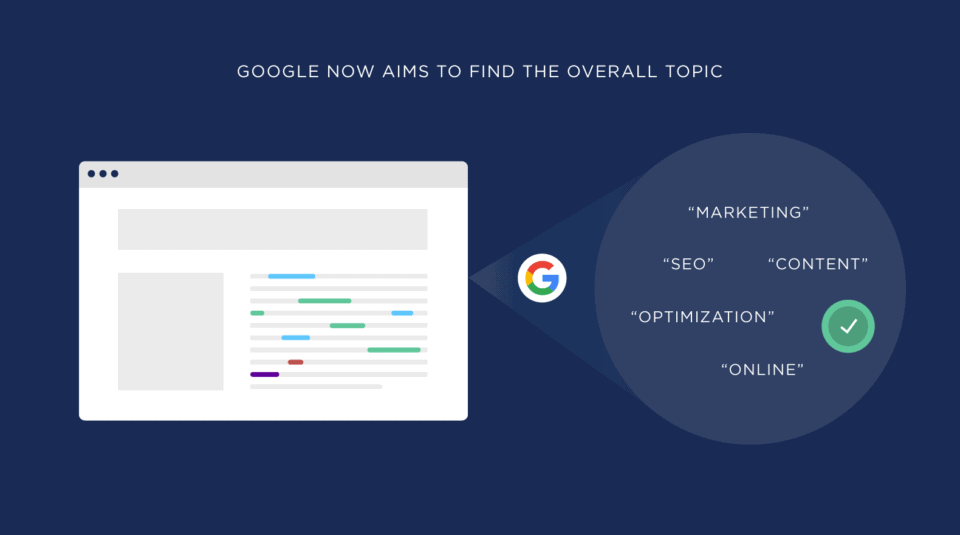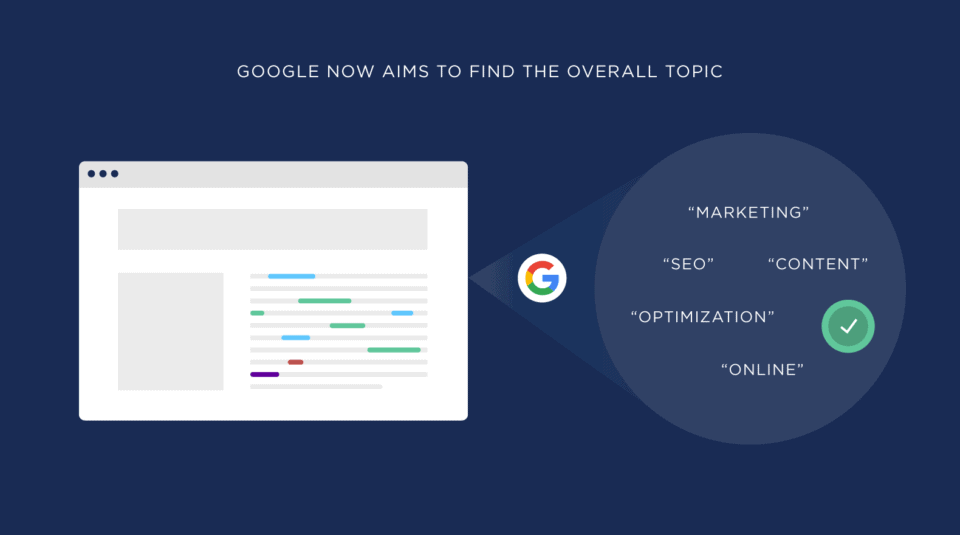 Image source: Backlinko
Here's an example. Let's say you're selling baby gifts online. Google will scan your headings, product descriptions and alt text to see if you've included words like "baby gifts" or "baby shower gifts".
However, Google will also look for related phrases like "mum", "newborn" or "parent". When they see the primary keyword and these LSI keywords, they can be more confident that the page is about baby gifts.
So how do you find LSI keywords? Try these steps:
Use Google Autocomplete to find examples of similar words suggested in bold, then incorporate relevant ones into your product description:

Use a keyword research tool like UberSuggest or Keyword Tool.
Look specifically for LSI keywords using LSIGraph or LSIKeywords.com.
Use the "Searches related to" section in Google to find even more examples:
Optimize product images and videos
Every online store is filled with images and videos. Now it's time to make those great product images work harder for your rankings.
Not only will these help you get to the first page of Google — they'll also increase your chances of ranking in Google image results, YouTube, and Google Shopping.
Optimising product pictures and videos is a whole topic in and of itself, but at the most basic level make sure to check off these boxes:
Use JPG for product photos. These offer a solid balance between file size and image quality.
Keep your files as small as possible without compromising quality. A good rule of thumb is to aim for 1 to 2 MB in size. If you need to compress images without Photoshop, you can do this using a free tool like Pixlr or TinyPNG.
Name your files correctly. Most photos come with a generic number-based name, such as "IMG182974.jpg". Make sure to switch this to something more descriptive so Google understands what your image is about, such as "premium-wooden-chopping-board.jpg".
Add alt tags to images. These are useful for visually impaired visitors and site crawlers. Much like your image file name, keep your alt tag simple and to the point — for example, "premium wooden chopping board".
Use an image or video sitemap. This acts as a 'map' to help Google's crawlers crawl your site efficiently.
Avoid keyword stuffing
Google is pretty savvy these days, and it can spot keyword stuffing from a mile away. Keyword stuffing is a quick way to send your website plummeting in search engine results and turn away buyer after buyer at the same time.
What do we mean by keyword stuffing?
Here's an example in action from Google:
Keyword stuffing delivers a negative user experience and could leave your website open to being penalised by Google. And once your site has been penalised, it's a long, LONG road to get back to the top of search results.
Avoid keyword stuffing when you write, at all costs. Instead, incorporate phrases naturally throughout your product descriptions and aim to include LSI keywords as well. Aim to keep a keyword density of around 1-2%, which equals out to 1-2 times every 100 words.
Convert more with standout product descriptions
With these tips on how to write product descriptions, you'll convert more, rank higher, and win more customers. By following the tips in this guide, you'll be well on your way to raking in the revenue for your online store.
But a good product description is only the beginning. If you want to dominate search engine results and skyrocket your online revenue to the moon, every aspect of your online store NEEDS to be primed for SEO.
That's where we come in.
We'll help you capture clicks that count, sell more, and become a marketplace champion with our tailored eCommerce digital marketing strategies. Best of all, you can get started today — absolutely free. Claim your audit today, and start crushing the competition with a laser-focused SEO game plan.