SEO vs PPC: Which Should I Invest In Now?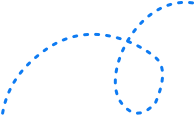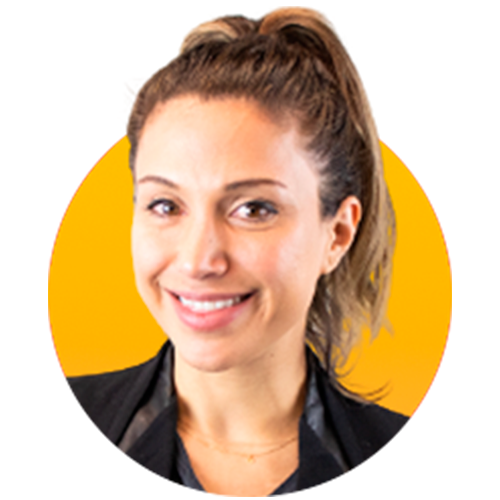 Tandice Abedian
5 April 2022
15min read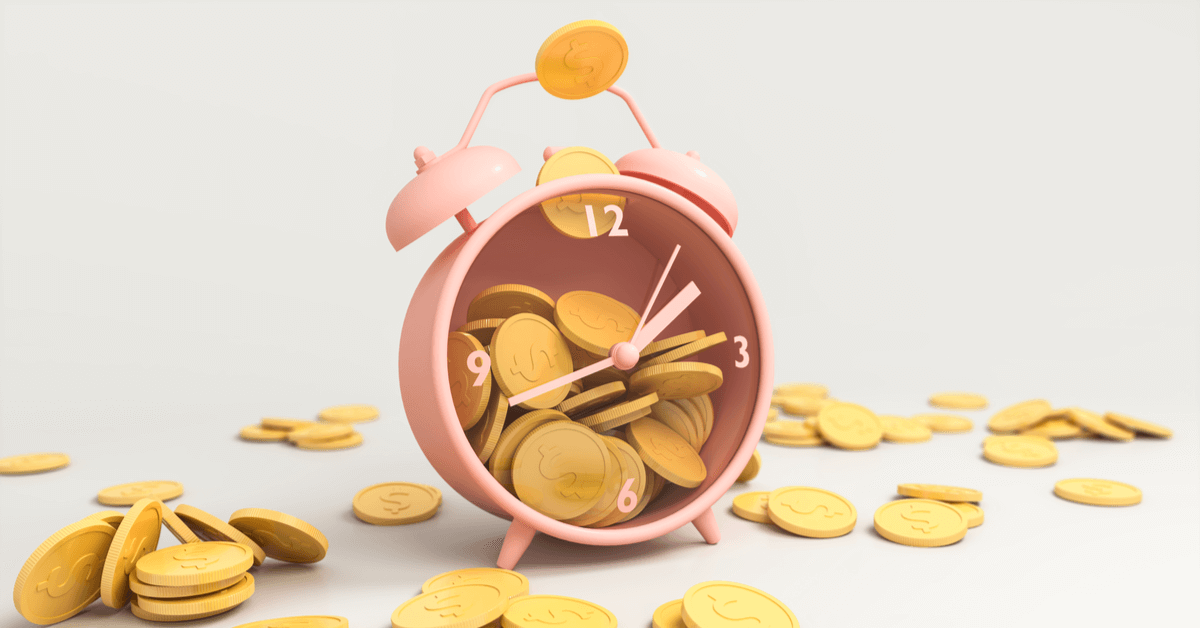 Google processes BILLIONS of searches every single day but 3 in 4 people never scroll past the first page of search results.
Read that again.
75% of people NEVER go beyond page one of search results.
It doesn't matter which industry you're in or how big your business is. If you want to grow your business online, page #1 is where you want to be. And to do that, you need search engine marketing (SEM) tactics like search engine optimisation (SEO) and pay-per-click advertising (PPC).
SEO and PPC are two digital marketing tactics that businesses use to reach the top of search results. And when you're trying to promote your website online, chances are you're wondering whether SEO or PPC is the best way to get results for your online business.
Truth is, there is no definitive answer to the SEO vs. PPC debate. Traffic from SEO is free; however, it can take months or years to climb up the SEO rankings. PPC requires ongoing marketing spend, but it can fast-track your website to the top of search engines.
So how do you figure out which one is right for you?
In this post, we'll explore the difference between SEO vs. PPC and weigh up the pros and cons of each tactic.
By the end, you'll have a clear idea of the benefits of SEO and PPC and which one you should be using for your business.
The difference between SEO and PPC Advertising
On the surface level, SEO and PPC might seem similar because they're both digital marketing tactics that help businesses appear in search engine results pages. But don't be fooled: the two are vastly different in terms of what they do and how they work.
SEO services involve optimizing your website's on-page, off-page and technical elements so your website shows up for relevant searches. There are two parts to this: optimizing your website's crawlability and indexability so Google's spiders can understand the information on your web pages, and improving your website's authority and relevance for keywords that are related to your products and services.
On the flip side, PPC ads work similarly to an auction. You start by bidding for your listing to show up at the top of search engines for relevant keywords, then pay once they click on your ad. There most popular PPC advertising platforms are Google Ads and Bing Ads, but there are solutions offered by other search engines as well.
So what are the main differences between SEO and PPC? It all boils down to four key factors: placement, cost, timings, and goals.
Placement
The aim of both SEO and PPC is to get your website to appear at the top of relevant searches. However, where exactly they appear will depend on which tactic you use.
A paid ad will show up at the very top of results pages, as well as at the bottom of the page. Google displays a maximum of 4 paid ads at the top of a page, and the order these show up depends on the ad's Ad Rank.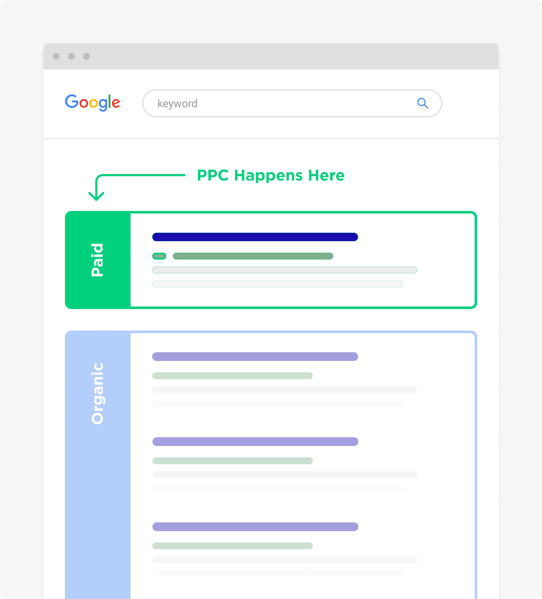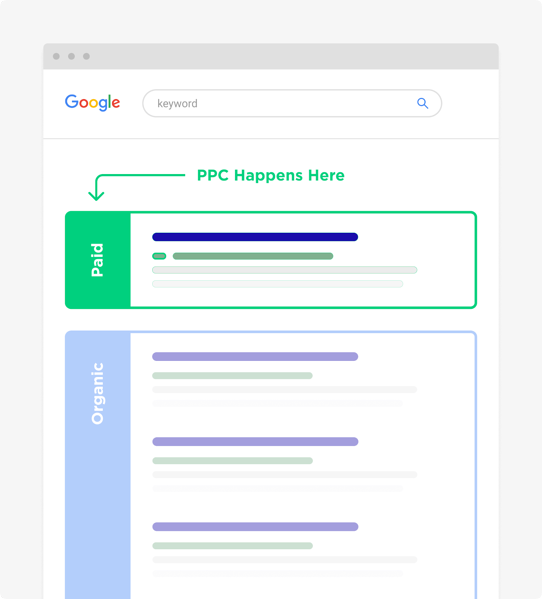 Image source: Backlinko
All PPC ads are also marked with an "Ad" label by search engines, like so:
Below the paid ads, you'll find organic search engine results obtained via search engine optimization (SEO). These include featured snippets, which appear on the top of organic search, followed by individual results: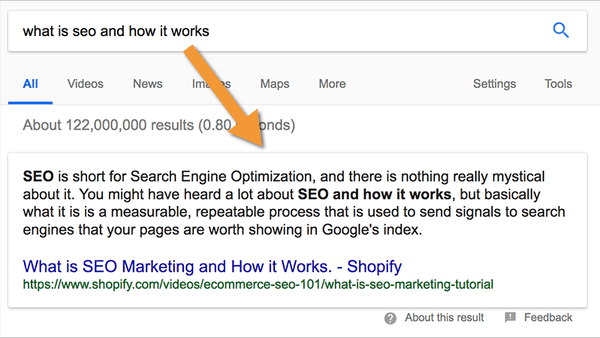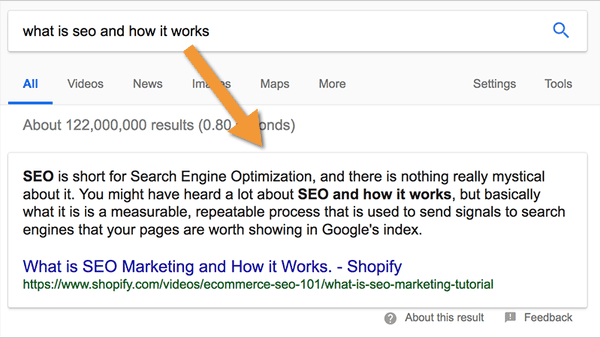 The order in which websites appear in organic search results depends on Google's search engine algorithms, which use over 200 ranking factors to determine a website's relevance and helpfulness for a user's search query.
Cost/Budget
Another big difference between SEO and PPC advertising?
Search marketing cost.
As we touched on earlier, any organic traffic that comes to your website from SEO is absolutely free. You don't need to pay to appear in these results, nor do you need to pay for clicks. But where you DO need to invest is time.
See, everyone wants organic search traffic — and getting to the top of organic search engine results is hard work. Take, for example, this search for skincare products in Melbourne:


This one search term has returned more than 5.85 million results — and there are only ten organic results per page.
If you want to appear above millions of other websites, you need to ensure that every part of your website is primed for search.
That means optimizing your website for keywords, building high-quality backlinks to improve your website authority, and creating content that addresses your audience's search intent. All of which requires a time investment from your team and your agency.
With PPC advertising platforms like Google Ads, you pay for website traffic generated from the platform. The average cost-per-click (CPC) for a PPC ad varies depending on the level of competition for that keyword and your Ad Rank, but you can get an estimate for your keywords using Google Keyword Planner: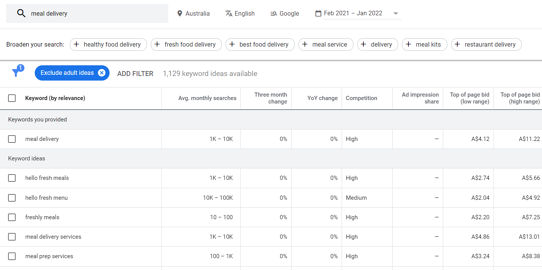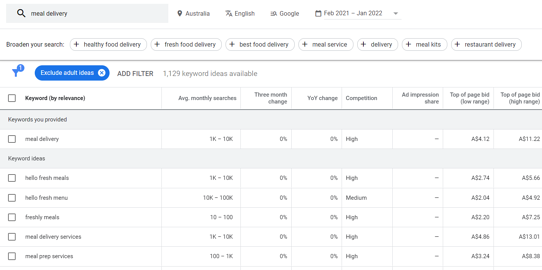 The great thing about PPC tools like Google Ads is that it's scalable, and you only pay when someone actually clicks through to your website. With SEO, it's the opposite: you invest upfront but when you do get traffic, it's free. However, like SEO, you'll need to spend time setting up and optimizing your ad campaigns if you want to get the best results from your investment.
Timeline
You'll commonly hear that SEO is a marathon, not a sprint. This sums it up pretty well in a nutshell: SEO is about playing the long game, whereas PPC is more immediate.
While you can start optimizing your website straight away, it takes anywhere from 3 to 6 months before you start seeing ranking improvements from your SEO efforts — and even more if you're trying to rank for highly competitive keywords. This means that if it's the first week of December and you want to start ranking for targeted keywords related to Christmas, it's probably too late.
That's where PPC advertising has the edge.
All you need to do is set up your Google Ads campaign, targeting and keywords. Once your ads are approved, they'll start to work in a matter of hours. You do need time to optimize your PPC campaigns, but you can do this while driving search engine traffic to your website.
With that being said, once you improve your rankings in organic search results, it's far easier to stay there. That's because effective SEO also helps to strengthen your brand's credibility, which means Google is likely to see your website as authoritative and rank you higher for other keywords in the future.
Outcomes and goals
Both SEO and PPC advertising also differ in terms of the goals they help you achieve.
SEO is more effective if your goal is to build trust with your audience as you move them from awareness to consideration and conversion. People use Google to solve problems — and if you help them do that, they'll be more likely to return to your website and consider your products or services in the future. Meanwhile, PPC is more conversion-focused as the platform allows advertisers to target audiences and keywords with laser-sharp precision.
Then there's traffic. SEO is better at driving more traffic to your website because you're getting a constant stream of organic traffic as long as you appear at the top of Google search. With PPC advertising, you're limited by your budget so you won't be able to drive the same volumes of traffic; however, you can ensure that the traffic you are bringing to your website is highly qualified and likely to convert.
In fact, according to SparkToro, SEO has roughly 20 times more traffic opportunities than PPC on desktop and mobile devices.
SEO: The Pros and Cons
Pros of SEO:
It's cost-effective. The main investments in any SEO campaign are time and resources. You need to dedicate resources to auditing, analysing and optimizing your website to rank higher in search. But once you do, you'll be winning free traffic 24/7. This makes SEO one of the digital marketing tactics with the highest ROI.
Audiences trust organic search. Did you know that 70-80% of people ignore paid results completely and only click on organic results? This itself is enough to make a case for SEO. Not only does ranking higher drive more traffic to your website — but you'll also build up your credibility by appearing on page 1 of Google search.
Stable and sustainable results. Search engine rankings don't happen overnight, which means they don't go away overnight either. If you've worked hard to get your website to the top of organic search through developing high-quality content and link building, you'll be in a strong position to maintain your position in the short- and long term.
Cons of SEO:
It's slower than PPC. You may only start to see an uplift in your SEO results after a few months, or even years if you're aiming to rank for a highly competitive keyword. This is much slower than PPC, which can produce results in a matter of days or hours.
Google is constantly updating its algorithm. SEO is always, ALWAYS changing. In fact, in 2021 there were multiple algorithm updates that affected the way websites rank in search engine results. If you don't have the time to keep up with the updates, you'll risk getting left behind and could lose your hard-earned position in search.
It's time-consuming. There are no shortcuts to good content, high-quality backlinks, or a mobile-friendly website. All of these elements demand that businesses put the user first and invest in creating valuable, relevant content and an exceptional user experience.
PPC: The Pros and Cons
Pros of PPC:
Scalable and flexible. Want to drive more traffic during your busier months? With PPC, you can scale your campaign up or down as needed, depending on how much budget you have to invest and what your goals are.
You see more immediate results. Once your ads go live, you'll immediately get traffic coming through to your website. Combine this with great keyword research and an optimized landing page, and you've got the recipe for more conversions and sales.
It's hyper-targeted. Location, demographics, interests — all of these are valuable targeting options that you can use as part of your paid search advertising campaign. Unlike SEO, PPC platforms allow you to filter out audiences who aren't in your local area or don't match with your buyer personas. This way, your ad only appears for relevant audiences who are more likely to convert.
Cons of PPC:
PPC can be expensive. As you're paying for every click to your website, PPC can very quickly get costly — we mean really costly. If you don't keep an eye on your budget and optimize your campaigns, you can spend thousands without seeing results or improving ROI.
Campaigns require constant optimisation. PPC isn't a set-and-forget digital marketing tactic. You have to test, analyze, optimize and repeat if you want to maximize your ROI from the platform. This can be incredibly time-consuming and challenging, particularly if you don't have a PPC specialist or an agency to help you.
You have to pay to play. Even if you don't develop any new content or build any new backlinks, your SEO campaign should continue to drive results. The same can't be said for PPC. When you stop paying, you stop getting clicks, leads and sales from your ads. And if you're dependent on PPC for traffic, this can lead to a vicious cycle where you have to keep spending to maintain or improve your performance.
SEO vs PPC: Which is better for my business?
Now that we've covered the benefits and drawbacks of SEO and PPC, it's time to answer the big question: which is better?
As we touched on earlier, the right tactic for your business depends on your budget and timelines. Below, we've outlined key considerations to help you decide whether it's best to use SEO or PPC, as well as the benefits of using both together.
When is it best to use SEO?
It's best to use SEO when you have a longer timeline to achieve results. If you have the patience and resources to optimize your website and invest in content marketing, then SEO will pay back with incredible results and ROI over time. Within a year, you could be seeing massive uplifts in terms of traffic, leads and sales without needing to pay for every click to your website.
SEO is also valuable if you want to build up your awareness and authority amongst your target audience. Say you're running a B2B business: by developing high-quality content in response to keywords that your audience is searching for, you'll be establishing yourself as a thought leader in your industry.
When is it best to use PPC?
PPC is best if you're working with a tighter timeline.
You can start seeing results straight away, and refine your campaign over time to improve your results. It's also a great channel if you're trying to increase conversions, thanks to its advanced targeting capabilities and different ad formats.
With the right keyword targeting and landing page experience, you'll be able to use PPC to hone in on potential customers who are most likely to convert.
How do SEO and PPC work together?
Ultimately, SEO and PPC are complementary digital tactics — and in an ideal world, these two should be combined in an integrated digital marketing strategy for the best results.
Here's why:
Running both Google Ads and SEO campaigns means you can get short-term traffic gains while also working towards long-term organic search rankings.
You can gain data from your paid search ads, identify the search terms with the highest click-through rate and conversions, and use this to inform your SEO work.
You'll reach customers at all stages of the customer journey. Use organic SEO to build brand awareness and credibility in organic listings, then seal the deal with a high-converting PPC campaign.
PPC is a great testing ground to see how much search volume a particular keyword gets and which keywords convert the most often. This information is invaluable when it comes to finding the best keywords to target for SEO.
Your business won't be dependent on Google Ads investment to generate traffic and conversions in the long term.
Achieve revenue-shifting results with an integrated approach
Both SEO and PPC should be part of any holistic digital marketing game plan. Each tactic has its own strengths and advantages — and when combined together, they make for an unstoppable recipe for rapid and sustainable business growth.
Ready to dominate digital and watch your business thrive with an SEO and PPC campaign? Claim your digital marketing audit and 6-month game plan today.