Everything To Know About Shopify SEO in 2022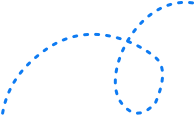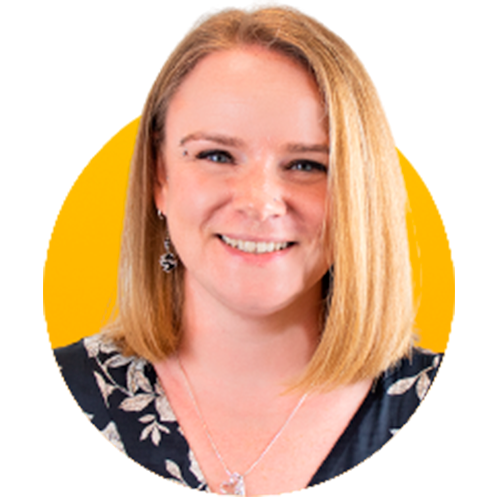 Jules Ward
6 May 2022
43min read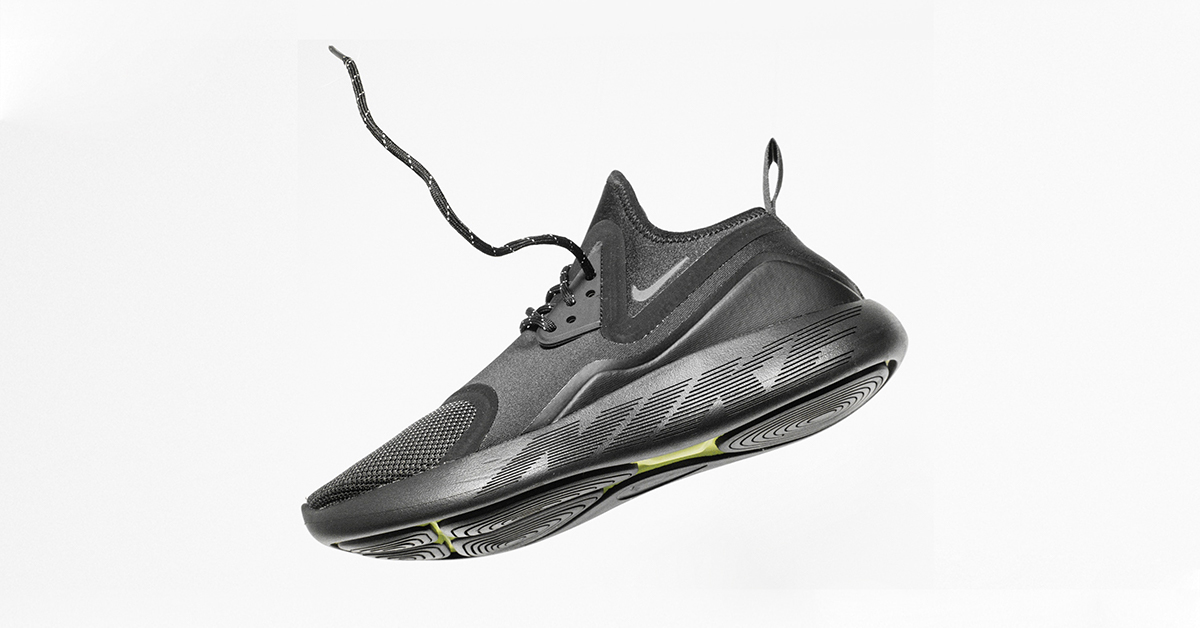 Store owners, want your Shopify store to rank higher in search results?
You've built an incredible ecommerce site filled with awesome products. Now, how do you get noticed by online shoppers?

Search engine optimisation.
Let's put this in context: 85% of people use Google to research products when making shopping decisions.
Plus, with Shopify powering more than one million businesses across 175 countries (and counting!), SEO has become a necessity if you want to be seen amongst the top search results.
So, if you want to get in front of shoppers, you need to improve your Google rankings and visibility.
Here's the catch: Shopify SEO is a long-term game.
But if you put the time in now to build an SEO and content marketing strategy based on proven techniques, you can future proof your digital presence for revenue that keeps on rising.
To help you do just that, we've outlined EVERYTHING you need to know about SEO for Shopify and how to get started right now.
We'll cover the easy SEO best practices you can use to help get your Shopify rank higher. You'll learn the importance of product reviews, a killer content strategy and social media to make your visibility soar.
What's more, we'll go over the importance of product page SEO and how this can rocket your store above the competitors on the search terms that matter most.
Best of all, you'll take away actionable tips you can implement right now.
Take it one step at a time, and you'll soon be set up for long-term success!
What is Shopify SEO? 
Shopify SEO is the process of optimizing your Shopify website in order to improve your website's visibility in search engine results.
As an eCommerce store, your website is the lifeblood of your business. The more qualified visitors that come to your website, the more sales you make. And one of the most cost-effective and beneficial ways to bring people to your website is through organic search.
According to Google, 49% of shoppers use Google to discover a new item.
Show up during these searches, and you'll capture ready-to-buy customers who are looking for your exact products.
But if you have a Shopify store, you need to do more than just apply general SEO tactics to your eCommerce website.
See, while Shopify does come with some SEO features straight out of the box, it's by no means comprehensive. You need to make sure you're ticking all the boxes to give yourself the best chance of ranking in search results.
Shopify also comes with unique challenges when it comes to SEO, such as duplicate content or clunky apps that increase site speed. If you want to maximize your chance of SEO success, you need to be aware of, and tailor your SEO strategy to these challenges.
Enter Shopify SEO.
Shopify SEO is a specific set of adjustments that are designed to optimize Shopify stores for search engines like Google and Bing.
With these adjustments, you'll put your website in the best position possible to rank on top of search.
Is Shopify good for SEO?
Definitely! Shopify can be used for SEO and websites built by Shopify have ranked well. Shopify offers SEO tools right on the platform to utilize, including the ability to edit meta tags and descriptions, as well as redirecting pages.
As we touched on earlier, Shopify does have its own unique set of challenges that store owners have to factor in to their SEO strategy. However, as long as you keep these in mind and take the right steps to address these, there's no reason why you can't rank on top with Shopify.
Shopify vs other eCommerce platforms for SEO
There are plenty of eCommerce platforms out there, from WooCommerce to Squarespace and BigCommerce. So how does Shopify stack up?
Truth is, it's tough to pick a clear winner. Each platform knows the value of SEO for eCommerce, and they all come with a ton of features to help you improve your search engine rankings. These include built-in features and additional add-ons, premium features, and plugins if you're looking to take your SEO performance to the next level.
The best one for SEO depends on experience and expertise.
Shopify is the clear winner for many eCommerce business owners because its SEO features are simple and straightforward to use. It's easy to hop in and optimize your on-page SEO without needing to dive into code or install extra security certificates on your website. Squarespace and BigCommerce offer similar SEO features — but with Shopify statistics showing that it's the leading eCommerce platform, it's clearly the preferred pick for the majority of eCommerce websites.
With that being said, WooCommerce, which is run by WordPress, has the edge in terms of integrations. WooCommerce has a ton of different SEO plug-ins and features to choose from, which makes it great if you need added flexibility or you're looking to scale.
Regardless of which eCommerce platform you choose, it might be worth bringing in additional outside resources to achieve better performance. This can be through the use of SEO-focused Shopify apps or through the assistance of a specialised digital marketing team.
Everything you need to know about Shopify SEO
1. Go over Shopify Site Structure
Structure is key, regardless of whether you're using Shopify or another platform. The way the content is organized, how it flows, and how it reads is important to SEO and how successful you are overall.
When the structure is easily navigable to visitors, they tend to spend more time on the website. They're easily intrigued and find exactly what they're looking for in less time. This helps your Google search engine rankings overall.
How can you make this possible on your website?
Don't go overboard with the categories and sub-categories and create a simple structure that provides value but ease of use.
Having a simple structure also helps search engines crawl the content and pages, essentially giving you better rankings overall.
A simple structure on your site should look like this…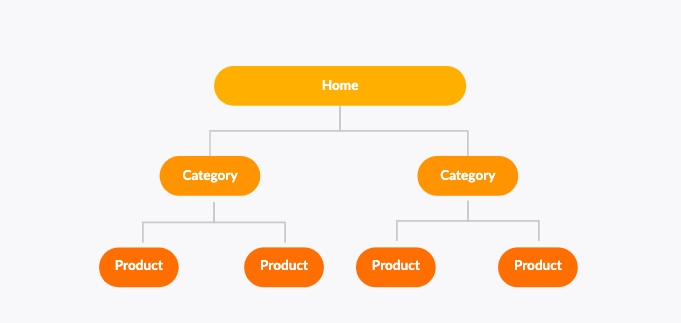 As the diagram shows, your homepage is just a couple of clicks away from the products. So when the visitor enters, they can easily find the products or information they are looking for without having to do heavy searching.
Shopify makes it easier than ever to set up your entire menu structure how it needs to be.
Homepage > Category Pages > Product Pages
Alternatively, you can use…
Homepage > Category Pages > Sub-Category Pages > Product Pages
Your Shopify website should not be built just for search engines, but for people and visitors first and foremost.
Currently, there is an SEO on Shopify limitation with nesting and hierarchy URL's, with categories appearing under 'collections' and subcategories as tag filters which cannot be further optimized (refer to the on-page section for further detail).
Make sure not to overlook the About Page or the Contact Us Page as both of these are necessary when building out your content. They help shoppers (and search engines) know you're credible, trustworthy, and a valuable source for the products and information you're offering.
Last, but definitely not least, is to add a Search Bar to your website.
Unfortunately, this will not help with SEO but it will help to make your website easily accessible and help visitors navigate their way around the pages. Thus, making it even more user-friendly.
Additional tips to improve the user experience
Once you've optimized your Shopify site structure, you'll want to improve the user experience on your site in order to move your ranking up even higher in the SERPs (Search Engine Results Pages). Here are some things to keep in mind:
Use a responsive design. A good responsive theme will make your site easy to read and navigate so that users can quickly find what they're looking for and spend more time browsing on your site. In turn, better site usability leads to increased conversions and profit. Plus, your Shopify store will look great on any device, including desktop, tablets, and smartphones.
Last, but definitely not least, is to add a Search Bar to your website.
Unfortunately, this will not help with SEO but it will help to make your website easily accessible and help visitors navigate their way around the pages. Thus, making it even more user-friendly.
2. Set up and submit sitemap to Google Search Console
A. Link your Google Analytics account to Shopify and set up e-Commerce tracking.
This is one of the most ideal ways to find out where your traffic is coming from and what is happening while users are on your website.
To link your Google Analytics account to Shopify, log in and click "Admin" at the top. Go to "Tracking Info" and select "Tracking Code":
Image Source: Digital Darts
Copy your code and login to your Shopify store. Go to Preferences and select the Google Analytics section:


Image Source: Digital Darts
To complete your Google Analytics setup, paste your tracking code into the "Google Analytics account" field in Shopify. Once you've successfully submitted your global site tag to the Google Analytics account field, Google Analytics should be enabled. You can then turn on eCommerce tracking to garner further transaction and revenue data about your site.
Google Analytics is a great tool for creating a data-driven strategy for your e-Commerce store. To learn more about using it, read Shopify's Guide to Setting up Google Analytics.
B. Have Shopify set up on Google Search Console (GSC).
Registering a Shopify website with Google Search Console ensures your site will get crawled and indexed. Setting up GSC should be a seamless and easy experience.
Follow these steps to add your site to a Google Search Console account: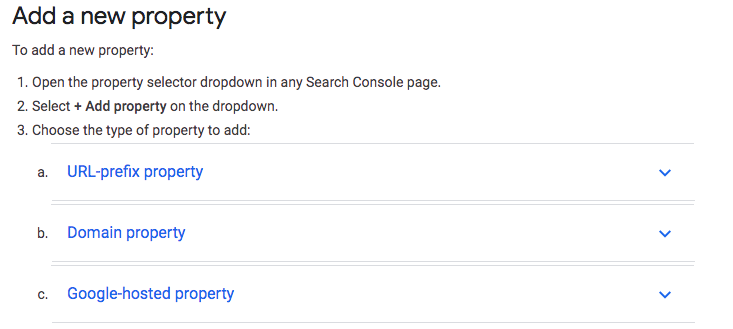 Image Source: Google
Once you've completed the verification process, data should begin to appear in your property within a few days.
C. Submit your XML sitemap to Google Search Console.
Once you've registered your Shopify site with GSC, you'll need to submit an XML sitemap to ensure your site is indexed accurately. Your XML sitemap file lists your website's individual pages and tells Google about the organization of your site.
Shopify will automatically generate a sitemap for your site, which will be simply yourdomain.com/sitemap.xml. All you have to do is enter this unique link into GSC. Go to your site's dashboard and click 'sitemaps.'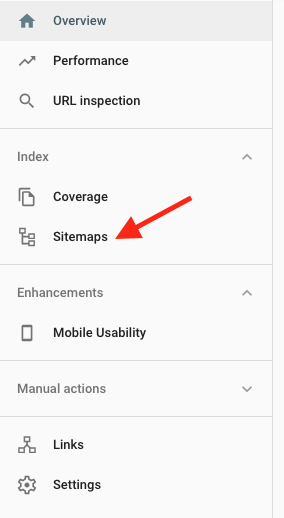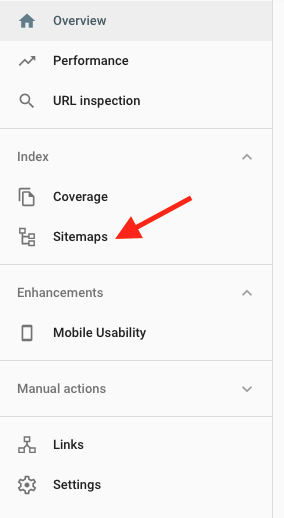 Image Source: Style Factory Productions
For a more in-depth dive into GSC, check out our ultimate guide to Google Search Console for further reading.
3. Guide search engines through a robots.txt file
Have a massive or planning to grow a massive eCommerce site using Shopify with thousands of pages and are worried about duplicate content? Have some content that you want to keep private?
Then a robots.xt file is all but essential for your store.
Robots.txt is a plain text file sitting on your Shopify store that lets search engines such as Google know where they can and cannot go.
While the sitemap gives web crawlers a complete guide of your store, robots.txt tells them areas that you prefer to not be shown in search results.
How to create your Shopify robots.txt file
To edit your Shopify robots.txt file:
Go to your Shopify admin, then Online Store > Themes
From here, click Actions > Edit Code
Next, add a new template, and choose robots
After clicking create template, you should then be able to construct your robots.txt file
If you need help crafting the perfect robots.txt file, we have a nifty guide that gives a complete breakdown on how to build one that web crawlers love.
4. The faster page speed, the better
Fast page speed is a major ranking factor for Google and its search results.
But there's another HUGE reason you should care about your site speed: Customers hate slow sites.
The slower your Shopify site, the less likely people will stick around to buy your products. People expect your site to load INSTANTLY – especially when using their mobile.
Slow loading web pages lead to a high bounce rate, low user engagement, less time on site and less traffic. As soon as Google sees this happening, and people are bouncing quicker than you can say "wasted budget", you'll start dropping in rankings.
The proof is in the numbers:
So, what can you do?
Run your site through Google's PageSpeed Insights.
Google will check how fast your site is and provide a personalised list of improvements to help make your online store faster, on mobile and desktop.
It will also reveal any elements on your site that are blocking pages from loading quickly, like CSS and JavaScript.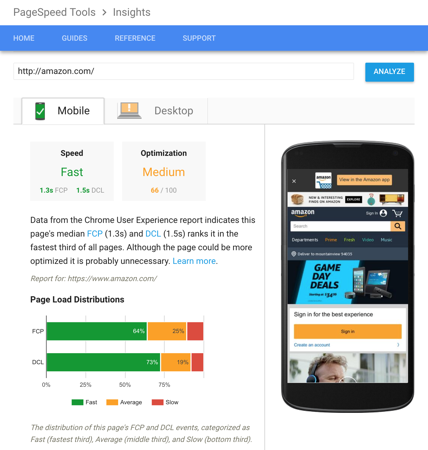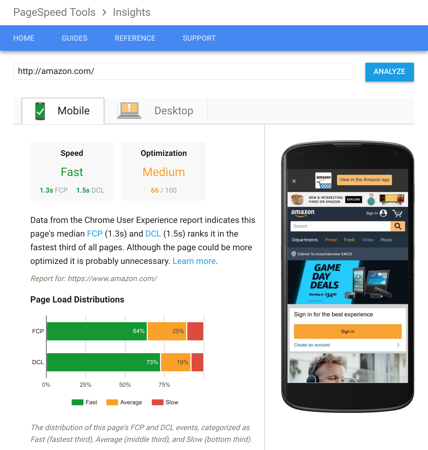 Image Source: Shopify
Once you've got the lowdown from Google, follow these extra tips to help improve site performance and page speeds:
A. Stop using pop-up Quick View windows
Pop-up Quick View windows display a product directly from a product listings page, so people don't need to click through to the actual product page.
They look like this:
Image Source: Shopify
They might seem like a slick feature, but in reality, they can obstruct a customer's experience, causing confusion and frustration.
The biggest reason NOT to use them is they can significantly slow down your page load times.
If you really must use them in your store, do so only where you know they add value.
B. Reduce thumbnail image sizes
Are you using a carousel feature for "Best Selling Products" on your homepage?
This pulls information from product pages and displays as thumbnails.
But sometimes a product image is pulled in too large, causing the user's browser to scale it down and slow right down in the process.
Check that your theme uses Shopify's built-in image size parameters to pull the smallest possible image and still maintain quality.
C. Scale back on homepage hero slides
We know you love showing off your best brand images in hero slides. They're eye-catching, beautiful and engaging, right?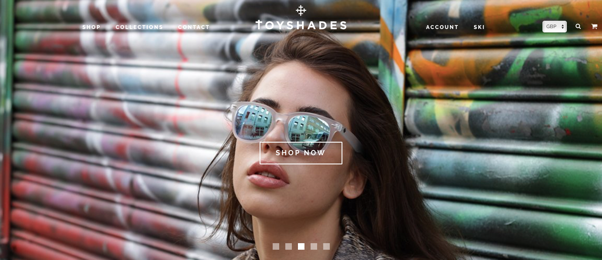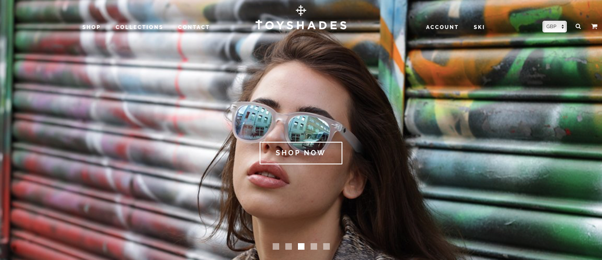 Image Source: Toy Shades
But be careful before adding them to your site.
The size and quality required for it to look good can make your load times soar.
The solution?
Cut them down to two or three slides, or better yet, stick to one high-quality dazzling image with a strong call to action:
Image Source: The Horse
D. Compress images
Images are by far the biggest culprit of slow sites. After all, they can account for up to 75% of your page's weight!
You can see how important it is to compress.
For every new image you upload, Shopify recommends using TinyJPG or TinyPNG to compress without losing quality.
For existing images, Shopify apps Crush.pics or Image Optimizer come highly recommended.
E. Cull your apps
Count how many apps you're running on your online store. Now count how many of those you're using.
Chances are you installed them on a whim and forgot to remove them. This often happens with store owners.
But every app running silently in the background is hurting your site performance.
Go through one by one and de-install any apps you aren't using.
Then go back to PageSpeed Insights and get another test done.
For more SEO tips to speed up your Shopify store, check out this SEMrush guide.
5. Keyword research really matters
Targeting the right keywords is an important part of your Shopify SEO success – just as with any website.
Keyword research is more than picking out a few words. You need to think about the search queries people make and what your ideal customers are looking for.
The goal of your research is to create a list of keywords that covers:
Short-tail keywords – 1-2 words that most directly relate to your business and products.
For example, if your online store sells beds, your short tail keywords might be "double beds" and "kids beds".
Short-tail keywords get a lot of traffic, but that comes with a heap of competition too. They can be both more lucrative and more difficult to rank for.
Long-tail keywords – Longer phrases that tend to be more "human" sounding. e.g. "where can I buy a king bed online".
Long-tail keywords make up over 70% of online searches according to Moz. They also tend to attract more conversions better as they catch visitors further along the buying journey.
For example, someone searching for "laptop bag" is probably in the early information-gathering stage.
But someone searching for "brown leather laptop bag price" is likely to be much closer to purchasing.
How do you know what keywords to target? Get started with Google's Keyword Planner.
This tool will help you research potential keywords, browse new suggested keywords, estimate search volume and explore traffic in geographic areas.
How to use it:
Sign in to your Google Ads account (now is the time to create an Ads account, if you don't already have one!)
Click the tools icon in the left-hand corner.
Under Planning, go to Keyword Planner.
In the Find new keywords search box, type in words or phrases that describe your products, or the URL of a web page related to your business.
Hit Get started to see suggested keywords in the keyword ideas page.
Now, you're looking at two metrics:
Search Volume and Competition
Search volume is typically measured in average monthly searches. In other words, it's the TOTAL number of searches each month for that particular keyword.
Ideally, find keywords with the highest search volume.
Higher search volume means more potential traffic and more likelihood of conversions for your store.
Competition tells you how difficult it is to rank for a particular keyword. There's no point trying to rank for the same keywords as every other store!
In a perfect world, your keyword list balances high search volume and low competition.
Next, use these keyword research tools for more ideas:
KWFinder – Great for keyword suggestions, autocomplete queries, and actual questions that people ask.
Ahrefs Keyword Explorer – Provides detailed information for every keyword as well as a quick snapshot of first-page competition and how many users actually click through for the keyword.
Google Trends – Shows how much search interest there is for any particular query over time.
It's important to note here that user intent is vital when conducting effective keyword research.
For example, a Sydney-based cafe might think the keyword 'coffee' is a perfect term to target. However, when you search on Google for the term, you'll instead come up with coffee recipes, coffee suppliers, and the history of the drink itself. By taking into consideration user intent, the keyword 'coffee Sydney' or 'Sydney coffee' turns up more appropriate results and is much more relevant to the website.
By using these tools, and many others, you can:
Create an excellent list of long-tail keywords that directly relate to your primary keywords.
Check essential metrics, like competition and click-through rates (CTR), for keywords.
Figure out what other Shopify sites in your space are targeting.
See what may trend in your niche in the coming months.
Take this critical data and lift your Shopify SEO to the next level.
6. Get the basics right with On-Page SEO.
Shopify makes it easy to optimize your pages to rank higher. There are heaps of on-page tweaks you can and should do to maximize your search rankings. Let's take a look at the most important on-page elements:
On-Page Element #1. Meta Titles
The title tag is one of the most important aspects of on-page SEO. Not only does your title tag tell Google what your page is about, but it's also what people see in the search engine results. Killer page title tags (together with the meta description) will get more people to click through to your online store.
Optimising your page title tag is easy:
Log into your site and navigate to Search engine listing preview. Click Edit website SEO.
Go to the Page title field and enter your title.
You can enter up to 70 characters, but it's best to stay under 60 characters to make sure you're not cut off in the search results.
Include primary keywords and target keywords near the beginning of the page title.
Click save.
Through keyword-targeted page titles, you'll quickly see your eCommerce climbing the ranks for high-value search terms in no time.
On-Page Element #2: Meta Descriptions
Along with meta titles, meta descriptions are critical to great SEO.
To optimize your meta descriptions, follow the same steps as for the title tag.
Shopify allows you to optimize key elements on every page, including the title tag, meta descriptions, and URLs. Where possible, ensure that each of these elements features your target keywords. This gives both your customers and search engines a clear understanding of what the page is about.
Keep in mind:
Shopify gives you 320 characters, but research from Moz says a meta description is usually cut off around 155-160 characters.
Include target keywords and the strongest copy at the beginning.
Check out this example from The Horse e-Commerce store. It tells you everything you need to know. From this we'd say that "leather goods" is a primary keyword:
On-Page Element #3: Images
Google Images account for nearly 23% of all web searches, so ensure search engines can "read" your images with alt text. That's why alt text is so important!
From your Shopify admin, go to Products and click the product with the image you want to edit.
Now, optimize your images:
File name: Give each image file an informative name (e.g. little-black-dress.jpg rather than IMG1234567.jpg).
Image Alt text: Write descriptive alt text that explains what each image is. Tempting though it may be to cram in more keywords into alt text, only include keywords if it's natural in your alt text.
Image size: Large images can slow down your pages. Compress images to improve page speeds.
On-Page Element #4: URLs
Shopify can prove annoying when it comes to URLs.
It sometimes adds strings to certain URLs that you CANNOT change.
For example, a product page will have '/products/' in its URL.
So your page URL will be yourshop.com/products/product-title.
Repeat – you CANNOT change this.
Grrrrrr.
But you can personalise URLs for SEO. For example, Google loves seeing the keyword in the URL, so add it in.
On-Page Element #5: Internal Linking Structure
Internal links connect one page of a website to another page on the same Shopify store.
Often forgotten, implementing an effective internal linking structure can help supercharge the most popular pages in your Shopify store. How? Well, just like your URL structure, internal linking helps search engines better understand your website and which areas of your store is considered important.
When used strategically, an internal linking structure can help bolster page authority to your sites major pages.
For example, if you run a shoe store, adding an internal link from a sneaker product page to the sneakers category page lets search engines know the category page is important. As you add more internal links to that category page, its importance and in turn search ranking increase.
7. Backlinks are incredibly powerful for Shopify SEO
Backlinks are kind of a big deal for SEO.
When another site links to your e-Commerce site, Google and other search engines see that you're worth linking to.
Google takes every backlink as a sign that you are reputable, high quality and trustworthy – and it ranks you higher as a result.
More often than not, a quality backlink profile can mean the difference between your Shopify store reaching the top of search results or barely scraping into page one.
The key is to ensure you are getting links from high-quality sites that are relevant to your niche.
Getting links from any site can seem like an easy way to quickly boost rankings, but Google will only view them as irrelevant to your Shopify site and might even consider them spammy. Naturally, this will only harm instead of help your rankings.
Yes, word of mouth and link building will happen naturally over time. But there are a few important things you can do to help speed up the process:
What are the sites you want to earn links from? Consider suppliers, manufacturers, brands, key influencers, and industry media.
How will you reach out to them? You may have contacts you can ask, or you might need to build relationships and prove you are worth linking to.
Are there broken links and mentions you can use?
Use mention.com to find any places your online store is mentioned without being linked. Ask them to add the link.
Find websites that have broken links relevant to what you offer. Ask them to link to your site instead.
Who are your competitors getting links from? Use Moz's Link Explorer and Ahrefs Site Explorer to investigate what sites link to your competitors and why. Use this for ideas.
Use PR to earn quality backlinks. Check our guide for a full rundown of how to get remarkable results from digital PR.
If you've ever done a link-building strategy before, things are a little different for e-Commerce sites.
Here's the main difference:
For the best ROI, you need to earn links directly to your product and category pages.
Much more difficult than getting someone to link to your content, right?
This is where fixing mentions and broken links are the most valuable.
8. Build SEO-friendly product pages search engines love
Product page search engine optimization has never been more important than today. In essence, this is the process of optimizing your product pages to boost organic traffic to your store and ultimately increase sales.
With millions of eCommerce sites jockeying for space on the first page of search results, it's vital that your product pages are all but perfectly optimized.
Utilising many of the tips and SEO tools listed above including targeting keyword research, optimized meta description and page title, as well as internal linking, your product pages are well on their way to increase in rankings.
But how do we guarantee your product pages rocket up to the first page?
Create unique product descriptions
You've been waiting for it.
Now it's time for the good stuff.
The key to product descriptions is to make your text unique.
Product descriptions play a key role in getting your Shopify site found when users search for specific terms that indicate what they intend to purchase. A product description serves as your virtual salesperson and should explain what the product does, and why someone should buy it.
What's more, integrate your keyword research into every product description. A wonderfully written description won't produce any results if it doesn't include the keywords you want your product page to rank for!
Optimise your Shopify product pages for better results
Google doesn't reward duplicate content, so avoid copying product descriptions from manufacturers and suppliers.
Write your own descriptions to rank higher and win shoppers' dollars. Don't forget about those target keywords as well as semantic keywords. These can prove the difference between your Shopify page reaching top of search results or barely featuring at all.
We love these content examples on So Worth Loving. Who knew a long sleeve top could do so much!
Image Source: SoWorthLoving
Keep in mind Shopify recommends that every product page and category page has at least 250 words of descriptive text.
Yikes!
But it can be done.
To prove it, see how Studio Neat describes a simple notepad:
Wait, there's more…


And so it goes on. There's even a video about the notepad!
Bottom line, don't underestimate the power of unique product descriptions (and avoid duplicate content).
9. Boost your website CTR with structured data
Want to really level up your click-thru rate?
Introducing the one and only: structured data.
Ever wondered how some search results on Google include reviews, price, and more key pieces of information like this?


The culprit is the use of structured data, which allows Google to display rich snippets providing useful product information. Rich snippets via structured data provide the potential customer instant access to product information, and in combination with highly rated reviews, you'll quickly see huge growth in organic traffic.
To grab these click-crazy rich snippets, you'll need to implement schema markup on your product pages. This is code that allows for search engines to further understand the content of the page.
How to implement structured data
There are a few ways to include structured data on your page, the most commonly used being JSON-LD script which is placed in the header of your web pages.
Rather than create the schema markup manually and trying to learn JSON-LD, Google has this fantastic Structured Data Markup Helper tool that does all the hard work for you.
Simply select "Products" and paste in the URL of a product page with ratings, choose the relevant tags, and you'll create structured data markup Google will love.
As a final note, structured data does not have a direct impact on rankings.
However, it can provide Google with a clearer understanding of your page's focus and in turn, identify the keywords it's most appropriate to rank for.
10. Product reviews build trust and rankings
Buyer reviews are a brilliant way to build trust with your potential customers.
They also help your product pages and category pages rank for long-tail keywords.
Think about it – great buyer reviews should sum up all the things your potential customers are looking for.
Take a look at this one for Pop Smile:
How do you share product reviews?
Start by installing the free Shopify app, Product Reviews.
Next, you need to encourage customers to share their positive experiences.
You can approach this in a few different ways:
A. The Personalised Approach.
Identify those customers who have bought more than one product from you. If they are repeat customers, they should be happy to say something great in a review!
Send them a personalised email recognising their loyalty and inviting them to leave a review.
Something like this: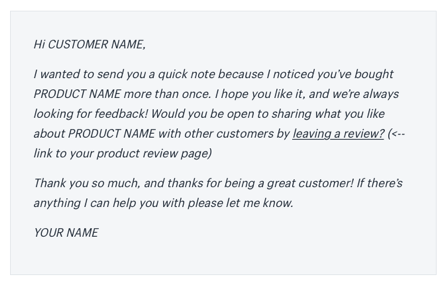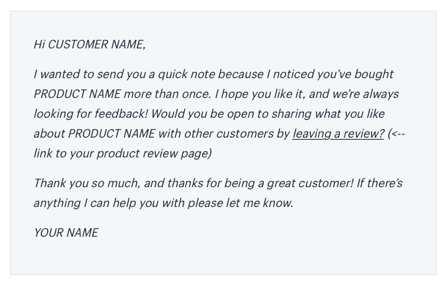 Image Source: Shopify
B. The Automated Approach.
Set up an automated email campaign for your buyers.
For example, the Klaviyo app for Shopify will get all of your e-Commerce data for you so you can send emails to buyers after they've purchased from you.
Include a quick note in your delivery emails or once the product has been safely delivered:
11. Create unique content – don't duplicate
Content, content, content!
You might think running a Shopify store is all about your products and services – and they are important – but a nifty way to really get people through the online door is through engaging content.
Now, you can focus on some unique content to add value to your shoppers, encourage sharing and build your Shopify SEO.
The more useful your content is to your audience, the higher rank you will get on Google.
How will you know what content your ideal customers want to read and watch?
Research!
Buzzsumo is a great place to start.
Type in your keyword or site, and see what content is getting the most views and shares.
Next, go to Answer the Public.
This is where you can discover the burning questions your customers are asking. Say you are selling barbecues. You can type in "best barbecues", and it comes up with lots of content ideas for questions.
(Note: This defaulted to the United States version. For the Australian version, you need to create a premium account.)
Now we've got heaps of ideas for blog posts around barbecue recipes, the best barbecue tools, the best barbecues to buy, and much more content inspo. All from one quick search!
If you can answer these questions through your articles, videos and FAQ content, you're onto a winner. This way, you won't run into the risk of churning out any duplicate content.
Finally, go right to the source – speak to your customers.
Use social media or get an email survey out asking what they want to know.
This will give you TONS of new content ideas, as well as (hopefully!) confirm what the other methods have already told you.
Now you have an incredible list of ideas, what are you going to do with them?
Work out the right content structure.
Create a content structure that will be both engaging and rank well in search engines.
Aim for around 500 words for informational pages and blog posts.
Use these content marketing tools to help you create awesome content.
Now distribute your content using the following methods:
Email newsletters
Social media (paid and organic)
Internal links directly on your site
Let's take a look at email for a moment.
This is an insanely powerful way to boost conversions.
Research from the Direct Marketing Association says the ROI for email is 3,800%!
Plus, Shopify's email buy button makes it easy for customers to go straight to the checkout when you email them an offer they can't resist.
A final word on content…
Ensure you've got your internal linking strategy down pat too so your customers can easily navigate to your blog whether they're coming from your homepage, browsing category pages or on product pages.
Update it regularly.
Search engines will crawl your site more frequently if you keep producing lots of fresh content.
12. Social + Shopify SEO is the dream team
Social and SEO are two massive channels that can work together to help boost your search ranking and visibility.
They are the dream team your e-Commerce site needs.
Consider these facts:
74% of people check social media to help make purchasing decisions.
43% say they're more likely to buy a product if they learned about it on social media.
31% say they use social to check out products they've heard about elsewhere.
We can't argue with that!
But before you start throwing money at Display Ads and Facebook, you need a social media + SEO strategy.
Your strategy should cover:
How frequently you will share useful content
How you will engage with followers
Plan for reaching out to key influencers
Paid ads strategy
Start by creating your social media accounts.
Don't rush this part – social profiles rank too.
In fact, they had a higher presence in rankings in 2018 than ever before.
Remember we were talking about the Aussie brand, Bellroy?
Here's what comes up on page 1 of Google when you do a quick search:


Pay attention to these steps:
Choose your platforms. Instagram, Facebook and Pinterest are perfect for displaying products and reaching potential online shoppers with your online store. YouTube is great if, like Bellroy, you have lots of explainer videos.
Optimise your profile. Create a bio telling your company story and insert a link to your Shopify store.
Be consistent. Use stunning images that match your website.
Next, add social media buttons to your site.
Your aim is twofold:
Make it easy for visitors to share your product pages/content with their circles.
Encourage them to start following your social media pages.
Adding social media buttons is easy, depending on your level of web know-how.
You can choose from Shopify apps that will do it all for you. Navigate to the social media section of the App Store.
Some Shopify themes already have social buttons enabled. Just find the theme editor and check the Header, Sidebar, Homepage or Footer menus for social media buttons.
Or you can code the buttons into your Shopify theme.
Take a look at this simple example of an online store using social media buttons on their product pages:
Image Source: The Modern Shop
Now you're ready to put some dollars behind your strategy.
Use Facebook Ads to promote your most beautiful products. Target your ads Facebook's Lookalike Audience tool, which lets you build a profile of your ideal audience using your previous Shopify sales data.
Boost entertaining, interesting and useful content. The best way to get people to click on your content is to make it valuable. Share posts they will want to read. The longer people spend on your pages, the better it looks for Google.
Over to you
With all the tools at your disposal through this Shopify SEO guide, crafting a rankings busting website using targeted SEO is at your fingertips. Remember, while you might boast an SEO friendly site, it can take months for the results to show.
Don't let that dishearten you! With targeted keyword research, optimized titles and meta descriptions, flawless structured data, as well an enriching content plan, you'll see your business climb to the first page of Google.
What's more, combining fantastic onsite Shopify SEO with positive product reviews and an enticing social media strategy will showcase a brand that potential customers not only trust but will inevitably purchase from.
Although you could do this all by yourself, collaborating with a specialized team might make all the difference in truly elevating your Shopify site. That's where we come in!
For eligible eCommerce businesses looking to transform their digital marketing strategy, our Gurus will happily conduct a FREE SEO and Digital Audit covering more than 50 pages. More than just SEO tips, we'll give you a thorough breakdown of multiple digital marketing channels including SEO, PPC, and Facebook. Plus, we even create a 6-month multichannel game plan to help you unlock that digital growth.
Ready to level up your digital marketing? Contact the Online Marketing Gurus today.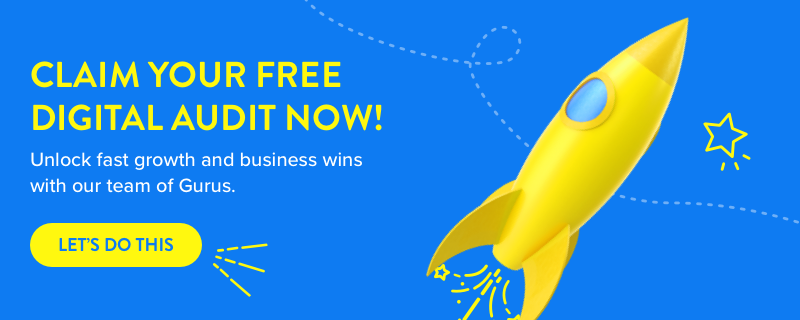 Frequently Asked Questions
How do I add SEO to my Shopify store?
There are many ways you can add SEO to your Shopify store. There is not a complete, one-size-fits-all answer. Some of the steps needed to do this are outlined in the guide.
Linking your Google Analytics account to Shopify and setting up e-commerce tracking is one of the most ideal ways to find out where your traffic is coming from and what is happening while they're on the website.
Have Shopify set up on Google Search Console (GSC). This allows you to use a combination of the SEO tools offered by Shopify in addition to the outside sources for SEO. Setting up Google Search Console should be a seamless and easy experience. There are wide sets of data that you prove useful to your store in Google Search Console.
Lastly, make sure you're following the other tips, tricks, and rules for the best SEO experience and outcome. Used alongside the tools, these practices can help boost your overall SEO rating and ranking on search engines.
What is the best SEO app for Shopify?
Unfortunately, there is no one app that is best for Shopify. Each website has different needs, and as such, the owner of the website has to determine which set of Shopify apps will fulfil those needs best, particularly for SEO in Shopify.
With many Shopify apps to choose from, you have to determine which ones fill the needs of your own specific website. Using any of them, Shopify or outside apps can help to boost the SEO of your website.
Many of the best Shopify apps offer free trial periods, allowing the SEO strategist to assess whether the tool is working effectively before upgrading to a paid plan. If you find the app to not be your liking during your free trial, you can simply uninstall it.
Can I use my own domain name on Shopify?
Many users of Shopify choose to bring their own domain name, which helps with SEO purposes and identity. If you have one, you can connect the domain to an existing store using the settings section.
If you do not currently own one, Shopify can provide you with one at a cost, or you are able to purchase one through a third-party provider.
Next Steps
You made it! Phew, we had a lot to cover, but it'll all be worth it when you start raking in astounding results for your Shopify store.
Now you know what to do and why it's all about getting it done.
To help you stay on track, we've created a Shopify SEO Checklist. It covers all the bases, so you can prepare your eCommerce store for long-term SEO success.