What are backlinks?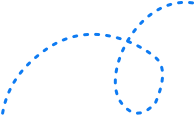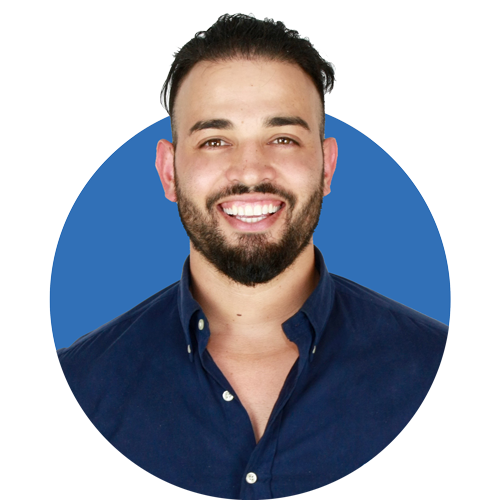 Andrew Raso
11 February 2019
11min read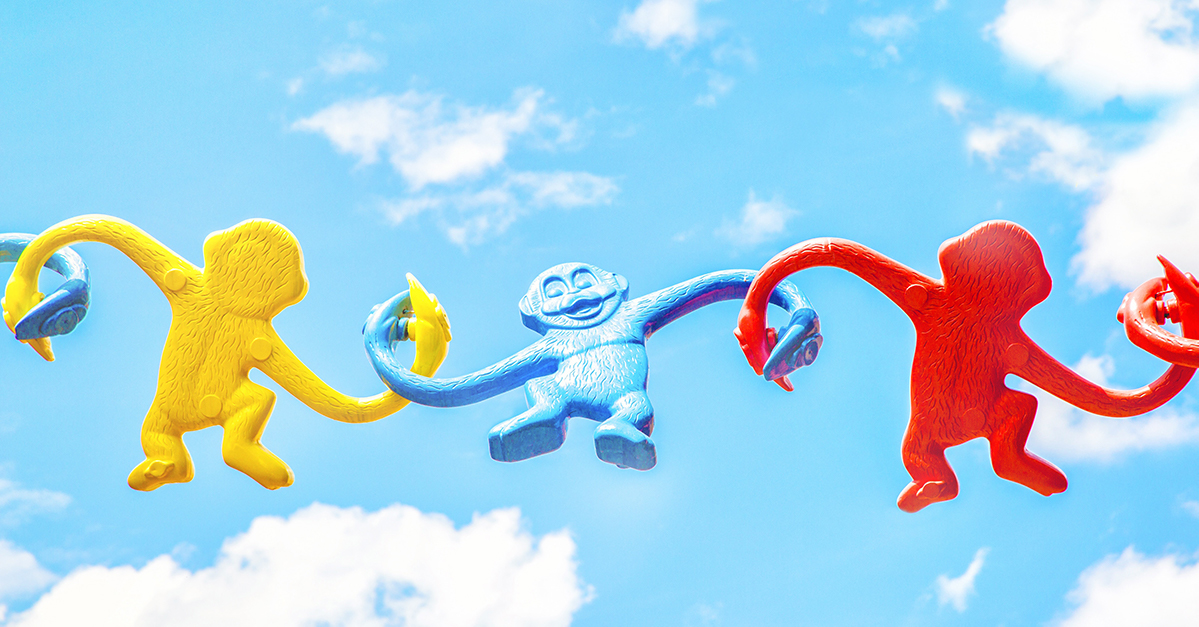 In this article, we'll explain what backlinks are, how they work, what makes a good backlink, and how to get more backlinks for your site.
What are they?
Backlinks are when one website links to another website.
Other commonly used terms include link-back, an inbound link, in-links or incoming link. You get the gist!
Backlinks are how Google determines your website as an authority in your space.  When a website links to you, Google sees that as them trusting you. So, Google knows your website can be trusted in a particular industry.
In other words, a backlink signals to Google and other search engines that your site is good enough to warrant sharing.
Why are they so important?
Google has over 200 factors that affect rankings. According to SEO experts, backlinks affect Google rankings more than any other factor.
Google sees backlinks as votes. In the SEO world, we call it "link juice". The more quality backlinks your website has, the higher you're going to rank in the search engine results pages (SERPS).
That makes backlinks a critical part of any search engine optimisation strategy. It is the most important off-site SEO tactic.
However, there's one crucial element that defines the power of a backlink. Backlinks are either nofollow links or do-follow links.
Nofollow links are backlinks that include a tag, telling search engines "don't count this" or "don't follow this" link. Lots of nofollow links from reputable sites like Huffington Post may still tip the scale in your favor, however, they won't offer as much benefit as a do-follow link.
Do-follow links are all the remaining backlinks that count as "votes" of trustworthiness to your website.
Another brilliant advantage of backlinks is that they increase exposure and trust of your site — boosting both referral traffic and authority.
If your ideal customer trusts the Huffington Post site, and the Huffington Post links to your web pages, not only do you get more visitors – you also build their trust.
And, as all great marketers know, trust is the Holy Grail of business.
What does a backlink look like?
There are lots of different types of backlink.
Here are a few examples:
Link from an article. Here's what a backlink in a Huffington Post article looks like:
Link from sponsorship. In the next example, the logo is a link to the sponsor's website.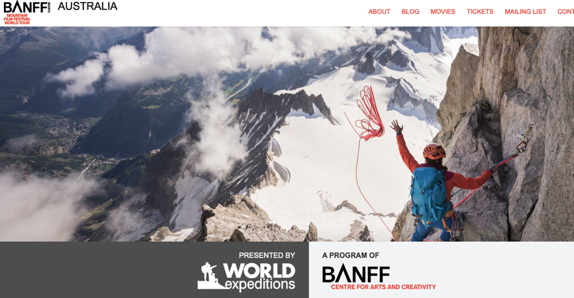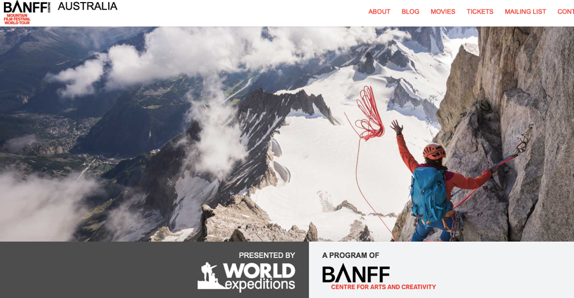 Link roundups. Weekly or monthly articles posting their recommended links for a particular topic. It looks something like this: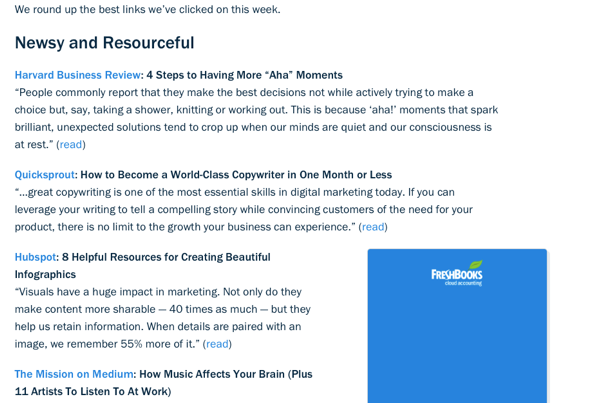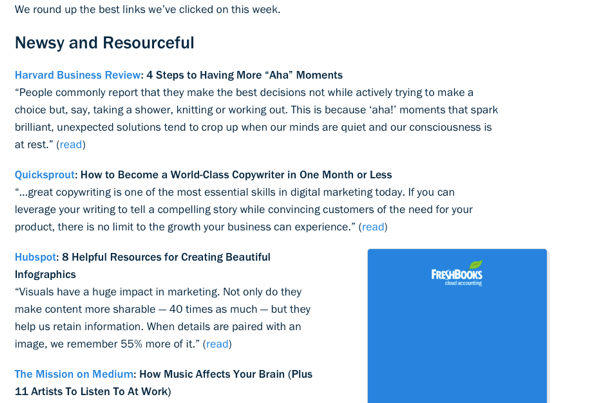 Image credit: source
What makes a good one?
When it comes to backlinks, think quality over quantity.
There was a time when people were using "black hat" techniques to get heaps of backlinks. This was effectively a mad scramble for masses of phony links that would put their rankings higher.
But in 2012 Google realized what was going on and decided to put an end to it.
Their response was to alter the algorithm in what's known as the Penguin update.
Lots of websites who had relied on poor quality backlinks dropped massively in the rankings overnight.
Now, Google looks for different signals to show that the backlinks have been earned.
Good backlinks are:
A. QUALITY
This is incredibly important. When we say quality, we're talking about authoritative sites that people trust and respect.
If one high authority site like Forbes links to you, that's heaps more effective than if lots of non-authoritative sites link to you.
Why?
Because Google knows that's harder to get a link from Forbes than random websites that nobody goes to.
To find out if it is a quality website, Google is looking at domain authority – that is, how authoritative the website is.
You want the backlinks to come from sites that have a high domain authority score (out of 100).
2. RELEVANT
Another thing Google looks at is how related the link is to your site.
You should be aiming for backlinks that are related to your site. For example, if you are selling power drills, it makes sense to have a brand like Bunnings linking to you.
3. NATURAL
Another thing Google is looking for is how many backlinks you're getting over time. It has to be natural – in other words, you shouldn't be paying people to link to your website. It should be earned.
With backlinks that are high quality, authoritative, relevant and earned, your rankings are going to climb.
The reverse is true too.
Bad backlinks can actually damage your site ranking.
What is a bad backlink?
Avoid backlinks from sites with the following:
Extremely low domain authority score
Links from adult sites
History of spamming or malware
Blacklisted by Google
How do you get backlinks?
There are lots of ways to get backlinks. Here are some tried and tested white hat methods:
Strategy 1: Do round-up posts
Email experts in your space, ask them the same question and include them in your round-up posts on a particular topic.
Once the experts participate, write an amazing blog post. Include their name and link to their social media profiles. Then, email them to ask them to share the post on their social network.
This will lead to more sharing, which will lead to your post being noticed and linked to by high quality sites.
Strategy 2: Get into link round-ups.
In the same way you invited experts into your round-up, aim to get your website included in relevant link round-ups.
Use Google to research link roundups in your space. If your post is a good fit for the roundup, email the site owner and you'll get a quality link.
Strategy 3: Broken link-building
This is where you find broken links on other websites and offer your link as a replacement link.
Go to the site you have in mind for a link (remember – you're looking for high authority sites).
Then check for broken links on their site using Check My Links, which is a Google Chrome extension that checks for broken links on any page. The tool will reveal broken links on the page.
Let the site owner know about the broken links, then offer your site as a replacement. Because you're adding value to their site, before asking for something in return, people will be happy to link to you.
Strategy 4: Become a source for reporters and bloggers
One of the most important ways to rise the ranks is to build links from authoritative news sites and blogs in your industry.
Don't worry – it's not as hard as it sounds!
Use a match-making site like SourceBottle or Haro. These services connect bloggers and journalists to people and brands who want links and press mentions.
Say we wanted to be a source for advertising and marketing stories, here are some of the opportunities on SourceBottle:
Granted, this strategy takes patience and work, but it's by far the best way to create quality backlinks at scale.
Recap
Backlinks are a major ranking factor for Google and other search engines. By earning powerful, authority-building backlinks to your site, you can outrank your competition, win more clicks, and get more customers.