What Is Domain Authority? (Plus 9 Tips on How to Improve It)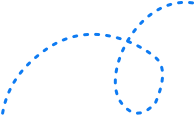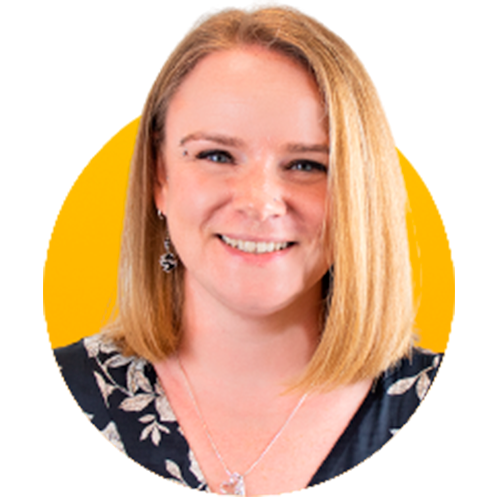 Jules Ward
27 April 2022
10min read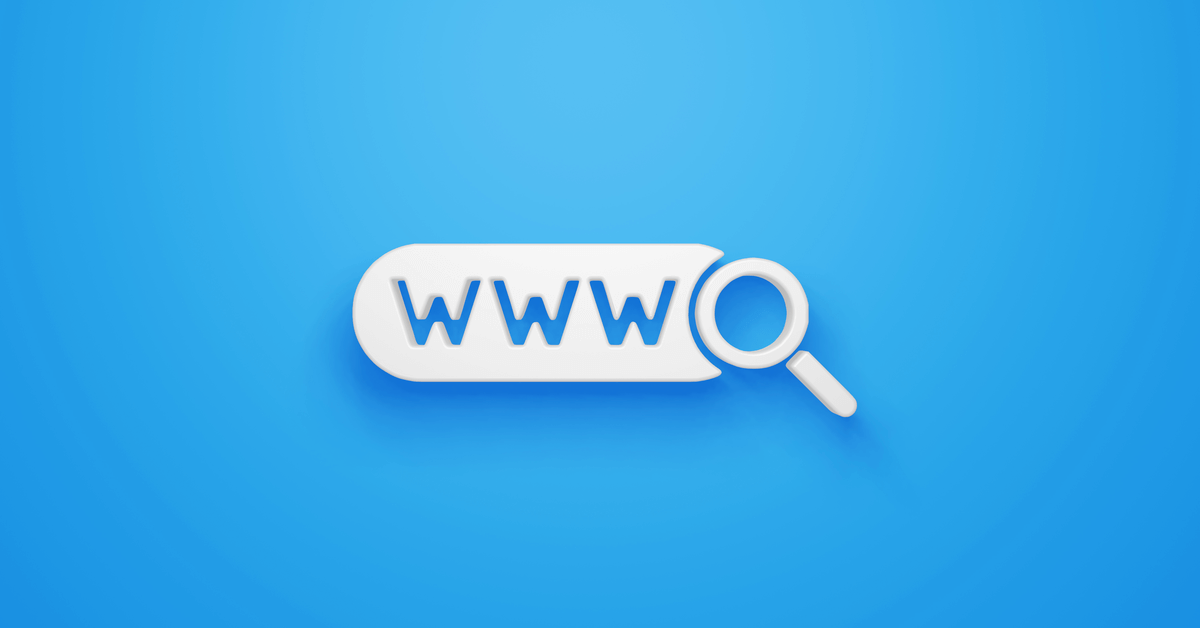 Google has a bit of an authority complex.
Google LOVES websites that are trustworthy and reputable. So much so, that a domain's authoritativeness is one of the main considerations the search engine factors in when deciding which results to put at the top of search results.
So how do you know how authoritative your website is in the eyes of Google?
You have to look at your domain authority.
Domain authority (DA) is one of the ways you can measure how your website stacks up to the competition and how likely it is to rank in Google search results.
But here's the catch.
The domain authority metric you hear everyone talking about online actually isn't a ranking factor — at least, not according to Google.
When people talk about domain authority, what they're actually referring to is a score by SEO metric company Moz.
Moz developed the domain authority score to predict how high a page will rank, based on a number of important factors and ranking signals.
Even if it's not an official Google ranking factor, domain authority is a powerful metric to benchmark your website and track its performance over time.
That's why many SEOs still use domain authority as a tool to measure their digital marketing strategies.
So how do you find your domain authority score, and how do you improve it? In this post, we'll cover everything you need to know to measure your DA, as well as nine tried-and-tested tips to lift your score (and your SEO rankings).
What is Domain Authority?
Domain authority (aka website authority) is a search engine metric developed by Moz to estimate how well a website will rank on search engine result pages (SERPs).
It's calculated using a series of important signals, including the quality of domains pointing to the website, the number of inbound links, ranking keywords, and other proprietary factors. The domain authority score then rates a website on a scale of one to 100, with 100 being the best-rated website.
Since being developed by Moz, other popular SEO tools have followed suit with their own metrics.
SEMrush has an Authority Score, which is calculated from backlinks, referring domains, and search traffic. Ahrefs uses the Domain Rating score, which measures the link popularity of a website based on the number of unique domains pointing back to the website and the authority of those domains.
Why measure Domain Authority?
A high DA influences how well your website can rank highly (and even outrank competitors) on search engines.
Sure, domain authority isn't an official Google ranking factor. But it's still valuable to use as a benchmark for your website. You can see how your site compares to your competitors, as well as track the ranking strength of your website over time.
SEO platform Ahrefs also found a correlation between websites with a high domain rating and keyword rankings: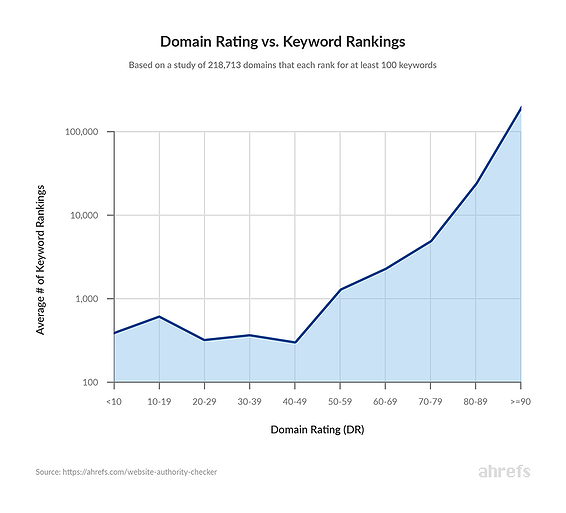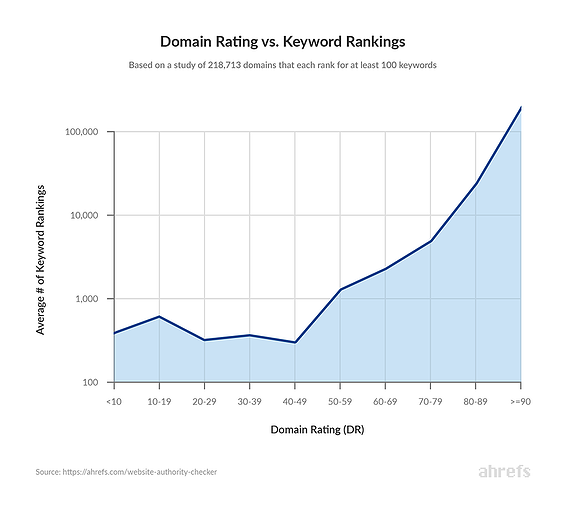 How is Domain Authority calculated?
According to Moz:
Domain Authority is calculated by evaluating multiple factors, including linking root domains and total number of links, into a single DA score. This score can then be used when comparing websites or tracking the "ranking strength" of a website over time.
Domain authority incorporates more than 40 factors in its calculation, but these are the most influential:
Linking root domains: This is the number of backlinks a website has earned from unique domains. For example, if your website has 20 links from the Sydney Morning Herald, that only counts as one linking root domain. Having more linking domains is a valuable part of your website's ranking, as it demonstrates that your website is seen by authoritative by more than one source.
Total number of inbound links: The Domain Authority score also measures the total number of links pointing back to your website from all domains.
MozRank: MozRank is Moz's proprietary algorithm that scores the strength of the external backlinks pointing to your website based on the quality of that website. This means that a website with fewer backlinks but of high quality can score higher than a website with more backlinks of lower quality. MozRank is scored between 0 and 10.
MozTrust: MozTrust measures how closely your website is connected to trusted websites, such as a .edu or .gov website. Like MozRank, MozTrust is scored between 0 and 10.
Social signals: Both Moz and Google use social media signals as a way to gage whether a site has quality content. Social media actions, such as Facebook likes, LinkedIn shares and retweets, go into determining a website's Domain Authority score.
How to check domain authority
Despite all the factors that go into calculating domain authority, finding your own website's DA score is an extremely straightforward process.
All you need to do is hop on to Moz's Link Explorer and type in your URL into the search bar near the top of the page:


Hit "Get free link data" and you'll be prompted to sign up for a free Moz account.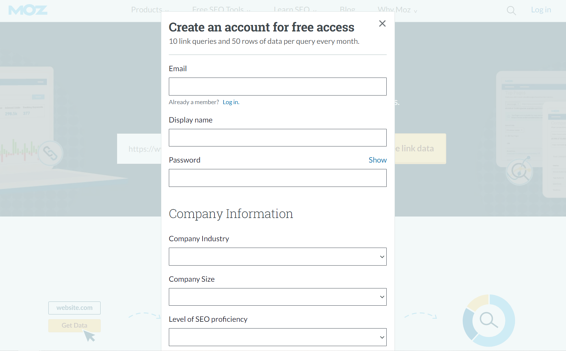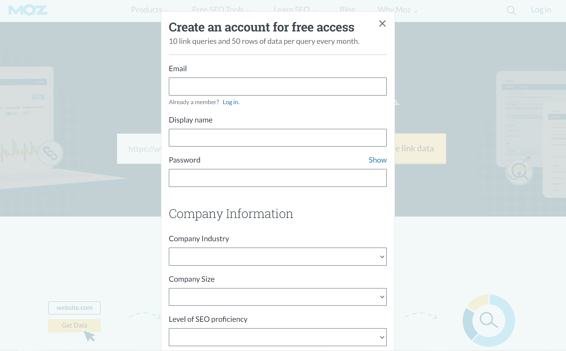 Once you've signed up, Moz will generate your Domain Authority report with an overview of your DA score, linking domains, inbound links, and ranking keywords: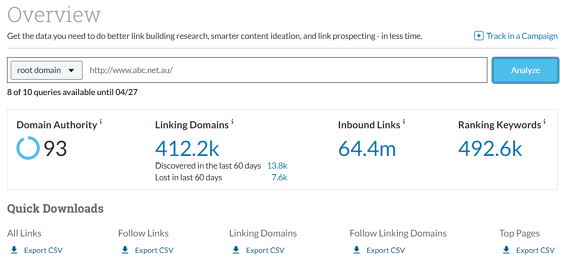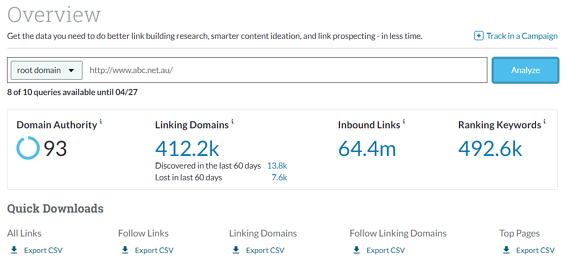 You'll also get a rundown of your total discovered and lost linking domains, domain authority change over time, and top links to your website: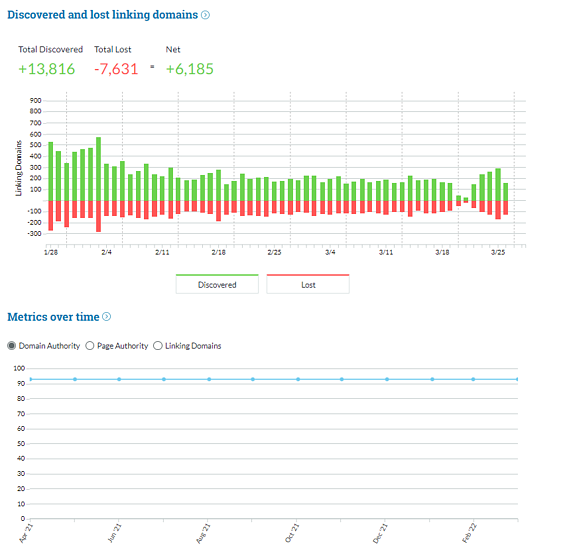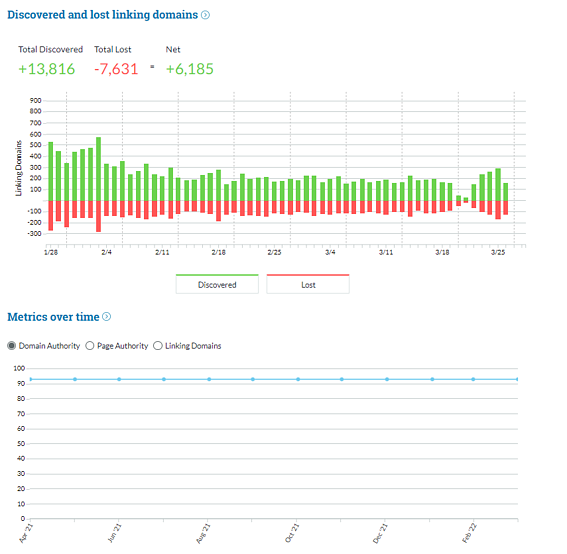 With this data in hand, you'll have a solid understanding of how authoritative your website is and how this metric has changed over time.
Here's the best part: you can analyze any website using this tool. So on top of being able to measure your own website, you can check out your competitors to see how their domain authority stacks up compared to yours.
What is a good domain authority score?
Domain authority is ranked on a 100-point scale, where a higher score corresponds to a greater likelihood of ranking in search engine results.
A domain authority scores range between 40-50 is considered average, while anywhere between 50-60 is pretty good. A score above 60 is excellent.
But this all comes with a caveat, because your DA score is relative.
If you have a DA score of 40 but your competitors are averaging 20-30, then you'll likely outrank your competitors — even with an average DA. Likewise, if your DA is 80 but your competitors have a score of 90+, you'll probably appear below them in SERPs.
Domain authority vs. page authority
Start looking into domain authority, and you'll undoubtedly come across the term "page authority" as well.
Page authority is another metric created by Moz. As the name suggests, domain authority measures how well a site is likely to perform in SERPs, while page authority tracks how likely a page is to rank in SERPs.
Like domain authority, page authority is measured on a 100-point scale and is calculated in the exact same way, only it's at the individual page level rather than the domain level. You can find the page authority for any given web page in the exact same way as domain authority: just hop on to Link Explorer, select "exact page" and input the URL:


How to increase domain authority
We've covered off what domain authority is. Now it's time to get to work to boost domain authority for your website. There are a number of methods you can improve your domain authority, from creating linkable content to becoming an authority within your niche. Below, we take a look at 9 methods you can use to increase your domain authority score — and your rankings in SERPs.
A final word before we get started: when it comes to improving your DA, keep in mind that the Moz score is a logarithmic scale. That means it's much easier to increase your score from 20 to 30 than it is from 80 to 90.
Pick a good domain name
The first part of improving your website domain authority starts before you've even started building backlinks or optimizing your pages. You guessed it — you have to have a relevant domain name.
Select a domain name that's linked to your business. Here at OMG, we've registered the domain name "onlinemarketinggurus.com.au", which is easy for our clients to remember. If your brand name is taken or it's too long to remember, think of something as close as possible: for example, Sydney Morning Herald has simply registered "smh.com.au".
Want to get a head start or planning to open your business down the line? Here's a tip: register your domain name now so it builds up authority as the domain age increases. While you can actively work to improve upon most factors in your score, one thing you can't fake is the length of time a domain has been around. Another option is to purchase a pre-existing domain name so you don't have to wait for it to naturally build up domain authority.
Optimise your on-page content
There are three different types of SEO:
On-page SEO, which involves any actions done ON your web page to improve your rankings. These include internal linking, content marketing, site structure and more.
Off-page SEO, which includes external tactics that are done off your website, like social media marketing and link building.
Technical SEO, which ensures your website can be crawled and indexed by Google's search engine spiders.
On-page SEO is a huge part of domain authority because this is the content that people visit your website for — and the content you'll be ranked on versus other competitors. If you want to build up your domain authority, you need to ensure that your web pages are relevant and well-structured for users and search engines.
Be sure to follow best practices when creating your on-page content to improve your domain authority. This means:
Giving each page a meta title tag, meta description, and image alt tags.
Using H1 headings and H2, H3, and H4 subheadings throughout the page to break up content.
Incorporating your target keyword and related keywords into your copy.
Adding schema markup to explain your content to Google in a format that it can quickly understand.
Choosing a website design and font that's easy to read.
For more on-page content optimisation tips, check out our guide on SEO without the jargon.
Create linkable content
Authoritative websites get linked to by other websites. That's why increasing the number of high-quality links to your website is one of the most effective — if not THE most effective — ways to boost your domain authority score.
Spend time crafting valuable content that other sites want to link back to. This could be an informative blog post to original research. For example, Backlinko's article on Google Ranking Factors earned a whopping 21,600 backlinks from 7,200 domains simply because it's been referenced and shared by different sites:


You don't need to write an essay either. Statistics round-ups, 'best of' lists and other guides are all great linkable content ideas that don't require months of research to put together.
Improve your internal linking structure
Internal links serve three important functions on your website.
First, they help users navigate through your content to find relevant information.
Internal links also spread link juice throughout your pages. This means that any value from inbound links gets distributed across your website and boosts your overall domain authority, not just your page authority.
Lastly, they allow Google's crawlers to follow the links and discover all the different pages of your website, like threads on a spiderweb.
Add internal links wherever it makes sense on your website. You might put hyperlinks on one blog to other relevant blog posts, or add a "You might also like…" section at the bottom of a page.
Remove bad and toxic links
Not all backlinks are good. Some backlinks are spammy or dodgy, or may come from low-quality websites. When left unchecked, these links hurt your website's domain authority — and in the worst cases, even get you penalised by Google.
Conduct regular audits of your website to identify bad and toxic backlinks using SEMrush's Backlink Audit tool or Ahrefs' Site Explorer. Once you find these, you can either contact the webmaster to request that the link gets removed or submit a disavow request to Google.
Make sure that your website is mobile-friendly 
Approximately half of the world's website traffic comes from mobile devices. If you want to increase your domain authority score, you have to optimize your website for the small screen as well as the big screen.
Start by running Google's Mobile-Friendly Test to see how your website stacks up, then use these findings to improve your website's mobile-friendliness.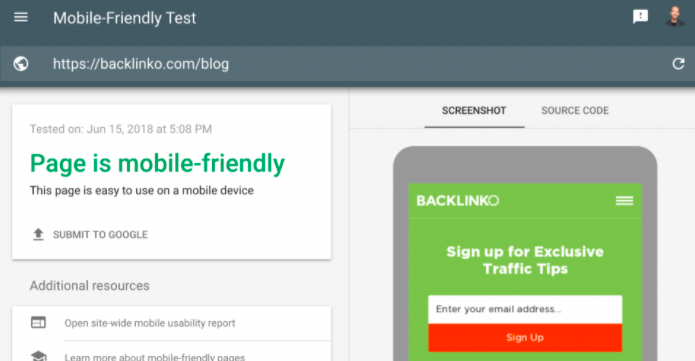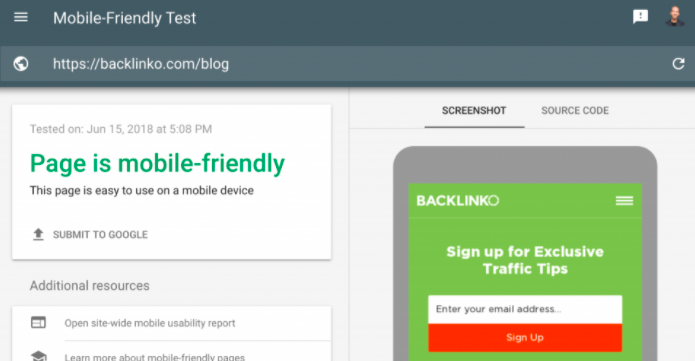 When you're developing new content, it also pays to keep these mobile SEO best practices in mind.
Become an authority within your niche
Google prioritizes content with high E-A-T, which stands for Expertise, Authoritativeness and Trustworthiness. When you boost your reputation as an authority within your industry, you'll improve your MozTrust score — and your domain authority alongside it.
Build up your influence within the industry by publishing relevant content, guest blogging on other industry websites, and by actively contributing to industry discussions on social media platforms like LinkedIn or Twitter. For more on improving your E-A-T, check out these tactics for greater authority and search visibility.
Increase the loading speed of your webpages
Load times are a crucial part of your website's domain authority, especially since Google introduced Core Web Vitals as a ranking signal in 2021. A page that takes longer to load has a higher bounce rate, which is a sign of a poor user experience or content isn't relevant to users.
You can check your site speed using Google PageSpeed Insights, then follow the recommendations under the "Opportunities" and "Diagnostics" section to improve your load times.
Promote your content via social media
If you want to boost your backlink profile, you have to get social.
Social ranking signals are one of the main factors that go into calculating a website's domain authority score. Boost your content's visibility and engagement online by sharing it via all of your owned social media channels, and encourage users to comment on your social media post and in the comments section.
Don't take up 100% of the the responsibility yourself either: add social share buttons to every blog post so your followers can help spread the word as well.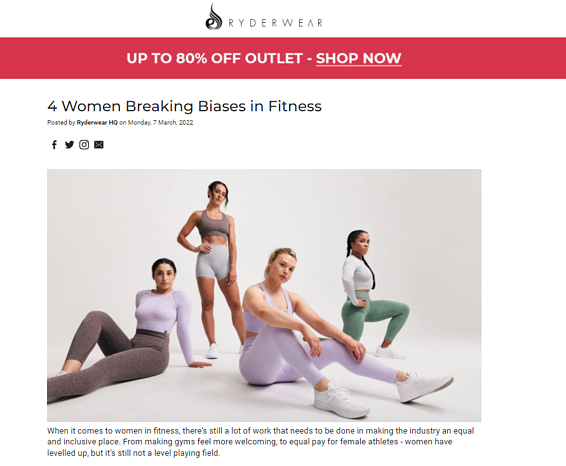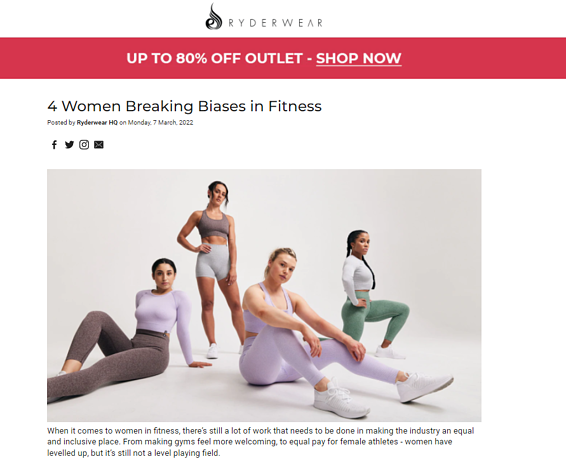 Take your website to the top
With the right on-page optimisations, a high-performing website and a solid link building strategy, you should see your domain authority score improve over time.
But boosting your domain authority scores is just the start of it. To rise through the ranks of SERPs, you need to have an airtight SEO game plan that involves extensive keyword research, quality content marketing, and targeted local SEO.
That's where we can help. Our SEO gurus understand exactly how to optimize your website to rank on top for the keywords that matter to your business. Contact us today to get the revenue-shifting results you deserve from search engine optimisation.