What Is SEO? Search Engine Optimisation Without The Jargon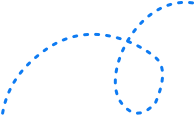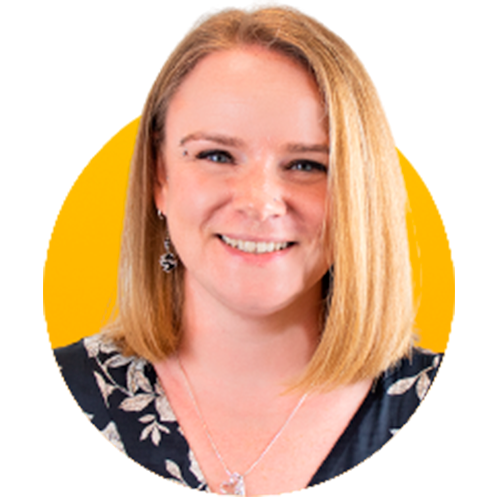 Jules Ward
15 December 2021
33min read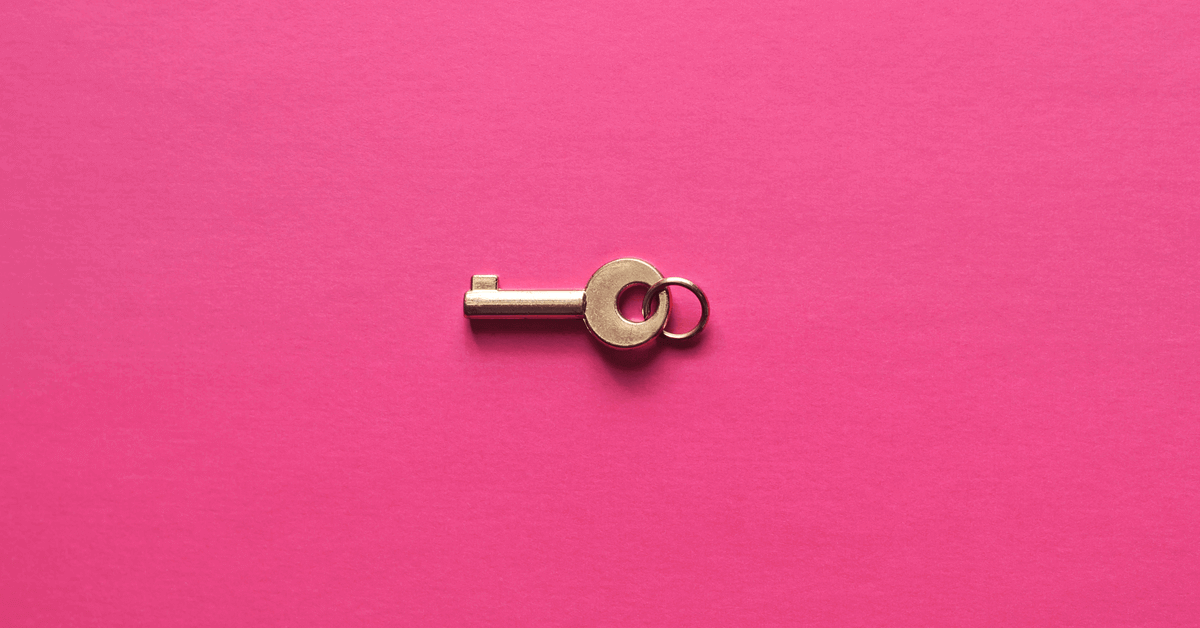 In 2022, it's not enough just to have a website for your business.
Every brand under the sun has a website (including your competitors). If you want to truly reach your customers and bring in more revenue, you need to have a complete online presence.
And that presence? It starts with search engine optimisation (SEO).
SEO is one of THE most effective methods to grow your business online. Consider this: organic search accounts for a massive 95% of all web traffic. If you want a share of that organic traffic going to your site, you need to rank at the top of search.
Here's the challenge: unlike other digital marketing platforms that are pay-to-play, organic search traffic has to be earned. You need to provide value through high-quality content, deliver a standout user experience for visitors, and ensure that your website's technical elements are 100% sound.
Then, and only then will you earn your place in the first position of search — and the 34% clickthrough rate that comes with it.
In this guide, you'll discover everything you need to know to rank higher in search engine results pages (SERPs).
But before we delve deeper, we need to start with the basics: what is search engine optimisation and how does it work?
What is SEO?
SEO stands for search engine optimisation, which is the process of optimizing your website to appear higher in organic search results. And trust us — if you're looking to grow your business in 2022, this is absolutely something that you want to do.
Why?
There are more than 6.5 billion searches made around the world every single day. Of those 6.5 billion searches, 75% of users never go past the first page of SERPs. If your website isn't showing up on page 1, you're not reaching 75% of your potential customers.
On top of that, organic search traffic is completely free. With SEO (search engine optimisation), you'll bring in a steady stream of people to your website who are looking for your products or services every month while also getting more out of your marketing budget.
For any business looking to build visibility and increase ROI, appearing on the first page of search is a no-brainer.
So how do you get your business on page 1?
You need to convince Google, Bing, or any other search engine that your website is the best answer for a person's query. This is done through a mix of on-site SEO, off-site SEO, technical SEO and local SEO (if you have a physical shopfront).
Breaking down the different types of SEO
SEO is an umbrella term for all of the tactics used to help a website appear higher in SERPs. However, within SEO, there are a number of factors you need to consider, from on-page elements to link building and technical search engine optimisation.
All of these categories need to be considered as part of a holistic SEO strategy if you want to improve your web page's ranking in organic search results.
On-page SEO
On-page SEO refers to tactics that are done ON your web pages to improve your rankings. Think of this as any ranking factors that you can control, such as your site structure, design or content.
Some of the ranking factors that form part of your on-page SEO efforts include:
Site speed to ensure your web pages load quickly for users, which is a major ranking signal for Google and other search engines.
Mobile-friendliness of your website design and content for searchers browsing on smartphones and tablets
Content marketing, such as developing blog posts, articles, videos and downloadable guides to provide value to your audience
Optimising your page structure for users and search engines by using meta tags, headings and sub-headings, relevant keywords, images, alt tags and more
Schema markup to explain your content to Google in a format that it can quickly digest and understand
Site structure and internal linking to make your website easy for visitors to navigate
Off-page SEO
As you've probably guessed, off-page SEO covers all of the actions that happen off your website — such as on third-party sites or social media platforms. With this category, you have the ability to influence your ranking via link building on other people's web pages or optimizing your business' social media page, but you don't have direct control over the website.
Off-page factors comprise of:
Inbound links from trusted and authoritative websites. With link building, it's not about more links – it's about quality links. The goal is to reach out to the right sources (i.e. reputable and relevant sites) and offer genuine value in exchange for a link.
Social media marketing and influencer marketing across relevant channels like Facebook, Instagram, or LinkedIn. The more buzz you get, the more likely it is that Google will see your content as useful and appreciated by your audience.
Domain authority, which measures the authoritativeness of a website in its industry based on backlinks, content marketing, unlinked brand mentions, age of the domain, and more.
Technical SEO
This type of SEO technically falls under the domain of on-page SEO because it refers to ranking factors on your website that you can control. However, unlike on-page SEO, which is more about content and user experience, technical SEO gets down to the nitty-gritty of your website's code.
The goal with technical SEO is to ensure that your site is set up in a way that's accessible to search engines. This includes elements like:
Crawlability. This refers to the ability of search engine bots to access and read your website content. If your website can't be crawled, it won't be eligible to appear in SERPs.
Indexability. After a bot has crawled your page, it needs to be able to add your content to a central index. This index is what search engines use to determine what content to display in SERPs.
Accessibility by bots and users. This covers elements like server performance, HTTP status, page depth, orphan pages, site security, and more.
Local SEO
If you have a physical shopfront, then local SEO needs to be part of your broader digital marketing game plan.
72% of people who conduct a local search will eventually head into a bricks-and-mortar store as a result of that search. Local SEO connects your business with customers nearby who are looking for your products or services.
With local SEO, you build up your offline presence online using tactics like:
Claiming and optimizing your Google My Business account. Google My Business is your gateway to appearing in relevant local searches and for web searches conducted in Google Maps.
Make sure there are consistent citations for your business online. This includes ensuring that your address, phone number and business name are the same on your different social media channels, and that you're listed in key business directories, such as Yelp, TripAdvisor, or the Yellow Pages.
Creating content to build up your brand's position as a local authority in your niche or industry.
Link building with a focus on authoritative local publications, influencer platforms, community websites, and more.
Black Hat vs. White Hat SEO
At some point or another, you're probably going to come across the terms "black hat SEO" and "white hat SEO".
Although both share the same goal of improving your ranking on Google, they take very different paths to get there — and one of them (black hat SEO) could significantly hurt your website's performance.
Black hat SEO refers to aggressive or manipulative practices that are designed to game a site's rank in search engines. These pages are made purely to rank in search engines without factoring in the human audience, and include unethical or shady tactics like:
Stuffing a page or article with keywords
Hidden text or hidden external/internal links
Cloaking (i.e. presenting one page to search engines and another to users)
Doorway pages that are only made to rank for keywords
Negative SEO to try and hurt a competitor's rankings
Using link building exchange schemes or link networks
Poor quality content, such as a blog post that offers little value to audiences
Comment spam from website owners or bots
Black hat SEO go against a search engine's guidelines, such as the Google Webmaster Guidelines. Websites found to be violating these guidelines get issued a manual penalty from Google, and will either end up being demoted to a lower position in search OR shot out of search results altogether.
On the other hand, white hat SEO exclusively uses practices that comply with search engine guidelines in order to improve a site's ranking in SERPs. These pages deliver experiences that users AND search engines love through tactics like:
Creating high-quality content that's well-researched and solves a user's problem
Designing a snappy, mobile-friendly website that loads quickly on all devices
Making your website easy to navigate with a clear site architecture
Effective use of structured data and keyword-rich meta tags
Building natural external links back to your page from other websites, with a focus on established and authoritative sites
Black hat methods used to be more common in the early days of SEO, when search algorithms weren't as sophisticated. Since then, Google has rolled out several updates specifically designed to discourage site owners from using these tactics as they provide little to no value for searchers.
Bottom line: if you want to get to the top and stay there, steer clear of black hat SEO. These tactics might offer some short-term gains but in the long run will cost you dearly in terms of Google rankings and revenue — and some websites never recover.
4 of the most common search engines
Google


When we talk about major search engines, we have to start with Google. Google holds a massive 70% share of the global search market and accounts for 85% of ALL mobile traffic. This search engine by far has the largest organic traffic potential for marketers but alongside it, you also get the highest level of competition.
Another challenge? Google also regularly rolls out updates to its algorithm, from smaller core updates to major changes like Penguin and Panda. If you want to rank on Google, you need to understand how the algorithm works, and how it got to where it did today.
Here are the eight major updates that you'll commonly see when talking about Google search:
Panda (24 Feb 2011). One of Google's largest early updates, Panda was designed to weed out black hat SEO tactics like duplicate, plagiarised or thin content; user-generated spam; and keyword stuffing. Panda assigned a "quality score" to web pages, which is still being used today as a ranking factor for websites.
Penguin (24 April 2012). Just over a year after Panda, Google rolled out a second major update that tackled the second major black hat SEO tactics: unnatural backlinks. Penguin downranked sites with spammy or irrelevant links, as well as sites that build links using over-optimised anchor text.
Hummingbird (22 August 2013). Hummingbird made it easier for Google to interpret search queries based on natural language processing and semantic SEO. After this update, keywords became less important to SEO, as the search engine became better at interpreting the concepts behind a search query and serving up the most relevant results for the user's search intent, even if it didn't contain those exact keywords.
Mobile (21 April 2015). More than 7 years after the official iPhone was announced, Google rolled out it's mobile-friendly update (AKA Mobilegeddon). The mobile update was designed in response to growing search trends on mobile devices, and shifted the focus to how user friendly websites were on mobile — NOT desktop.
RankBrain (26 October 2015). RankBrain was rolled out as part of Hummingbird, and has now grown to be the third most important ranking formula in Google's algorithm. RankBrain further helps Google customise search results based on a person's search intent, synonyms, implied words and personal search history, while also weeding out websites with shallow content and poor UX.
Medic (4 May 2018). As the name suggests, Google's Medic update disproportionately affected medical websites and other sites that focused on Your Money or Your Life (YMYL) topics. With Medic, Google began factoring in a website and author's expertise, authority and trustworthiness (E-A-T) as part of its ranking signals.
Bert (22 October 2019). A culmination of the efforts from Panda, Hummingbird, RankBrain, Bert evolved Google's algorithm to better understand nuance both in queries and search results. After Bert, pages with poorly written or researched content were downranked in favor of relevant, well-written in-depth articles.
Core Updates (2017 – present). Alongside major changes, Google also rolls out regular core updates throughout the year. These updates might be minor improvements to the algorithm bundled together, or improvements upon already existing updates like Bert. While SEOs don't get any warning ahead of time, you can find the latest updates on websites such as Moz.
Bing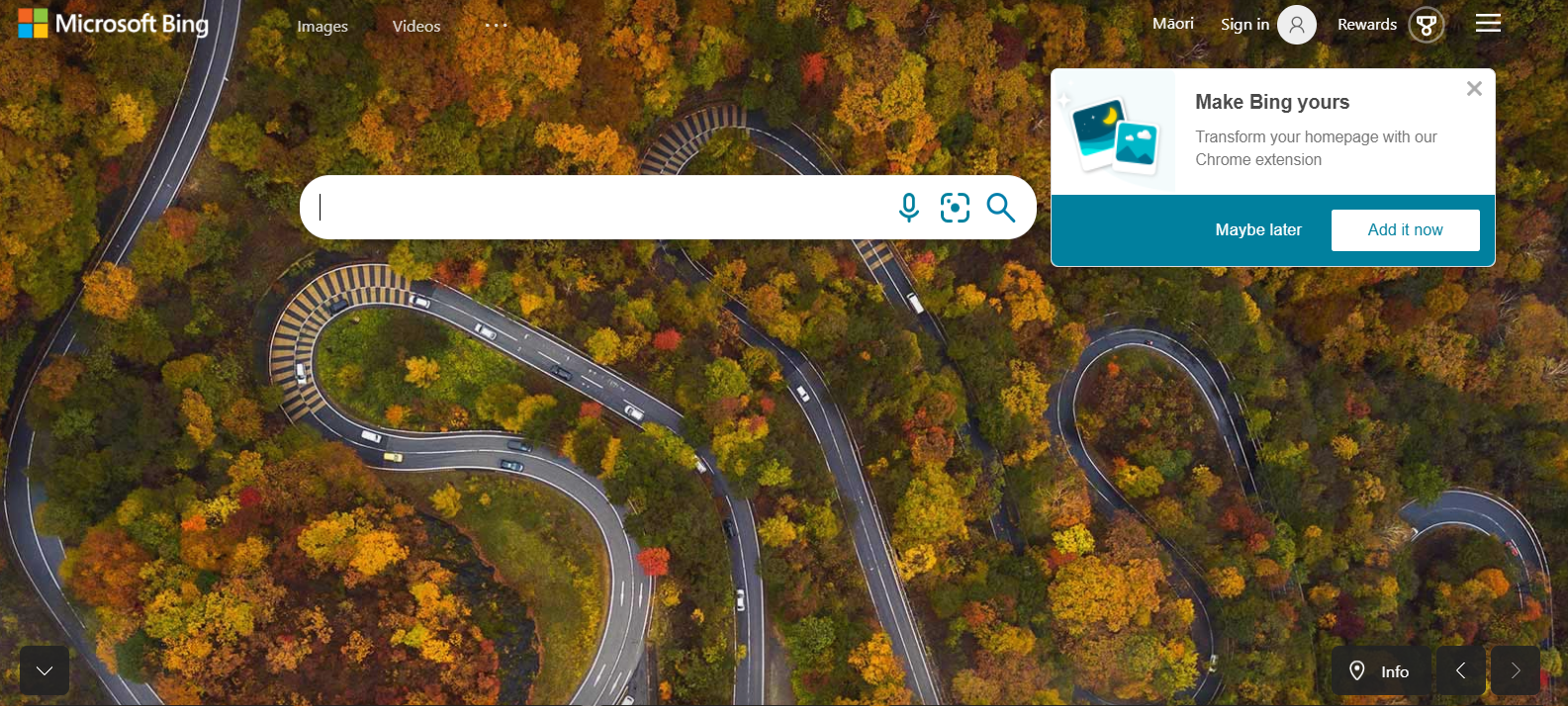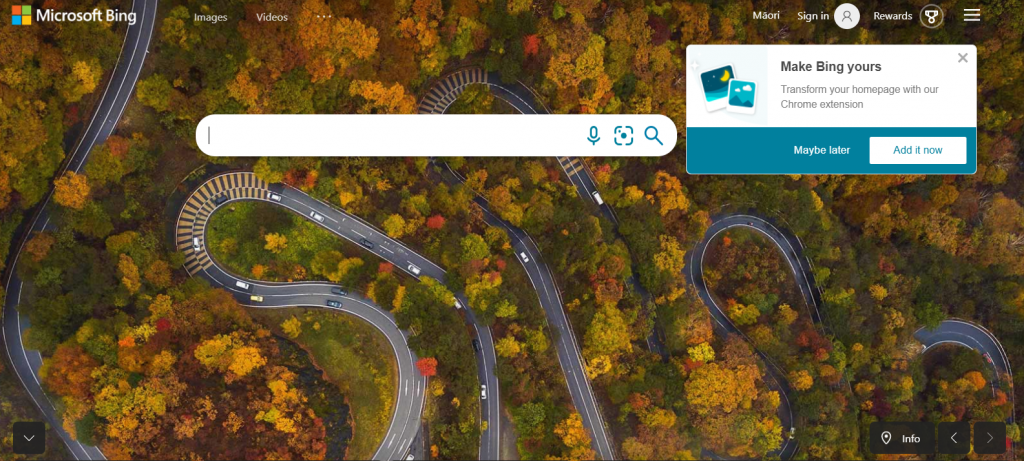 Many marketers focus their SEO efforts solely on Google, and rightly so — after all, it is the world's biggest search engine. But in the process, they forget about the world's second largest search engine: Bing.
Bing is Microsoft's official search engine and accounts for 33% of web searches in the U.S. On top of driving organic traffic, Bing also powers other search engines like Yahoo, making it even bigger with its extended reach.
DuckDuckGo


DuckDuckGo is a relative newcomer in the game, having only launched in 2008. Unlike other search engines, DuckDuckGo focuses on user privacy first and foremost. The search engine doesn't store any data about its users. Instead, it pulls its search results from 400+ other sources, including Bing and Wikipedia.
Despite launching later than the other search engines out there, DuckDuckGo is growing FAST. The search engine hit 100 million searches per day at the beginning of 2021, and its mobile app has even overtaken Bing and Yahoo in mobile search market share.
Yahoo Search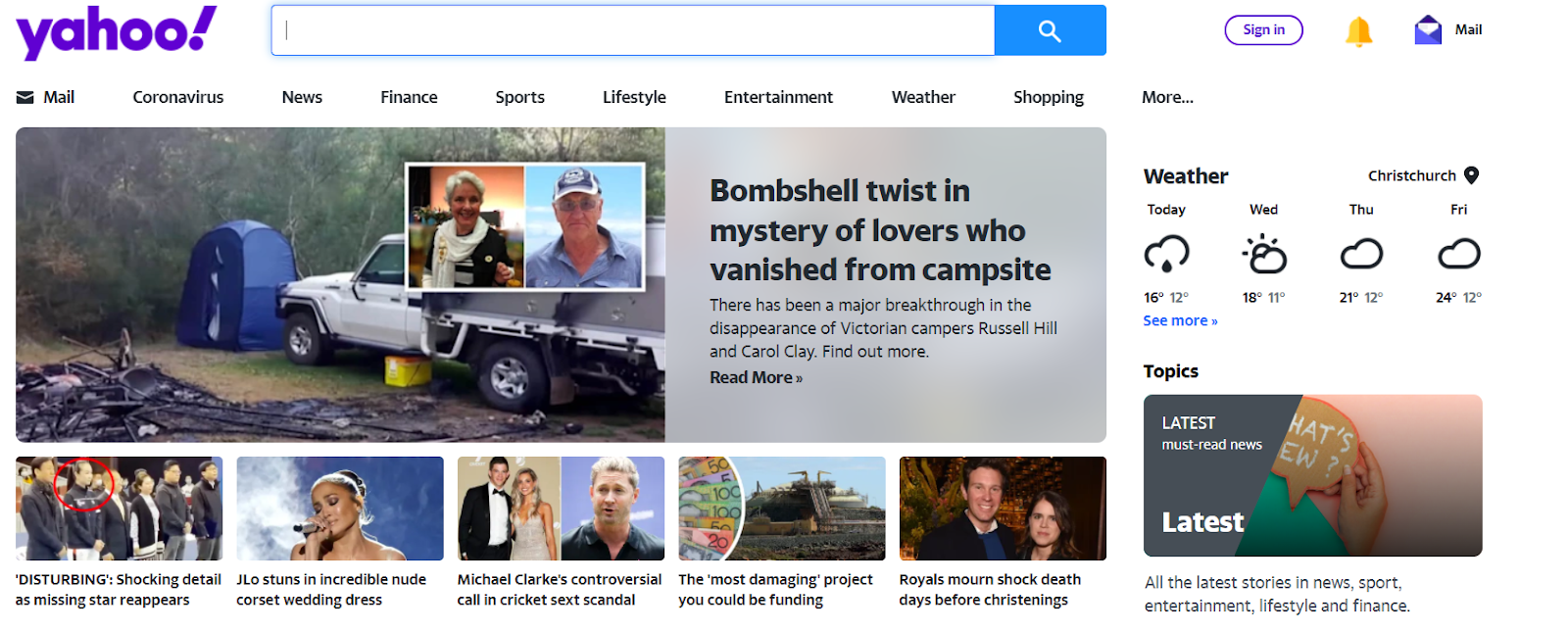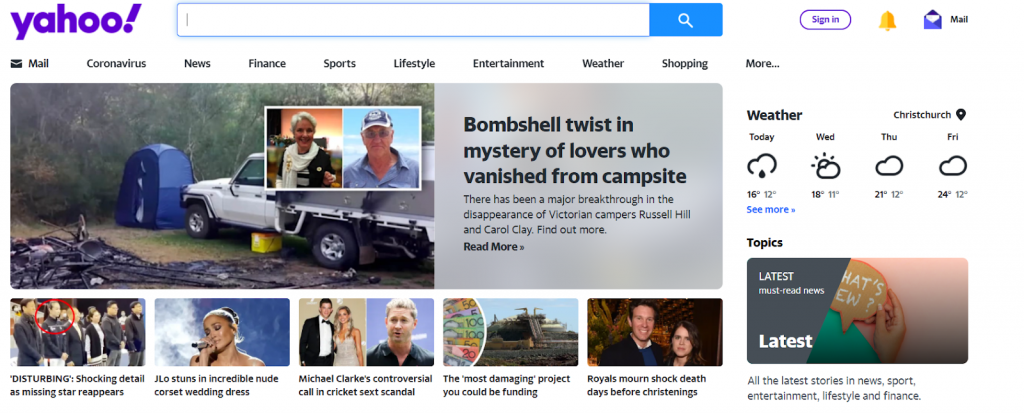 Despite Yahoo's somewhat dated design, the search engine still accounts for 3% of the global search market. While this might not sound like a lot, this represents MILLIONS of users around the world. The good thing about Yahoo Search is that it uses Bing, so the search results are fairly similar. If your website ranks well on Bing, chances are it'll rank well on Yahoo as well.
How do search engines work?
We've looked at the different types of SEO and the most popular search engines out there today. But if you're serious about driving organic traffic from any search engine, you need to know how search engines rank websites.
For the purposes of this guide, we'll use Google as our main search engine. However, the way Google works is similar to Bing and Yahoo, so it's a good foundation to use for understanding how these platforms work.
Crawling and indexing the web
When a user types a keyword into a search engine like Google, that search engine scans an index of hundreds of billion pages on the web in order to determine the best results to display, based on the problem they're looking to solve.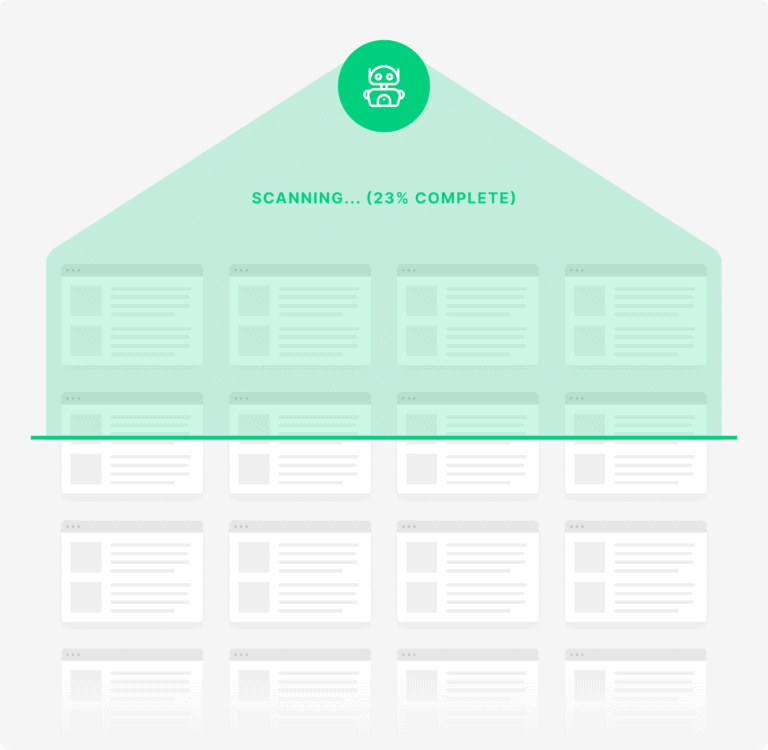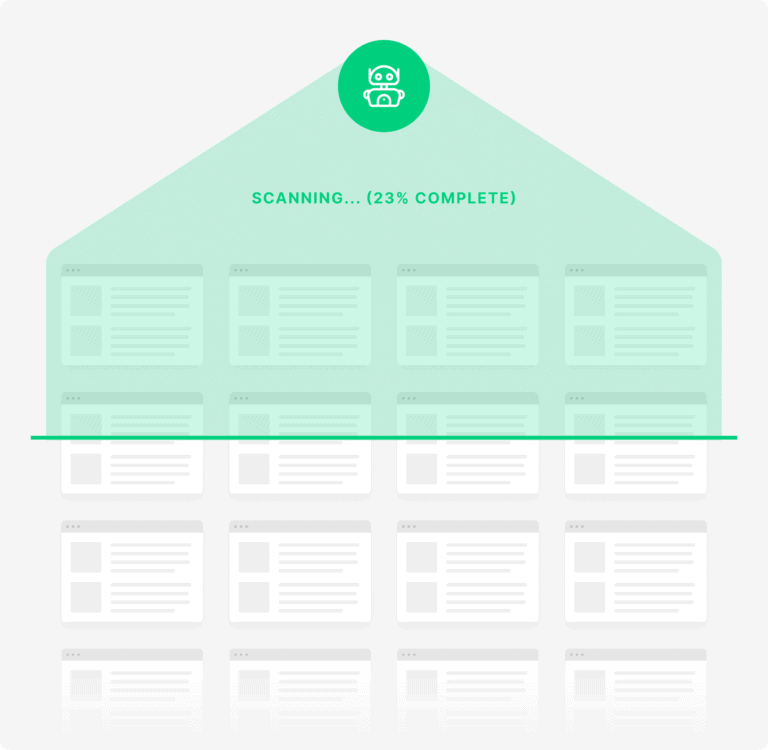 The pages contained in this index comes from Google 'crawling' the internet. This process starts with Google sending out spiders (AKA bots) to scan billions of known URLs on the internet. Each spider follows links on these websites to discover other pages, like threads on a web. After each page has been crawled, Google then analyzes the text and non-text elements to understand what the page is about, before adding this information into its index.
Tip: you can check how many of your pages have been crawled and indexed in Google Search Console. Google Search Console has a ton of information to help you improve your website's SEO, from ensuring your content is well-optimised to understanding how Google sees your website.
Ranking factors for websites
Google determines the best results to show a user based on complex search engine algorithms with over 200 ranking signals. While Google doesn't make the exact details of its algorithm public, these can be broadly grouped into three categories: relevancy, authority, and usefulness.
Relevancy
This is probably the most basic, yet most important component of Google's search algorithm.
If a person searches for "buy black dresses online", the last thing they want is to be presented with a list of results showing cat towers or truck tires. That's why Google's goal is to provide users with results that are closely related to their query.
Using keywords, natural language processing, and semantic search, Google is able to scan all of the content in its index and find pages with content that's related to the user's search query. After this, it uses other ranking signals like authority and usefulness to determine which websites should come out on top.
Authority
If you're looking for financial advice, where would you rather go: a website that's been quoted by multiple media publications and has a contributor network of respected economists, or a finance website run by your next-door neighbour?
Authority and expertise matter, particularly when it comes to the world wide web — which is why Google uses this as a core ranking signal in its search engine algorithm. To determine this, Google looks at the number of pages linking back to that page: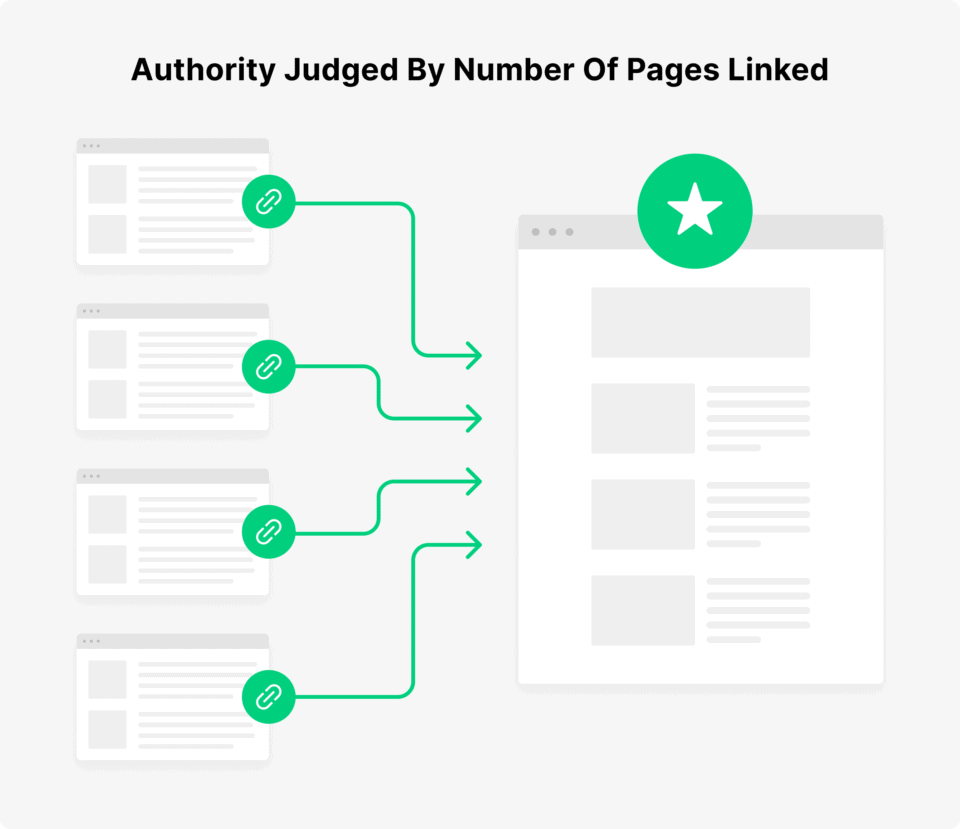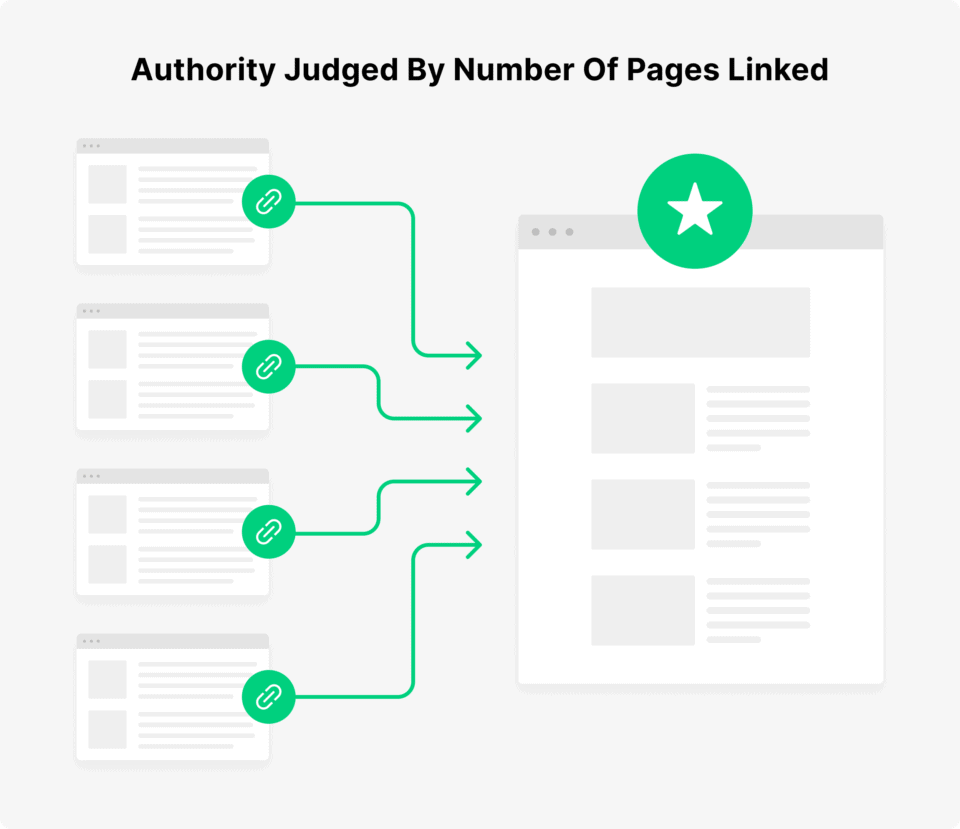 As a page accumulates more backlinks, Google will start to see it as an authoritative source of information. However, keep in mind that quality matters much more than quantity: a website with links from .gov or .org websites is going to have a better chance of ranking than a site with links from unknown websites.
Usefulness
It's not enough for a website to be authoritative and contain information that seems to match a user's search query. Google wants to present useful pages at the top of search results. In other words, it wants content that ACTUALLY solves a user's problem.
Believe it or not, high quality content doesn't necessarily equal useful content — at least, not in Google's eyes. If a page is well-researched but delivers a poor user experience and the content is hard to follow, this information is going to be largely useless to the reader even if it's jam-packed with information.
Google measures usefulness based on how users interact with web pages. If people spend a lot of time on the website or click through to one search result over another, Google will give that page a ranking in SERPs. You can also find this information in the Behaviour section of Google Analytics.
Organic vs. paid results
We can't talk about SEO without talking about the other side of the coin: pay-per-click, or PPC, results.
Paid search results appear above organic results. However, unlike organic results, PPC rankings are largely determined based on how much companies are willing to pay per click. If you pay more, you'll have a higher chance of making it to the top.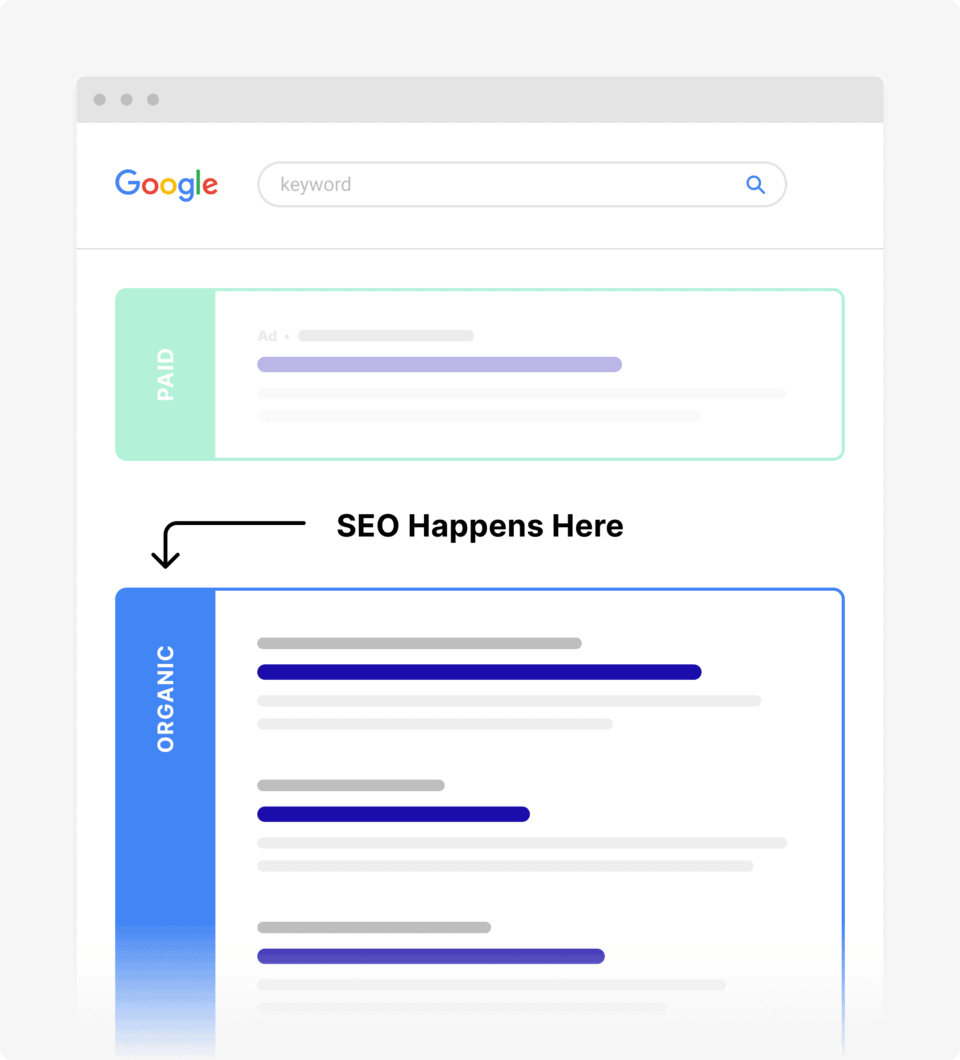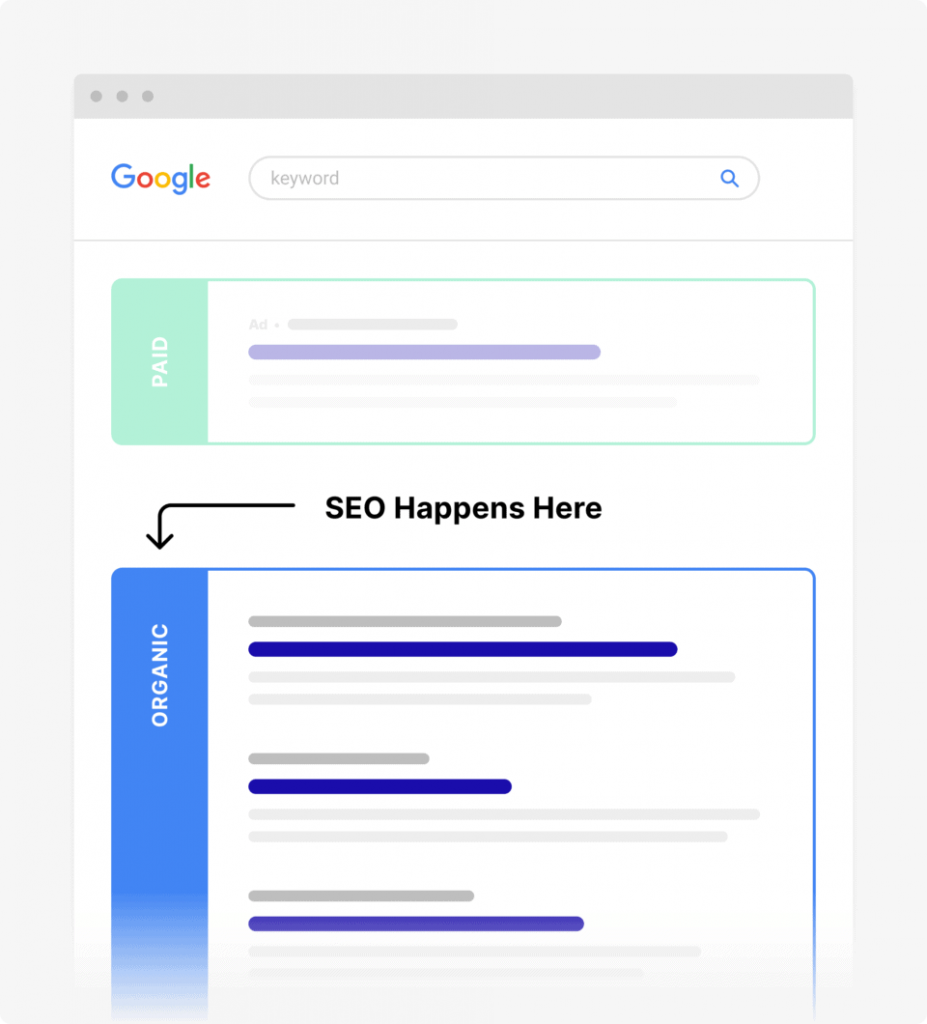 While paid results DO technically appear at the top of SERPs, organic results offer higher quality and value for searchers. As a result, between 70 to 80% of searchers completely ignore paid search results and only click on organic listings. PPC is also more expensive and has a lower ROI compared to SEO, due to the higher quality search engine traffic:


HTML for SEO: the basics you need to know
Hopefully by now, we've hammered home the point: SEO is important for ANY website. In these next sections, we'll cover off tangible actions you can take to improve your ranking in organic search results — and bring more customers to your website.
But before you can step up your SEO strategy, you need to have the right foundations in place. That means ensuring that your HTML includes all of the information Google needs to figure out what your content is about.
Here are six elements that all the pages on your website should have.
Title Tags
Your title tag appears in organic SERPs, and can significantly affect your content's click-through rate from websites like Google. This tag is limited to 60 characters, and should include your target keyword and an enticing description that makes users want to click:
Meta Description
In addition to your title tag, Google also displays a short snippet (<160 characters) in search results that outlines what your content is about. Like your title tag, this is an important place to mention your target keywords and pique a user's interest so they click through to learn more.
If you don't specify your title tag and meta description, Google will make one up for you — which can dramatically impact your rankings and CTR from organic search results.
Schema mark-up
Schema mark-up is a form of structured data that makes it easier for a search engine to understand what your content is about. Adding schema to your pages can also influence how your website is displayed in SERPs — for example, Google might add a price to your products in search results, or display a star rating underneath your URL.
There are literally hundreds of schemas out there designed for different industries, products and websites. Luckily, all of this vocabulary can be found on schema.org — making it easy to select and mark up your content with the most relevant schemas for your business.
Headings and subheadings
Heading tags, such as H1, H2 and H3, tell Google what different sections of your content are about. By using heading tags, you make it easier for Google to understand the various topics you cover on each page and the hierarchy of these topics. They also break up your content into digestible chunks for readers so it's more useful and easy to understand.
Your H1 tag should contain your primary target keyword, while your H2, H3 and H4 tags can contain secondary keywords. Adding keywords in headings will also help your site rank for featured snippets, like so: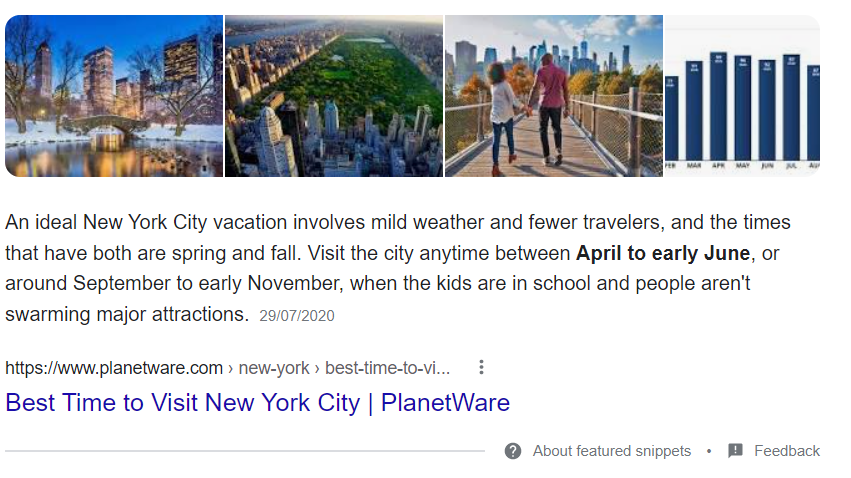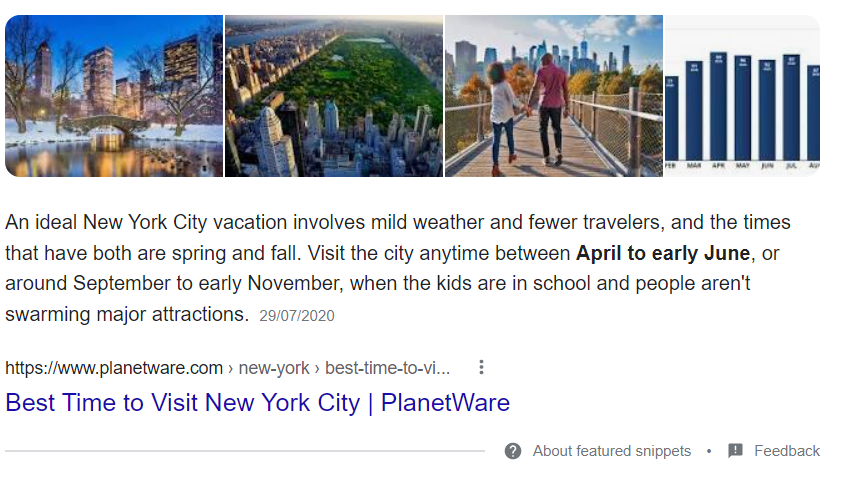 Alt Text
All images on your website should contain alt text. This is a tag that tells Google what's featured in your image, so it can describe it to people who are visually impaired. Users can also view alt text by hovering over an image.
In addition to making your website more accessible, alt text increases your chances of ranking in Google Image Search. Use your alt text to describe what your image is about, and keep it simple and to the point.
URL Slug
A URL slug is the part of your URL that outlines the key topic that your page covers. This shows up in SERPs above the title tag, like so:


Your URL slug should be short and include your target keyword. Without this, your URL might end up as something like www.example.com/p=1012983, which won't do much to help your SEO.
3 tips for HTML:
Use tools to help. SEO platforms like Ahrefs or SEMRush will tell you if a page is missing meta data or if there are any SEO issues that need to be addressed.
Don't stuff keywords into your content, title tags, meta descriptions, or your headings. This is a black hat tactic and leaves your website at risk of getting penalised by Google.
Remember to include H2, H3, H4 headers. While your H1 tag is the most important on your page, you also should break up your content with subheadings. These tags give Google more clarity on the topics you cover throughout your page and improve the overall user experience.
Conducting keyword research
Keyword research is another must-have component in any solid search engine marketing strategy. With keyword research, you'll be able to drill down exactly what your customers are searching for. Once you know this, you can create content that answers their search queries and rank higher in SERPs.
Short and long-tail keywords
A holistic SEO strategy includes a mix of short and long-tail keywords.
Short-tail keywords are search phrases that contain only a couple of words, such as "buy shoes" or "flowers sydney". These keywords have a higher search volume but are less specific — plus, they're the most competitive.
On the other hand, long-tail keywords are more like sentences, like "what are the best ethical clothing brands" or "top rated dog-friendly cafes in wollongong". These comprise of a massive 70% of all searches, according to Moz's search demand curve: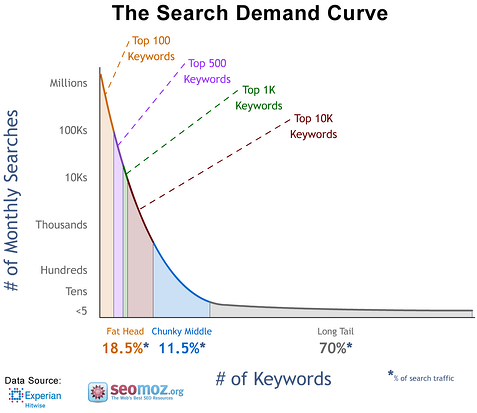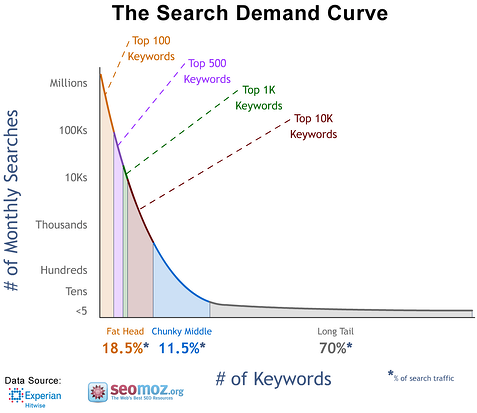 What's more, long-tail keywords are far easier to rank for because there's less competition AND they're more specific, which means you'll have a greater chance of adding value to your target audience.
The best thing to do with your SEO strategy is to rank for long-tail keywords in the short- and mid-term, while building up your authority and expertise for short-tail keywords in the long-term.
Use keyword research tools
We get it — keyword research can feel daunting. Where do you even start, and how do you know which phrases to focus on? Luckily, there are plenty of SEO tools designed to help businesses with exactly that.
Tools like Ahrefs Keywords Explorer, Ubersuggest and SEMRush's Keyword Magic Tool are all great options if you want to uncover what your audience is searching for and how they're searching.
All you need to do is pop in a seed keyword or topic and these tools will give you an overview of that query (including data on search volume and competition) and recommend similar keyword ideas: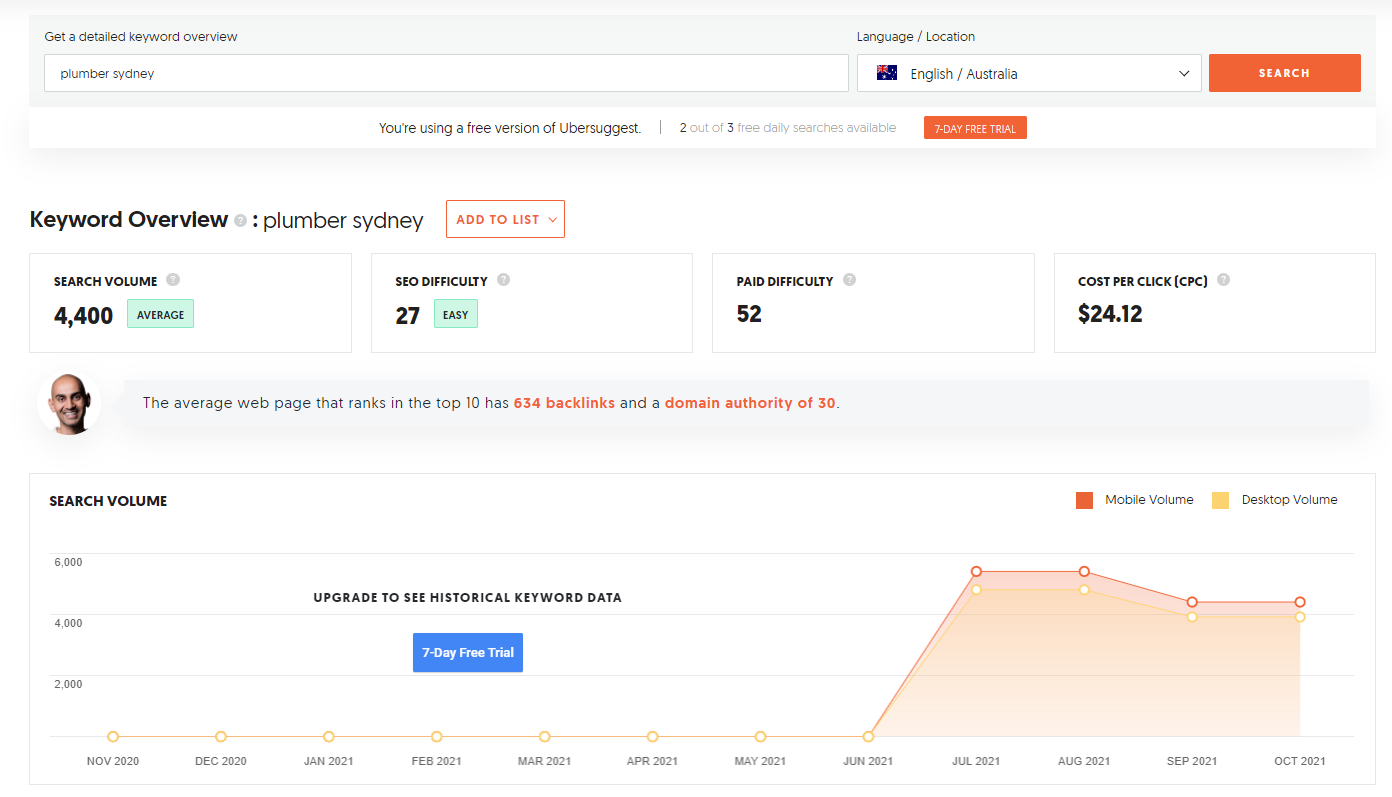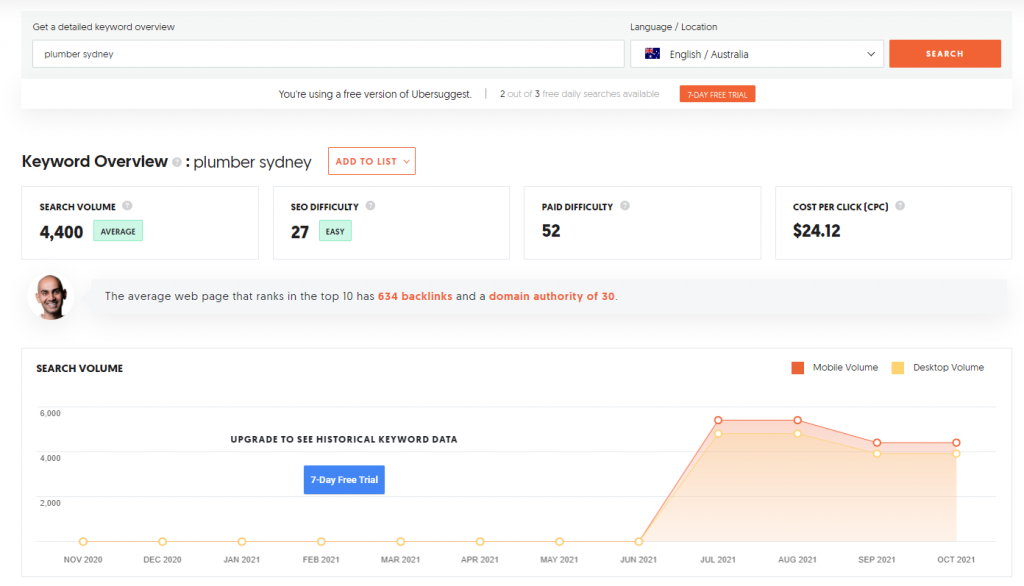 Search intent: what is it and how can you use it?
Search intent is another concept you NEED to get familiar with if you want to succeed in SEO.
There are four types of search intent: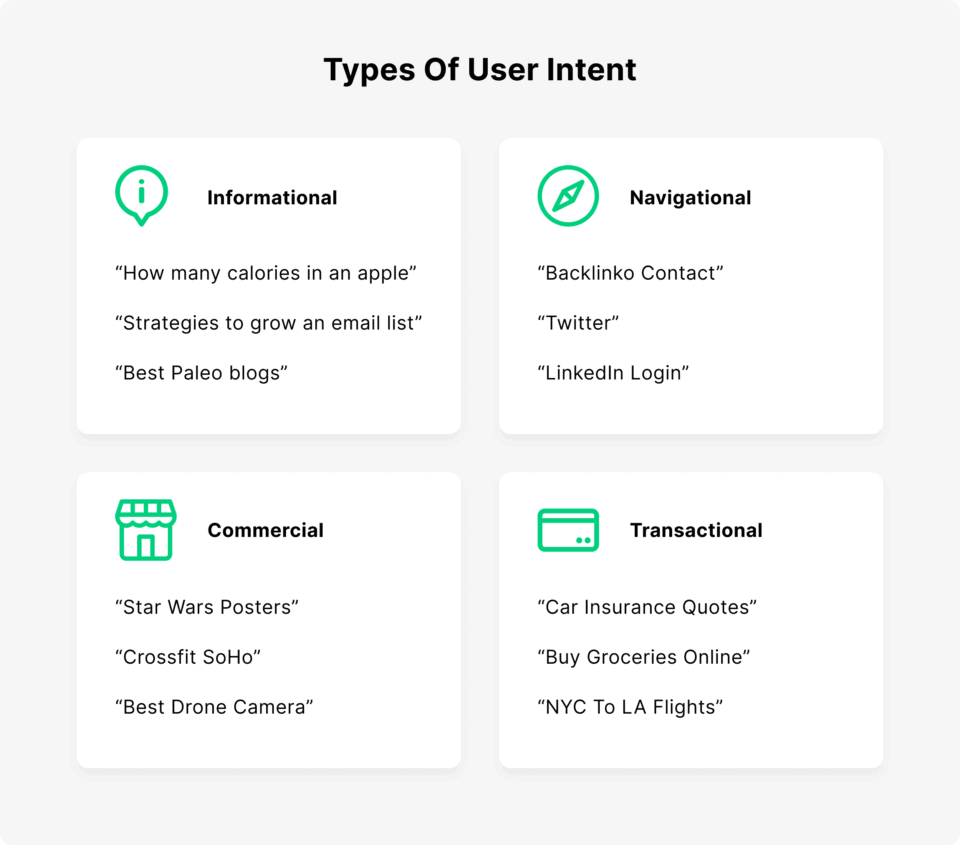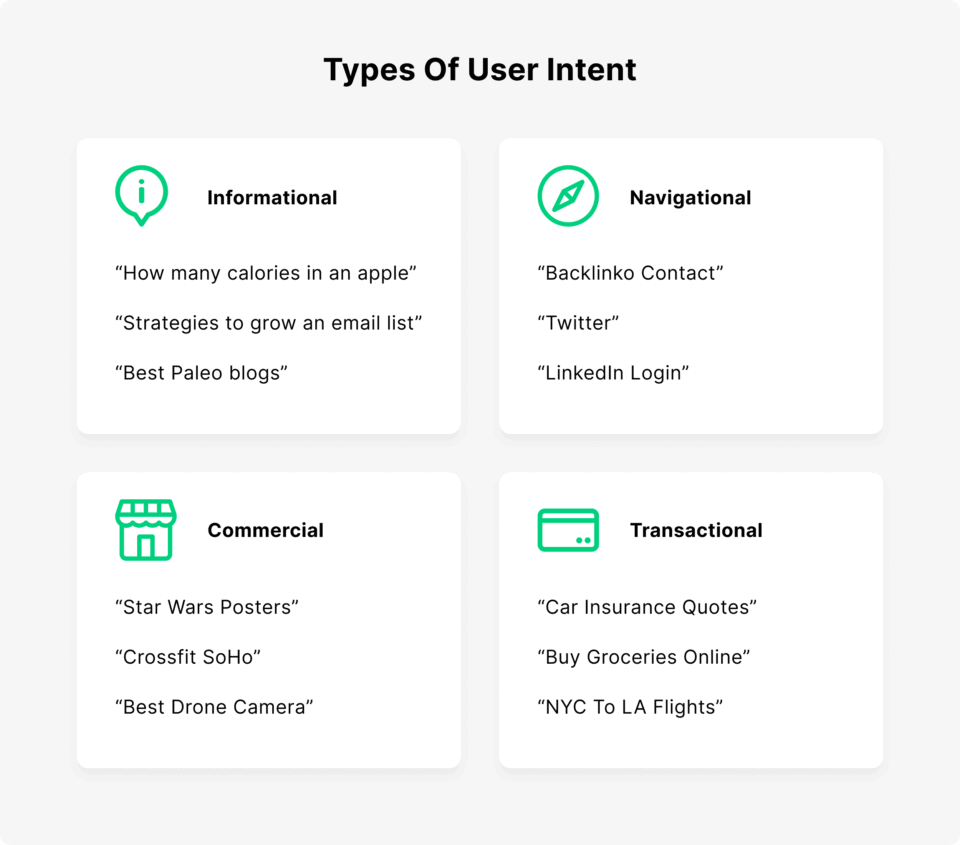 Remember Google's Hummingbird update? Ever since then, user intent has formed a massive part of how Google understands queries and the type of results it presents in return.
For example, if a user runs a transactional search for "buy ski shoes", Google understands that they want to take action and will present products from different brands in search results. On the other hand, if a user runs a commercial search for "best new ski shoes 2022", Google understands the person wants to conduct research before buying and will present aggregated lists of products to help them narrow down their search.
For every keyword you target in your SEO strategy, make sure to get to the bottom of the "why" behind the search — then create relevant content for matching search intent. This way, your website will be more useful to your audience which, in turn, will increase your search rankings.
Analyse your competition
Here's the deal: results don't come overnight, particularly if you're trying to rank on page 1 against fierce competitors. That's why with any target keyword, it's important to analyze the competition to see who's currently ranking and why.
Do they have more backlinks pointing to their website? Are they delivering a better experience on mobile devices? Or perhaps their contributors are all trusted experts with high levels of E-A-T? All of this information is invaluable because it reveals what's worked to improve your competitor's rankings — and what you need to do to beat them.
Over to you
There's no way around it: it's tough to learn SEO. It exists at the intersection of technical expertise, creative content marketing, and PR – and we've only scratched the surface when it comes to improving your visibility in SERPs. There are a number of different tactics you need to have under your belt if you want to reach page #1 and outrank the competition.
That's why we're here to lend a helping hand. Want to unlock the secrets to astronomical ROI and SEO success? Get your free copy of the A-Z SEO Guide today. In it, you'll find all the information you need to convert your site's rankings into revenue and grow your business online, straight from the SEO experts at OMG.