How to Run Facebook Ads for eCommerce: Essential tips (with Examples)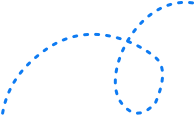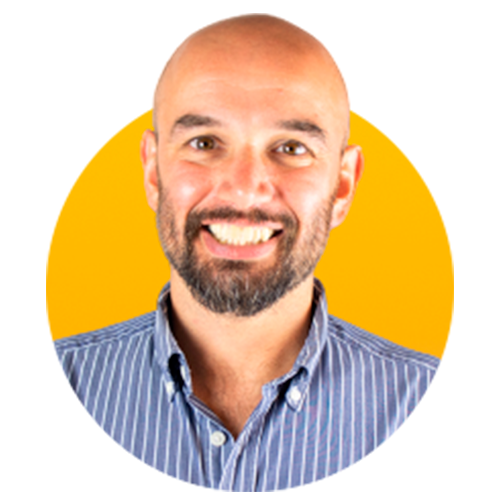 Ed Jones
17 November 2021
27min read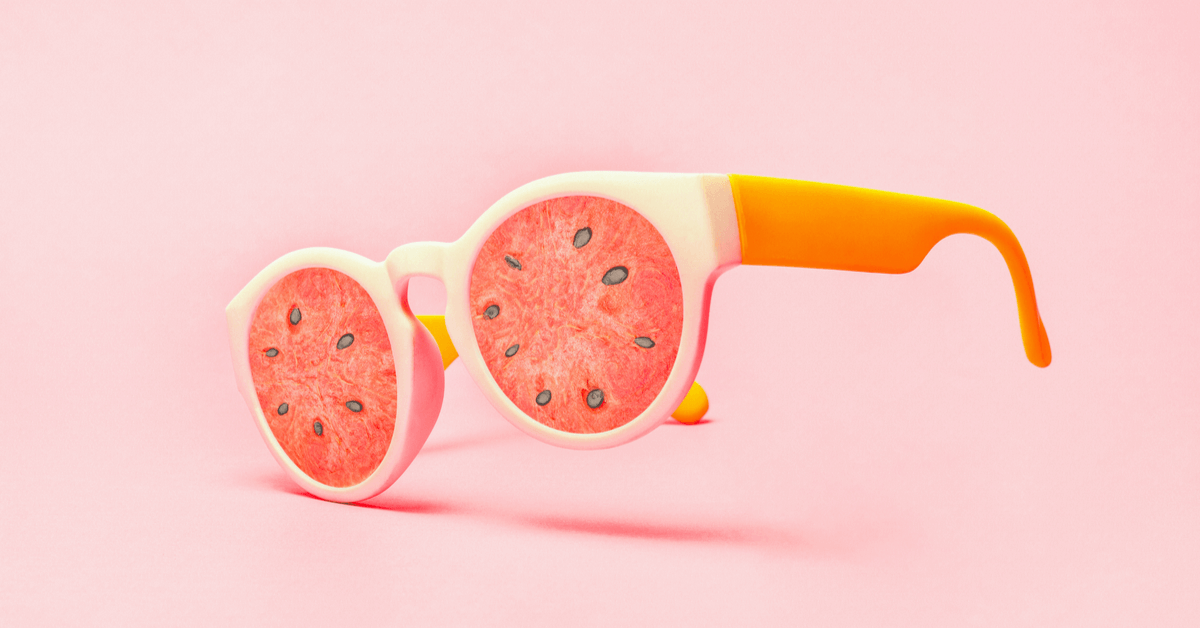 Want more ready-to-buy customers that convert? Floods of traffic to your eCommerce website? So many sales that you can't keep up?
If so, Facebook Ads needs to be part of your digital marketing game plan.
Facebook Ads are an essential tool in every eCommerce business' toolkit — and trust us, this platform is EXTREMELY effective.
According to numbers:
Facebook Ads generated $9.82 per user on average in Q4 2020 (FB Earnings Report).
Facebook Ads has the highest ROI amongst ALL paid traffic platforms, including Google Ads (Hubspot).
Facebook is responsible for the largest number of eCommerce orders from social media (Paymill).
But with more than 10 million advertisers on the platform, you need to stand out in order to cash out. That's where a finely tuned strategy, hyper-focused targeting, standout creative, and the right ad formats come in.
In this post, we cover all the essential tips eCommerce companies need to know to maximize return on ad spend (ROAS) and win more customers on the world's largest social media network.
Ready to convert more customers and rake in the revenue?
Let's dive in.
How do I run eCommerce Facebook ads?
First, the basics.
If you've never run eCommerce Facebook ads, the thought of getting started can feel a little bit daunting (or you be worried about making these common mistakes). Luckily, Facebook Ads Manager is an incredibly user-friendly platform that makes it easy for any business owner to hop in and get started.
Follow these steps to get your business set up to advertise on Facebook Ads:
1. Set up your Facebook Ads Manager account
Before you do anything, you'll need to set up an ad account for your business on Facebook Ads Manager (note: this isn't the same as Facebook Business Manager). Get started by hopping onto the Ads Manager page and selecting "Go to Ads Manager":


Log into the same account that's linked to your Facebook Business Page. Confirm your information on the account setup page, add in your payment method and details, then hit "save changes".
2. Create a new campaign and set your objective
Once you've created your account, you'll be presented with a dashboard where you'll be able to see and manage all of your campaigns, ad sets and ads. Click on 'Create' to get started.


You'll then be presented with a page asking you to pick your objective. As an online business, the objectives you'll most likely want to focus on are Awareness and Reach for Top-of-Funnel audiences, Traffic for Middle-of-Funnel, and Conversions or Product Catalog Sales for Bottom-of-Funnel.
3. Select your target audience
After setting up your objectives, Facebook Ads Manager will prompt you to pick your target audience for each ad set. Facebook created a ton of targeting options for businesses to use, including:
Location
Age
Gender
Language
Relationship status
Education
Work
Life events
Home
Interests
Behaviours
Connections
Another option here is Custom Audiences, where you can target people who are already in your email database or who visited a page on your website that was tracked with Facebook Pixel (more on this soon).
4. Set your budget
With eCommerce Facebook Ads, you can either set a daily budget for how much you want to spend every day, or a lifetime budget if you want to run your Facebook Ad campaigns for a fixed length of time. In both cases, Facebook will pace your spending to ensure that it's evenly distributed over the course of the day or your campaign lifetime.
You can also access advanced options for your budget on this page, such as:
Ad scheduling so your ad only shows on specific days of the week or hours of the day
Bidding optimisation or manual bidding
Standard ad delivery, which paces your ads throughout the day, or accelerated ad delivery to reach audiences faster
5. Create your Facebook Ad
On the next step, Facebook will prompt you to choose the type of ad you want to create — Link or Carousel. Link ads are displayed with a call-to-action and a link to your eCommerce website like so: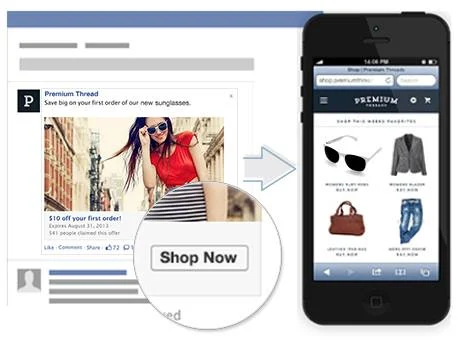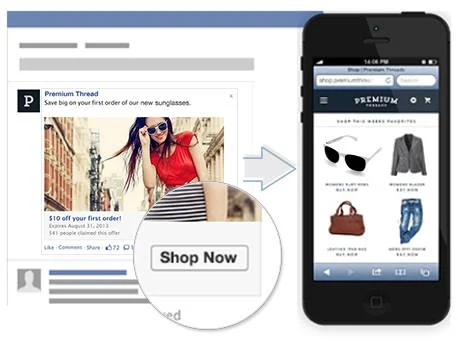 While Carousel Ads allow users to scroll through different options: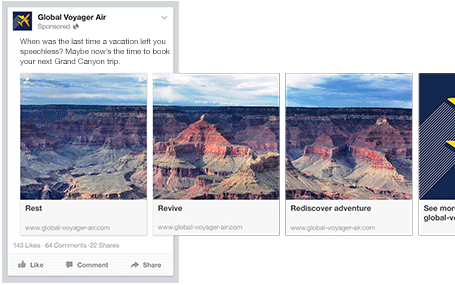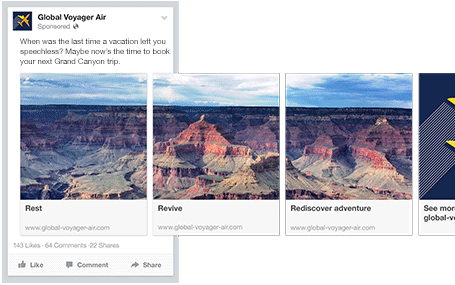 Finally, it's time to upload your creative. The Facebook Ads Guide provides exact specifications for different ad types, including image formats, image and video ratios, image and video resolutions, text recommendations for your primary text, headline and description, technical requirements, and more.
Once you've finalised your ads, they'll be sent to Facebook for approval. After Facebook gives them the go-ahead (which can take up to 48 hours), your eCommerce ads will be up and running — and you'll be able to keep an eye on your audience insights and campaign performance through the dashboard.
6 essential tips for running eCommerce Facebook Ads
1. Implement the Facebook Pixel
Want to get more out of your e-Commerce Facebook Ads? If so, then implementing Facebook Pixel is a non-negotiable. This HTML tag goes on your store's website and allows you to keep track of the different Facebook users who have visited your online store.
Having this data on hand opens up a world of possibilities when it comes to retargeting options. Not only does it allow you to reach people who have already visited your store and shown an interest in your products — you can also run ads specifically geared towards completing a certain action on your store, such as adding an item to their cart or viewing a specific product.
Implementing the Facebook Pixel is simple. Start out by creating a Pixel in Facebook Ads Manager by following these instructions. After this, you have to add it to your online store using one of two options:
Manually add your Pixel to your website. To do this, you'll either need access to your website's HTML code or send it to your developer to do it for you.
Use a partner integration with your eCommerce platform. Most eCommerce websites, including Shopify and Squarespace, have a dedicated place for you to paste your Facebook Pixel ID.
Check your Facebook Pixel is working correctly using the Pixel Helper, then you're ready to go.
It takes roughly 30 days for your Facebook Pixel to gather enough data, depending on how much traffic your website gets.
2. Go further with Custom Audiences
Facebook has a plethora of pre-existing targeting options that allow you to drill down to the people you want to reach. However, if you really want to maximize your eCommerce store's ROAS from Facebook Ads, there are some custom audience options that you need to try ASAP.
Leverage intent-based targeting
What if you could reach potential customers who have ALREADY engaged with your competitors and are dissatisfied with their offering? It's not too good to be true. It's intent-based targeting, and you need to try it, stat.
These users have already demonstrated high buying intent and conversion potential. What's more, they're looking for alternative brands to shop from. Brands like yours.
Building an intent-based audience is pretty straightforward. All you need to do is use Facebook's existing custom audiences feature and have your competitor's brand name included an 'interest'.
Do this by jumping into an ad set and inserting relevant keywords in the detailed targeting section. This will either trigger Facebook to populate a relevant domain, brand name, or Facebook page. If this doesn't happen, you'll need to get more specific with your keywords to target those potential shoppers.
Remember: finding these shoppers is only half the battle. After you create your audience, you'll need to target them with hyper-specific messaging that's geared towards moving them through the sales funnel.
Upload your own customer list
This is another great custom audience's option for eCommerce businesses. Also known as 'custom audiences from a customer list', this Facebook Ad feature allows you to upload a spreadsheet with your customer name and email. Facebook will then cross-reference your customer data to user profiles and create a custom audience from this list.
Create and target a lookalike audience
If you want to find a bunch of new customers, one of the best ways to do so is to look at your existing customers and try to find audiences just like them. Luckily, Facebook gives you the option to do just that using Lookalike Audiences.
You'll first need to upload an existing customer list with at least several hundred people. Then, go into Facebook and select the Lookalike Audience option: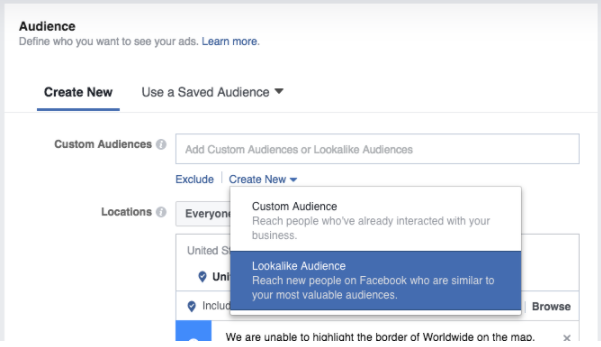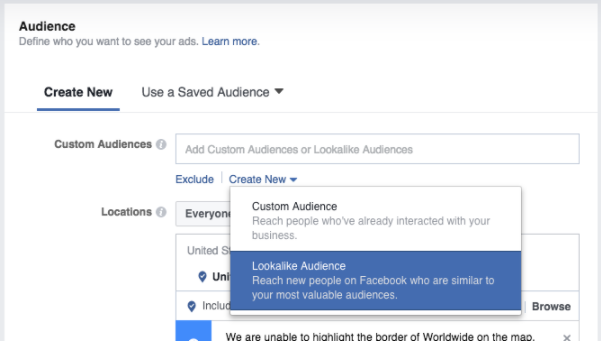 Facebook will cross-reference your uploaded list with existing customer user profiles, and use this data to find audiences with similar interests and demographics.
3. Run retargeting campaigns for cart abandonment
On top of generating custom audiences, you should be able to run retargeting campaigns with all the data that your Facebook Pixel has collected. Retargeting is insanely effective because you can reach people who are ALREADY engaged in your brand, business or products — meaning it'll take a lot less effort to push them further down the funnel.
In fact, data from Wishpond shows that the average site can use Facebook Ad retargeting to bring back more than a quarter of cart abandoners to complete their purchase. Without retargeting, this figure is only a meagre 8%.
There are several different options to retarget audiences on Facebook, depending on where users are in the funnel. The most obvious is to focus on the quick wins, such as those people who have added an existing item to their cart then abandoned it before making a purchase. These customers have clearly indicated that they want to buy your products, but need a little nudge or reminder to convert them from browser to buyer.
Here are three targeting options for your cart abandonment campaigns on Facebook:
Target users who visited your product pages, clicked "add to cart", but didn't visit their cart.
Target browsers who clicked on the cart page but didn't checkout.
Target shoppers who clicked through to your checkout page but never sealed the deal.
The best part? You already know what these buyers are interested in and where they dropped off, which means you can create laser-targeted messaging that's specifically geared to get them over the line.
For example, if a user added an item to their cart but never checked out, you could show them a Facebook Ad with an image of the product they're interested in, along with primary text talking about its limited availability.
On the other hand, if you have a shopper who clicked through to checkout but never made a purchase, it might pay to remind them of your free shipping and returns policy to give them peace of mind when online shopping.
4. Retarget potential customers who have visited your eCommerce store
On top of abandoned cart retargeting, you can improve customer acquisition by retargeting audiences that are starting out in their customer journey. These might be people who have visited your website once but never went to the product page, or people who have viewed certain items without taking any further action.
The beauty here is that these audiences are already familiar with your brand, so you don't have to do the hard work in getting them to discover your store or introduce who you are. Instead, focus on building ads that highlight your competitive advantage, encourage customers to test your product, or sign up for your email newsletter.
Last but not least, remember to keep your Facebook audiences as segmented as possible. This means once a user engages with your retargeting ad campaign, they should be moved to another segment — otherwise you risk inundating them with the same message over and over again or losing their interest.
5. Upsell to your existing customers
65% of a company's business comes from existing customers. What's more, it costs five times as much money to attract new customers than it does to keep your current customers. If you want to improve your ROAS and get more out of your Facebook Ads for eCommerce, you absolutely without a doubt should be targeting your existing customers as well as trying to find new ones.
To do this, start by uploading your customer database to Facebook as a custom audience. Try to segment your customers as much as possible based on their purchase behaviour. For example, you might have different lists for:
Brand new customers
Customers who have only shopped with you once previously
Customers who are interested in a certain product category
Loyal customers who regularly shop with you
Customers who haven't shopped with you for X amount of time
Harness this information to upsell to these customers based on their shopping history and their interests. This could be a list of your latest products in stock, a reminder to sign up for VIP access to a sale, a referral bonus, or a welcome back offer.
6. Keep an eye on your competitors
It's not enough to run your own ads on Facebook. The savviest eCommerce companies also keep an eye on how your competitors are running Facebook Ads, then use this information to adapt their own creative to stand out in the news feed.
Believe it or not, spying on your competitors' current Facebook campaign doesn't require any sleuthing or technical know-how. It's as easy as going to the Facebook Ad Library, typing in the name of your competitor, and selecting their ad account from a list.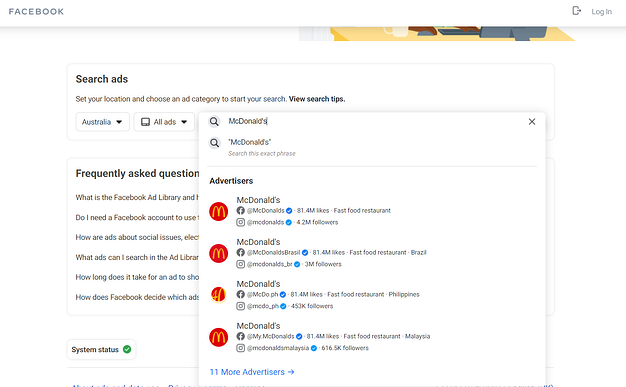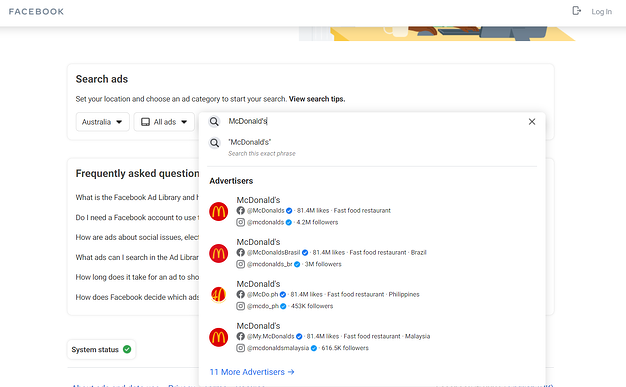 Simply click on the advertiser's name, and you'll be able to see all of the different campaigns they're running in your country.
You can also opt to enter keywords if you prefer to get a broader category or seasonal view. For example, if you're running a Black Friday campaign, you can type in "Black Friday" to see a list of all the different advertisers who have launched ads containing this phrase in the past month: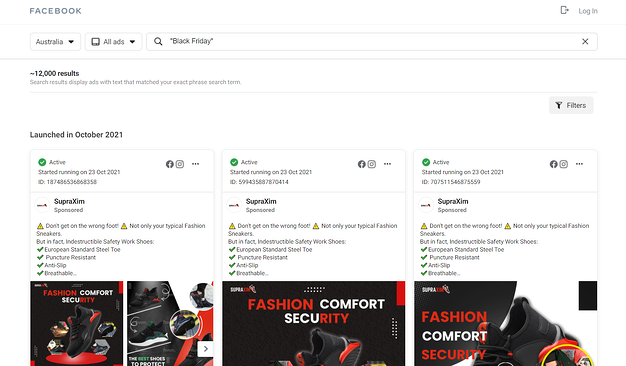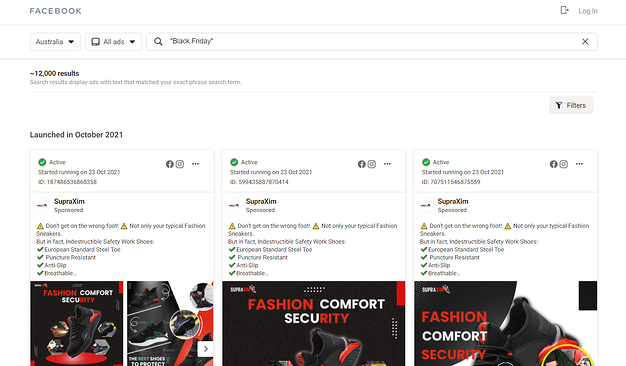 The best Facebook ads for eCommerce
Along with targeting, ad creative is one of the most important factors in the success of your eCommerce Facebook Ads. Facebook Advertising is packed to the brim with different ad types that help achieve different goals — and if you want to get sky-high ROAS, you need to choose the right ones for your Facebook Advertising strategy.
Here are the best Facebook ad types that eCommerce businesses can leverage to drive more traffic and sales.
Dynamic Ads
Ever been browsing a product online, only to have that product appear on your newsfeed a few hours later? If so, Dynamic Product Ads are responsible.
Dynamic Product Ads deliver one of the highest returns out of all the different Facebook ad types out there because you're targeting potential buyers with the exact products that you know they're already interested in. And it probably goes without saying, but they're a no-brainer for Facebook advertisers.
Not convinced yet? What makes dynamic ads one of the best Facebook Ads for eCommerce is the fact that you don't even have to create ads for each product. All you need is a template — then Facebook will do the rest.
Dynamic Ads can either be for a single product or a carousel with multiple products: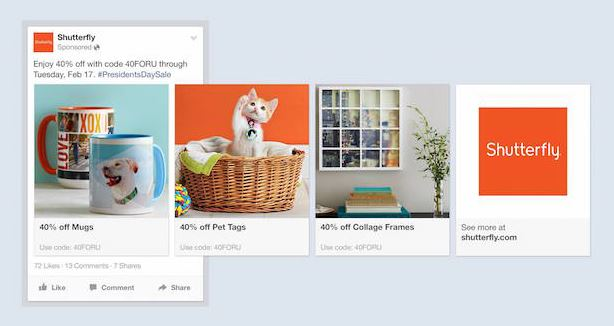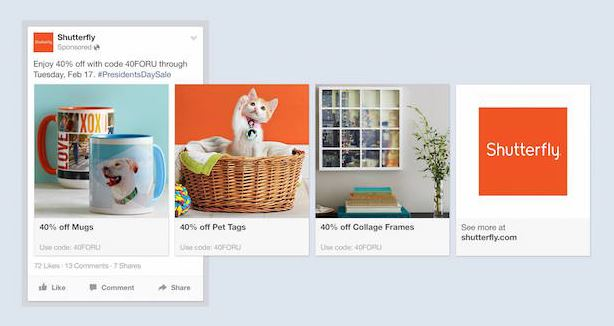 The first step to getting Dynamic Ads set up is to upload your eCommerce product feed to Facebook. Luckily, platforms like Shopify already have apps designed to help manage this part of the process.
After you've linked the two, make sure you have a Facebook Pixel installed and that it's reporting on customer purchasing behaviour. From here, create a Facebook Ad campaign with the Catalog Sales objective and set placeholders for Facebook to populate your product images, product names, and prices for the ad. Then sit back, relax, and watch the sales roll in.
Collection Ads
Facebook Collection Ads are a great way to highlight items from your range or showcase specific features for a product in your store. When used together with Lookalike Audiences or Retargeting ad campaigns, they're an almost unstoppable revenue-generating machine.
Collection Ads are powerful precisely because they tell a story about your brand and products in an eye-catching way, while also being hyper-targeted to what your customers are looking for. Take, for example, this retargeting ad from Dollar Shave Club that explores the benefits of switching from a traditional razor brand like Gilette: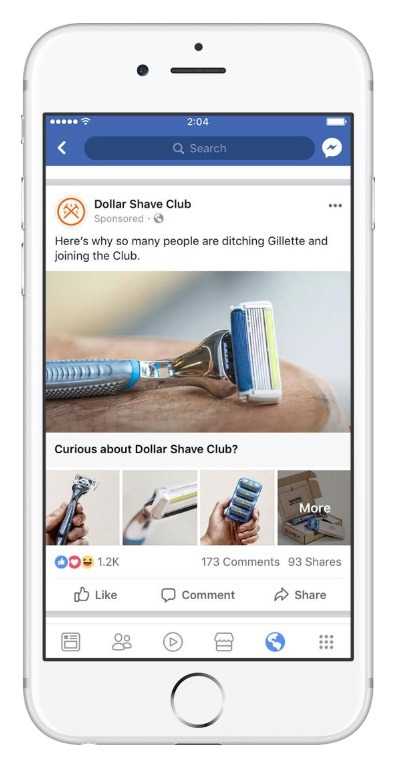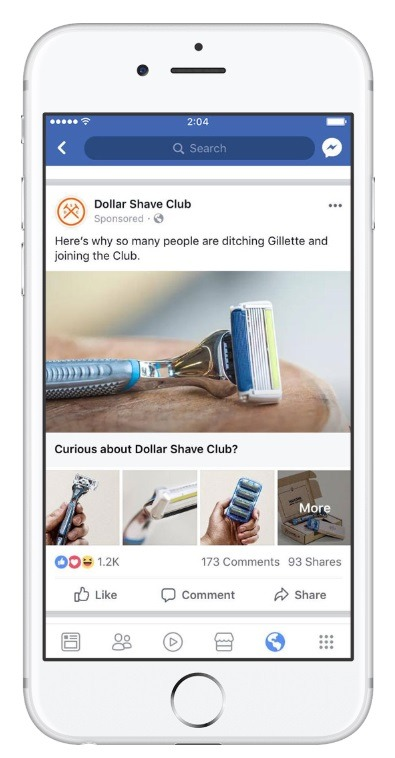 The key with Collection Ads is to test, run Facebook Ads, optimize, and test again. Start out with images that align with your brand story and that are eye-catching in the feed, then play with different combinations to see what speaks to your audience.
Video ads
Fact: a shopper who watches a video is nearly twice as likely to convert as one who doesn't. Add this to the fact that Facebook generates 8 billion views per day and it's a no-brainer that video ads should be part of your eCommerce Facebook Ads strategy.
Videos are highly engaging and allow you to get more information across in a single Facebook ad campaign. And if your competitors aren't using them already in their campaigns, you'll get the leg up simply because your ads will stand out.
You don't need to have a million-dollar marketing budget to create video ads either — just try these affordable yet effective ideas for Facebook video ads:
Add in movement through GIFs
Combine multiple images with text in a video slideshow
Invest in an animated video that speaks to your product benefits or features
Work with an influencer or content creator to produce a video review
Shoot a product tour featuring your company founder
Last but not least, keep your videos short. According to the social media platform, more people will watch to the end of your video if it's less than 15 seconds long. Here's a great one from Allbirds promoting the materials they use in their shoes: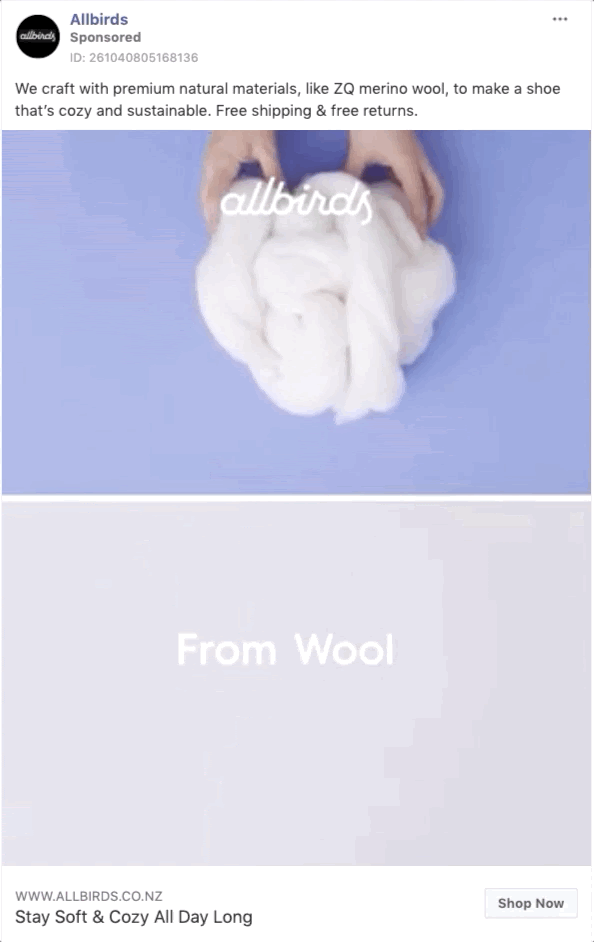 Domain ads
Domain ads are links that point visitors directly to your eCommerce website. With these ads, you can build brand awareness and drive users to your store to browse your collection, and eventually buy your products.
The key with domain ads is to keep your copy short and sweet. You only have a very limited character count to get your point across, so you'll need to test which options work best for your target audience.
Don't neglect your CTA or image either: these two elements will play a big role in getting users to stop scrolling in the Facebook feed, pay attention, and take action.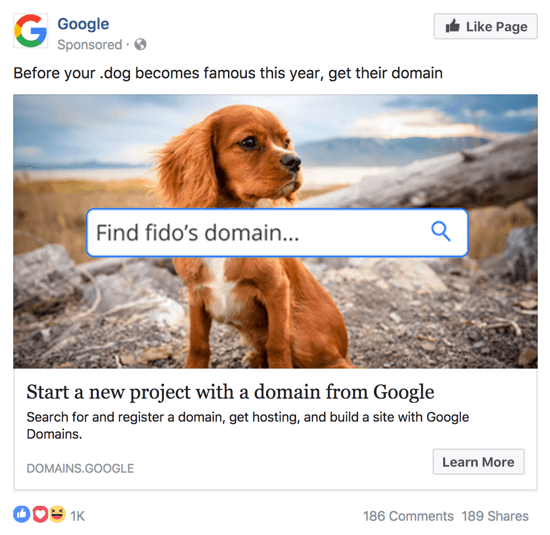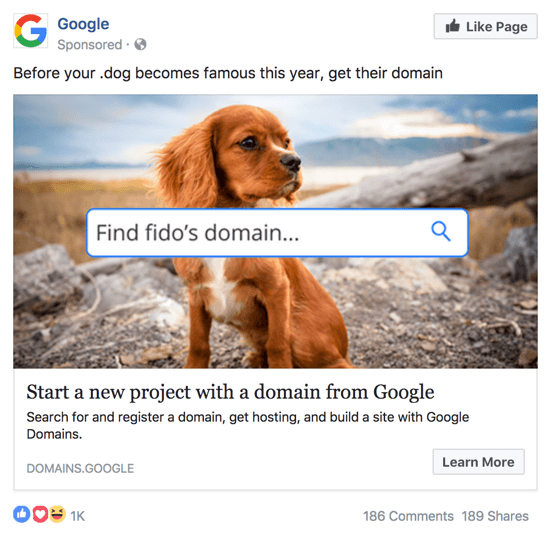 Messenger ads
1.3 billion people use Facebook Messenger every month, so this ad type is definitely worth your time and effort. Messenger ads are a great way to slide directly into your target audience's DMs and reach potential shoppers while they're browsing social media.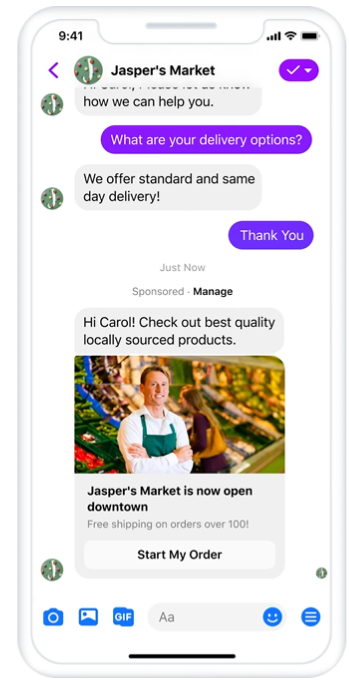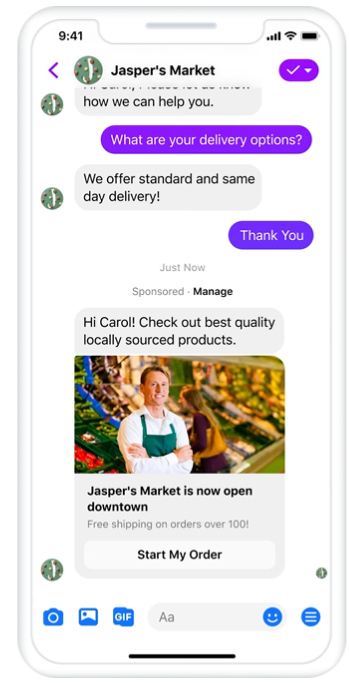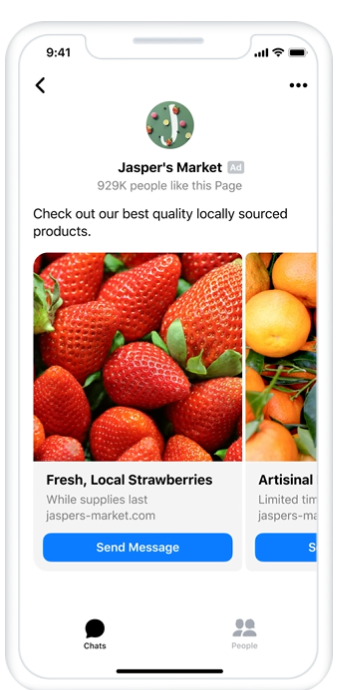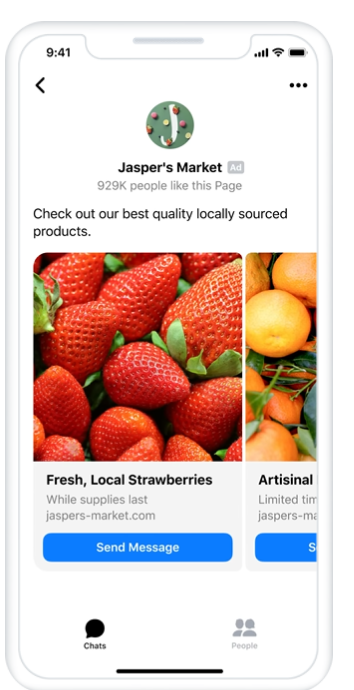 Messenger Ads come in multiple formats, including:
Inbox ads that appear in a user's Chats tab
Stories ads that show up alongside a user's Facebook Stories
Click-to-Messenger Ads that appear in the Facebook news feed and invite users to reach out to your business via Messenger
Sponsored Messages that retarget people who have already engaged with your business on Messenger
Instant Experience ads
Previously known as Canvas Ads, Instant Experience ads are immersive full-screen displays that tell a story using image, video and text. Instant Experiences capture and engage Facebook fans in a way that other ad formats simply don't, while inviting interaction with different elements of your campaign. These types of ads have achieved jaw-dropping results for other e-Commerce businesses such as Sephora, which managed to get a 32% higher ROAS using Instant Experiences.
As you'd probably expect with a full-screen display, your creative can literally make or break the success of your ad placements. Use bright, bold colors and professional imagery to bring your products to life, and include interactive elements to invite engagement from your audience.
Lead ads
If you're trying to reach Facebook users at the beginning of their customer journey, Facebook Lead Ads are your best friend. This ad format is useful for growing your eCommerce mailing list so you can communicate with them at a later date, or if you're looking to rack up more customers for your subscription-based business.
Lead ads allow you to display an Instant Form with customisable fields, such as name, email address or phone number. With these ads, the offer is everything — try to create campaigns that entice people to sign up using an incentive or social media competition.
Carousel ad
Last but not least, we have Carousel Ads. Carousel Ads are one of the most popular ad types for eCommerce businesses because of their versatility and their ability to capture audiences as they scroll through Facebook.
You can use carousel ads to talk about the specific features of one product or show how your product works, like Beardbrand: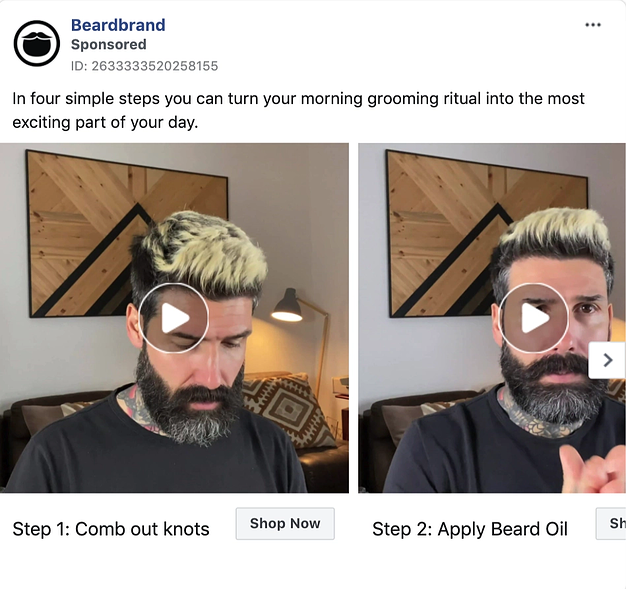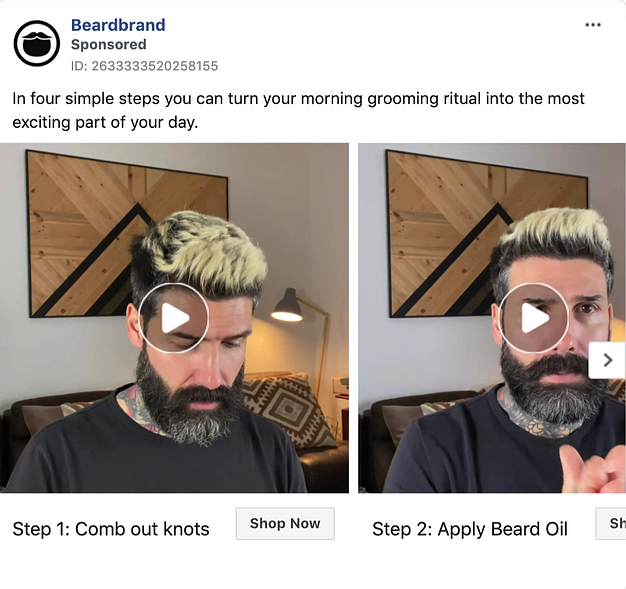 Another option for a Carousel Ad is to simply showcase multiple products in your catalogue, such as your latest arrivals or best-sellers: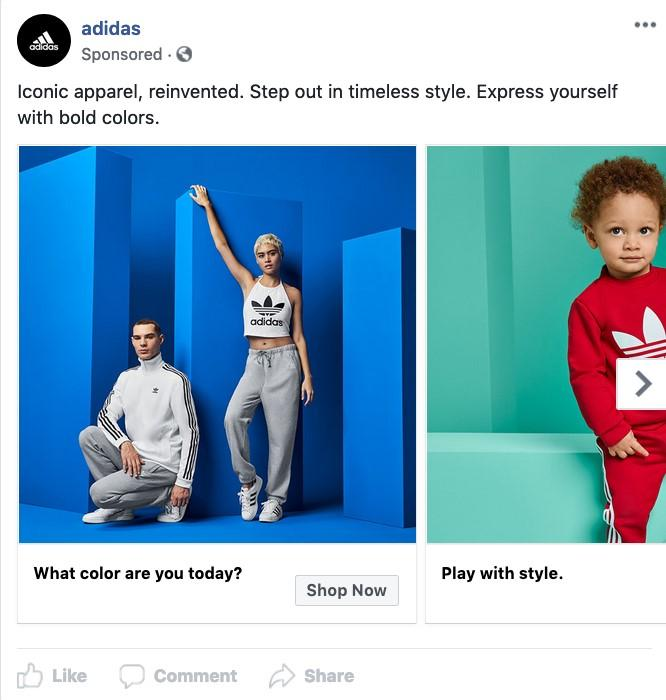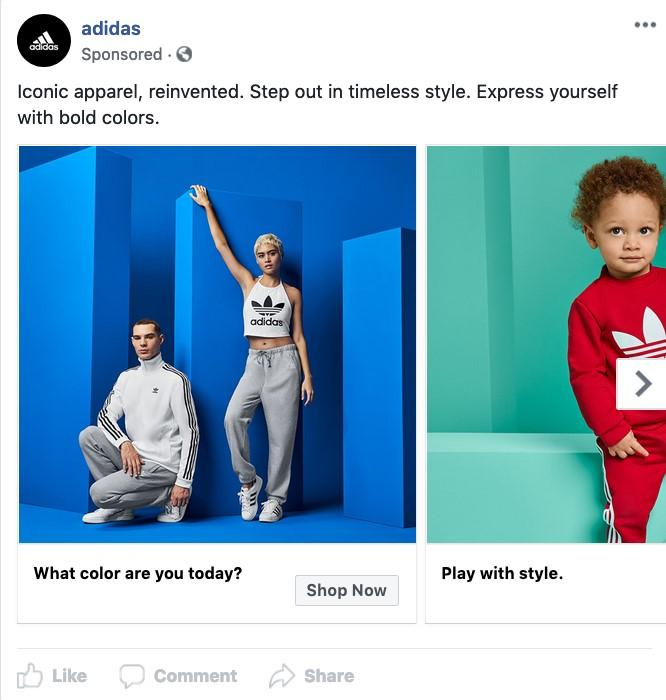 7 examples of successful Facebook Ads
Gymshark: Collection Ads
As one of the biggest brands in fitness, Gymshark leverages user-generated content, influencer marketing, and Facebook Ad strategies to connect to gym-goers. Although this Collection ad is simple, it's incredibly effective thanks to an eye-catching image of Gymshark leggings on an influencer, relatable copy that speaks to its target audience, and sharp CTA inviting audiences to shop now.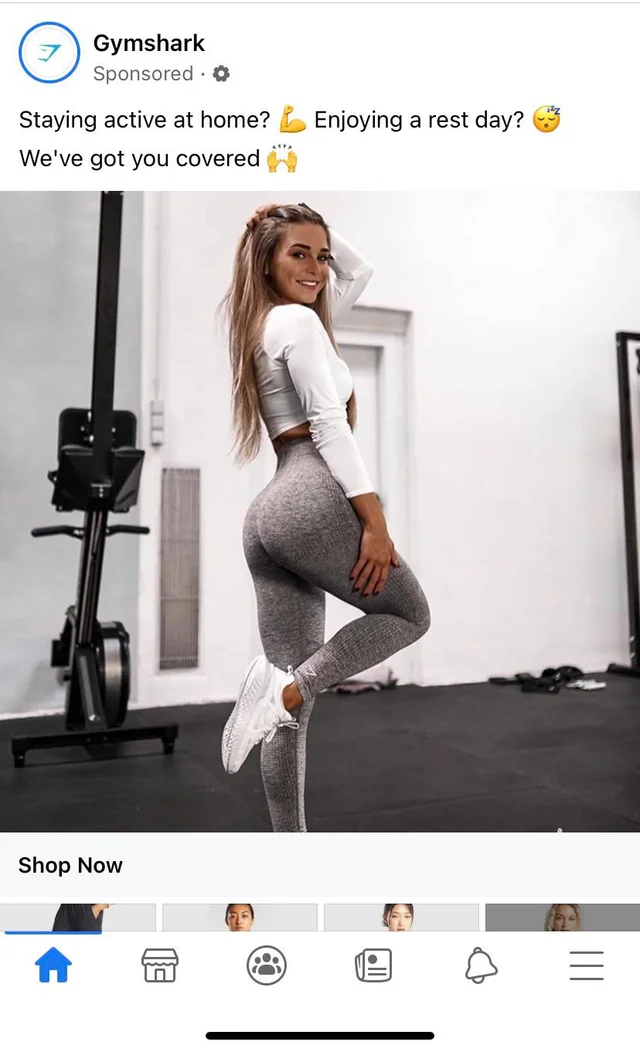 In addition to the leggings on display, Gymshark has also featured other similar items in their range underneath the main image in the ad — inviting customers to browse its products and eventually make a purchase.
Peleton: Domain Ads
As one of the biggest home exercise brands in the world, Peleton used a clever combination of user reviews, a timely offer, and sharp copy in their New Year's Facebook campaigns. The ad starts off with a rhetorical question that the audience is probably wondering — why buy a Peleton bike? — then answers the question with social proof directly from customers.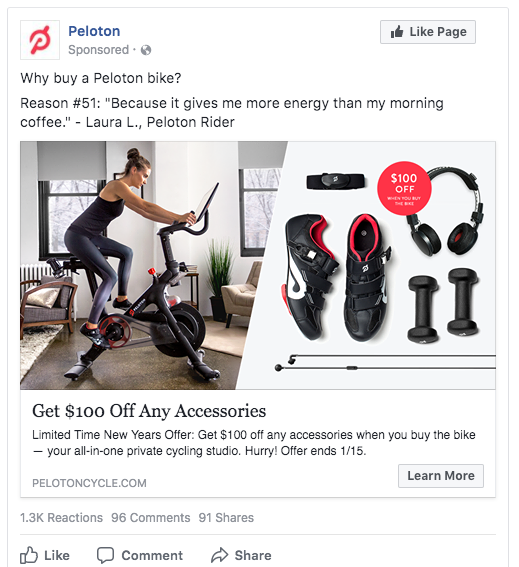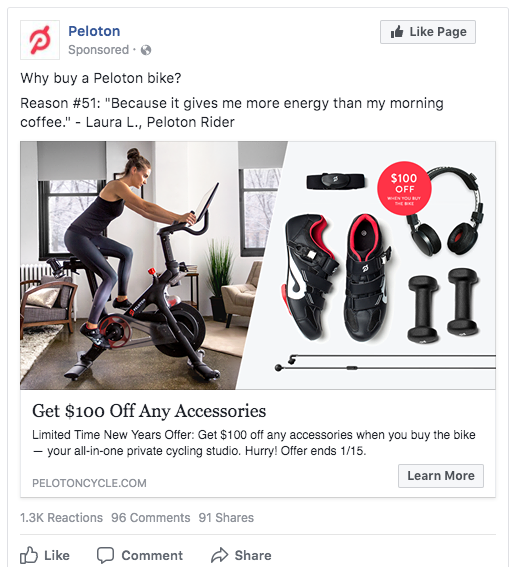 The ad reinforces the ad with a headline promoting $100 off accessories, along with a deadline of 15 January. Couple this offer with the wave of people setting New Year's fitness goals, and Peleton has all the ingredients for a killer Facebook Ad.
Clinique: Instant Experience and Messenger Ads
Clinique launched an APAC-wide Instant Experience ad campaign to launch Clinique iD, its new custom-blend product line. The immersive Stories format instantly captures a user's attention, while the bold colors and simple message allowed the product benefits to truly shine.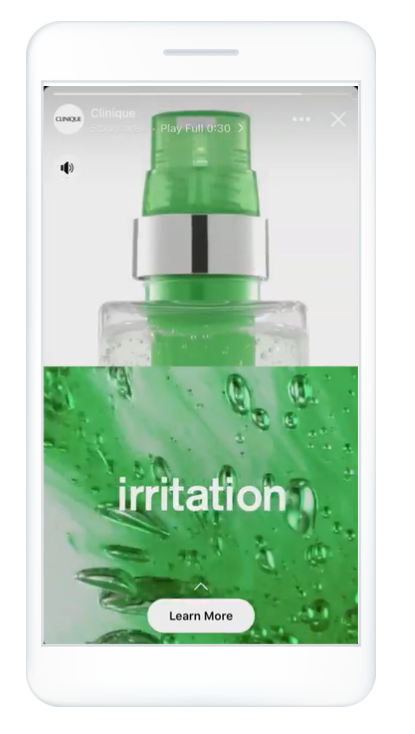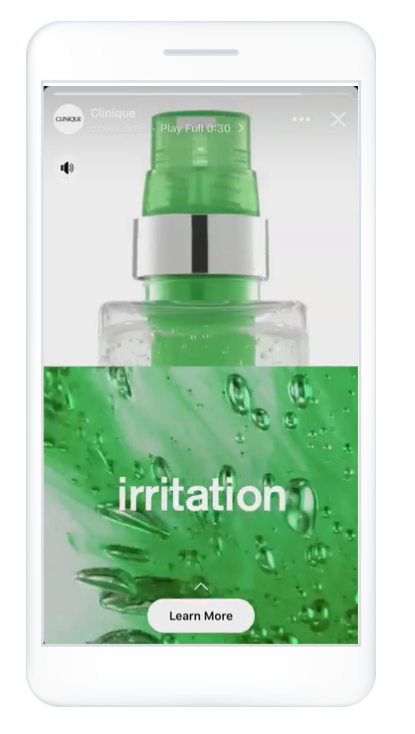 On top of Stories Ads, Clinique also utilised Click-to-Messenger ads to invite customers to learn more directly from the brand — all in all leading to a 36-point lift average in add to cart.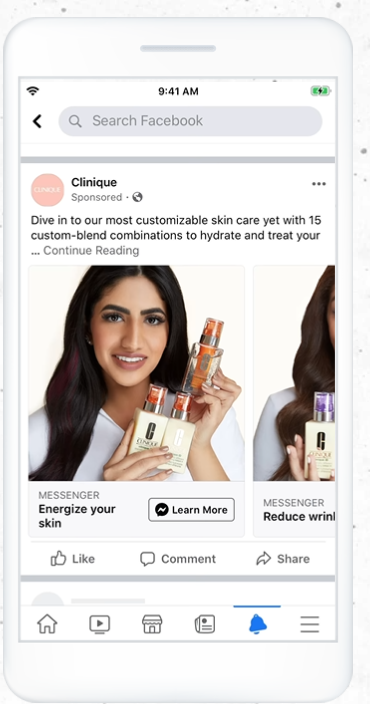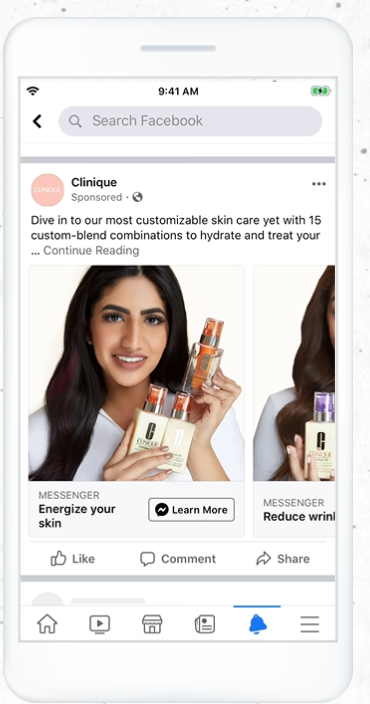 Crown Reef: Lead Generation Ad
Facebook's sophisticated targeting options include the ability to target parents — which makes the platform perfect for brands like Crown Reef. This Facebook Lead Ad invites parents to sign up for free to the resort's newsletter and benefit from big savings on their next holiday.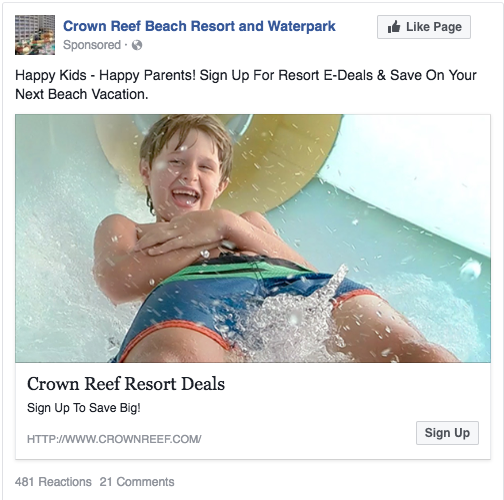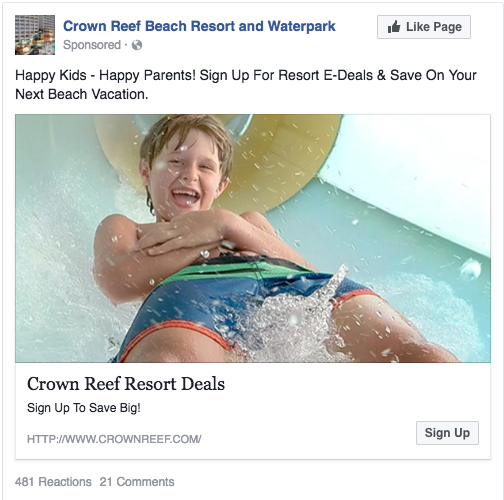 Although the messaging is fairly simple, it works because it appeals to parents looking for an affordable family-friendly holiday. The concise copy and a clear call-to-action work effectively to help Crown Reef grow their email subscribers for future online marketing campaigns.
Club W: Domain Ad
As a wine subscription box, Club W helps match customers with a curated selection of wines every month. The primary text in this Facebook ad provides shoppers with a tangible outcome — wines they're guaranteed to love — coupled with a fast delivery time of just two days.
In addition, their image puts the wine selection front and center, which instantly appeals to wine lovers, while the headline and 100% satisfaction guarantee give customers no reason not to buy.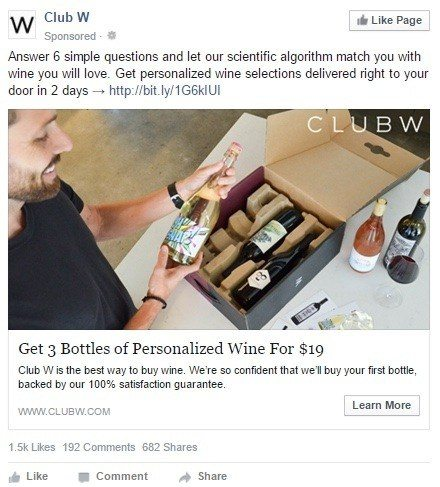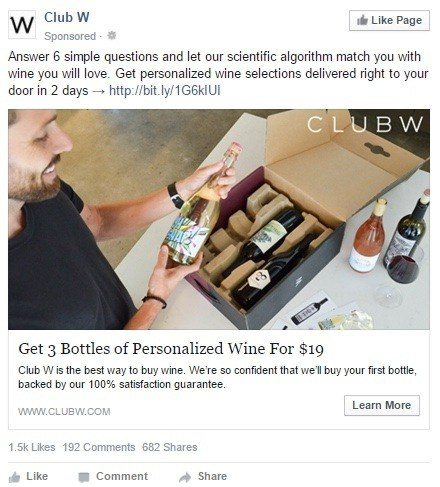 MILO: Video Ad
As an iconic Aussie drink typically sold in supermarkets, MILO wanted to take a different approach and drive more sales for its limited-edition personalised tins. The brand leveraged video ads to showcase the level of customisation offered to customers, from the tin design to the name on the box.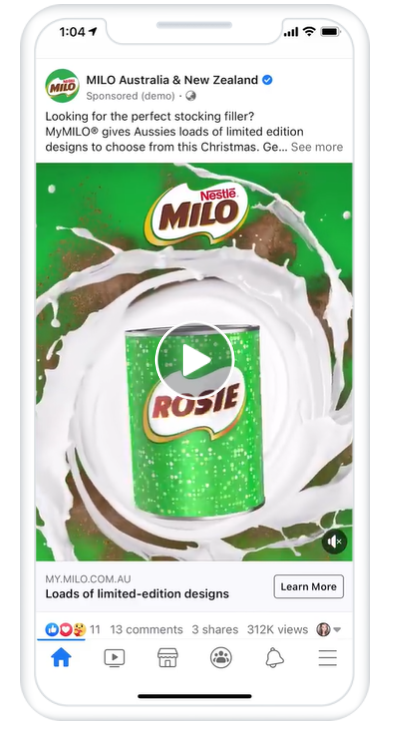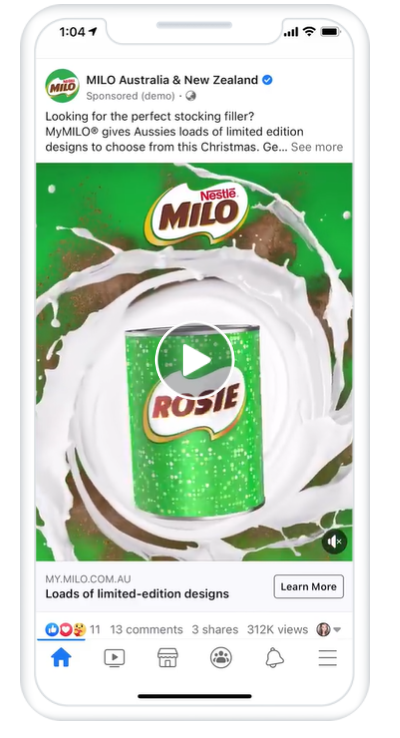 At the same time, MILO used Facebook Pixel on its website to make targeting as efficient as possible, while also creating dynamic ads to retarget visitors. An added seasonal message around stocking fillers was the icing on top of this hugely successful campaign, which saw a 4.3x lift in online sales for the brand.
BarkBox: Carousel Ads
The beauty of Carousel Ads is that you're truly limited only by your imagination — as evidenced by BarkBox, a pet subscription box service. BarkBox combined a hyper-relevant message targeted to pet owners with a fun carousel that broke up one sausage dog into several smaller images: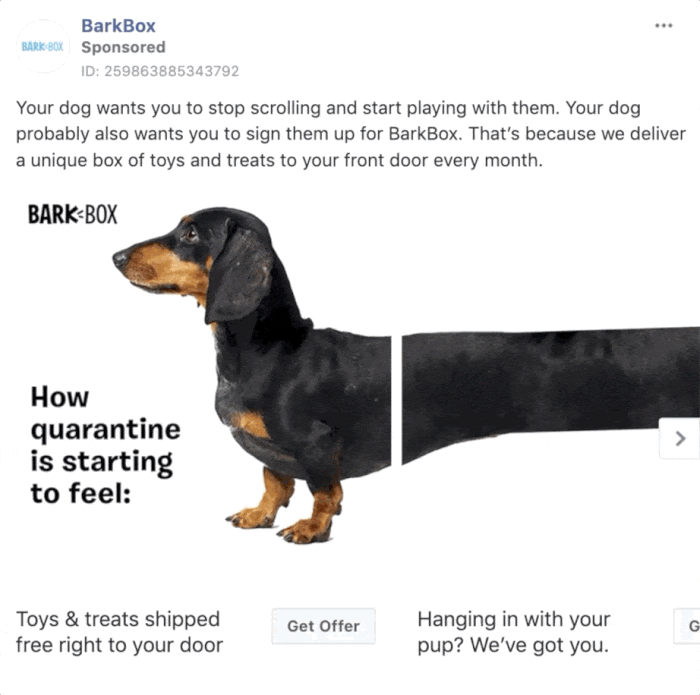 On top of piquing interest, each headline on their carousel ad highlights a different unique benefit to signing up — making the Facebook ad a perfect combination of creative and compelling.
eBay: Dynamic Ads
The beauty of Dynamic Ads is that they are literally promoting products that your audience has seen before and demonstrated an interest in. That's why eBay kept it short and simple with their retargeting campaign.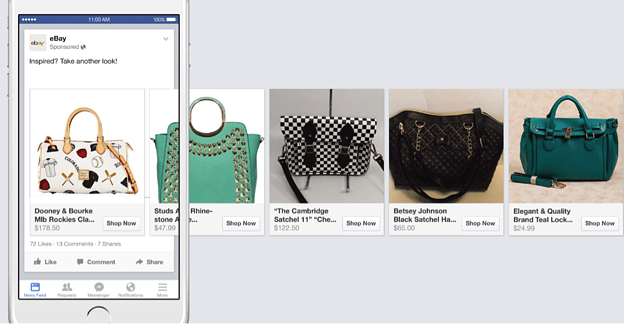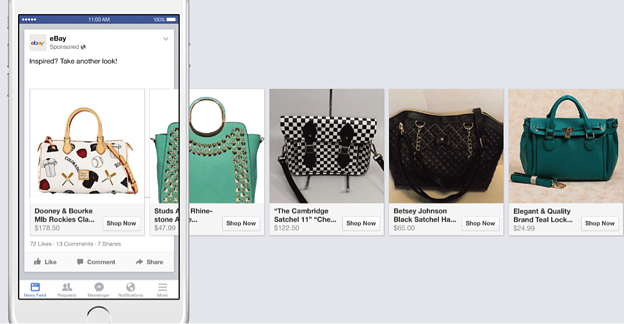 By using universal primary text that suits a variety of products and images of bags that users previously looked at, eBay is giving audiences a compelling reason to come back and buy.
Get more conversions, not just followers
Make no mistake: eCommerce Facebook Ads are a powerful way to bolster your digital presence, bring more click-happy customers to your online store, and skyrocket sales. And if you want to maximize your ROAS and watch revenue go through the roof, you need to have the best team possible running your Facebook Advertising strategy. That's us.
Our Gurus will pinpoint your audience with laser-focused precision, then capture their attention with finely tuned creative that gets them to show you the money. Begin generating sales today with your free $2,000 audit and digital marketing game plan — just fill out the form to get started.