The Next-Level Guide to Running LinkedIn Ads in 2022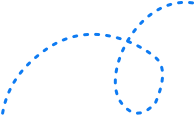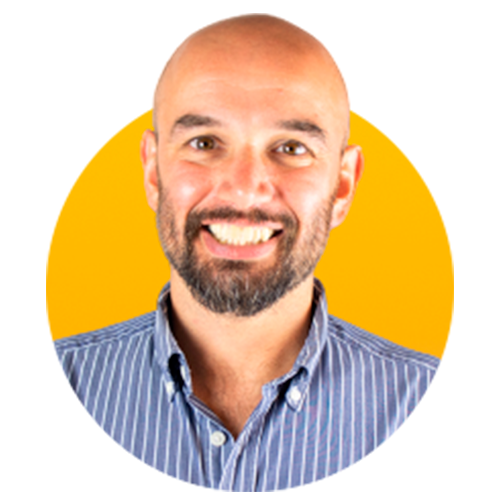 Ed Jones
13 December 2021
24min read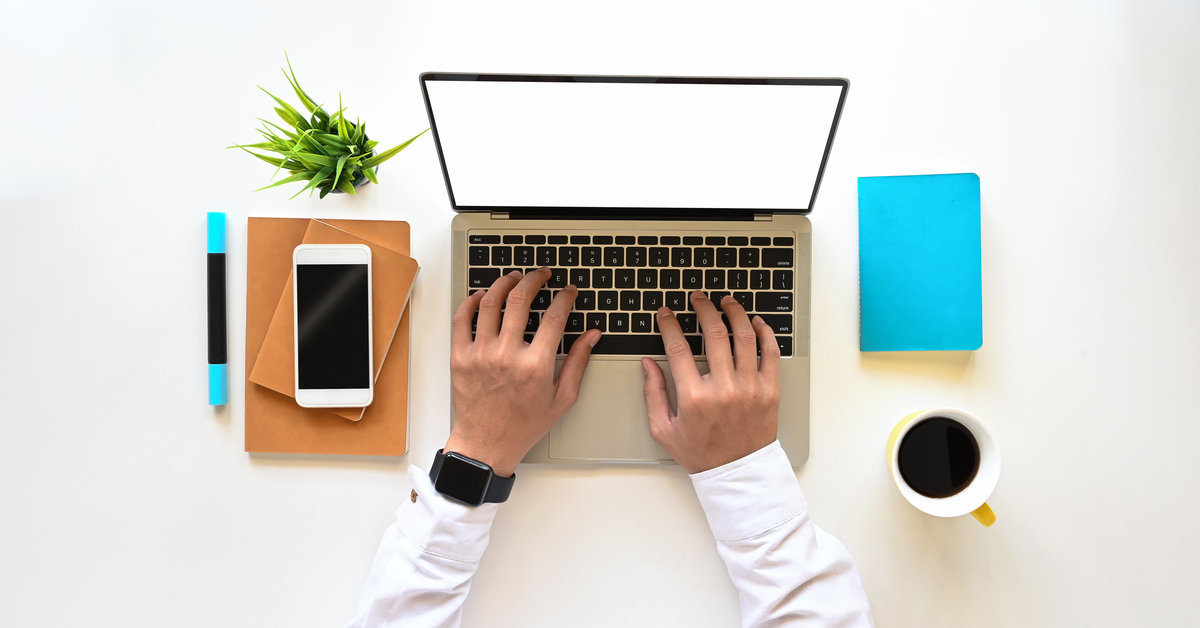 Google Ads are running, Instagram is buzzing and your brand is getting noticed, and you're getting a great return on your Facebook Ads.
What's next? LinkedIn Ads
You've probably heard that LinkedIn Ads are expensive or maybe it's not worth the bother because it is a smaller audience. Well, we love a bit of myth-busting here at OMG so I'm going to tell you everything you need to know about running LinkedIn ads, including current best practice to get the maximum return for your LinkedIn campaign investment.
Since 2018, LinkedIn member numbers have grown by 14% to 675 million users. And in fact, the cost per lead on LinkedIn can, in some instances, actually be 28% lower than Google AdWords.
Digital marketing and social strategy should never be about throwing money at a platform and hoping something sticks. Likewise, you should never discount a platform because other businesses or colleagues haven't had success! Instead, you should have clearly defined goals and use a data-driven, evidence-based approach.
The truth is you can generate serious value from your LinkedIn Ad campaigns budget for both B2B and B2C campaigns. But you need to know what you're doing.
If you're already running PPC ads on other platforms then you are a step ahead of the game. You understand the premise of PPC and ad formats. Even if you are new to PPC (props for taking the step – you won't regret it!) I'm going to break it all down for you.
In this guide to running LinkedIn Ads I'm going to take you through the step-by-step you need to set up your ads on LinkedIn and maximize your performance. Let's go!
How to run Linkedin Ads (in 5 simple steps)
After you read this article, I want you to be able to jump to action immediately. So I've compiled the five steps you need to follow to set up your LinkedIn Ad campaigns.
The first thing you'll need to do to advertise on LinkedIn is head to the LinkedIn Campaign Manager. This is where you will set up and manage your ad campaigns as well as find the insights you need to manage results.
The LinkedIn Campaign Manager is quite intuitive to use and remember that if you have any difficulties, the LinkedIn website has a huge number of resources to guide you through common issues.
Step 1. Choose your LinkedIn ad campaign objective
An ad campaign without an objective matched to your goals is like having a treadmill in your home and never using it and then wondering why you aren't getting fit.
To advertise on LinkedIn you must set an objective – either awareness, consideration or conversions. The objective you set is based on what action you want users to take from your ads.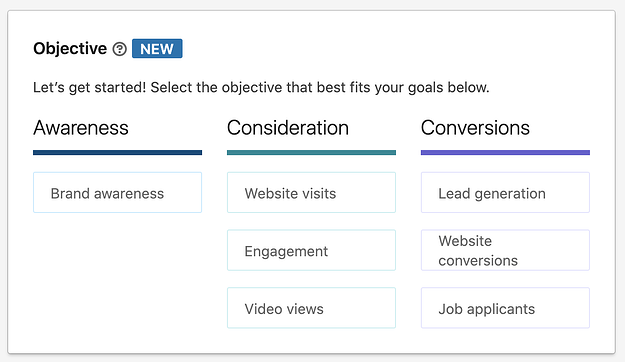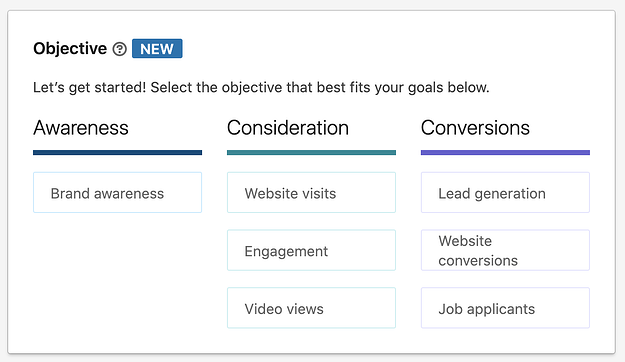 Awareness (Brand Awareness)
When you set awareness as your LinkedIn ad campaign objective, you have the goal of increasing brand awareness. You want people to either discover your brand for the first time or get a reminder that you are there.
Consideration (Website Visits, Engagement or Video Views)
Beyond awareness, the next objective you can select is consideration. This is a more active objective whereby you want people to take action when they see your LinkedIn ad. That action might be clicking on your ad to visit your website, viewing a video or engaging with your ad and brand in some other way.
Conversions (Lead Generation, Website Conversions, Job Applicants)
The final objective you can select is conversion. This is where the rubber hits the road and you generate leads, website conversions or sales. In some cases, where you are using LinkedIn for recruitment, a conversion goal might also be related to job applications.
As an aside to lead generation, 89% of B2B marketers use LinkedIn for lead generation and 62% say it generates them leads, over two times more than the next-highest social channel.
Your chosen goal—impressions, clicks, or video views to name a few—will determine the rest of your ad campaign creation experience.
Step 2. Target your LinkedIn ad to the right people
As a digital marketer or business manager, you already understand targeting. You know that the best ad campaign results come from a hyper-targeted approach to reaching the right people at the right time.
And the beauty of digital marketing is that we have the power to target down to a very granular level to achieve the high engagement and conversion rates you're looking for. Remember that the more relevant your LinkedIn Ad is to your audience, the better your results.
No matter your LinkedIn Ad campaign objective, audience targeting is always the same. LinkedIn Ads has more than 20 categories of audience attributes you can choose from. From categories such as company size to interests, skills or even job title. I've covered a few of the categories below.
Location: to only target people who are located in the area(s) you service.
Language: by default, this will be set to English but you can update this if you want to target a different language group.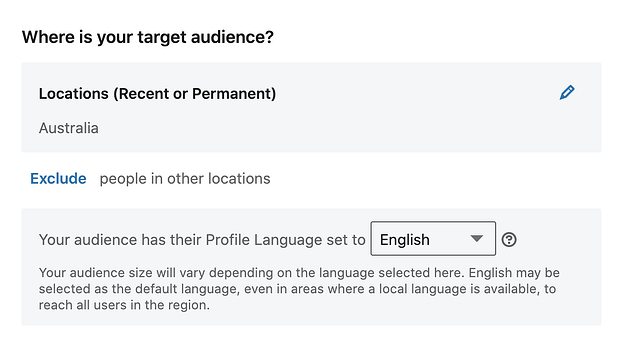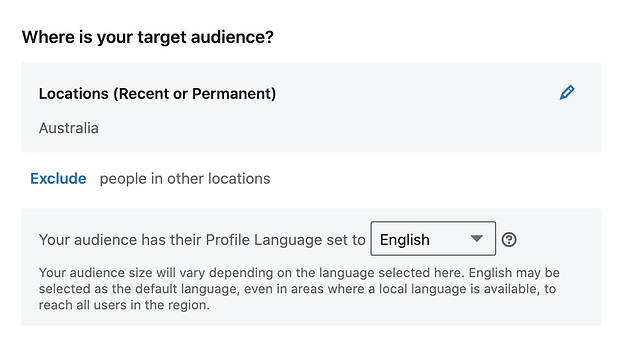 Company: you can either target based on a specific company name if you have one (or more) in mind, or alternatively, you can target particular industries, company sizes, company growth or category
Demographics: for when your customers are of a certain gender or age group.
Education: you also have the option to target people based on their degree, field of study or the schools they have attended.
Job experience: in some cases, your product or service will be suitable for a particular profession or you might want to reach the relevant decision makers in an organization. In these B2B cases, job experience targeting is helpful. It allows you to target by job title, function, seniority, skills or years of experience.
Interests and traits: you can target users based on their general or product interests as well as traits such as recent promotions or frequent travellers. Also, if you know your audience are members of particular groups you can also target by group membership.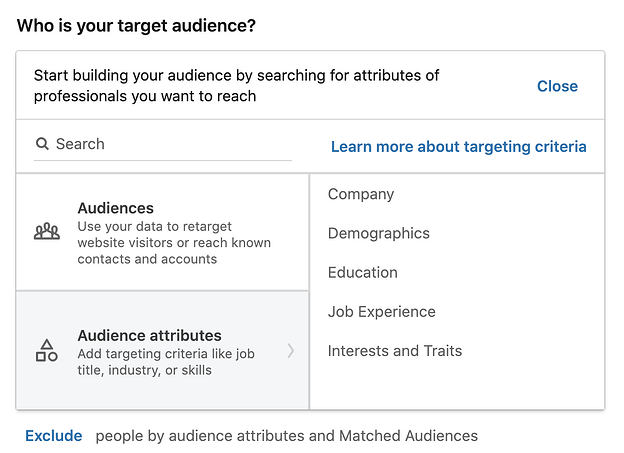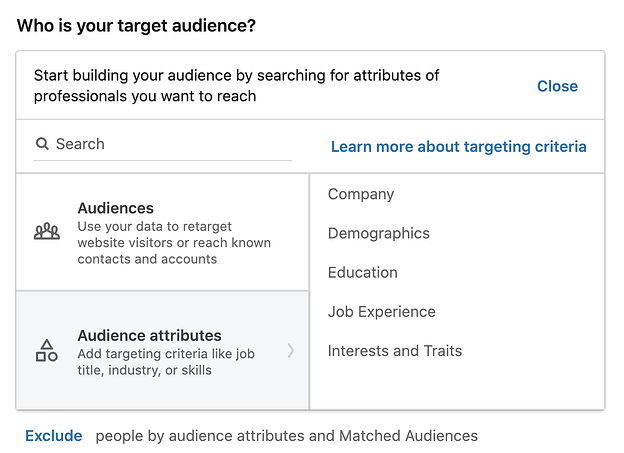 To save you from adding the same audience traits for each LinkedIn ad campaign, you can also save your targeting criteria as a template. Alternatively, you can enable audience expansion so LinkedIn will include people similar to your target audience.
Step 3. Select your LinkedIn ad format
Depending on your ad objective, you can select from different ad formats such as single image ad, Carousel image ad, video ad, text ad, spotlight ad, follower ad and conversation ad. I'll go into more detail on the different types of LinkedIn Ads in the next section of this guide.
Some LinkedIn ad formats also require you to specify a company page to run the ad campaign.


What I do want you to be aware of now, is that while you are selecting your LinkedIn ad format, also have a look at the forecasted results for each type. While these numbers aren't guaranteed, they do give you an estimate of the results you might achieve.
As you can see from the examples below, the forecasted results can vary quite significantly between LinkedIn ad formats. For these examples, the target audience and campaign objective were the same. The only difference was the ad format.




Step 4. Set your ad budget and schedule
Now that you've selected your target audience, it's time to set the budget and schedule for your campaign.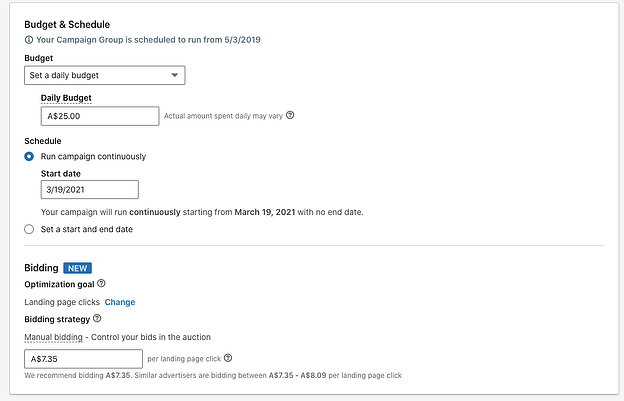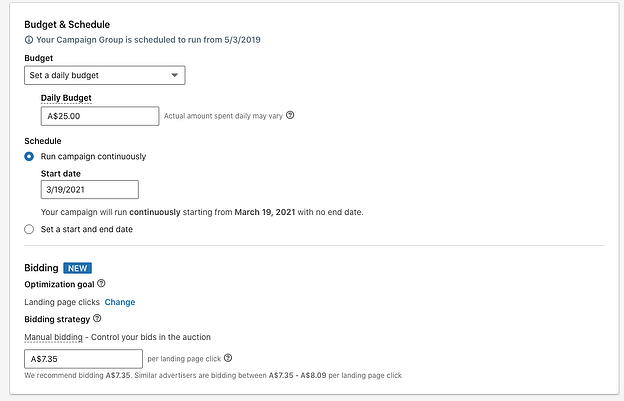 Ad Budget
For your budget, you can either set this as a lifetime budget, as a daily budget or set both a lifetime and daily budget. I recommend using a daily budget. I also recommend testing (always) to measure the success of your campaign before investing too much of your budget.
Keep an eye on the forecasted results I mention above because as you adjust your budget, the forecasted results will also adjust.
Ad schedule
Setting your schedule is fairly straightforward. You can choose to run your ad campaign continuously or to schedule a start and end date for when you want your ad to start running and schedule when you want it to finish.
Setting your bid
Setting your bid is the final part of this step.
There is more than one bid type available to you and this will vary depending upon your ad campaign objective and ad format. Rather than going into detail about each possible combination, I want to give you an understanding of some of the key terms and options.
The first part of bidding is the optimisation goal. This could be "sends" if you are using a message ad format, or it could be website conversions, landing page clicks or impressions among others. In some cases, you will not be able to select the optimisation goal as it will be set for the ad format. For others, you will be able to choose from a dropdown menu.


Bid strategy
The next variable you will need to update is the bidding strategy. Again, this will vary based on the ad format and optimisation goal. In some cases you will have the option for automated maximum delivery) as well as manual bidding. In other cases, manual bidding will be the only option. I always recommend manual bidding so you have greater control over your ads.


LinkedIn uses a bidding format for their ads, which means there is an auction system in place for bidding. This type of bid system does reward engagement, so even in a competitive market, you can still win an auction without necessarily having the highest bid.
This is where testing really comes into its own. By testing different maximum bids and monitoring the results you can refine your bids to get the best ROI.
Step 5. Measure and optimize your LinkedIn Ad campaigns
This is what we live for at OMG. Our Gurus love digging into the data to turn the dial on LinkedIn ad campaigns for serious results.
But this is something everyone should be doing. Anyone who tells you otherwise is not someone you should be listening to!
Keep your eyes on your analytics in Campaign Manager, looking for results such as overall impressions, clicks, CTR, ad spend, conversions and conversion rate.
As you can see from this example below, in campaign manager you can drill down by demographics to see the results at a really granular level.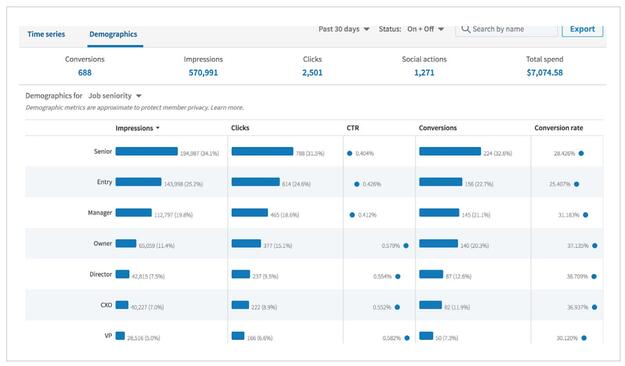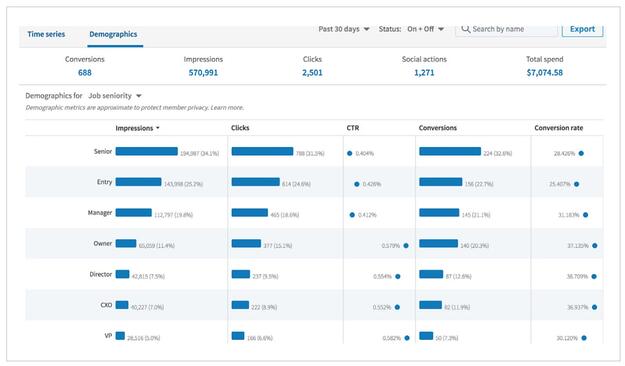 Image source: LinkedIn
Note that if you want conversion tracking for your LinkedIn Ad campaigns, you will need to ensure this is set up when you set your campaign up in LinkedIn Campaign Manager. As you can see below, conversion tracking allows you to measure the actions of people who click on or view your LinkedIn advertising campaign.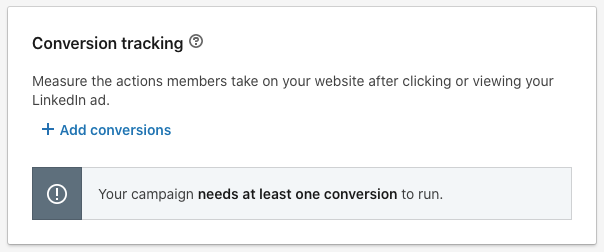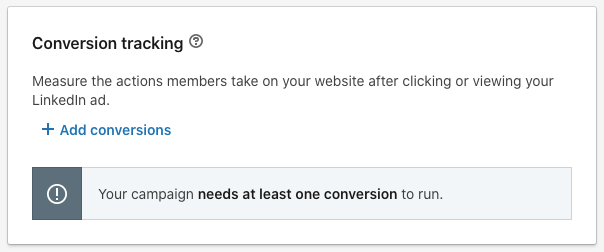 But the analytics themselves are less important than what you do with the results. If something isn't working, change it. Look at the data to tell you what is happening with your ads and then make the changes you need to maximize your return.
Another final note on setting up your ads is that once you hit next on the ad setup page, you can't change your objective or ad format so be sure they are correct!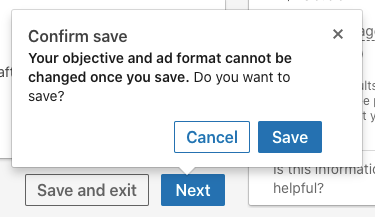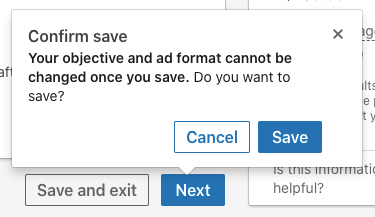 Types of Linkedin Ads
Now I'm going to dive into the different formats of LinkedIn Ads you can run.
Direct Sponsored Content
This type of ad appears in the LinkedIn feed in the form of either single image ads, video ads or carousel ads (i.e. ads with more than one image). Direct sponsored content appears alongside organic content, much like you would see Facebook ads appear in the Facebook news feed.
Direct sponsored content is not published on your page, it is direct to feed sponsored content. The benefit of this is that you can run multiple variations of the same ad to different audiences without the need to add them to your page.
In terms of results, direct sponsored content does typically have the highest cost per click (CPC) of all the ad types, but it can be very useful in driving leads, building brand awareness and increasing engagement.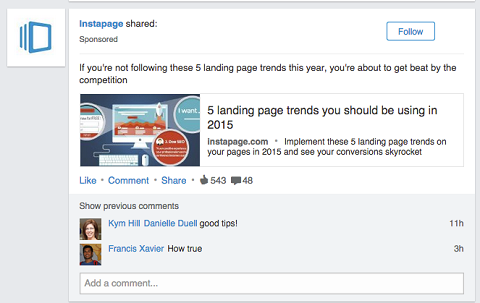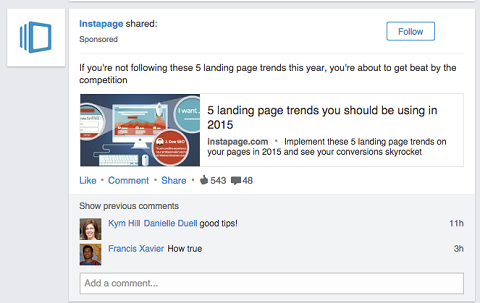 Image source: Social Media Examiner
Sponsored Inmail
Sponsored Inmail allows you to send direct messages to prospects to start a conversation. Your message ads go straight to the target's LinkedIn inbox. This is essentially a new time of email marketing.
You will also have quite a visible measure on the results based on the engagement and replies you get to your messages.
LinkedIn members can opt out of receiving Inmail but that isn't a limitation on this powerful advertising option.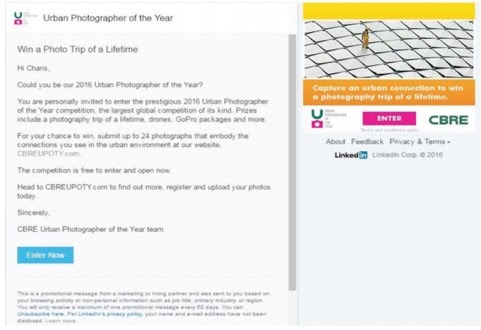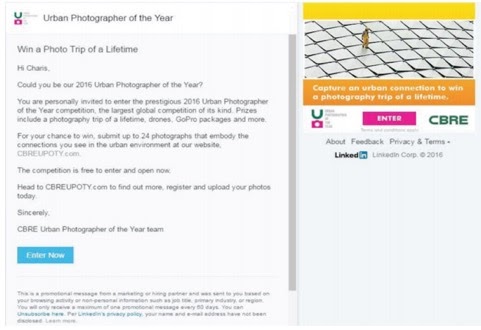 Image Source: LinkedIn
Text Ads
Text ads are probably the simplest type of LinkedIn Ads. They appear either at the top of the page or in the right column. As a tool for boosting awareness, they are quite effective.
This type of LinkedIn ad campaign is easy to create – all you need is a short headline, blurb and a small square image. For that reason it is quite easy to tailor the message and ads to different audiences without the need to generate multiple versions of complex ad creative.
The measurement for text ads is on a per click or per impression basis so you aren't paying for ads that don't work.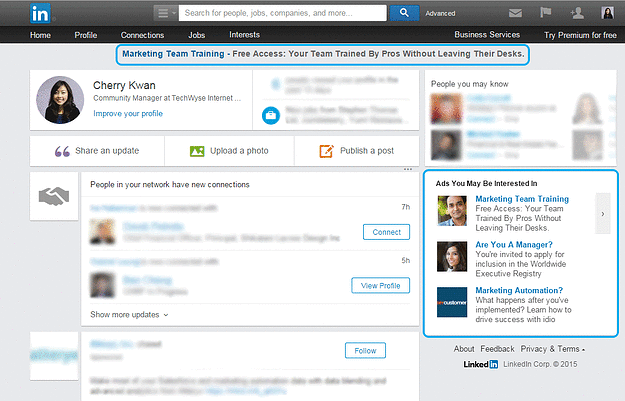 Image source: LinkedIn
Dynamic Ads
A dynamic Ad is a unique and interesting type of LinkedIn advertising. When a dynamic ad shows to LinkedIn members, it is personalised with member profile data such as their photo, name, company or job title. Each person who sees your ad will see a personalised version.
There are three types of dynamic ads you can use in your campaigns:
Follower ads to encourage people to follow your page
Spotlight ads to promote a new product, event or offer
Jobs ad to promote job vacancies and encourage relevant applications
You can choose the dynamic ads that best suit your LinkedIn advertising campaign goals.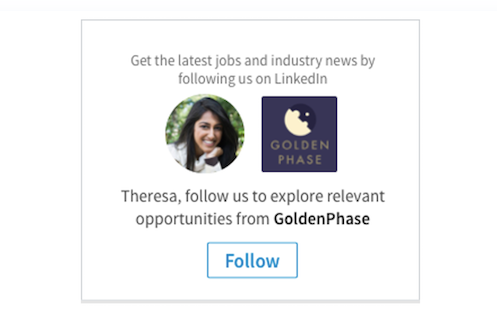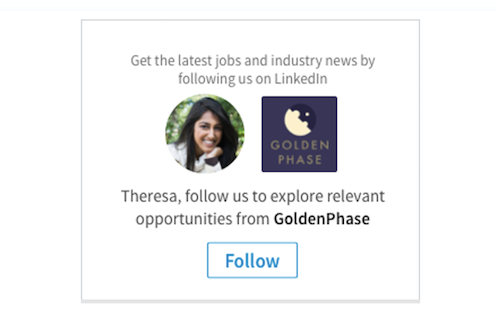 Image source: InstaPage
LinkedIn Audience Network
If you are familiar with Facebook Audience Network advertising, you will have no trouble understanding this LinkedIn feature. Essentially, you can amplify your advertising by showing your ads to LinkedIn partner apps and websites.
LinkedIn Advertising Partner Solutions
Running your own LinkedIn ads is possible. But if you need greater insights and want even greater returns on your investment, LinkedIn Advertising Partner Solutions might be worth looking into.
The program is designed to partner businesses with specialist LinkedIn Ad agencies – like OMG – to take your advertising to new heights.
There are only about 60 partner agencies in the program so you really are getting the best of the best.
LinkedIn Ads Best Practices
Now you understand how to set up and run your ads and the different types of ads you can run, I'm going to give you insight into what is currently working on LinkedIn.
We run LinkedIn Ads for our clients everyday and these are the strategies that are working for us right now.
Audience targeting
Firstly, setting a target audience isn't something you can do once and never look at again. If your buyer personas change, you get updated customer insights  or you have new products coming into the market, you should revisit your targeting criteria.
Not only that, but the target audience you create in the setup phase should be absolutely bang on. Your targeting criteria should be part of your ads strategy and not an afterthought or an exercise of ticking boxes that you "think" might be correct.
The LinkedIn audience attributes are a really broad range of options so arm yourself with information about what those options are and then see how they align with your buyer personas.
You also don't want to go too heavy on your targeting or your target audience will be too small to have real value.
Content
Content is (one of the) kings of digital marketing, LinkedIn advertising included.
Keep it short and punchy and make sure it includes the essential information you need the user to see. Long form content certainly has its place online but that place is generally not LinkedIn advertising.
LinkedIn advises that for sponsored content, headlines under 150 characters and descriptive copy under 70 characters will see higher engagement than longer sponsored content.
Sponsored videos for brand awareness and consideration should be less than 30 seconds. In fact, videos under this length had a 200% lift in view completion rate.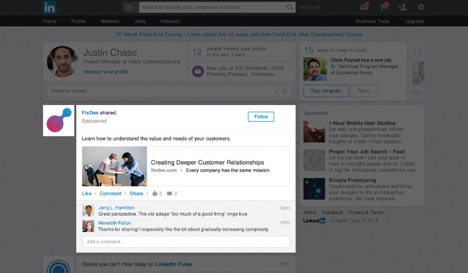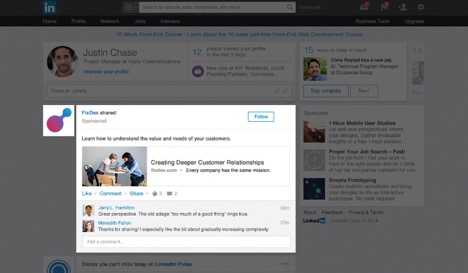 Image source: LinkedIn 
Messaging
You have such a short time to capture the attention of your audience. Don't waste it – get straight to the point.
Most importantly, your LinkedIn ads need to ad value. The value you provide will depend on the type of ad you are showing and your objectives, but lead with a clear message and make it relevant to your audience.
As an example, for sponsored video ads, you need to ensure the most important content is in the first 10 seconds of your video.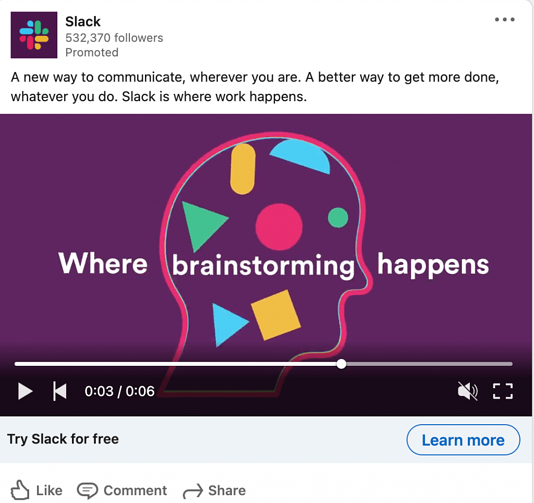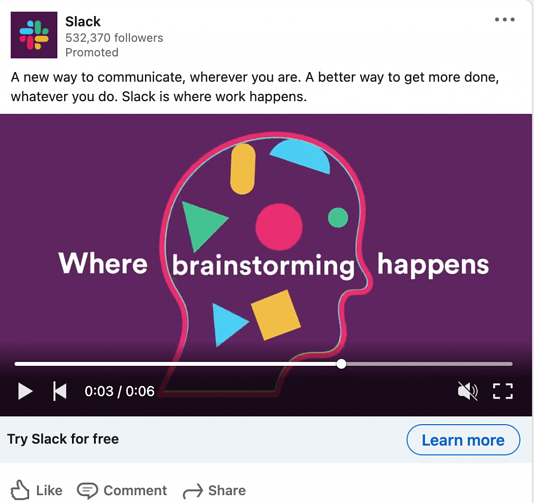 Image source: TheB2BHouse
CTAs
What is an add without a call to action?
The trick with CTAs is to make it crystal clear what the user should do next. Do you want them to download a resource, register for an event, apply for a job or visit your website?
You can also test different CTAs across LinkedIn ad campaigns or for different audiences to see what delivers the best results.
Personalisation
In a time when a lot of digital marketing can feel so impersonal, when you have the opportunity to do so, make it personalised. With a dynamic ad, personalisation is simple, but you can personalise other types of ads also, it just looks a bit different to the dynamic ads format.
For example, you could address your target audience by their profession or some other relevant trait or characteristic.
Even for dynamic LinkedIn Ad campaigns, LinkedIn reports a 100% higher conversion rate for ads that include a photo compared with those that don't.
If you are sending InMail it's straightforward to include name tags to personalise those small details which prospects will notice.
Ad variations and testing
I've said it before in this blog, and if you've read any of our other articles you'll already know this, testing is key to getting maximum return on investment.
After setting up your LinkedIn Ad campaigns you need to monitor, measure and test otherwise you won't get the results you could with testing. If you enable conversion tracking you can also monitor the campaign results as they pertain to conversions within campaign manager.
So, for every one of your LinkedIn ad campaigns look to run ad variations or A/B tests. Switch up the CTAs and ad creative and then check which your audience is responding to best. Over time, it will become more intuitive to you as you learn what your audiences like.
If certain variations aren't working, either tweak them or switch them off so you aren't spending money unnecessarily. Campaign Manager will be your best friend in determining the success and opportunities for your campaigns.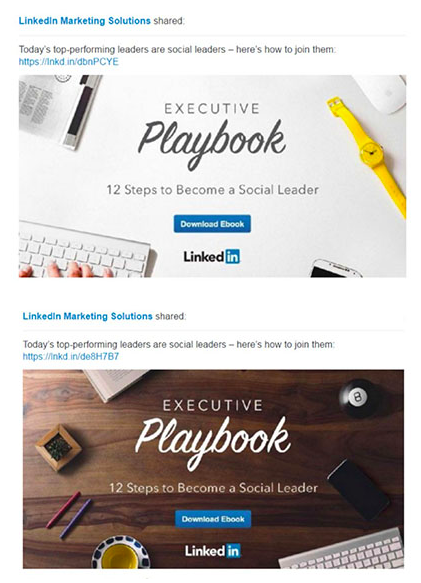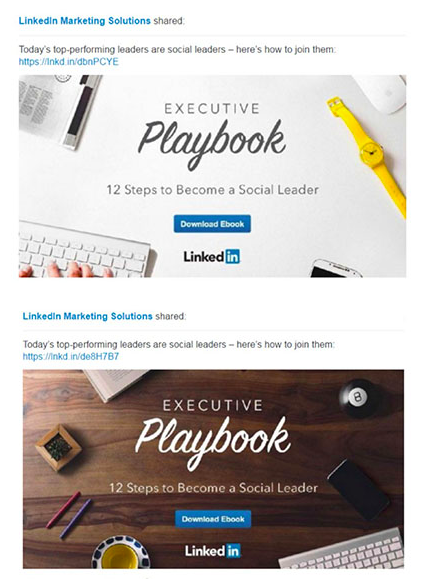 Image source: LinkedIn
Master your Linkedin Ads with the Gurus
You could take a DIY approach to your LinkedIn Ads… or you could partner with the Gurus.
To get you on the right path, we offer a FREE digital audit and strategy session. You'll get a 30-minute strategy call with a Growth Guru to discuss your current marketing strategy and pain points. From there you will receive a 50+ page audit covering SEO, PPC, Facebook, LinkedIn and more.
The real gold is in the 6-month multichannel game plan which outlines the exact roadmap we will follow to get your digital marketing firing and your ROI skyrocketing. Claim your free audit and take the next step in mastering your LinkedIn Ads.