How to Generate Sales Leads with LinkedIn (Organic & Ad Strategies)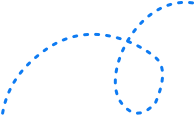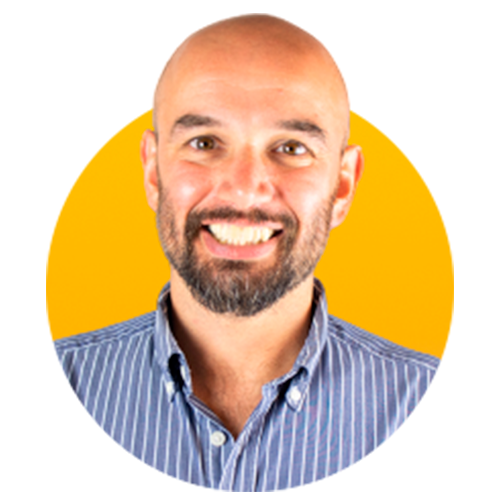 Ed Jones
18 February 2022
27min read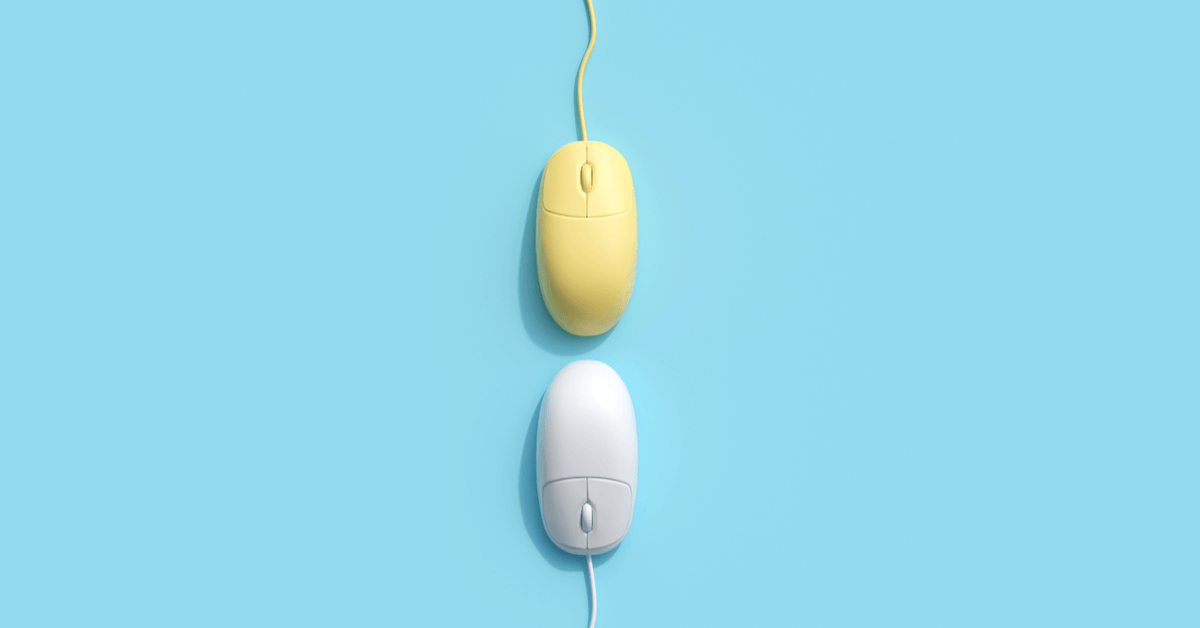 Want to get qualified leads flowing into your business around the clock?
Spoiler alert: you need to step up your LinkedIn game.
LinkedIn is the most lucrative social media platform out there when it comes to high-quality lead generation.
With more than 800 million professionals on the social network, LinkedIn is a powerhouse for B2B businesses.
Get it right, and you'll build your personal brand and your professional network, bring in more targeted leads, and grow your revenue, all on the same platform.
But finding success on LinkedIn requires a different approach than other major social media sites.
You need a focused strategy, a solid content plan, and a clear idea of who your customer is before you dive in.
That's what we're here to help you do.
In this post, we'll show you how to turn your business' LinkedIn into a fully-fledged lead generation machine. You'll learn:
Why use LinkedIn for lead generation?
LinkedIn is home to a massive community of people who want to connect with other like-minded professionals, find solutions to their business challenges, and engage with industry influencers.
Unlike Facebook or Instagram, which are valuable because of their sheer ubiquity, LinkedIn is powerful for the exact opposite reason: specificity.
LinkedIn has more than 800 million active users worldwide and 224 million users in the Asia-Pacific region alone. Of these users, 4 out of 5 influence business decisions in their respective organizations.
It's not just the demographics either.
Everyone who goes on LinkedIn is there for a shared purpose — to find helpful content that will help them grow their business and career.
For this reason alone, LinkedIn professionals are more open and receptive to the content they see on the platform, and more likely to enquire with a business they think can help them reach their goals.
That's what makes LinkedIn the top paid and organic social channel for B2B businesses, with more than 8 in 10 B2B marketers saying they find the greatest success on the platform.
From an online CV tool to a social media advertising platform
LinkedIn isn't oblivious to the power of its professional member network.
Over the years, the social media giant has been exploring new ways to help businesses leverage the platform for generating leads using LinkedIn Ads.
Similar to Facebook or Google Ads, these ads give businesses the opportunity to connect with their audience through a variety of different advertising solutions, from sponsored content to sponsored InMails.
Its targeting capabilities are also next-level, with the ability to segment audiences by industries, job seniority, interests, education level, and company.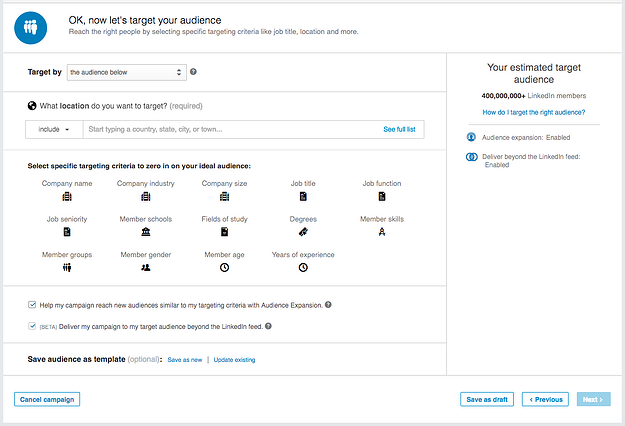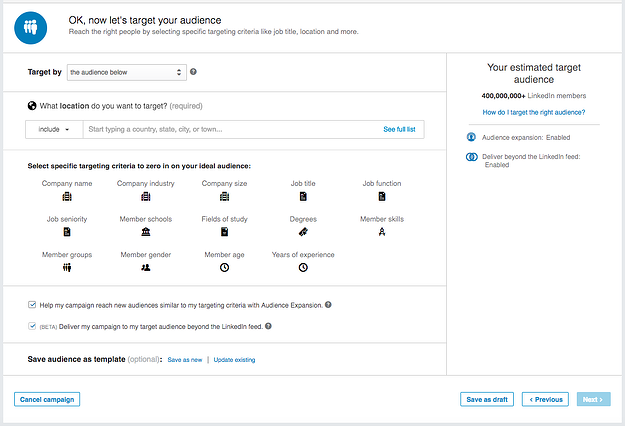 Because of its niche audience, versatile ad formats and highly powerful targeting capabilities, LinkedIn is a step above other social media platforms when it comes to paid advertising.
Lead conversion rates on the platform are 3 times higher than other major ad providers, such as Google Ads. Moreover, a study by HubSpot found that traffic from the site also has the highest visitor-to-lead conversation rate of all the social media platforms out there.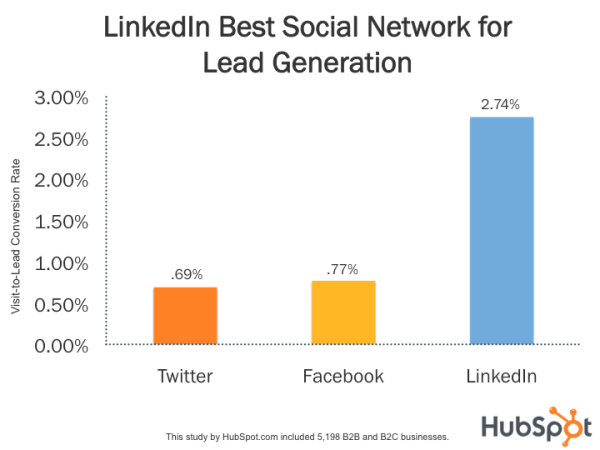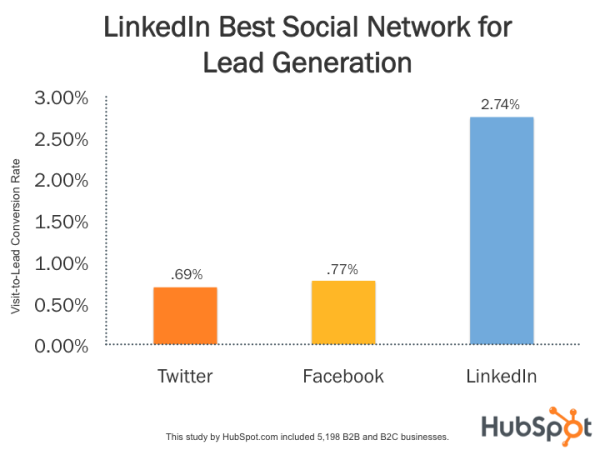 Despite this, HubSpot found that only 10% of marketers say they're investing on LinkedIn and 15% are creating content for the platform.
That means that if you're using this social media platform, you're already gaining a significant edge over your competitors.
Understanding your goals on LinkedIn
With any digital marketing platform, you have to define your goals before you go out there and start attracting followers or pumping out content.
This is especially true on LinkedIn.
LinkedIn users are there to grow their network and their business. While Facebook, Instagram or Google users might be more tolerant of generic messaging and ads, LinkedIn members are less so.
At best, a poorly executed sales pitch might get ignored.
At worst, it will negatively affect your brand and personal reputation on the platform.
The goal of using LinkedIn for lead generation is to start the conversation, build a relationship, and provide value to your potential customers. When you do this and do it well, you'll get the payoff with more quality leads or referrals.
LinkedIn profile optimisation for engagement and connection
A standout profile is the backbone of any solid LinkedIn lead generation strategy.
Like a website landing page, your LinkedIn profile is the first port of call for any prospective customers who want to learn more about who you are and what you do. A good profile builds up trust with your audience and moves them further along the sales process.
Without it, it doesn't matter how many decision-makers you reach out to — none of them will buy from you.
So how do you optimize your profile to increase engagement and strengthen the connection with potential customers?
1. Building Credibility, Trust and Authority elements
First impressions count, so it's important to spend time perfecting yours on LinkedIn.
When you first reach out to someone and invite them to connect, they'll see your name and your job title like so: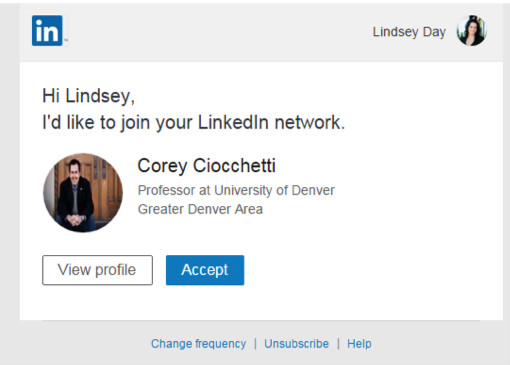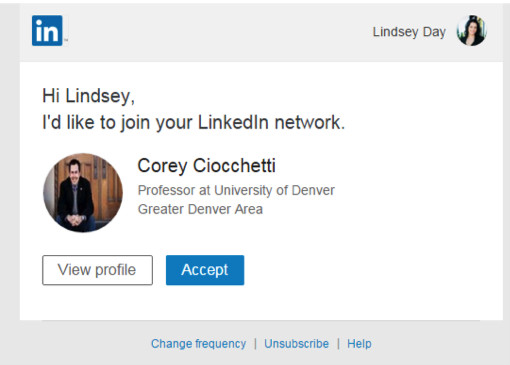 Image source: LinkedIn
While you can just put your actual position title in, it pays to get a little more creative here.
Think about who you'll be reaching out to and what would help you build credibility with them. For example, if you're looking to reach out to CEOs, you might choose to include "CEO" or "Co-Founder" in your job title.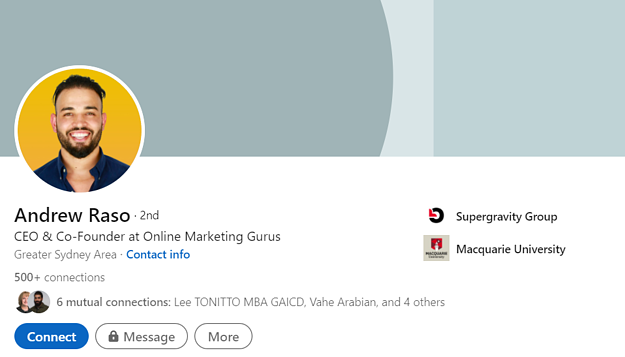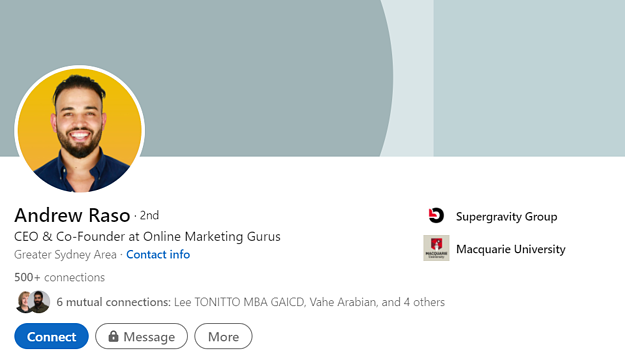 Alternatively, you can use this as a space to build authority by highlighting noteworthy achievements, or how you help companies:


Don't forget to add a profile picture as well. Profiles with pictures are 14x more likely to be viewed than those without. Just make sure to choose a professional-looking image to ensure you're being taken seriously from the get-go.
Once you've nailed this part, it's time to work through the rest of your profile.
Research shows that fully completed profiles are 40x more likely to receive incoming enquiries, so don't skimp.
Make sure every part of your profile is filled out, including:
Your "About" section: Use this to clearly and concisely sum up what you do and how you help other businesses. This is also a good place to pop a mention that you're open to connecting with other like-minded professionals and helping them with their challenges.
Your experience: Don't just list out your career history here. Talk a little bit about what the company does, what your role is, and what you've achieved during your time there.
Your education: Include any qualifications and certifications you've obtained here, such as university degrees to industry courses.
Your skills and accomplishments: This is a key part of building up your trust and authority with potential customers. To round it off, get others to endorse your skills and write recommendations for you to help bolster your credibility.
2. Keyword research and LinkedIn SEO
SEO isn't just for Google.
LinkedIn's search engine has its own algorithm, which you need to take into account if you want to get discovered by potential leads on the platform.
Take time to do keyword research into your industry. For example, if you're running a no-code software platform, you might consider keywords like "software development" or "web programming" as a starting point.
Then, add these keywords into your headline, like Neil Patel: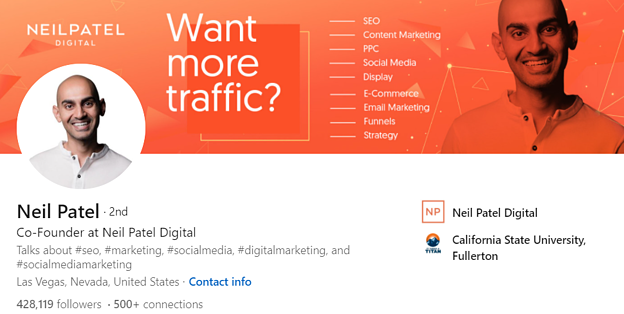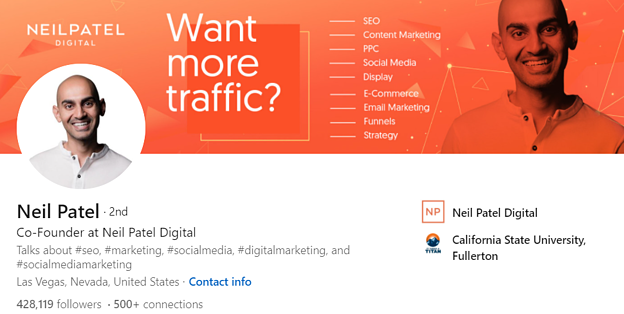 Just be sure not to stuff keywords in. Like Google, LinkedIn will eventually catch on and might even penalise your page for trying to manipulate its search engine.
3. Copywriting for LinkedIn
On LinkedIn, it's not just about what you do. It's about how you say it.
Compelling copy is a fundamental part of any LinkedIn profile. Weave the right words together, and you'll instantly engage potential customers from the moment they receive your connection request or InMail.
The best way to figure out how to write for LinkedIn is to work backwards from your target audience. Consider:
Which information are they going to be most interested in when they land on your profile? Lead with this in your description and your headline to grab their attention from the get-go.
What will help a prospective lead evaluate whether they need your product or service? Are they looking to see how your business has impacted others, or do they want to know that it's being led by someone with experience in the industry?
Which tone of voice will resonate with them? Is it more conversational, or are they looking for someone with a no-nonsense attitude?
Keep these in mind when putting together your profile and when you're creating valuable content for your LinkedIn network.
Identify and connect with the right decision-makers
Got your profile sorted?
Great. It's time to start reaching out to potential leads.
So how do you find the right people from LinkedIn's 800-million strong user base?
It starts by knowing who you want to reach and the most effective way to connect with them on the platform.
1. Establish what you want your prospects to do
Do you want potential prospects to download your eBook? Sign up for a demo? Start a free trial of your product or service before becoming paying customers?
Identifying WHAT you want your prospects to do is a crucial step in figuring out who the decision-maker is and how best to build rapport with them.
For example, let's say you're running a drag-and-drop website design platform and you want prospects to sign up for a free 14-day trial.
In this case, you want to target people who are currently experiencing pain points with their existing website design, such as marketers or small business owners. These prospects will be able to quickly see the benefits of your offering AND they're likely responsible for making the decision on which platform to use for their company's website.
The same applies if you're a freelance marketer, a web developer, or an eCommerce brand.
Being clear on the end goal makes it easier to narrow your focus to the people that make purchasing decisions.
2. Create a list of hyper-targeted prospects
Once you know what your end goal is, it's time to scour LinkedIn for potential prospects.
As we mentioned earlier, LinkedIn members are receptive to messages from other professionals — but ONLY if you message or post relevant content AND you take the time to build a relationship with them first.
In other words, you can't just send a blanket invite to anyone that looks like they'd be remotely interested in your company.
Your connection invitations should be hyper-targeted to key decision-makers, and tailored to their unique challenges.
The easiest way to start building this list is to type a job title or current company into the search bar and narrow down your search using filters: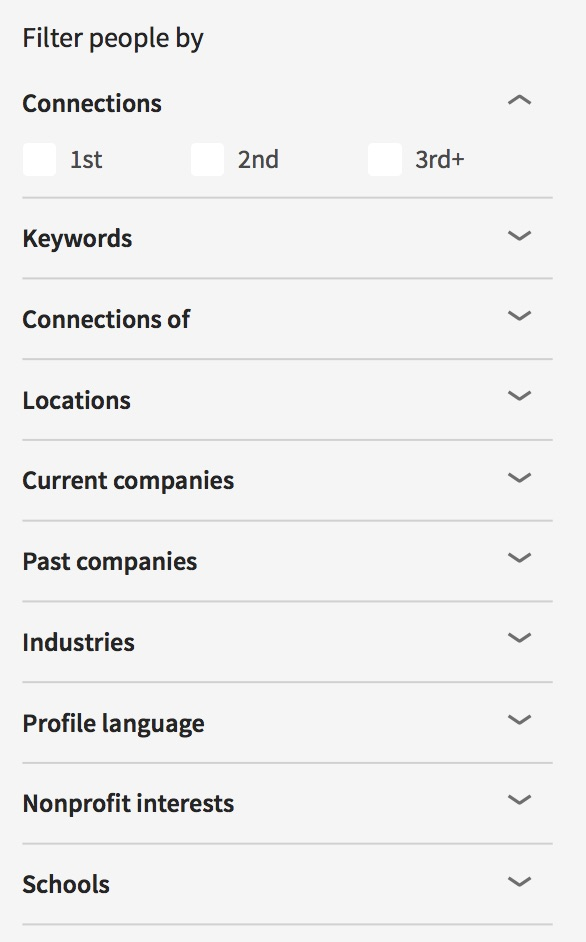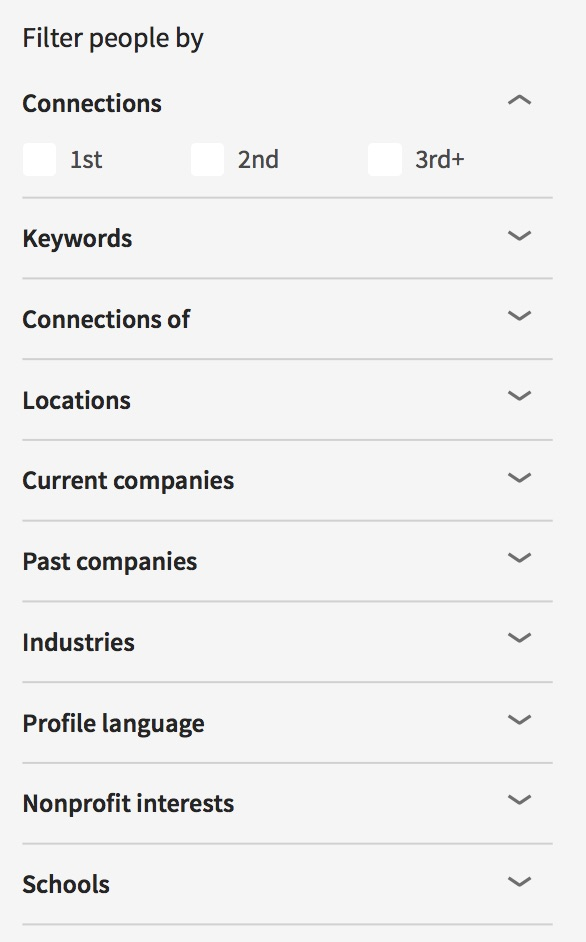 You can also use Sales Navigator for advanced filters like location, field, company, or school. While you might wind up with a smaller list of results, everyone on that list will be extremely targeted.
Here are some other ways to find potential prospects:
The "People also viewed" section: Every time you visit a prospect's profile, you'll find a list of similar profiles in the sidebar. This is a great way to find audiences that are similar to your existing customers — just click on the profiles of your best customers, and take note of the names you see in this section.
On posts from your connections: Go beyond liking the posts that your customers share, and start using them as a lead generation tool. Take a look in the comments section in posts to see if there are any potential prospects in the mix.
Browse your competitors' networks: You might find opportunities to connect with people who are their current or former customers — and, if you play your cards right, convince them to give yours a go.
Join Groups: There are LinkedIn communities out there for literally every profession. Pick the most relevant ones for your industry or your audience, and connect with any that may benefit from your products or services. If you can't find any, don't worry – this is a great opportunity to create your own group.
Monitor your profile views: Send a connection to anyone who may be a potential lead. Even if it doesn't turn into a sale, it might result in a new business partnership or a referral if you play your cards right.
3. Initiate contact with a personalised message
It doesn't matter whether you're connecting with a CEO, senior manager, or mid-level employee.
Your first message matters.
When you send a connection request to someone, you get an optional space to customise it with a personal message.
Spoiler alert: when you're trying to use LinkedIn to generate leads, this isn't optional — it's essential.
Let's take a look at two connection requests. The first features a generic message inviting them to connect: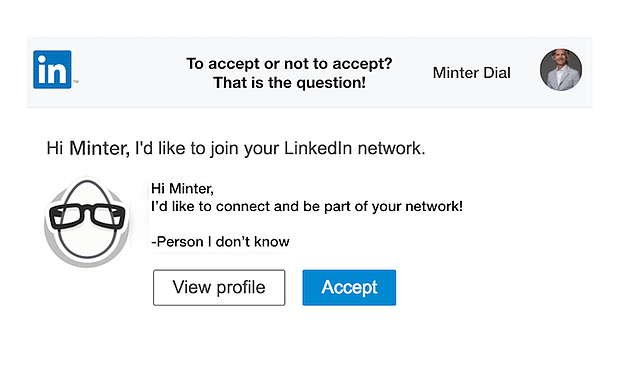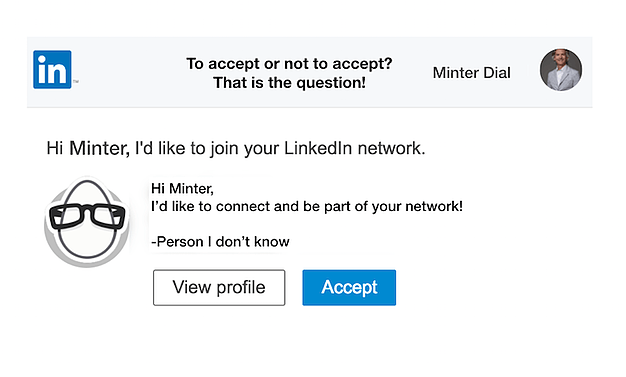 The second features a personalised message that touches on the person's work:
Which one would you accept?
You'll have a better hit rate if you can show the person that you've done your research and explain to them why you want to connect with them.
That's not to say you can't have a few templates on hand — just be sure to review the prospect's profile and personalise your opening message for them.
4. Build a relationship
LinkedIn isn't a set-and-forget platform.
You need to continue to engage with your prospects if you want to get on their radar and start generating leads.
Take the time to like and comment on their content, share your insights, and provide them with relevant content that they might find to be useful.
Over time, you'll start to build up trust, which is an essential part of moving them along the funnel and eventually convert them from a connection to a customer.
5. Funnel prospects to the top of your sales funnel outside of LinkedIn
LinkedIn should be the place where you start the conversation — not where you close the sale.
Once you've built up a relationship with your ideal prospect, the most effective way to generate leads is to add them to your sales cycle. This might mean adding them to your email marketing database, or asking if you can send a follow up message via email or meet up for a coffee.
After this, you can start to move them through the different stages of the customer journey, from awareness to consideration and conversion.
Positioning yourself as an expert through posts and interactions
Every LinkedIn user is actively looking to engage with professionals that can help them solve their problems.
If you or other members of your team can be positioned as industry experts on the publishing platform, you've already got the leg up when it comes to credibility and authority.
Thankfully, the secret to building up your reputation and influence on LinkedIn is the same as any other platform: content.
1. How to develop your content strategy for Linkedin
Your content marketing strategy on LinkedIn needs to be geared specifically towards creating value for a potential customer.
Start by identifying the topics that prospects are interested in and that align with your product or service.
If you're not sure where to start, join LinkedIn Groups in your industry and observe what the group members are talking about.
When you're ready to start creating content, it's all about consistency. Set a schedule so you're posting regularly, and keep an eye on your LinkedIn dashboard to see what type of content resonates with your audience.
Pay attention to the timing of your post as well.
Historically, the best times to post on LinkedIn are:
Tuesdays, Wednesday and Thursday
Before people start work, which is usually between 7AM and 8:30AM
Lunchtime during work days
When people are wrapping up their work day around 5PM to 6PM
When you post at these times, it significantly increases the chances of your content appearing at the top of your prospects' feed.
Once you do post, make sure to share it to the company page and ask others in your company to share it as well to maximize your reach.
2. Analyse your competitors
The beauty of any social media channel is that you have direct access to your competitor's content strategy.
Before you start posting, take a look at your key competitors.
Check out their page and their executives' profile:
What type of content are they posting?
Which formats get the most engagement?
What magnets are they using to generate leads on LinkedIn?
Who engages most regularly with their content?
Take any learnings from your competitors and incorporate them into your own strategy.
Think about where you can replicate their successes, and where you can differentiate your content versus the competition.
3. The anatomy of the perfect post
LinkedIn Pulse is a fantastic platform to share your knowledge and drum up awareness for your company.
But, as with any form of content, there are a few best practices you need to follow if you want to craft an attention-grabbing post that invites sharing and engagement:
Craft a powerful headline: Like a blog post, your headline plays an important role in piquing your network's interest and encouraging them to click through to read more. Put the focus on helping your community: 60% of the top-performing headings on LinkedIn Pulse feature the word "you", "your", "how to", "lists", and "hacks".
Feature keyword(s): Add in relevant keywords where appropriate (without keyword stuffing). This improves the searchability of your content in LinkedIn's search engine and also for searches on other platforms like Google or Bing.
Ask a question: You could choose to ask your audience for their opinions or experiences, share your post to reach more people, vote on your post with different reactions. Any time someone engages with your content, it appears on their connections' newsfeeds, so it's worth taking the time to try and inspire interactions on your post.
4. Consider different content formats
As with other social media sites, you need to experiment with different content formats to find what works best for your audience.
Consider these statistics:
Links get 200% more engagement.
Images have a 98% higher comment rate.
Videos get a 75% higher share rate.
Post different types of content on the platform, and see which ones are helping you move closer to your goals: for example, if you're targeting eBook downloads, you might find that posting a link gets you more downloads than posting an image.
Keep track of your performance metrics on a regular basis, and use these insights to refine your content strategy in the future.
5. Experiment with new features and content formats
LinkedIn is constantly launching new features to improve the user experience and help professionals connect on the platform. Leveraging relevant features can help strengthen your lead generation efforts and position you as a thought leader in your industry.
Here are three of the best new features to implement in 2022:
Stories: These are 10-second videos and photo clips that you can add to your profile or company's page. Use this to promote a new piece of content or share professional updates with your network.
Live streaming: Live streaming is a great way to provide value to potential prospects. If you're hosting an event or a webinar, live video can help you get in front of your network and grow your reach on the platform.
Polls: Polls are a valuable way to gather information from your audience and learn more about what they want from you. Use polls to ask for feedback on your content or unearth pain points that your prospects are currently experiencing.
Consider running a LinkedIn lead generation ad campaign
Remember that statistic we mentioned earlier?
LinkedIn Ads are 3x more effective at converting leads than any other major digital advertising platform.
If you want to generate leads, this ABSOLUTELY should be part of your marketing mix.
LinkedIn Ads deliver exceptional ROI, thanks to its array of ad formats, incredibly powerful features, and extensive targeting capabilities.
You can start by uploading an existing list, such as your prospect database, or build one from scratch using filters for location, seniority, company size, interests, or skills.
What's more, you can choose to advertise with standard sponsored content in the newsfeed or direct sponsored content in the form of Sponsored InMails.
These InMails show up directly in the recipient's inbox, and it's a powerful way to get your message to the people who matter.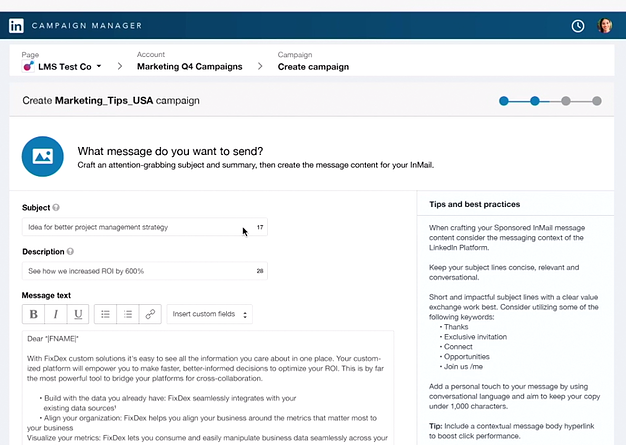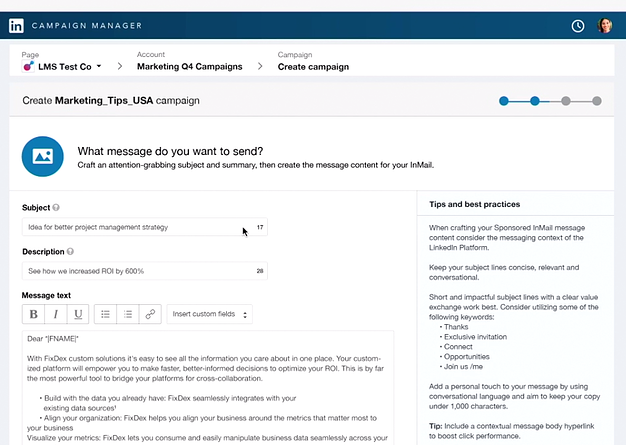 The most effective LinkedIn Advertising campaigns are typically accompanied by a downloadable report or a lead magnet, as users can gain valuable information in exchange for little more than their email address.
eBooks and reports also help build up your company's thought leadership amongst your target audience, which makes it a double-win.
Last but not least, if you're using sponsored content for lead generation, try incorporating a video into your campaign.
7 in 10 of B2B marketers say video is the most effective form of content when it comes to a sales conversion.
Couple that with the fact that members are 20x more likely to share a video post, and you have a recipe to maximize your reach, engagement and conversions with a video ad.
Want more help on LinkedIn Ads? Read our next-level guide to running LinkedIn Ads in 2022.
Turn your LinkedIn into a powerhouse for generating leads
The verdict is in: LinkedIn is undoubtedly a winner when it comes to growing your prospect database. With a solid profile and a publishing schedule jam-packed with relevant content, you'll be well on your way to getting higher-quality leads on tap.
Best of all, it doesn't stop there.
Once you've built up a solid presence on the platform, it's time to kick your conversions into overdrive with a targeted LinkedIn Advertising strategy courtesy of OMG. We'll help you grow your reach among your target audience, effectively nurture potential customers, and convert prospects into sales. Get started by claiming your FREE digital marketing audit (worth $2,000) today.