5 Social Media Trends That Will Dominate 2022 (+ How to Leverage Them)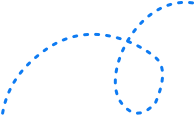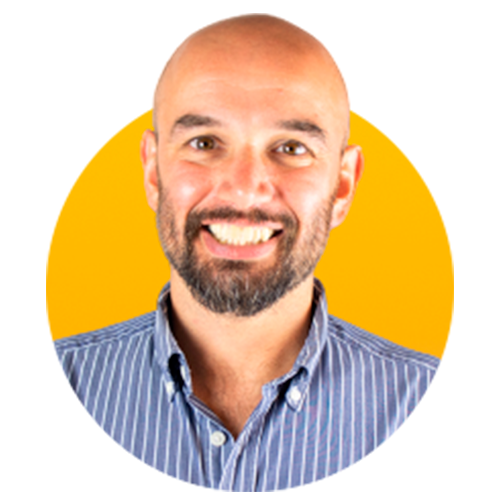 Ed Jones
18 January 2022
27min read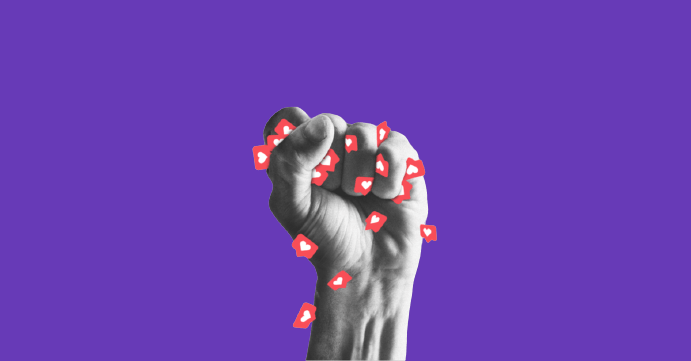 Growing a brand on social media is easy…said no one ever.
But it can be a lot simpler when you know what works and what doesn't. Spotting social media trends as they emerge can help you avoid wasting time on strategies that:
Don't help you reach your brand goals and
Waste time and money.
If you're reading this, you already know how quickly new social media trends can become mainstream. You're probably a pro when it comes to marketing your business on Facebook, but every day there's a new social strategy to consider and that's #challenging.
Between new platforms like TikTok (downloaded 383 million times in the first half of 2021) and the continued evolution of existing social platforms, it's crucial you can pivot to meet new social trends to increase brand awareness and achieve higher ROI.
Of course, it's tough to make social media marketing predictions in an industry that's constantly changing. So before we introduce you to the latest social media trends, let's recap what the social landscape looks like.
What does the social media landscape look like?
As a social media marketing manager, you already know the importance of reacting to meet new trends. If your business doesn't keep up on Instagram, Facebook, or MySpace (Ok…maybe not MySpace), you risk losing ground on your competition.
In the past, it was possible to generate exposure and drive clicks through Facebook or Instagram alone – but times have changed.
Changing social media algorithms and UX means a constant diversification of social media channels and features. Established social platforms like Facebook, Instagram, and Twitter are still powerhouses, but they've been introducing new features to keep up with emerging platforms like TikTok, Pinterest, and Clubhouse.
The result?
A fractured landscape changing at a breakneck pace. This is partly due to the pandemic that forced businesses and consumers to spend more time in the virtual world. But social media has always been a hotbed for change. The past 18 months have just seen an acceleration of that change in the form of new technology and changing consumer behaviour.
Taking advantage of this shifting landscape can sound challenging. But it doesn't have to be. Success begins and ends with an evidence-based approach – and that's exactly what we'll cover in this article. So read on to find out which top trends are here to stay as we welcome 2022.
Trend #1 – Social selling will go mainstream
All around the world, consumers are looking to combine their favorite social platform and online shopping.
As lockdowns kept people out of retail stores during the pandemic, shopping became more virtual. 90% of people have bought a product from a brand they follow on social media and 40% of merchants are already using social media to generate revenue. Even as stores re-open, you can expect social selling to continue to grow in 2022.
Social commerce buyers in the U.S are expected to spend over $100 million by 2023.
It's up to you to make sure your brand delivers on this change in online shopping behaviour and nudges people towards a purchase through your social media marketing strategies.
Even if you think selling on social media will be rejected by your audience, the numbers don't lie: searches for 'Facebook Marketplace' increased by 163% in the past two years. That's despite a decrease in time spent on Facebook. As Facebook's social media usage rates go down but social shopping demand increases, it's clear that promoting and selling products on social media is a trend that's not going anywhere.
81% of shoppers already used social media to research new products before the pandemic. It makes sense to let those users shop on social media too. Asking someone to click from your social media channels to your website adds an unnecessary step in your sales funnel – and each step creates holes for leads to fall out of. Throw in the higher cart abandonment rates on mobile devices and it's a smart move to let people browse and buy from the same app.
Social media users want and expect to buy products through their favorite social media channels. As a social media marketer or marketing manager, it's your job to give it to them.
How to leverage the power of social selling
Social commerce isn't replacing traditional eCommerce shopping any time soon, but there are ways to enhance your social eCommerce experience to help you drive conversions. You can do this by:
Featuring more than one product in your social media posts: 70% of shoppers turn to Instagram for product discovery, so give them what they want! That doesn't mean filling every post with dozens of tagged products. But don't be afraid to show off your product range to give more customers food for thought.
Rotating content types: Just because you're promoting products doesn't mean you should fall into a boring routine. Experiment with images, carousels, stories, ephemeral content (e.g. Instagram Stories), short-form videos, interactive stickers, and more to get people hyped about your products.
Changing sticker text color: Tweaking your product sticker text can help your Facebook Stories, IG Reels, or TikTok content stand out and drive more clicks. Experiment to see which colors drive the most clicks (test, test, and test again).
Make your product the star: People want to shop through social media, so don't be afraid to make your products the center of attention. Thinking you need to "trick" people into a sale will get you nowhere. But sharing a product and showcasing its list of features and benefits can help you land sales.
As more people look to purchase products via social media, it's time to adapt your social media marketing strategy. The goal is to create a seamless customer experience whether your followers are looking for products or more traditional content.
The payoff? 
Social selling will help you drive conversions without the friction of asking a user to click from Facebook or Instagram to your website.
Trend #2 – Branded augmented reality will move beyond filters
Augmented reality (AR) is one of the emerging social media marketing trends to watch out for in the near future.
When you think of augmented reality, Snapchat's face filters are probably the first thing that comes to mind. After Snapchat pioneered AR filters, it was quickly copied and implemented by Facebook, Instagram, Pinterest, and TikTok who launched their own lenses, filters, and effects.
More brands are tapping into this emerging social media trend by creating their own AR filters to promote engagement and interaction. For example, McDonald's created an AR  experience that's both fun and branded. The 'Spice Zapper' filter allows users to zap nuggets as they fall.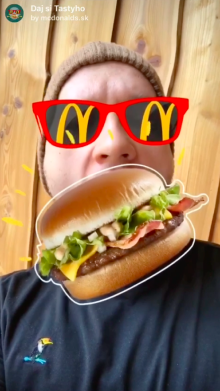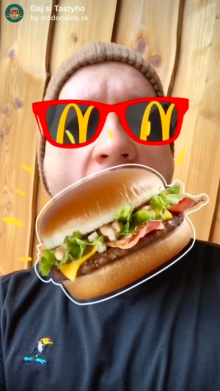 But don't think AR is limited to fun filters and community-building tools. More than entertainment, AR offers an exciting way for your brand to drive social sales.
How to use AR experience to boost online sales
Brick-and-mortar shopping has been on the decline throughout the pandemic, with nearly three-quarters of US consumers changing the way they shop as a result. The shut down of many retail stores during the pandemic spurred many brands to use AR as a way to offer virtual try-on experiences that were previously only possible in-store – and you can do the same.
For example, AR shopping can let your customers "try on" products from the comfort of their own homes. More than a novelty, bringing your products to life with an AR experience can improve click-through rates to purchase by up to 33%
In a nutshell, AR has been around for years. But as technology and mainstream acceptance improve, we're moving closer to a world where AR is common on social media so expect this technology and adoption to grow in 2022.
Trend #3 – Short-form content will keep gaining popularity
Short-form video content is another of the biggest social media trends for 2022.
A study from Wyzowl reported that people share videos at twice the rate of any other form of content. And 84% of people have been convinced to buy a product or service because of a video.
At the same time, people are looking for easy-to-digest video content that suits their browsing habits – with studies suggesting the average attention span is around 8 seconds. This makes it crucial to catch (and keep) your audience's attention. Short-form videos will be an effective way to do this in 2022.
Short-form videos push against traditional media strategies (i.e. 'length is strength') and give consumers a quick and easy way to consume information. Signs of short-form video popularity are evident in the rise of other social media platforms like TikTok, and new features on established social platforms like YouTube Shorts, Facebook Stories, and Instagram Reels.
A quick look at TikTok shows the meteoric rise of short-form content and the platforms they exist on. According to the latest industry figures, TikTok was downloaded 315 million times in the first 3 months of 2020 – setting a quarterly record for any app.
Does this mean short-form content is right for you? Consider the pros and cons below.
Short-Form Video Pros
Short-Form Video Cons
✔ Effective and efficient way to communicate

✔ Quicker & less resource-intensive to create

✔ Easier to consume on all devices

✔ Mostly mobile-friendly

✔ Easy to share

✘ Harder to discuss in-depth topics

✘ Can become formulaic and lack authenticity

✘ Interest and performance may decrease over time
Put simply, short-form content is fast, fun, and easy to consume. As a brand, this type of content has the potential to build stronger relationships, attract new followers, drive higher engagement, and push people towards a purchase or conversion.
Ways to leverage short-form content in a world of fleeting attention spans
Give your followers a look behind the scenes
Authenticity matters. A WHOLE LOT. 9 out of 10 social media users highlight 'authenticity' as the #1 reason they follow brands online. As prospective customers continue to look for authentic brands on social media, you can use short-form videos to showcase exclusive behind-the-scenes content that shares your brand's genuine side.
This could be a day in an employee's life, Q&A sessions with your CEO, product launch updates, or even a behind-the-scenes look at a new product in development. These authentic, unfiltered content examples give people a peek behind the curtain and showcase your human side.
Try utilising this approach on TikTok, Instagram, Facebook, Snapchat, or YouTube to let people see beyond your logo. Don't be afraid to show a less-than-polished side of your brand. This applies to the quality of the video (you don't need HD video footage, just a smartphone), and the subject of the content (you don't need a script, just an idea).
In the New Year, consider behind-the-scenes videos of your team or daily life in your store to show your business is genuine and down-to-earth. This will make it easier for you to build a connection with your followers, make it easier for consumers to buy from you, and should be part of your overall social media marketing and video strategy.
Create educational and explainer content
In 2022, no brand can afford to create content that doesn't add value to their audience's lives. Educational and explainer videos are powerful short-form content types because they provide *real* value to your target audience. When you provide value, you'll build trust with your audience, increase lead generation, and strengthen loyalty.
Educational content helps build trust and brand loyalty because you offer solutions to people who aren't even customers yet. Being helpful without asking for anything in return is a powerful relationship-building tool. If someone is undecided about a product or service, which brand do you think they will choose when they're ready to buy? (hint: you).
Try to find ways to bring real value to your followers' lives. For a fashion brand, this could be a video that helps with styling a garment. For a fitness brand, this could be a video that breaks down a sample workout routine. Share your expertise to help make people curious about your products and services.
Choose your social media platform
When you think of short-form videos, TikTok is probably the first social media platform to come to mind. But that doesn't mean it's the only choice. Many brands are using YouTube shorts, Facebook Stories, Instagram Stories, and Instagram Reels to share video content, so you'll need to find the platform that's right for you.
With so many social media platforms out there, choosing the right one can feel overwhelming. You might be perfectly comfortable using Facebook, but you also need to know where your audience spends their time and what social channels appeal to your target demographic. For example, an estimated 60% of TikTok users are under 25. If you didn't want to appeal to Gen Z and Millennials, TikTok might not be the right choice for you.
Trend #4 – Increase in the value of user-generated content (UGC)
Did you know 1 in 4 people use ad blockers when browsing online?
While Facebook Ads and Instagram Ads have a place in a holistic marketing strategy, it's clear that consumers have a growing distrust of ads. So if ads can't help you promote your business, build trust, and drive sales, what is the alternative? Enter user-generated content (UGC).
User-generated content is anything NOT created by your brand, employees, or team. This covers everything from customer testimonials to product reviews from influencers.
When promoting your products and services, UGC provides an authentic, credible alternative to branded content. UGC creates trust, drives purchasing decisions, and inspires brand loyalty. With so many benefits, you can expect the value of user-generated content to grow in 2022.
While social platforms still provide a platform for paid ads, the price of social PPC has been rising year on year. If you want to capture the attention of your audience (and convert them into customers) without a ballooning social media ads budget, you'll need to embrace user-generated content in 2022.
UGC statistics to consider:
85% of consumers respond better to UGC compared to branded images and videos
Consumers are 2.4 x more likely to see UGC as more authentic than branded content
79% of consumers say UGC highly impacts their purchasing decisions
Consumers trust UGC 50% more than original branded content
(Source: Everyone Social)
Remember, social media users prefer to take recommendations from fellow consumers than branded content. This is because it's easier to trust UGC as being truthful than branded content that is inherently biased.
But here's where the challenge comes: you're not in control of UGC, making it hard to plan your content strategy. Your business needs to find ways to encourage quality UGC – and we'll show you how.
How to implement a UGC strategy that drives engagement and conversions
Use branded hashtags
Not all social media users post about the brands they love. You can encourage your customers to share their experiences with your brand through branded hashtags. The right branded hashtag can help build an online community and make it easier for people to find you.
GoPro did this after encouraging users to film content using a GoPro and submit them for a competition using the hashtag #GoProHero. The result?  Over 3 million posts with their branded hashtag and plenty of user-generated content to drive brand awareness. Including competition winner – micro-influencer Matthias Weger – who earned over 300,000 views on a single post.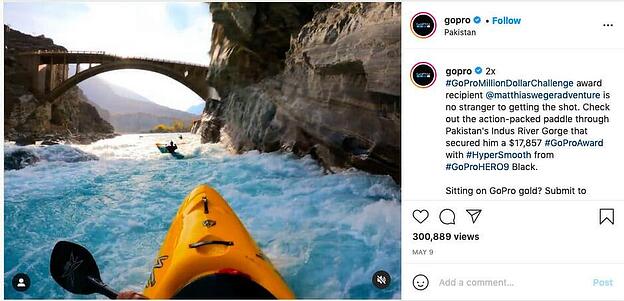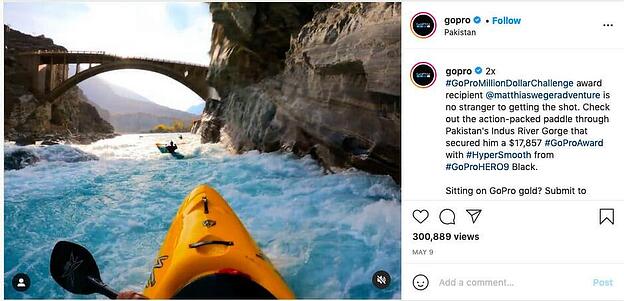 Encourage reviews and testimonials
Visual UGC (photos and videos) might be the type you think of first, but don't discount the value of customer reviews and testimonials. These forms of UGC are highly cost-effective and help enhance credibility and drive sales.
When online reviews influencer the purchasing decisions of 93% of customers, encouraging people to leave reviews and testimonials will be a social media trend used by savvy businesses in 2022. Most people don't leave reviews because they don't think to (not because they don't want to). To encourage reviews and testimonials you can leverage the power of influencers and incentives (more on that below).
Invest in micro-influencer marketing
Influencer marketing isn't a new social media trend, but it will continue to grow in 2022 – and micro-influencers will drive that growth.
Influencer marketing is already big business (worth $13.8 billion) and will only get bigger. Each year brings new social media platforms, new forms of content, and new ways for brands to engage with potential customers.
Most importantly, it's a mistake to think you need the most popular influencers to drive results. For example, micro-influencers (with less than 25,000 followers) receive the highest average engagement rates. This makes influencers with highly loyal and active communities crucial and can help you reach engaged audiences without the cost associated with larger influencers.
Use UGC as a social currency
People love free stuff.
In the marketing world, a freebie removes risk and increases your odds of securing a conversion. You can use this to your advantage to incentivise people to participate with your brand and create user-generated content.
For example, an offer of a discount, free sample, or competition entry can drive participation and conversations in Facebook Groups, offline, anywhere your audience spends their time. By encouraging people to interact with your brand somehow, you drive exposure and hype while your audience gets the chance to win a prize, discount, or advantage of some type.
For example, you could encourage people to post content with a product or submit a video. These tactics present a HUGE benefit: they allow you to drive valuable exposure without limitations from advertising spending.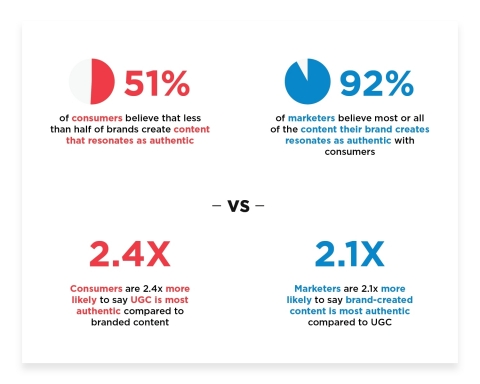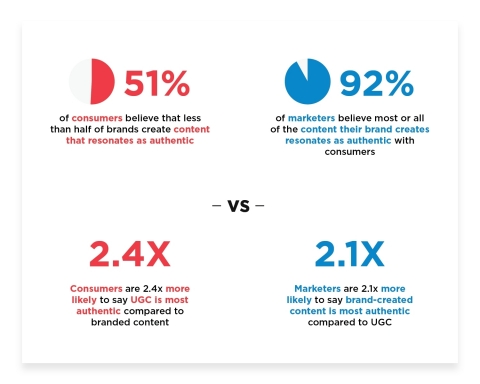 Image Source: Business Wire
Trend #5 – You won't post anything without an agile marketing strategy
In 2022, agile social media will help businesses improve their social media content and output.
What is agile social media? A tactical social media marketing approach that uses data and analytics to solve problems and create opportunities.
Translation? Test what works and make fast changes to deliver the content your social media audience wants.
For example, you might have planned out 12 months of Instagram content. But if you learn that your audience prefers a specific type of content or is looking for something you're not giving them, would you stick to your 12-month schedule?
In this case, agile social media marketing pivots to meet audience demands and interests.
This approach differs from traditional social media marketing strategies that rely on engagement metrics to measure success and stick to strict content calendars and plans. Agile social media marketing has a focus on frequent releases, deliberate experimentation, and a relentless commitment to data-driven results.
'Agile marketing' can sound like a sexy buzzword. Really, it's using data to guide change and results. Let's face it, too many businesses and marketing managers get distracted by vanity metrics when measuring social media success.
Likes. Comments. Retweets. Shares.
These are great, but they're not what social media marketing managers will be measuring in 2022. You need to focus on short data bursts that can prove your social media strategy is:
Delivering what your audience expects and
Positively impact your bottom line.

How to incorporate agile marketing into your 2022 social media
An agile approach to social media involves testing, learning, and iterating plans with speed and insight to make sure you're delivering the right type of content and driving ROI. This insight can come from a range of interactive social media content types that let you gather audience data and react quickly.
Examples of interactive marketing tactics include:
Reviews
Questionnaires
Games
Quizzes
Surveys
Contests
Create Polls
Collecting data through interactive social media content is a valuable form of social listening and gives you the analytics to source solutions for your audience's problems. Facebook and Instagram users love to play games and be entertained, so implement these interactive features in your marketing strategy.
Agile social media marketing best practices
Creating a customer-first policy: Your customers are the heart of all your social media decisions. From trouble-shooting to customer service and content format, a customer-centric approach puts your users first.
Measure the results: Agile social media marketing managers constantly measure results to see what drives ROI and whether current social media strategies are moving the needle on brand goals.
Test, test, and test again: Social media is constantly changing, and your approach to content should too. You can test different content types right down to different CTAs to determine the optimal results.
React to change: Social media platforms constantly tweak themselves to enhance user experience. An agile approach can respond to change, whether it's a new feature on TikTok or a new method used by your competition.
The result? You enhance your social media marketing to meet change as it happens (and it will happen) and provide a superior brand experience.
Get your social media marketing strategies ready for 2022
If you want to stand out on social media in 2022, you must embrace emerging trends before they become mainstream. More importantly, you need to implement these social strategies in a way that resonates with your audience's usage behaviour, while staying true to your brand.
That's where we can help.
At OMG, we bring our industry-leading social media knowledge with real-world strategies to help you grow your audience, become a trusted expert in your niche, and generate sales for your business. And the best part? It's 100% free to get started.
Claim your FREE Digital Marketing audit and social media game plan today. We'll show you how to transform your social media strategies in 2022 to take advantage of emerging trends and grow your business in the New Year.
Click below to find out more.